Build skill with word families, rhyming words, and more with a Google Slides Interactive Word Family Activity.
Kindergarten Word Families for the Win!
This Google Interactive Learning Center model is ready-to-use, and it provides students with an interactive model of word building using vowel and consonant letter tiles. For this activity, students are provided with a picture stimulus to generate the initial word-building process. From this point, students will interact with various draggable objects to develop their letter-sound correspondence skills and spelling abilities.
Students can drag letter tiles, word tiles, and other interactive icons to build words and identify rhyming words, including a mixture of multiple Kindergarten word families. 
This model is useful in direct Instruction lessons or center activities to build children's understanding of spelling patterns. This resource is also effective for students learning English as a Second Language.
Tips for Differentiation + Scaffolding 
A team of dedicated, experienced educators created this resource to support your phonological awareness lessons.
In addition to individual student work time, use this activity to enhance learning through guided reading groups, whole class lessons, or remote learning assignments. 
If you have a mixture of above and below-level learners and ELL/ESL students, we have a few suggestions for keeping students on track with these concepts: 
🆘 Support Struggling Students
Pair these learners and allow students to work together to complete the activities.
Provide students with a sound wall or anchor chart to assist in identifying letter sounds needed to spell words.
➕ Challenge Fast Finishers
Encourage fast finishers to read other texts and identify word family words and rhyming words that they find. 
Have students write sentences with the words in the activity.
🧑‍🏫 Group Learning
Project the slides onto a screen and work through them as a class by having students record their answers in their notebooks or mini whiteboards. 
Plan lessons for all ability levels with our 10 Best Scaffolding Strategies! 
Easily Prepare This Resource for Your Students
Use the Download button to access the Google Slides version of this resource. 
Assign this interactive activity in Google Classroom. Please be sure to open in Edit mode, not presentation mode. Students click/drag/drop to spell, rhyme, and identify words.
Alternatively, print slides to use them for your: 
Lesson warm-ups

End-of-the-day wrap-ups

Homework assignments
---
While you're here, check out more interactive activities and teaching resources that fill your lesson plans and students' brains: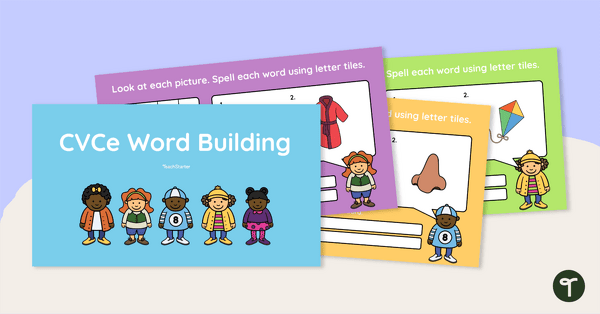 teaching resource
Practice identifying consonant and vowel sounds while spelling CVCe (consonant-vowel-consonant-e) words.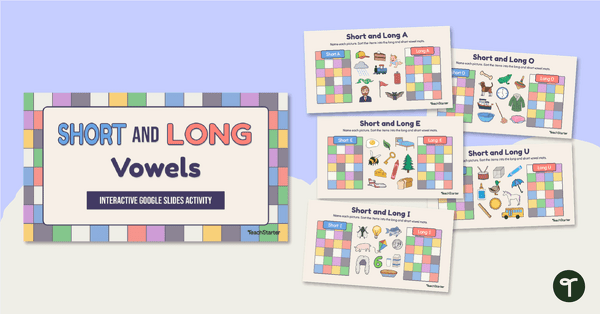 teaching resource
Read and identify short and long vowel sounds and place the pictures into the correct columns.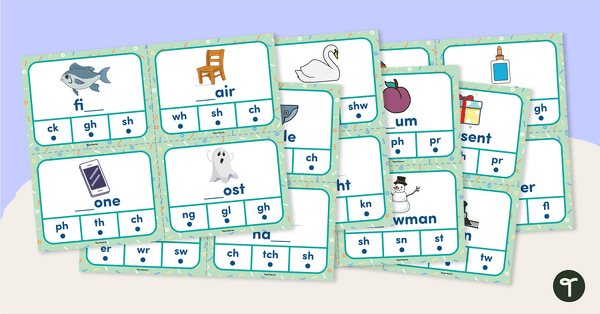 teaching resource
Practice identifying digraphs and blends in word through interactive Google slides and traditional PDF printable formats.