Make learning about homophones and their definitions an engaging whole-class activity with this homophones bingo game.
Homophones Bingo for Kids!
We all know that students love a little healthy competition when it comes to learning and revising key concepts! Turning any topic into a game is a great way to review content and keep your students engaged at the same time. If your students have been working with homophones, you may be looking for a whole-class game that will get your students identifying these tricky little words in the context of real sentences.
This printable bingo game comes with 30 calling cards and 32 different bingo boards. Two blank boards are also provided in the download.
The homophones included in this resource are: male/mail, pear/pair, toe/tow, flower/flour, one/won, write/right, ate/eight, see/sea, tail/tale, blew/blue, waste/waist, their/there/they're, where/wear, your/you're.
With a few games of homophones bingo under their belts, your students will be using these troublesome words in their writing with ease!
How to Play Homophones Bingo
To play this homophones bingo game:
Distribute a bingo game board to each student, along with counters or buttons to cover the words as required.
Draw a calling card and read the sentence aloud to the class. The homophone in the sentence is underlined.
Students will then look at their bingo game boards to see if their board contains the homophone from the sentence. If so, they can place a counter over the word.
Play continues until a student achieves a bingo by covering four squares in a row, either vertically, horizontally or diagonally.
Continue as many times as needed, or have students switch to a new game board after each round.
Note: The "Free" square can be used automatically as part of any line.
Looking to spice up your bingo game? Why not have your students aim for the following winning combinations:
Four corners
The letter "X"
Full house
How to Access Our Homophones Bingo Game
This resource downloads as a full-color or black-and-white PDF. Use dropdown menu next on the Download button above to access your preferred file.
Print on cardstock for added durability and longevity. Place all pieces in a folder or large envelope for easy access.
More Great Homophones Activities
Looking for more great teacher-created resources to bring your homophones lessons to life? Check out the suggestions below!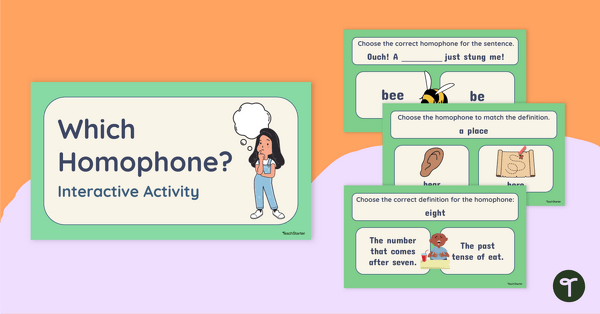 teaching resource
Add some excitement to your vocabulary lessons with an interactive game exploring homophones and their definitions.
teaching resource
Play a whole-class game to review common homophones and their meanings.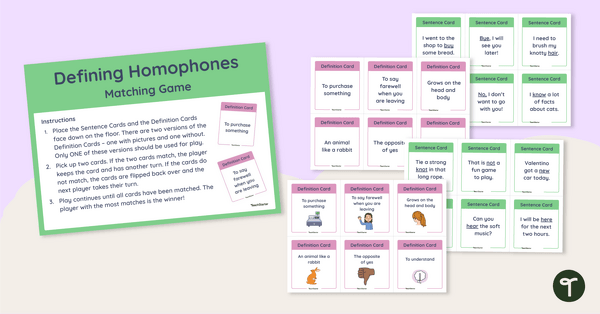 teaching resource
Help your students become familiar with the meanings and spellings of common homophones with this set of 36 differentiated matching cards.