A set of 10 worksheets to allow students to reflect on their application of various learning dispositions.
The term 'learning dispositions' refers to a range of characteristics or attributes that students can draw upon and apply when engaging in their learning.
The application of these dispositions at various times throughout the learning process can have significant effects on student learning outcomes.
Learning dispositions can be promoted and applied across all areas of school life, thus helping students to develop a deeper understanding of how they can become the best possible learner.
This set of worksheets encourages students to reflect upon and describe a time when they displayed a particular disposition in their learning.
The learning dispositions include:
Motivation
Respect
Resilience
Reflection
Collaboration
Persistence
Creativity
Curiosity
Flexibility
Independence.
Use this resource in conjunction with our Learning Dispositions Poster Pack.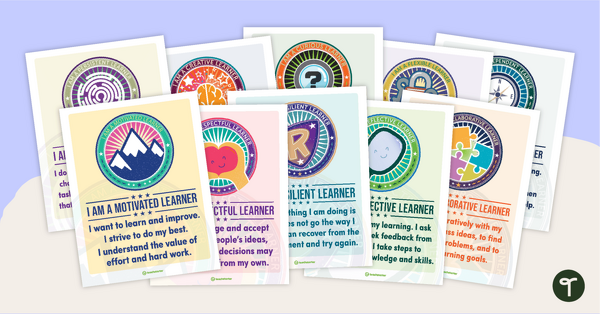 teaching resource
Teach your students about learning dispositions with this set of 10 posters.