Practice identifying the different literary genres and their matching definitions with this set of 16 flash cards.
Most readers are drawn to specific kinds of literature for entertainment. 
Whether it's classic romance (like Wuthering Heights) or contemporary (like Twilight)…
Fantastic tales featuring wizards and witches (Harry Potter), orcs, elves, and hobbits (The Lord of the Rings)… 
Or science fiction beasts like giant squid (20,000 Leagues Under the Sea) and man-eating whales (Moby Dick)…
…literature has something for everyone. 
You just have to know what you like. 🤓
By exploring the elements of literary genres, students are able to identify and examine the characteristics that make each type of text unique. In this way, they'll be equipped to connect with a story's purpose, message, or theme. 
To help students understand and respond to different types of literature, we've created this set of flash cards with the following literary genre-related vocabulary words and their definitions:
Fantasy

Romance

Horror/Suspense

Adventure Novels

Realistic Fiction

Biography

Graphic Novel

Humorous

Science Fiction

Historical Fiction

Mystery Novels

Sports Novels

Myth

Fairy Tale

Traditional Literature

Poetry



How to Use Our Literary Vocabulary Words Flash Cards
As a reading center activity, we recommend first punching a hole in the corner of each flash card and placing them on a binder ring. This helps to keep the cards organized and together so you never lose a card in a pocket or under a desk. Plus, you can control the order your students review the words in to create a logical sequence that builds upon your students' knowledge.
Aside from using flash cards as a single-student reading center game, this learning aid can also be used as a partner game or for guided reading group learning. 
How to Use Literary Vocabulary Words to Make Memorization A Physical Exercise
There are lots of ways to use our genres in literature vocabulary cards with your students. Here are a few ideas to try today! 
Memory Match
Bonus points for this version of the game as it helps students with their memorization skills! Print vocab words and definitions separately on thick paper so that you can't read through the paper. Face vocab words and definitions face down. Each student takes their turn flipping 2 cards at a time until either finds the matching definition to the word and sets the pair aside to keep score.
Charades
Just like a party game you would play with your friends, charades is an activity to play with kids to get them moving and improve their communication skills. Print cards on heavy cardstock front to back, and place them in a bowl or bag. You can divide groups into teams, or have them play as a group and forgo keeping score. One at a time, have each student come up to pull a card and act out the vocabulary word to their team. The group with the most correct answers wins!
Gallery Walk
Why not get students moving by hanging up these cards around the room and have your students complete a gallery walk? Print cards on heavy cardstock and number each card 1-16. Write all 16 vocabulary words on the board for students to reference while walking around the room. With only the definitions facing out, hand students a recording sheet with just the numbers and ask each student to record the vocabulary word that corresponds with the numbered definitions around the room.
Change the Difficulty Level if Needed
Got fast finishers? Students who need more time on the concept?
To expand this resource, ask students to take out a sheet of paper and list book titles that match each of the different literary genres. The titles can be actual books they've read, or they can show they understand the concept by making up their own!
Help struggling students by assigning these flash cards in partner work, or in small group instruction with a teacher. 
Easily Prepare This Resource for Your Students
Print the flash cards on cardstock for added durability and longevity.
These cards were designed to be printed on both the front and back of the paper so that the literary genre vocab word is on the front side of the card and the definition is on the back.
Follow these directions to print double-sided cards:
Select

File

from the navigation bar, and click

Print

from the drop-down menu

From the dialogue box that pops up, click on

More settings

Pages per sheet should be set to "1"

If it is not already selected, check the box for

Print on both sides

If it is not already set to

Flip on short edge

, use the dropdown to make this selection

Click the Print button
Cut out the flash cards. Punch a hole in the corner of each and place them on a binder ring to keep all cards together. 
Before You Download
Use the drop-down icon on the Download button to choose between the PDF or Google Slides version of this resource. 
---
This resource was created by Heather Chambers, a teacher in Texas and a Teach Starter Collaborator. 
Looking for more great ways to explore the vast world of literature? We've got lots more ideas for getting your students excited about reading!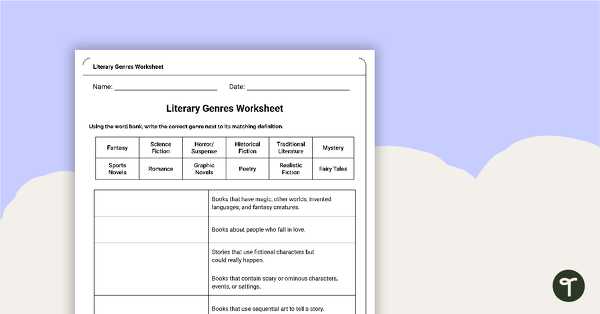 teaching resource
A worksheet to practice identifying the characteristics found in different literary genres.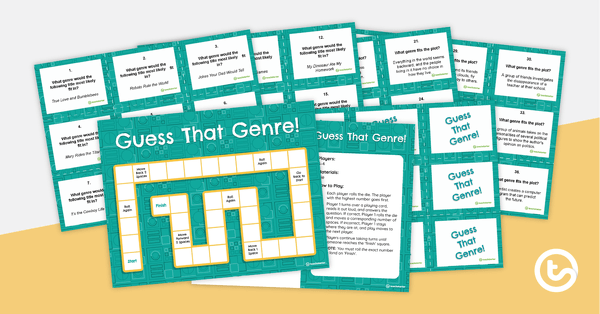 teaching resource
A board game to practice identifying different fictional genres.
teaching resource
A set of 12 cards to practice identifying fictional genres.