Practice distinguishing between long and short vowel sounds with this set of 36 picture cards and vowel sound game board.
All vowels have 2 sounds—long and short. 
That means one of the biggest reading challenges is teaching your students to identify which of the 2 vowel sounds are in the words as they are read.
In this activity, students will identify specific vowel sounds by matching the words on picture cards to the vowel phonemes on the game board. 
How to Play Our Long & Short Vowel Sounds Game
Use this resource in your reading center, as a guided reading activity, or a whole class exercise (see below) to practice distinguishing between long and short vowel sounds.
To play, students will choose a card and say the word. They'll then identify the vowel sound in the word and move to the next space on the game board with that vowel sound. 
Spaces on the board are designated with long and short vowel sound symbols:
Scaffolding + Extension Tips 
Challenge students who already understand the concept to produce additional words for each vowel sound. 
Support students who need help understanding the concepts by referring them to an alphabet chart or desk plate. 
Get our 10 Best Scaffolding Strategies here! 
Get More Play from Our Vowel Sounds Game
Use this resource as independent practice for fast finishers, and for full-class learning opportunities like scoot activities, lesson reviews, formative assessments, and more.
⏰ Rhyme Time
Prompt students to start building word families! After identifying which words have short and long vowel shoulds, have the student sort words that rhyme into groups, writing them on a separate piece of paper. Then, they can share their lists with a partner to read.
👯‍♀️  Odd Man Out
Place three cards at each station, making sure two cards have the same vowel sound the 3rd card doesn't match. Student pairs will rotate through each station and identify the 2 cards with the matching long or short vowel sound. 
🗣️ Group Review
This activity works best if your class is working on learning the short and long sounds for 1 vowel at a time (a, e, i, o, or u). After your lesson, use your smartboard or another projection device to present a picture card for students to see. Say the word together and have the students use choral response to identify whether the vowel sound they hear is long or short.
Easily Prepare This Resource for Your Students
Print on cardstock for added durability and longevity. Place all pieces in a folder or large envelope for easy access. 
Before You Download
Use the dropdown icon on the Download button to choose between the PDF or Google Slides version of this resource. 
---
This resource was created by Lindsey Phillips, a teacher in Michigan and Teach Starter Collaborator. 
Show your students how fun it is to play with vowel sounds with more games and activities: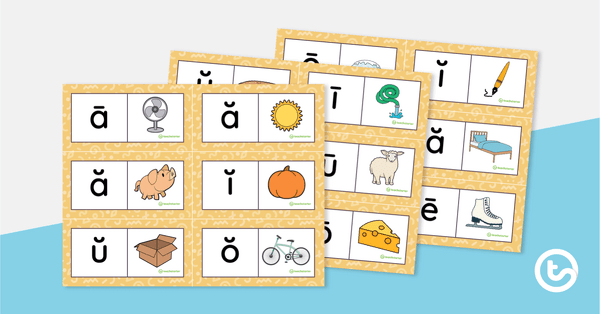 teaching resource
Distinguish between long and short vowel sounds with this set of 28 dominoes.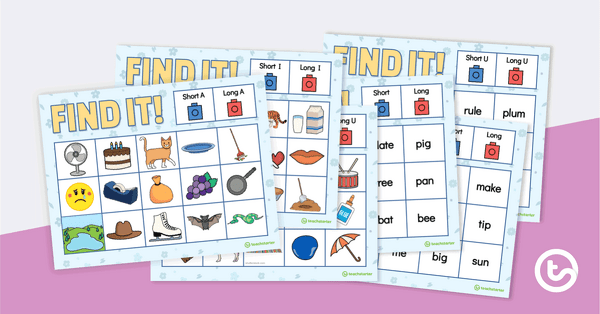 teaching resource
Practice distinguishing between short vowel sounds and long vowel sounds with this set of 16 task cards.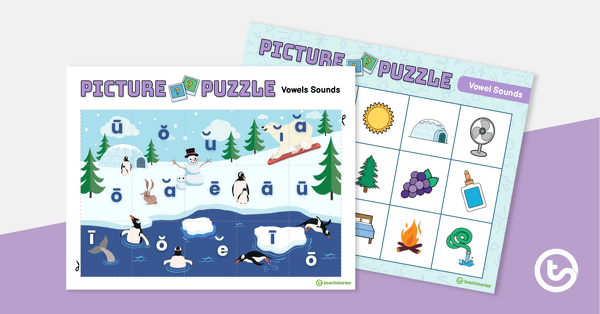 teaching resource
Distinguish between long and short vowel sounds with this 15 piece vowel picture puzzle.