Create a lovely heart waterfall greeting card for your students to give to someone special.
Let Love Flow With A Waterfall Card 
Create a unique message of love for someone special with this adorable card template. 
Students will write a special message that appears on the hearts when the recipient pulls on the bottom tab. They can write a single note on each heart, or use the pull tab's cascading effect to reveal one word at a time. 
This template can be used to celebrate events like:
❤️ Mother's Day 
❤️ Father's Day 
And more!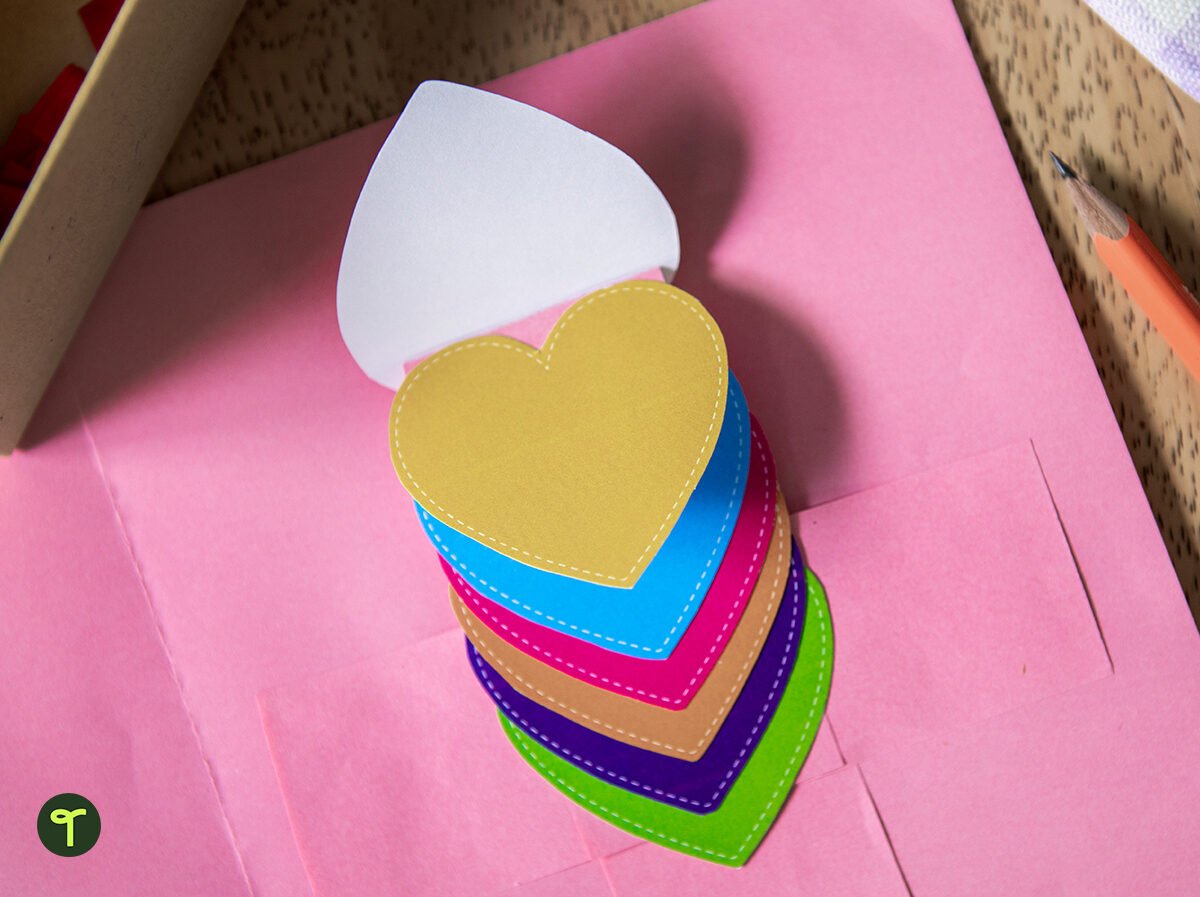 Pull the bottom tab to reveal the card's special message. 
✂️ Hand Over The (Safety) Scissors 🖍️
You don't have to cut these elements yourself. This template makes for a bonus cutting skills activity, depending on your students' ages and abilities. 
With adult supervision, cutting skills help students work multiple muscle groups and their brains, plus:
Strengthen finger and hand muscles

Build dexterity and fine motor skills

Improve hand-eye coordination

Develop focus and attention
And all of these skills are necessary to use a pencil, a toothbrush, a fork; button a shirt, zip-up pants, tie shoes; write, type, and swipe.
Scissor skills are brain and muscle skills! 
When Downloading & Printing
Please note this resource will download as a PDF, and includes both full-color hearts and blank heart templates. Alternatively, print blank hearts on colored paper, or print on white paper to turn this into a coloring activity. 
Customize your print options by selecting only the necessary from your printer's set-up menu. 
Print on cardstock for added durability.
Want more? Check out 20+ Valentine's Day Activities Your Class Will Love »
---
Be still my heart! We've got more Valentine's Day activities and teaching resources to share a love of learning:
[resource:4362809]   [resource:4565098]   [resource:4247126]