A printable mind map to use when planning ideas with your students.
Fun Brainstorming for Kids
Using a mind map when brainstorming can help students gather their thoughts and plan their ideas in an organized way. This brainstorm template is useful through many grade levels and can be applied across multiple learning areas.
This eye-catching, tentacle-wrapping mind map design will be perfect for your students when planning their next:
design project
persuasive writing piece
informative text.
How to Use a Mind Map
Mind map templates are a great way to brainstorm ideas individually as well as in small groups and teams. The branches of a mind map graphic organizer indicate separate ideas that your students may have about the topic.
Have students write the topic or concept on their mind map template.
In each section, students write their ideas and thoughts that are related to this topic.
Encourage students to find links between each idea and have them color coordinate the related ideas on their concept maps.
Each idea branch can then be explored further using additional mind maps with the idea being used as the topic.
---
Take a look at this other Mind Map Template. It's sure to be a hit during your next brainstorm!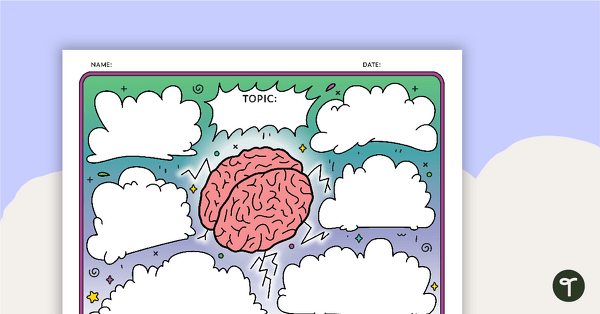 teaching resource
A printable mind map template for students to use when gathering thoughts and ideas.