Enhance your primary grade economics lessons with a few rounds of Needs vs. Wants Bingo!
Grab Some Resources on Needs and Wants!
Spice up your social studies lessons with a fun and exciting game of Needs vs. Wants  Bingo. This game is designed to be used as a whole group practice activity during your Goods and Services unit or for Social Studies lessons on topics like community, economics, and occupations. 
This resource provides opportunities to answer the following essential questions.
What is the difference between a need and a want?

What are some needs and wants examples?
👨‍🏫💈🛒Want vs. Need Bingo Gameplay🛒💈👨‍🏫
Provide each student with a game board and counters as board markers.

Pull a clue card from the stack and read it aloud. 

Students will listen to the need or want described and attempt to locate an image representing it on their game board.

The first student to get four in a row wins!
Through this activity, students will learn the difference between need and want and be able to make better choices on how to spend time or money on things.
Easily Prepare This Resource for Your Students
This resource requires very little preparation to implement in the classroom. Simply download and print the PDF or Slides version of the resource, grab some gameboard markers, and you're ready to go!
Before You Download
Use the dropdown menu on the Download button to choose your PDF or Google Slides file.
Grab a needs and wants worksheet, game, or activity in our resource collection.
---
This resource was created by Lindsey Phillips, a teacher in Michigan and Teach Starter Collaborator. 
Don't stop there—check out more social studies activities like these to help your students learn more about their community: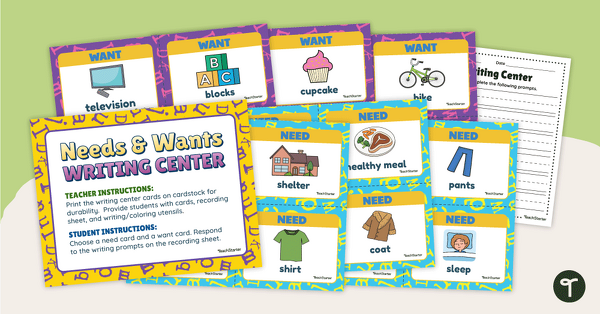 teaching resource
Combine Social studies and writing content with a set of Needs and Wants writing prompts for first grade.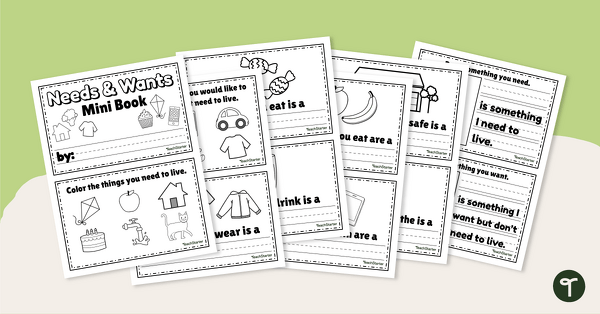 teaching resource
Introduce the concept of needs and wants to your students with this easy-to-use printable mini book.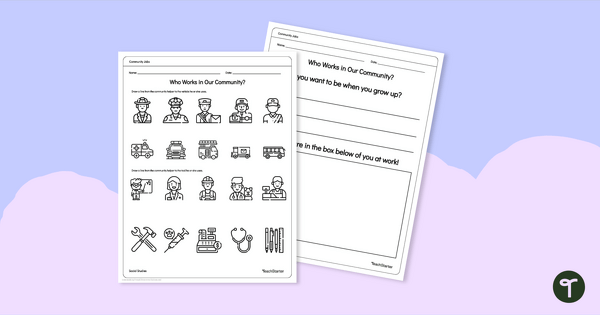 teaching resource
A worksheet to use when learning about community helpers.