Form words by blending onsets and their rimes with this set of 28 dominoes.
Onsets (the beginning consonant sound) and rimes (the string of vowels and consonants after the onset) are the building blocks of words. 
They give early readers a place to start and a path to follow when they take on unfamiliar words. 
Applying this learned reading skill is similar to following a roadmap—following the route one sound (phoneme) at a time until you get to the endpoint. 
Teaching onset and rime becomes playtime with our dominoes game, in which students connect the picture/onset domino with its matching rime. 
Master Reading through Play with Onsets and Rimes 
This resource can be used as a reading center activity, with your guided reading group, or as a full class activity to practice forming words by blending onsets and rimes. 
To play, the domino cards are shuffled and divided equally among players. One player lays a domino down the middle of the playing area. Students take turns matching the onset/picture with its rime to complete the word.
For example, if a player were to lay down the "🦇 b" domino. The next player would then play the domino with "at," laying it adjacent to the onset and completing the word. Gameplay continues in this way until someone lays down their last domino, making them the winner.
Turn This Activity into Even More Onset and Rime Games!
We think you're going to like these extra opportunities for blending onsets and rimes.
Write the Room (Scoot Activity)
Hang sheets of chart paper around the room and write a rime from the dominoes at the top of each one. Individually or with a partner, have students rotate around the room to add an onset to each rime, forming completed words. Words may be used only once.
Word Families
Students can practice their word families. Have students take out a sheet of paper and write one other word that uses the same rime as a word on the dominoes. 
Fast Finisher Independent Play
This game can be played single-player as a reading center activity. If you would like to check the students' work, ask them to write the sequence they come up with on a separate piece of paper.
Check out more dominoes games here! 
Onset-Rime Awareness Scaffolding & Extension Tips
Once students have combined all the words, have them put as many connected dominoes as they can in alphabetical order. Then, have them put the picture side of the cards in alphabetical order. 
Invite students to use a visual reminder such as an onset & rime anchor chart or an alphabet chart to sound out words they may struggle with. 
Easily Prepare This Resource for Your Students
Print the task cards on cardstock for added durability and longevity. Place all game parts in a folder or large envelope. 
Before You Download
Use the drop-down icon on the Download button to choose between the PDF or Google Slides version of this resource. An answer key is also included with this download.
---
This resource was created by Lindsey Phillips, a teacher in Michigan and a Teach Starter Collaborator. 
Practice onset and rime, beginning sounds, phonemes, and more with these early reader-approved activities: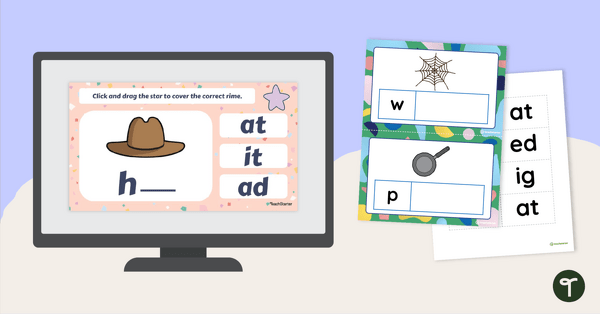 teaching resource
Practice forming words by blending onsets and rimes with this set of 15 rime cards that match their picture/onset card.
teaching resource
A set of 30 task cards to practice segmenting one-syllable words into their individual phonemes.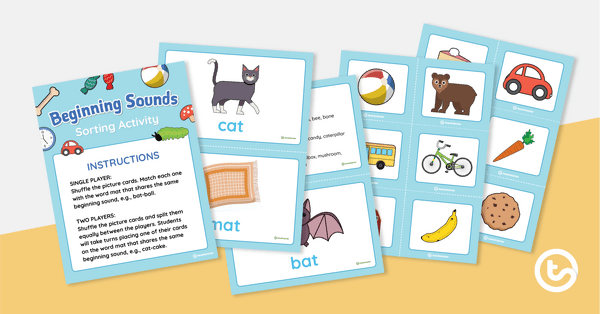 teaching resource
Practice identifying beginning sounds of words by sorting this set of 24 picture cards.