Create new words by adding initial phonemes through 32 match-up cards.
This activity gives students an opportunity to practice rhyming words and identifying word families like…
In our phoneme addition matching game, students will construct words by adding phonemes and matching the new word to its picture card.
Practice Phoneme Addition to Make New Words
This resource can be used as a reading center activity, with your guided reading group, or as a whole class activity (see below) to practice creating new words by adding sounds.
To play, shuffle the cards and place them face down in rows in the middle of the playing area. Players take their turn by flipping over two cards to find a match. For example, if the student pulls the "🧊 + d" card, they would match it to the "🎲" card because adding the /d/ phoneme creates the word "dice." 
If the cards make a match, the player keeps them and takes another turn. If the cards do not match, they turn the cards back over and the next player takes their turn. Play continues until there are no more cards left in the playing area. The player with the most matches wins!
Or why not use the phoneme addition cards in your guided reading group as simple flashcards. Show the card to a student and have them say the picture word, then add the phoneme and say the new word.
More Ways to Play with Phoneme Addition + Scaffolding and Extension Tips
This resource can be used for individual instruction, especially if you've got fast finishers! You can also create phoneme addition activities like scoot games, lesson reviews, comprehension assessments, and more. 
Invite students to use a visual reminder, like an anchor chart or an alphabet display, to sound out words they may struggle with. 
Show Me!
Give each student a mini dry-erase board and a dry-erase marker. Project a phoneme addition card and have your students write the new word made on their board. When everyone has written down their answer, say, "Show Me." Students will flip their boards, allowing you to see who needs extra support adding phonemes. 
Odd Man Out
Set up 8 stations by placing three cards at desks throughout the room—1 phoneme addition card and 2 picture cards, making sure 1 of the picture cards completes the added phoneme pair. Student pairs will rotate through each station and identify the cards that match, writing their answers on a separate sheet of paper. 
Knock Off
Have your students stand up and make a line across the room. Project a phoneme addition card on the screen. Use our Random Name Picker widget to draw a student's name and have them tell you the new word created when the specified phoneme is added. If the student correctly identifies the new word, they tap the person on their left or right to send them back to their seat. If the student answers the card incorrectly, they must sit out. Play continues until there is only 1 student standing.
Check out 10 helpful scaffolding strategies here! 
Easily Prepare This Resource for Your Students
Print on cardstock for added durability and longevity. Place all game parts in a folder or large envelope for easy access. 
Before You Download
Use the drop-down icon on the Download button to choose between the PDF or Google Slides version of this resource. 
---
This resource was created by Lindsey Phillips, a teacher in Michigan and a Teach Starter Collaborator. 
Get more phoneme addition, deletion, substitution, and segmentation activities, like these:
teaching resource
A comprehensive set of phonemes and letter combinations to help your students build words.
teaching resource
A word building folder to develop students' phonemic awareness.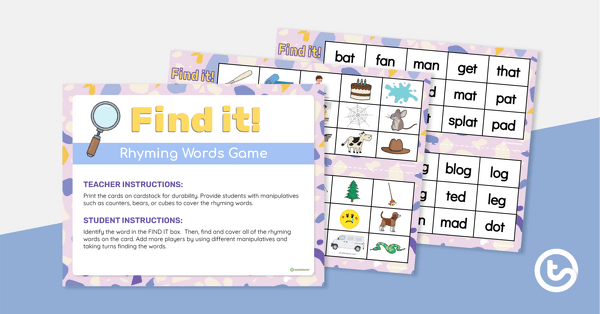 teaching resource
Practice recognizing rhyming with pictures and words using this set of 20 cards.