Practice using the correct forms of possessive nouns with an exciting game of Four-in-a-Row!
How to Teach Possessive Nouns…That is the Question!
The first rule of teaching possessive nouns is to practice, practice, practice. The second rule is to let us help you make that practice fun and exciting for your students!
What are Possessive Nouns?
Possessive nouns are nouns that show ownership. That doesn't seem too hard to teach, right? But when you add in the elements of singular and plural nouns and nouns that already end in 's', it can get a bit tricky. Students need quite a bit of practice to keep all of the rules straight! This resource is the perfect writing center activity to do just that!
To play, students will
Choose a card and read the sentence. 

Find the matching possessive form on the game board and cover it with a game marker.

They must connect four squares in a row to win! When the cards run out, they canmix them up and start again!
This game, along with some of our other amazing resources are sure to help your learners master this complex grammar skill. You might also need one of the following
🧠Google Interactive Possessive Practice
Download & Print — It's Child's Play! 
Use the dropdown arrow on the Download button to get your preferred copy of the resource. It is available as 
Color Possessive Noun PDF

Black and White Possessive Noun PDF

Color Possessive Noun Google Slides

Black and White Possessive Noun Google Slides
Print the document of your choice, place it in a literacy center or station, and put your students to work! 
NEXT: 25 Grammar Activities for the Classroom
---
This resource was created by Lindsey Phillips, a teacher in Michigan and Teach Starter Collaborator. 
While you're here, check out more possessive nouns games and activities to fill your lesson plans: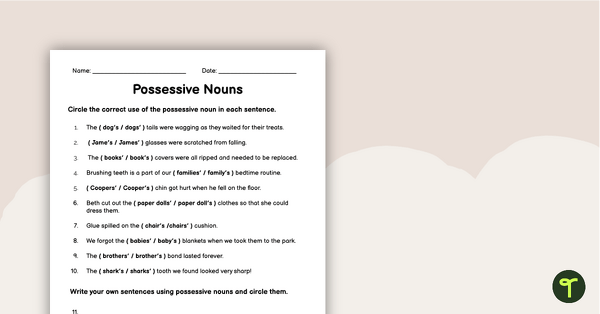 teaching resource
A worksheet to practice writing possessive nouns correctly.
teaching resource
Track student progress during guided writing sessions with this template.
teaching resource
A set of 20 editing passage task cards with answers.