Practice reading and writing Dolch's pre-primer high-frequency words with this board game for multiple players.
The Dolch sight word lists are the most commonly used sight word reference tool for educators. 
This activity will reinforce the first few dozen high-frequency words your pre-k students will learn, preparing them to advance their reading expertise! 
Practice Pre-K High-Frequency Words
Through this activity, students will show they can identify 36 high-frequency words from Dolch's research-based pre-primer sight words list.
Players will roll a die and move that many spaces on the board, identify the sight word, and write it on the recording mats provided.
The pre-k sight words students will review in this activity include:
a, and, big, blue, can, come, down, find, for, go, help, here, I, in, is, it, jump, little, look, me, my, not, one, play, red, run, said, see, the, three, to, two, up, we, where, you
Scaffolding + Extension Tips 
Challenge fast finishers who already understand the concept to write the words in alphabetical order on a separate piece of paper. 
Support students who need help understanding the concepts with a visual reminder of the sight words such as a word wall or an anchor chart displayed in the classroom.
Get our 10 Best Scaffolding Strategies here! 
More Activities
We created this resource for your reading center as an independent practice activity. You can also use it for small group and full-class instruction through scoot activities, lesson reviews, formative assessments, and more! 
We suggest these: 
🧑‍🏫 Show Me!
Give each student a mini dry-erase board and a dry-erase marker. Project the game board on your screen and roll a die to select a word. Sound it out together and have your students write the word on their board. When everyone has written their answer, say, "Show Me." Students will flip their boards, allowing you to see who needs extra support.
👉 Knock Off
Have your students stand up and make a line across the room. Project the game board on your screen and roll to move to a word. Use our Random Name Picker widget to draw a student's name to read the word. If the student answers correctly, they tap the person on their left or right to send them back to their seat. If the student answers the card incorrectly, they must sit out. Play continues until only 1 student is standing.
🪑 Musical Chairs 
Use the recording sheets to pre-write the sight words, arrange student chairs in a circle, and place a sight word card on each one. When the music begins the students walk around the circle. When it stops, students pick up a card, read the word, and sit in a chair. The last student to sit down is out.
Easily Prepare This Resource for Your Students
Print on cardstock for added durability, and slip the recording mats into dry-erase sleeves. Students can record their answers with a dry-erase marker, then erase and reuse.
Before You Download
Use the dropdown icon on the Download button to choose between the PDF or Google Slides version of this resource. 
---
This resource was created by Lindsey Phillips, a teacher in Michigan and Teach Starter Collaborator. 
Prepare your Pre-K readers to tackle their sight words by adding these activities to your reading center: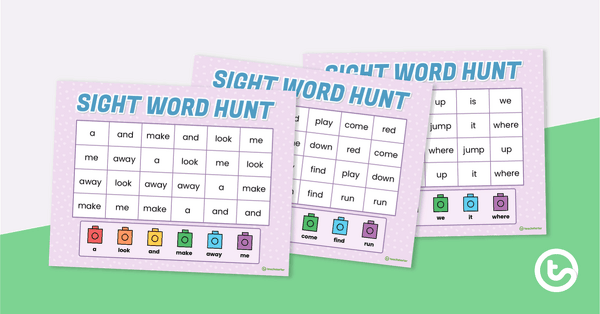 teaching resource
Practice reading high frequency words by sight with a set of 6 Dolch Pre-Primer Sight Words game boards.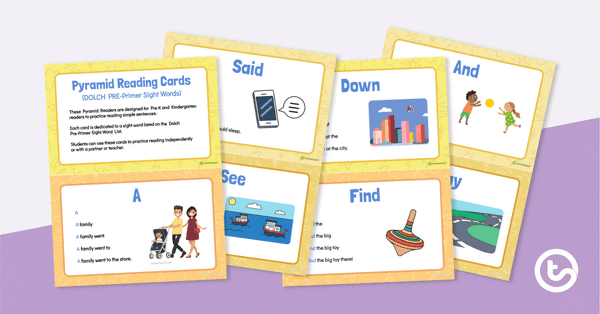 teaching resource
Practice and review the Dolch Pre-Primer List of high-frequency words with 40 short phrase cards for emergent readers.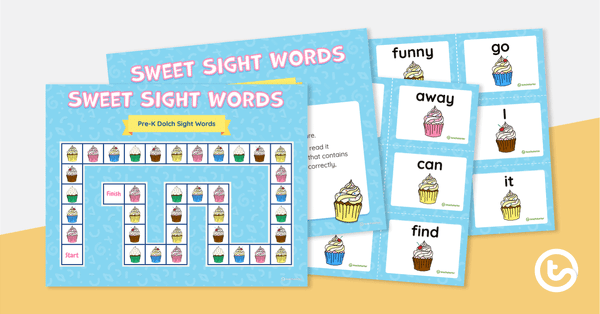 teaching resource
Practice reading high-frequency words with this board game of 41 pre-kindergarten Dolch sight word cards.