Practice reading and writing high-frequency Dolch Primer sight words with this board game for up to 6 players.
The Dolch sight words list contains 220 high-frequency words students will become familiar with as they begin reading on their own. The Primer list is categorized by the words most often identified by Kindergarten and First Grade-level readers. 
To play this board game, students will move around the game board, reading and writing Dolch Primer sight words as they go. 

Practice Recognizing Dolch Primer Words while You Play! 
Use this resource as a reading center activity, with your guided small group, or a whole class activity (see below) to practice reading high-frequency words by sight.
Each player gets their own writing mat. On their turn, players will roll a die, move the matching number of spaces on the board, then read and write the word on their mat. If they do both correctly, they stay in the space. If they answer incorrectly, the player moves back to where they started. Play continues until one player lands on FINISH!
Scaffolding and Extension Tips + More Sight Word Fun
Challenge students who understand the concept to use the word in a sentence to show that they understand its meaning. 
Support struggling students with a visual reminder, like an anchor chart or Dolch word wall. 
Use this resource as independent practice for fast finishers, and full-class learning opportunities like scoot activities, lesson reviews, comprehension assessments, and more.
Alphabetical Ordering
Have students keep track of their words on a piece of paper during game pay. After they finish the game, students can race each other to put their words in alphabetical order. 
Rhyme Time
Using the game board, have students write 1-2 more words (not already on the board) that rhyme with the word. 
Group Lesson 
This activity can be used as a whole class post-lesson assessment or exit activity. Using your smartboard or another projection device, present the entire game board. Roll a number cube and use our Random Name Generator widget to call on a student to tell you which word to move to. Then, give students 1 minute to write the word on a sheet before moving to the space. Collect the papers to see if any students need help with the concepts. 
Easily Prepare This Resource for Your Students
Print on cardstock for added durability, and slip writing mats into dry-erase sleeves. Students can record their answers with a dry-erase marker, then erase and reuse. Place all game parts in a folder or large envelope. 
Before You Download
Use the drop-down icon on the Download button to choose between the PDF or Google Slides version of this resource. 
---
This resource was created by Lindsey Phillips, a teacher in Michigan and a Teach Starter Collaborator. 
Learning sight words is sweet when you have plenty of activities to make reading fun!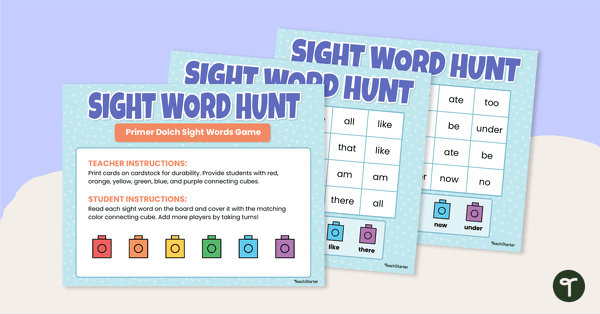 teaching resource
Practice reading high-frequency words by sight with a set of 8 Dolch Primer Sight Words game boards.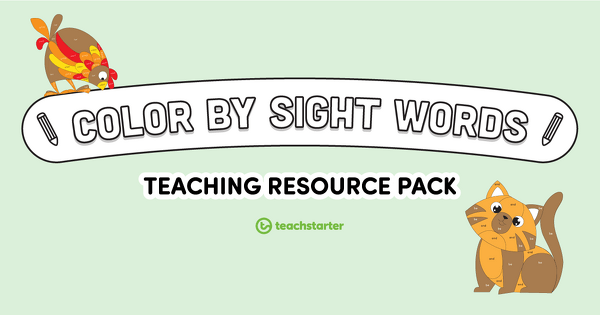 resource pack
A collection of coloring worksheets that use sight words as indicators.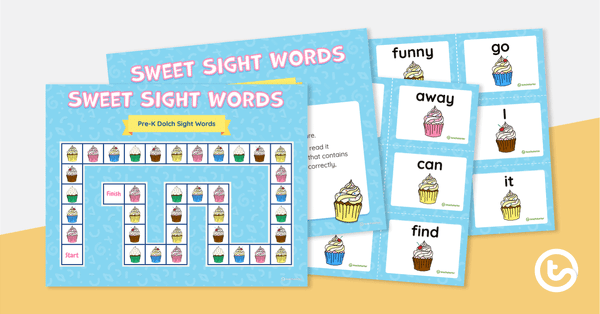 teaching resource
Practice reading high-frequency words with this board game of 41 pre-kindergarten Dolch sight word cards.