Distinguish between long and short vowel sounds with a short and long vowel sorting center activity.
How to Teach Vowels…That is the Question…
Many students struggle with identifying and using the correct letters to represent vowel sounds. Telling the difference between short and long vowel sounds can be a difficult task that requires extensive practice opportunities. This activity will help you provide that practice in literacy stations, centers, or homework assignments.
To use our short and long vowel sorting activity, students will look at the picture and sort the words into one of the following categories– short a, long a, short e, long ed, short i, long i, short o, long o, short u, and long u.
Through this activity, students will build phonological awareness by distinguishing between long and short vowel sounds in spoken single-syllable words.
Identify Words with Short and Long Vowel Sounds
Use this resource in your reading center, as a guided reading activity, or as a whole class exercise to practice distinguishing between long and short vowel sounds.
An answer key is included so that students can self-check their matches.
Scaffolding & Extension Tips + More Long & Short Vowel Practice 
Support students who need help understanding the concepts by using a visual reminder of letter sounds, such as an alphabet chart, poster, or

anchor chart

.

Use this resource as independent practice for

fast finishers

 and for full-class learning opportunities like scoot activities, lesson reviews, phonics assessments, and more.
🔔  Bell Ringer Activity
Leave the cards in a pile, and instruct students to grab one as soon as they enter the classroom. On a piece of paper, have students write the word in the picture and underline the vowel sound it features. On the other side, have students write one word with the long or short vowel on the card. 
⏰ Rhyme Time
Challenge students to look at the pictures and think of words that rhyme. What vowel sound do they share? Students proficient in CVC words can keep a list of the words in each image on a piece of paper and write the rhyming words they come up with.   
Get our 10 Best Scaffolding Strategies here! 
Easily Prepare This Resource for Your Students
Print on cardstock for added durability and longevity. Place all pieces in a folder or large envelope for easy access. 
Before You Download
Use the dropdown icon on the Download button to choose between the Color or Blackline PDF or Google slides version of this resource. An answer key is also included with this download.
---
This resource was created by Lauren Blankenship, a teacher in Florida and a Teach Starter Collaborator. 
Show your students how fun it is to play with vowel sounds with these and other Language Arts teaching resources: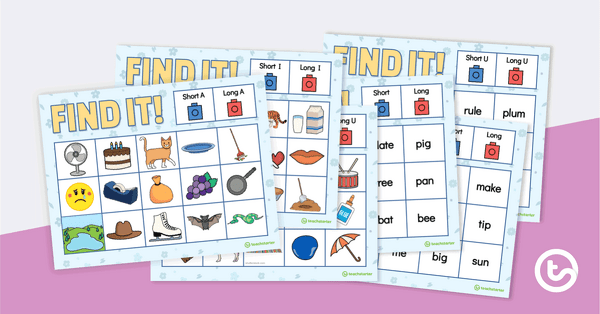 teaching resource
Practice distinguishing between short vowel sounds and long vowel sounds with this set of 16 task cards.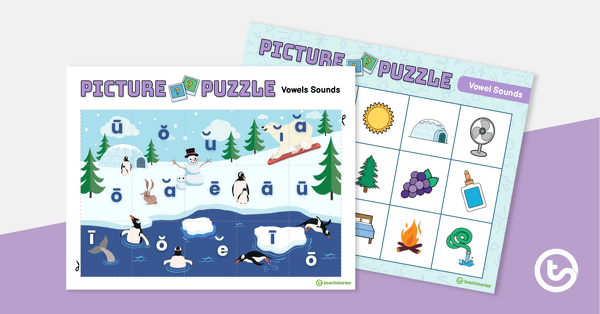 teaching resource
Distinguish between long and short vowel sounds with this 15 piece vowel picture puzzle.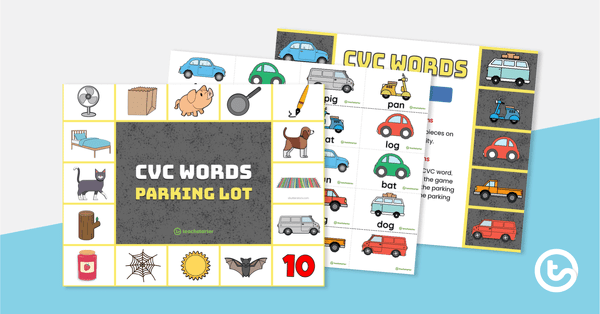 teaching resource
Practice decoding and spelling CVC words with this set of 16 word cards and matching game board.