Track student progress in your classroom with this mountain-themed bulletin board or wall display.
Encourage your students to achieve their goals with this whole class progress tracker!
Display the Summit of Success Goal Mountain in your classroom. Use our Sticky Note Printing Template to print the Mountain Goat sticky notes. Each time a student reaches a goal, they can move their Mountain Goat sticky note to the Summit of Success Goal Mountain. Once the whole class has filled the mountain they get a reward of your choosing!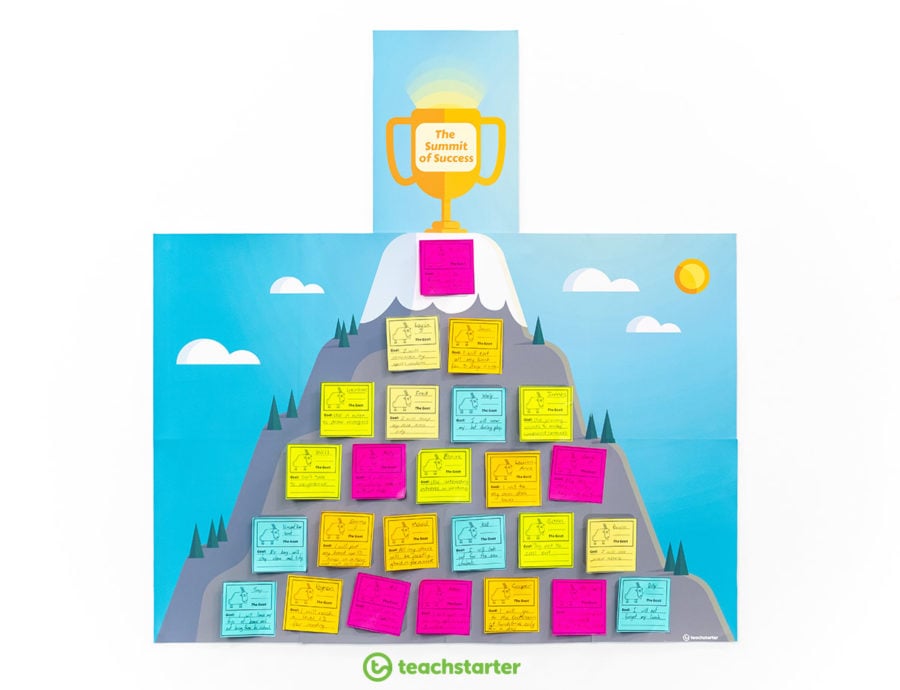 Use this teaching resource in the classroom as part of your Progress Tracker wall for classroom management or a subject area of your choice when setting student goals and providing feedback.
This pack includes:
Summit of Success Goal Mountain print out
Mountain Goat Goal sticky note printing template
To assemble the Summit of Success Goal Mountain, simply print, cut out around the dotted lines, and attach them all to a dedicated wall space.
Read our blog 36 Tricks to Make Learning Stick! Teaching With Sticky Notes for more sticky note ideas!
Use the dropdown menu on the Download button to choose between the full color, low-color, or black and white PDF version of the resource. This is also where you will find the sticky note mountain goat goal template.