Print on sticky notes with this editable template.
❤️  We Love Sticky Notes
The Post-it Notes company and teaching go together like peanut butter and jelly. But do you know how to print on sticky notes? Even better, did you know we have a sticky note printing template to make the whole thing easier?
Whether you use Post-it Notes in your classroom for student use or you're the kind of teacher who has sticky notes stuck on papers to remind yourself what's in each pile, printing can save you a whole lot of time vs. writing things out on your Post-it notes.
📝  Suggested Ways to Use Printed Sticky Notes in the Classroom
There are a million ways you can use printed sticky notes in the classroom. Let us help you with a few ideas!
😊 Leave Positive Messages for Your Students
Print a positive message or mindful coloring design on a set of sticky notes and place on your students' desks before they enter the classroom in the morning. This is sure to put a smile on their faces!
🚪 Print Exit Tickets for Your Students
Exit tickets are a great way for you to identify who understands the concepts and who needs more practice. Easily create and print an exit ticket for each lesson with this template. When complete, have students stick their sticky note on a classroom door or whiteboard for easy pick up!
☑️ Provide Checklists or Rubrics for Your Students
Keep your students on task by printing a small rubric or checklist for your students to follow as they complete an assignment.
🎗️ Create Reminders for Student Folders
Print out Post-It Notes with classroom reminders and place in a position of prominence in your students' take-home folders. The bright colors will help make the message stand out where parents will (hopefully) see it!Download and You're Done! 
Before You Download 
Use the dropdown icon on the Download button and choose between the editable Microsoft Word or Google Slides template. Open the resource and insert the information you want to be printed on the sticky notes. Use the instructions included in the download to learn how to print!
---
Looking for more sticky note template? We've got you covered!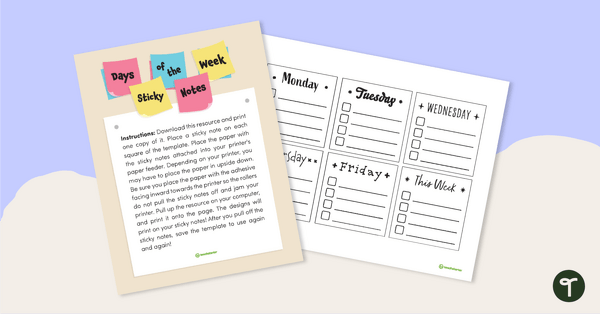 teaching resource
Print on 3x3 Post-It notes or sticky notes with a template that makes it a snap!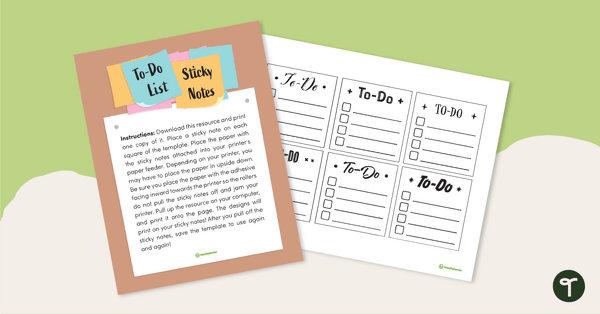 teaching resource
Create custom to-do list sticky notes with this template.