Plan, design, and create a Thanksgiving Parade with a fun Thanksgiving project!
Plan a Parade and Build Your Own Thanksgiving Balloons!
The Thanksgiving Day Parade is the biggest parade in New York City, and we want your students to experience it with this project-based learning activity.
Students will research the history of the parade and its traditions. They will plan their own parade route, lineup, floats, and Thanksgiving Parade Balloons!
This project is a perfect way to engage students during that last week of school before Thanksgiving Break!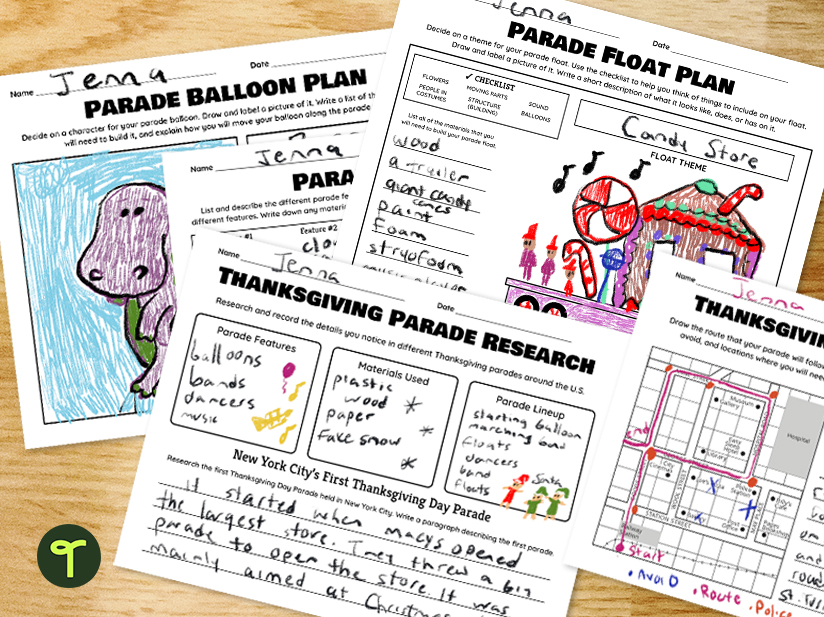 Easily Differentiate Your Parade Balloons Project
A team of dedicated, experienced educators created this resource to support your reading lessons.
Suppose you have a mixture of above and below-level learners and ELL/ESL students. In that case, we have a few suggestions for keeping students on track with these concepts: 
🆘 Supporting Students
Complete only a few portions of the project planning with your students, then jump ahead to the balloon-making activity.

Provide a teacher sample to show students examples of project planning and sketching.
Plan lessons for all ability levels with our 10 Best Scaffolding Strategies! 
Easily Prepare This Resource for Your Students
Use the dropdown icon on the Download button to choose between the Google Slides or PDF version of this resource.
---
This project pairs perfectly with a read-aloud! Check out the book Balloons over Broadway by Melissa Sweet!