Over one hundred general classroom activity cards to use as a visual schedule for your English Language Learners.
Print out these Visual Daily Schedule cards, then cut out and laminate them. Stick them on your board as a visual reminder for your students about the daily schedule.
Use the Analog and Digital Clock Cards to provide specific times for activities.
Topics on the cards include:
Mathematics, Science, Language Arts, STEM, Religion, Technology, Library, PE, Computers, Writing Centers, Math Centers, Reading Centers, Social Studies, Geography, Literacy Centers, Creative Arts, Drama, Art, Languages, Music, Japanese, French, Spanish, Recess, Lunch, Field Day, Snack Time, Pack Up, Dismissal, Mass, Homework, Chapel, Parade, Silent Reading, Social Skills, Clean Up, Assembly, Health, Class Novel, Comprehension, Daily Schedule, Reading, Field Trip, Creative Writing, Guided Reading, Guided Math, Debate, Handwriting, Grammar, Free Time, Special Event, Phonics, RTI, Announcements, Goals, iPads, Show and Tell, Quiet Reading, Substitute Teacher, Special Areas, Spelling, Test, Class Meeting ,Coding, Writing, Editing Skills, Cooking, Today is, Yesterday was, This month is, Last month was, Breakfast Club, Morning Routine, Laptops, Inquiry, Check Homework, winter, spring, fall, summer, Project, Class Discussion
Blank cards are also provided at the end for any specific activities for your classroom.
We also have a Visual Daily Schedule – Spanish/English version available to download.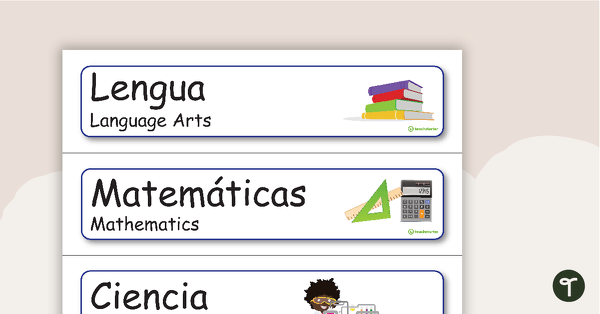 teaching resource
Over one hundred general activity cards to use as a visual schedule in your dual language classroom.