Identify and interpret hyperboles used in sentences.
He talks a mile a minute.  
My new car is like lightning!
I have a mountain of homework to do.
While there are important rules in language, there are also subjective elements that accentuate style and tone—especially when it comes to literature.  
Hyperbole is one of those elements that have a special place in figurative language. 
You might call it exaggeration. But really, it's creative writing—a literary device that adds flair, painting a clear picture to emphasize your point. 
In this exercise, students will read through a set of 20 task cards and decipher the author's meaning in each of the hyperbolic sentences.
How to Use This Hyperbole Activity
Use this resource as a reading center activity, with your guided reading group, or as a whole class activity (see below) to practice understanding hyperbole in figurative language. 
Provide students with a recording sheet, and the full set of task cards to review. 
Scaffolding and Extension Tips + More Hyperbole Practice
Use this resource as independent practice for fast finishers, and for full-class learning opportunities like scoot activities, lesson reviews, comprehension assessments, and more.
Challenge students who have mastered the subject to create their own task cards featuring hyperbole. 
For your struggling students, you might like to limit the number of cards to show only the most ​​common hyperboles. 
Scoot Activity
Place the hyperbole cards around the room in numerical order and give each student a recording sheet. Assign each student a number to start. Give students an appropriate amount of time to read the card and determine the author's purpose, and then say, "SCOOT." At this time, the students will rotate to the next card. Continue in this manner until students have made it through all of the cards. 
Group Lesson 
No need to break out the scissors yet with this activity! Using your smartboard or another projection device, present the cards and have students record their answers on a recording sheet or in their notebooks. They can work through the task cards individually or in pairs/teams. 
Exit Activity
After you go through your coin identification lesson, pass out cards to students as a Language Arts exercise they will answer on their own. Provide them with their own sticky note so that they can turn in their answer as a formative assessment, making sure to write their name on the sticky note (or use our Sticky Note Printing Guide + Template). 
Easily Prepare This Resource for Your Students
Print on cardstock for added durability and longevity. Place all pieces in a folder or large envelope for easy access. 
To turn this teaching resource into a sustainable activity, print a few recording sheets on cardstock and slip them into dry-erase sleeves. Students can record their answers with a dry-erase marker, then erase and reuse.
Keep the task cards out of pockets or under desks: cut out the cards and punch a hole in the corner of each to place them on a binder ring. 
Before You Download
Use the drop-down icon on the Download button to choose between the PDF or Google Slides version of this resource. A recording sheet and answer key are also included with this download.
---
This resource was created by  Heather Chambers, a teacher in Texas and a Teach Starter Collaborator. 
We've got loads more hyperbole activities and resources to make teaching figurative language a breeze!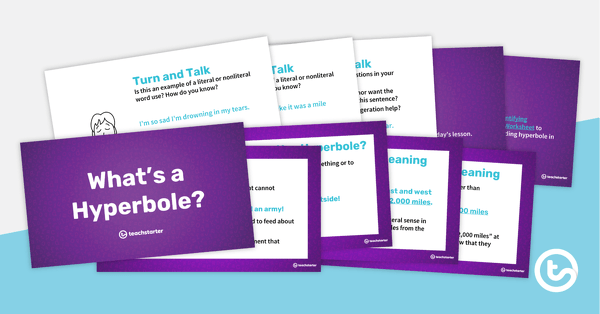 teaching resource
An editable 20-slide PowerPoint to use when teaching your students about hyperbole.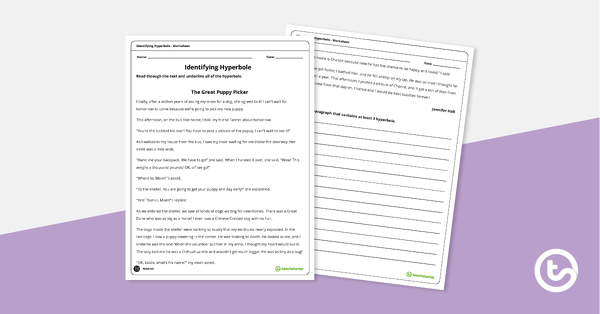 teaching resource
A worksheet to practice identifying hyperbole in a piece of text.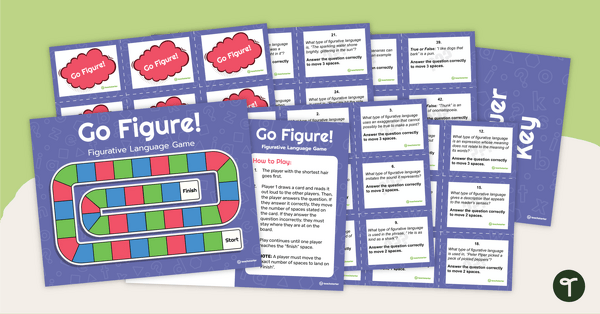 teaching resource
Practice working with different types of figurative language with this hands-on board game.