Pop open a teacher's desk drawer, and we can almost guarantee you're going to find a pile of sticky notes in every color of the rainbow. The Post-it Notes company and teaching go together like peanut butter and jelly. But do you know how to print on sticky notes? Even better, did you know we have a sticky note printing template to make the whole thing easier?
Whether you use Post-it Notes in your classroom to let students update you on how they're feeling, sticky notes for your exit tickets, or you're the kind of teacher who has sticky notes stuck on papers to remind yourself what's in each pile, printing can save you a whole lot of time vs. writing things out on your Post-it notes.
How to Print on Sticky Notes
So let's get down to business here with everything you will need to print your sticky notes … and get on with teaching your kids!
Download a

sticky note printing template

. This has been developed for the most common-sized sticky note — a 3 x 3 inch — and includes spaces for six different sticky notes. 

Print out one copy on letter-sized paper. 

Open a copy of your downloaded template in an editing program — it works in Google Docs or Microsoft Word, or just about any other program you're likely to use. Make sure you don't use your original copy.  

Design whatever it is you want each sticky note to say – you can use

Teach Starter Studio

for easy sticky note design — making sure the design is smaller than 3 x 3. 

Save your design as a JPG file. If you created several so you have different comments on each sticky note, then you will want to save each design file individually. 

Return to your template, and drop the first JPG file inside the first box on your page. 

Use the rotating button so the image flips upside down (you will find out why later).

Repeat in each consecutive box on the page for the same design, or input the different designs you'd like on each box. Remember to flip them!

Delete the boxes in your original template so that they don't print — they're just placeholders for your sticky notes. 

Grab your printed template, and affix 6 sticky notes to the page with the adhesive facing the bottom of the template (we marked it for you to make it easier!)

Place your full template of sticky notes into the printer facing down (this is why you need to have your images flipped upside down). 

Print!
Note: If you have a landscape printer, you need to ensure that the adhesive from the sticky notes is FACING the printer rollers so that the rollers don't pull at each sticky note and jam the printer.
Another Way to Print on Post-Its
Follow steps 1 through 3 from above. 

Create a text box within the first box in your template, and type in your design. 

Flip the text box upside down. 

If you want to repeat the same message, duplicate your text box. If you want a new one, create additional text boxes.

Follow steps 9 through 12 from above! 
This video for printing on sticky notes walks you through it!
How to Use Printed Sticky Notes in the Classroom
Now that you know how to print on Post-it Notes, let's talk about ideas for putting this to work in the classroom.
Leave Positive Messages for Your Students
Welcome your students into the classroom in the morning with a happy note that will make them smile — a printed sticky note on their desk! Teacher Megan Nance created these fun "you are amazing" notes with our template.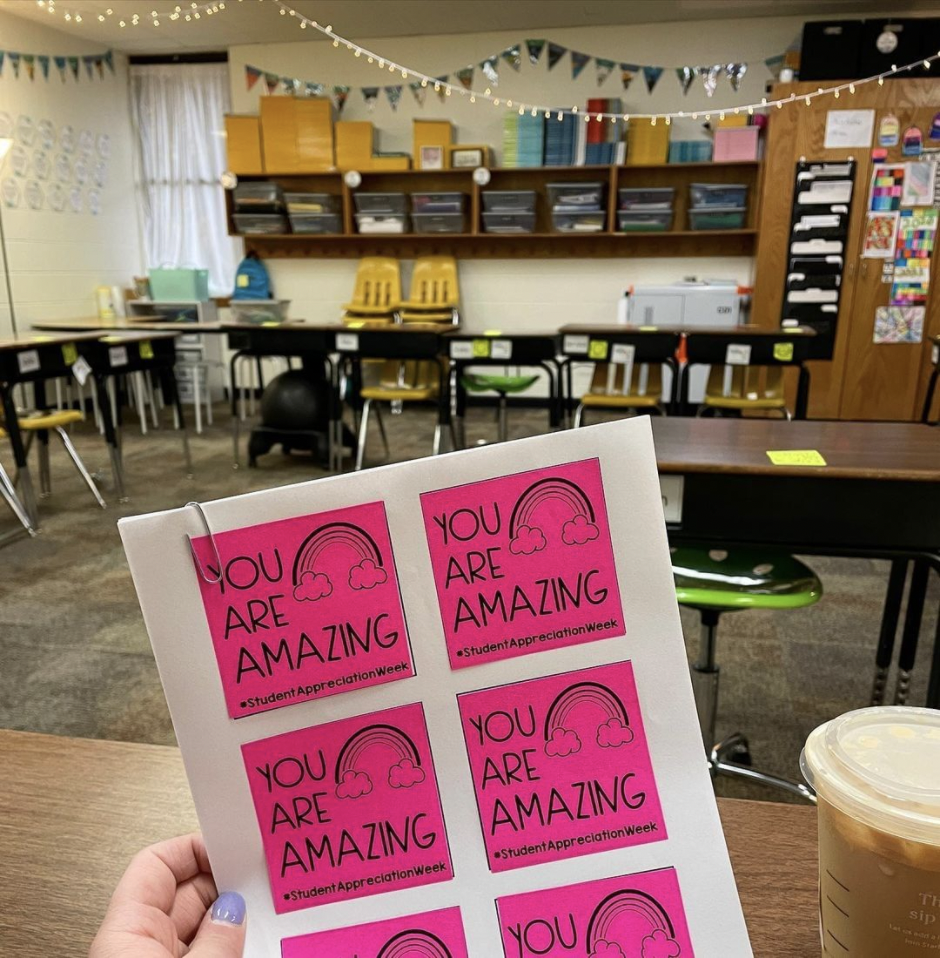 Replace Stickers With Printed Sticky Notes
Do you place a sticker on your students' tests and papers when you're handing them back? Of course you do! Change things up now and again with sticky notes with your own customized message.
Print Self-Review Guides for Your Students
Print out a set of self-review guides that students can use to evaluate their own work. All they have to do is grab a Post-it note, stick it on their paper, and mark down their thoughts. This can also work if you want to provide a rubric or checklist for them to follow as they complete an assignment. These writing checklists for students can easily be adapted for sticky notes!
Create Reminders for Student Folders
Are library books due tomorrow? Do you really need to make sure you get those permission slips? Print out Post-It Notes and place in a position of prominence in your students' take-home folders. The bright colors will help make the message stand out where parents will (hopefully) see it.
Develop Matching Games
Whether you're looking to teach students to match up homophones or lowercase letters to their capitals, pre-printed sticky notes are perfect for handing out to your students for matching games as the adhesive will stick right where they leave it.
Have a ton of sticky notes and looking for more ideas? We've got you covered: