Engage your students in practicing the art of cooperation by having them create a collaborative tessellation project.
I Can Show Cooperation – Tesselation Project
Is your classroom too hectic? Are your students arguing over supplies, interrupting you and each other, and being slightly uncooperative? If so, it may be time for a Social Emotional learning lesson about cooperation. That's where we come in!
Help your students understand the causes and effects of uncooperative behavior. You can read books, act out scenarios, or hold daily morning meetings to get the point across. Once they've gotten the basics down, introduce them to a fun, collaborative project where they work as a group to create a large-scale cooperation tessellation project. 
Your students will love drawing and writing about ways they can show cooperation on a trio of hexagon-shaped templates, which are then combined to form a larger honeycomb display.
Completed tesselation beehives are perfect for decoration on your bulletin board or in another classroom area. Once students have completed them and cut them out, assemble them onto your hallway bulletin board, add a couple of bees, and you've got the perfect spring bulletin board. 
What are Tessellations?
People use different names to call them: mosaic pictures, tilings, and so on. The word tesselation comes from the Latin word "tessera," – which refers to a small stone cube used in mosaic floors and patterns. A tessellation usually refers to a specific mathematical concept where a given design can be repeated over and over again without crossing any of its boundaries or leaving any gaps.
Download Your Printable Tessellation Project
Use the download button to download your file's black-and-white or low-color PDF copy.
---
Paired with the right resources, this activity will boost your students' social-emotional toolbox. Grab these while you're here!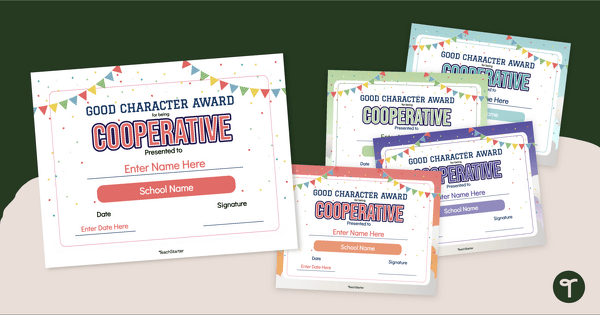 teaching resource
Celebrate your students' cooperative behavior by awarding them with a personalized Cooperation Award.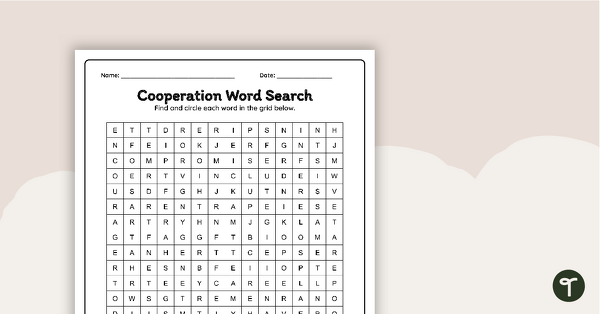 teaching resource
Review vocabulary and boost your students' cooperative interaction skills with a word search worksheet.
teaching resource
Encourage communication and cooperation with this set of 10 team-building games.