Learn about life and society during the women's suffrage movement with a Google Slides interactive notebook.
Women's Suffrage for Kids – Gone Digital!
The women's suffrage movement was led by many amazing women, such as Susan B. Anthony, Elizabeth Cady Stanton, and others. These women were brave and accomplished so much for our country, but it wasn't easy. It took over seventy years of suffrage, a lot of work, and serious determination to gain the right to vote. We've put together a new resource to immerse your students in the events experienced during the Women's Rights Movement. 
This digital interactive notebook covers various aspects of the women's rights movement. It features nine engaging and thought-provoking activities, including
A Day in the Life of A Suffragette Passage & Diary Entry

Women's Suffrage Vocabulary

What Was Women's Suffrage? Passage and Sequencing Activity

Women's Suffrage Key Leaders Matching Activity

Women's Rights Leaders Research Template

Constructed Response Question

Check for Understanding – Summative Assessment
This resource is perfect for teaching third through fifth grade students about the era and the journey to the nineteenth amendment.
Easily Download & Print
Use the Download button to download the Google Slides version of this resource.  
Get more Women's Rights Movement worksheets to have handy!
This resource was created by Ali Endlich, a teacher in South Carolina and Teach Starter Collaborator. 
Don't stop there! We've got more activities to shorten your lesson planning time: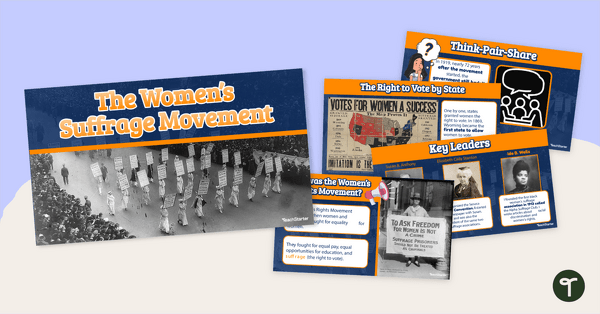 teaching resource
Provide your students with a look into the women's suffrage movement with an instructional slide deck.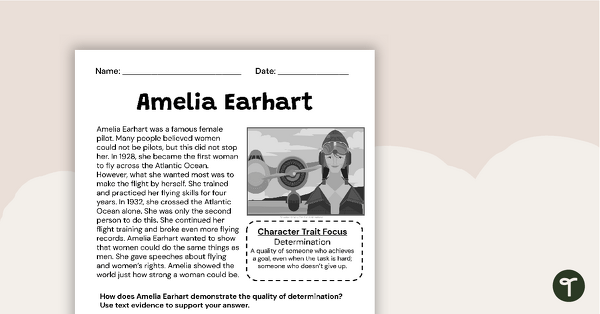 teaching resource
Use this passage, second grade writing prompt, and worksheet to help students write a constructed response paragraph about Amelia Earhart.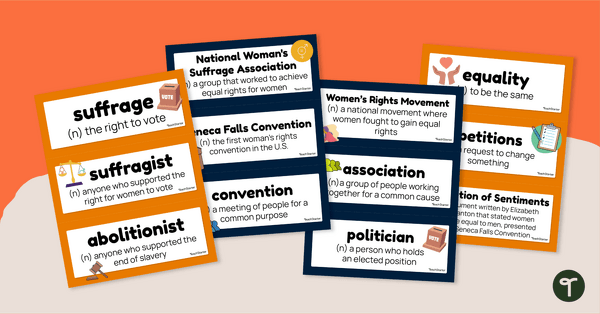 teaching resource
Build academic vocabulary surrounding the Women's Rights Movement with an illustrated vocabulary word wall.