Introduce winter vocabulary words with our picture and word card headband game.
'Tis the season… for winter words! 
Welcome Winter With Our Vocabulary Headbands Game
Some call it Headbands, some call it the "Forehead Game," but either way you look at it, this game is a blast to play in the classroom. We created this resource for your students to play in the weeks leading up to winter break. This vocabulary game also works well as an indoor recess activity or a brain break in the winter months!
To play, students will choose a card, place it over their head without looking and try to figure out what is on it through the clues their partner gives them. 
You can also opt to make individual student headbands for this game out of sentence strips. Then, students use blue tack to attach the card to their headband instead of holding it up to their forehead.
Scaffolding + Extension Tips 
Challenge fast finishers who already understand the concept to record each holiday word on a separate sheet of paper. They can write the words in sentences, poems, or short paragraphs depending on their proficiency. 
Get our 10 Best Scaffolding Strategies here! 
And For An Extra Helping Of Winter Cheer… 
We also suggest using this game to reinforce your small group and full-class lessons in the following ways: 
🐟 Go Fish 
Build a more extensive vocabulary! To play Go Fish, print out two sets of these cards, shuffle and pass out 5 to each player. The remaining cards go in the center of the play area. Taking turns, players ask each other for their match. 
☃️ Same But Different
Challenge students to access their critical thinking skills. As a whole class or in small groups, ask students to compare the cards to each other, listing out specific differences and similarities. For example:
How many words start with the letter S?
How is a polar bear different from a penguin?
How many marshmallows are in the hot cocoa?
Which cards are clothing?
Which cards do you find in nature? 
🎵 Musical Chairs 
Arrange student chairs in a circle, placing a winter word card on each one. When the music begins, the students walk around the circle. When it stops, students pick up a card, say it aloud, and sit in a chair. The last student to sit down is out.
Easily Prepare This Resource for Your Students
Print on cardstock for added durability and longevity. Place all pieces in a folder or large envelope for easy access. 
Before You Download
Use the dropdown icon on the Download button to choose between the PDF or Google Slides version of this resource. 
---
This resource was created by Lindsey Phillips, a teacher in Michigan and Teach Starter Collaborator. 
Check out more activities to bring the cold outdoors into the warmth of your classroom!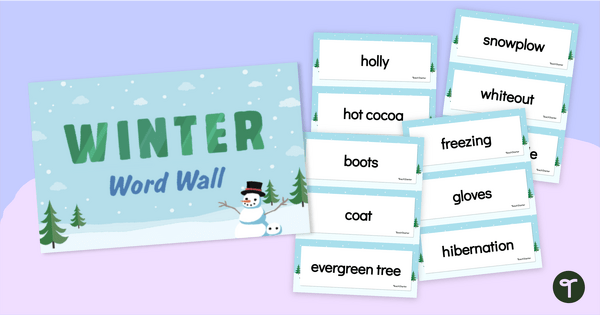 teaching resource
Bring a bit of chill to your classroom with a set of 45 vocabulary cards containing words related to winter.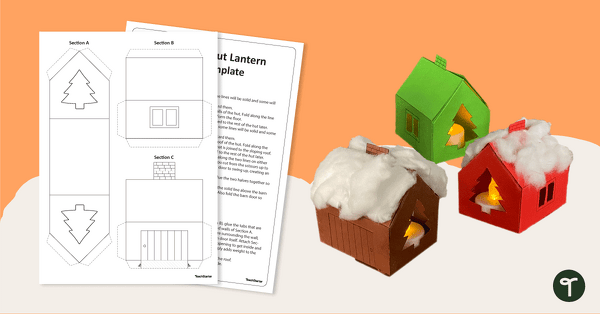 teaching resource
Build a village of tiny Christmas cabins with a printable ornament template.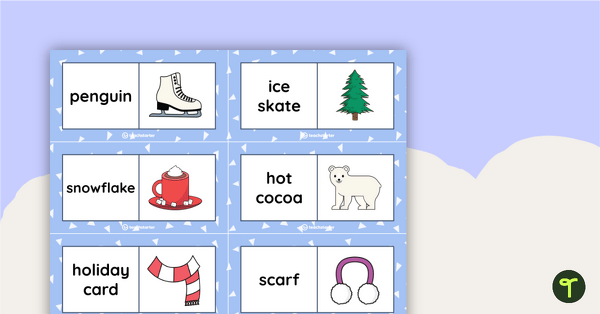 teaching resource
Practice decoding seasonally-specific words with this cheerful set of 28 winter word & picture dominoes.