Practice decoding seasonally-specific words with this cheerful set of 28 winter word & picture dominoes.
When you think of winter, you might see yourself snuggled up by a fire, sipping hot cocoa, and watching the snow fall… 
Or trekking through wintry hills in search of the perfect place to launch your sled… 
Or bundling in layers of sweaters, coats, scarves, and gloves to go ice skating on the frozen pond in the park. 
However you like to welcome winter, you'll find winter-themed words that describe the attire, activities, natural elements, and more in this charming game of dominoes!    
Welcome Wonderful Winter in Words & Pictures 
We created this resource as a fun brain break or indoor recess activity for your students to play during the cold, winter months. 
To play, students take turns matching each end of the dominoes with the words and pictures that fit the sequence. 
For example, if a player were to lay down the "fire | 🐧 " domino, the next player would lay the 🔥 card on the left or "penguin" on the right. Gameplay continues in this manner until all of the dominoes have been played.
The winter words represented in this activity are:
beanie

coat

earmuffs

fire

gingerbread man

holiday card

holly

hot cocoa

ice skate

icicles

igloo

mittens

penguin

polar bear

reindeer

scarf

skiing

sled

snow boots

snow globe

snowsuit

snowballs

snowflake

snowing

snowman

socks

sweater

tree
Scaffolding + Extension Tips 
Support students who need help understanding the concepts by encouraging students to work in teams. 
Challenge fast finishers to sort the words into categories like clothing, animals, activities, food, etc. Have students create lists by writing the words on a sheet of paper. 
Get our 10 Best Scaffolding Strategies here! 
And For An Extra Helping Of Winter Cheer…
We suggest using this game in the following ways: 
☃️ Odd (Snow)Man Out
Place 3 cards at each station, making sure 2 cards create a matching set, and the 3rd card is different. Student pairs will rotate through each station and match the winter words. Remind students to reshuffle the cards before moving on to the next station. 
🔗 Winter Words Human Chain 
Provide each student in your class with a domino. Challenge the students to find their other halves, creating one long chain of dominoes. For an extra challenge, ask the students to complete the task in silence!
✂️ Upcycle Into Playing Cards
Turn this game into a deck of cards! Break out your scissors and cut up the cards in half. Students can play games like Match It, Go Fish, or Snap (to name a few). 
Easily Prepare This Resource for Your Students
Print on cardstock for added durability and longevity. Place all pieces in a folder or large envelope for easy access. 
Before You Download
Use the dropdown icon on the Download button to choose between the PDF or Google Slides version of this resource. 
---
This resource was created by Lindsey Phillips, a teacher in Michigan and Teach Starter Collaborator. 
Check out more activities to bring the cold outdoors into the warmth of your classroom!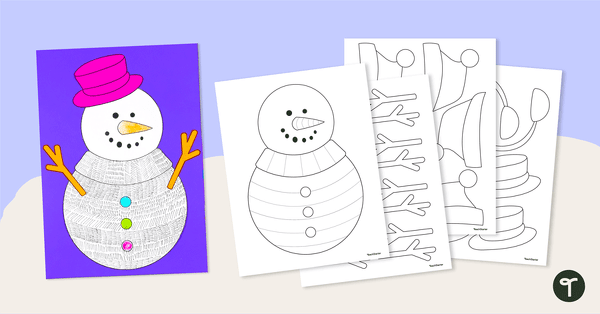 teaching resource
A fun winter craft activity for kids using a snowman template with accessories.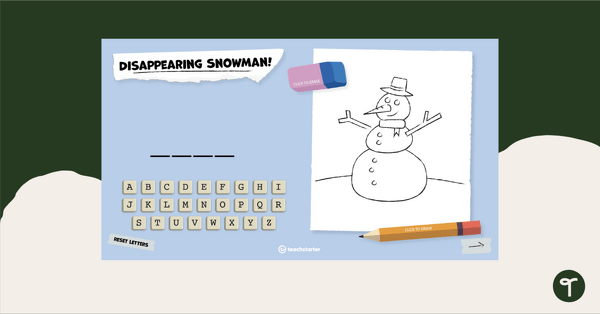 teaching resource
An interactive word guessing game.