Is it too early for Christmas activities for the classroom? I say – "Never!" As teachers, we all know that the end of the school year is a few weeks before Christmas Day. Therefore, we can totally start the fun Christmas activities and Christmas crafts a number of weeks earlier, right? It's been a year – so I say put up those Christmas decorations and enjoy the last few weeks with your students! But, just like the good teachers we are, we still want some learning opportunities to take place. That's why some jolly Christmas writing prompts for kids is the perfect start to your Christmas cheer.
---
Christmas Writing Prompts for Kids
So, without further ado, I will list some super awesome Christmas writing prompts that your students will be excited to complete one morning this week! Scrap that writing lesson you had planned and throw in one of these cheerful and fun writing prompts instead!
Use Christmas Sentence Starters
A set of 30 adorable Christmas-themed sentence starter cards are the perfect addition to your quick write time in your classroom.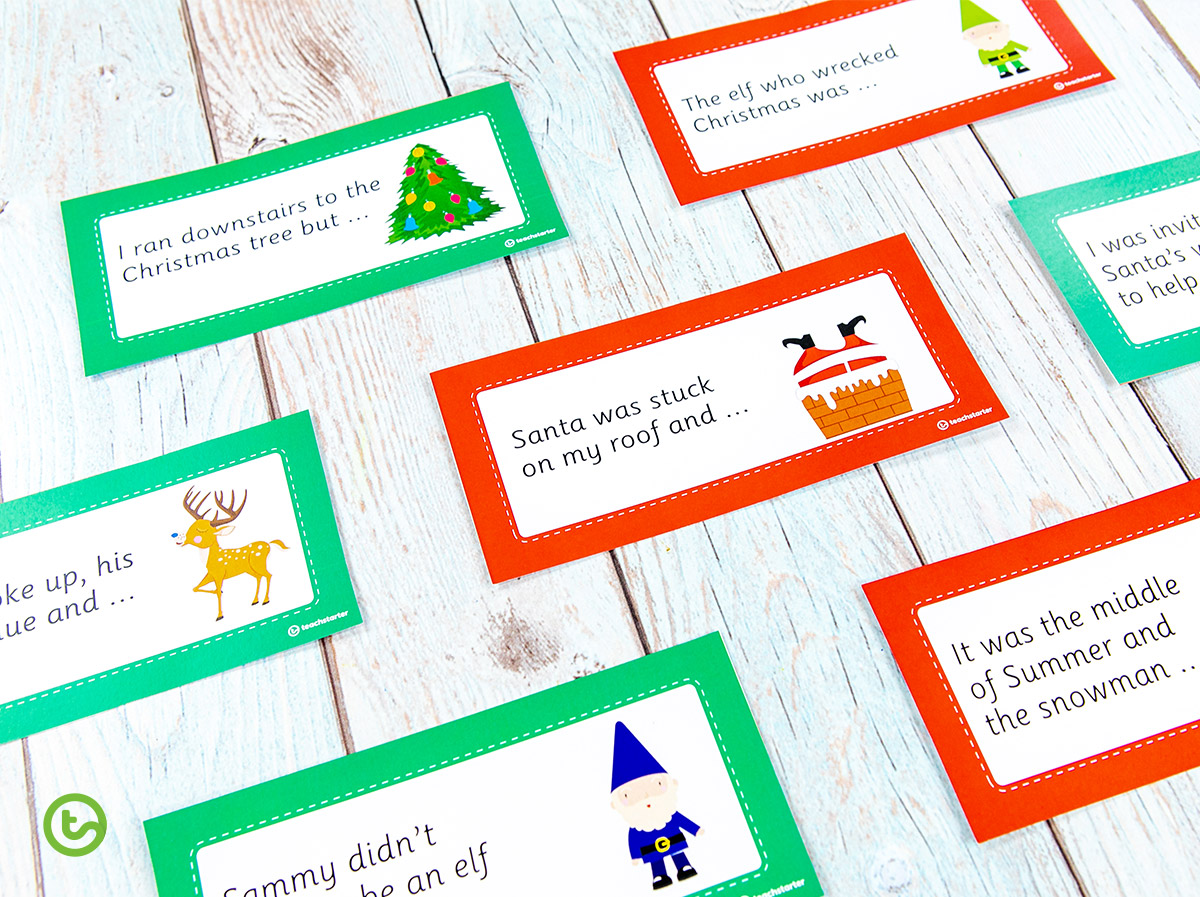 Use Christmas Finger Puppets
How absolutely adorable are these Christmas finger puppets with a range of characters including:
Christmas finger puppet
Snowman finger puppet
Elf finger puppet
Santa finger puppet
Gingerbread man finger puppet
Reindeer finger puppet
Plus more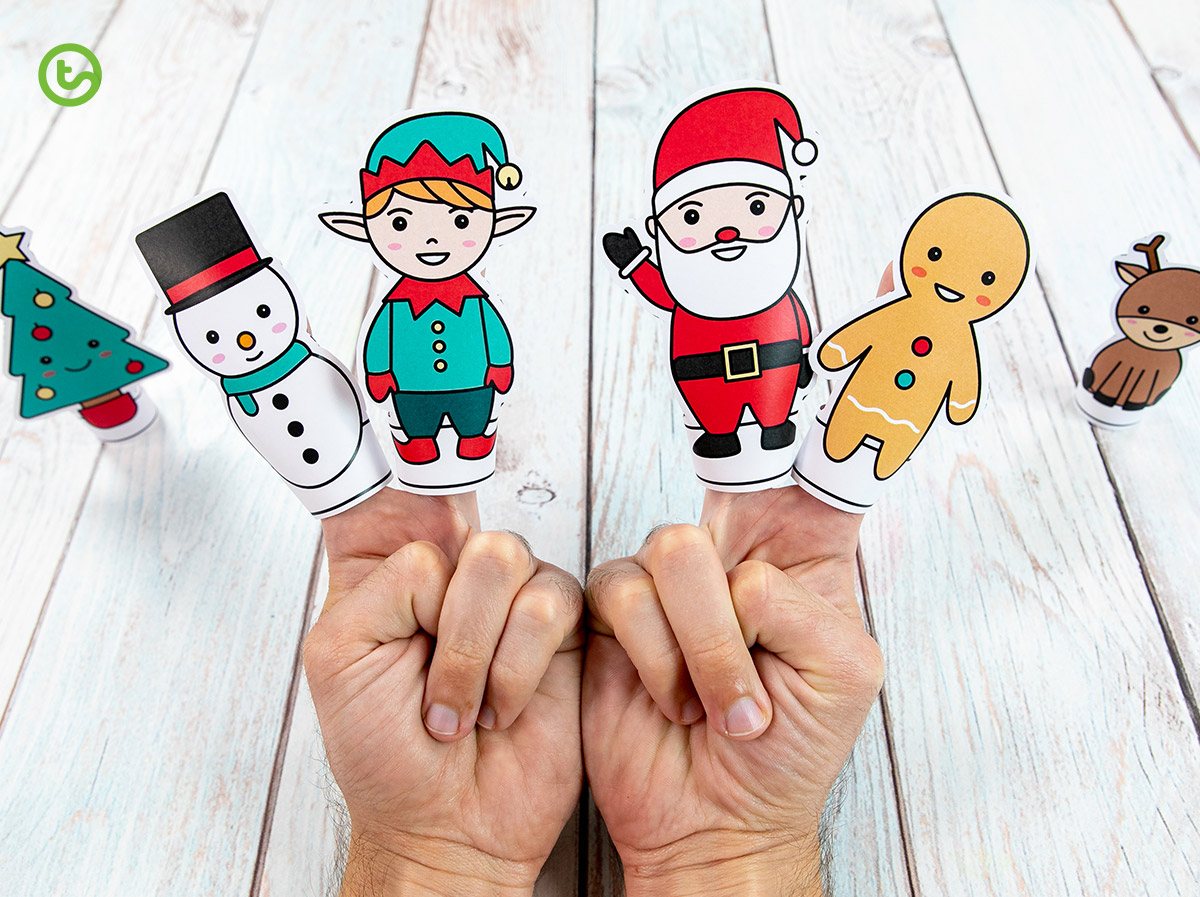 Writing prompt ideas using Christmas finger puppets:
Encourage students to pick some finger puppets and write a script for a puppet show they can perform for the class.
Have students pick their favourite finger puppets and write a story using those characters.
Have students complete a character description for their favourite puppet.
Use a Christmas Scene (Summer Edition)
This beautiful image of Christmas time in the summer is the perfect way to get your students' creative writing juices flowing!
Here are some ideas:
Students pick one part of the image and use that to write a narrative.
Write a procedure about how to make a 'snowman' in the sand!
Write about who lives in the little gingerbread house on the top of the mountain.
So many different ways to use this image as a Christmas writing prompt. There are even matching task cards for other activities. Winning!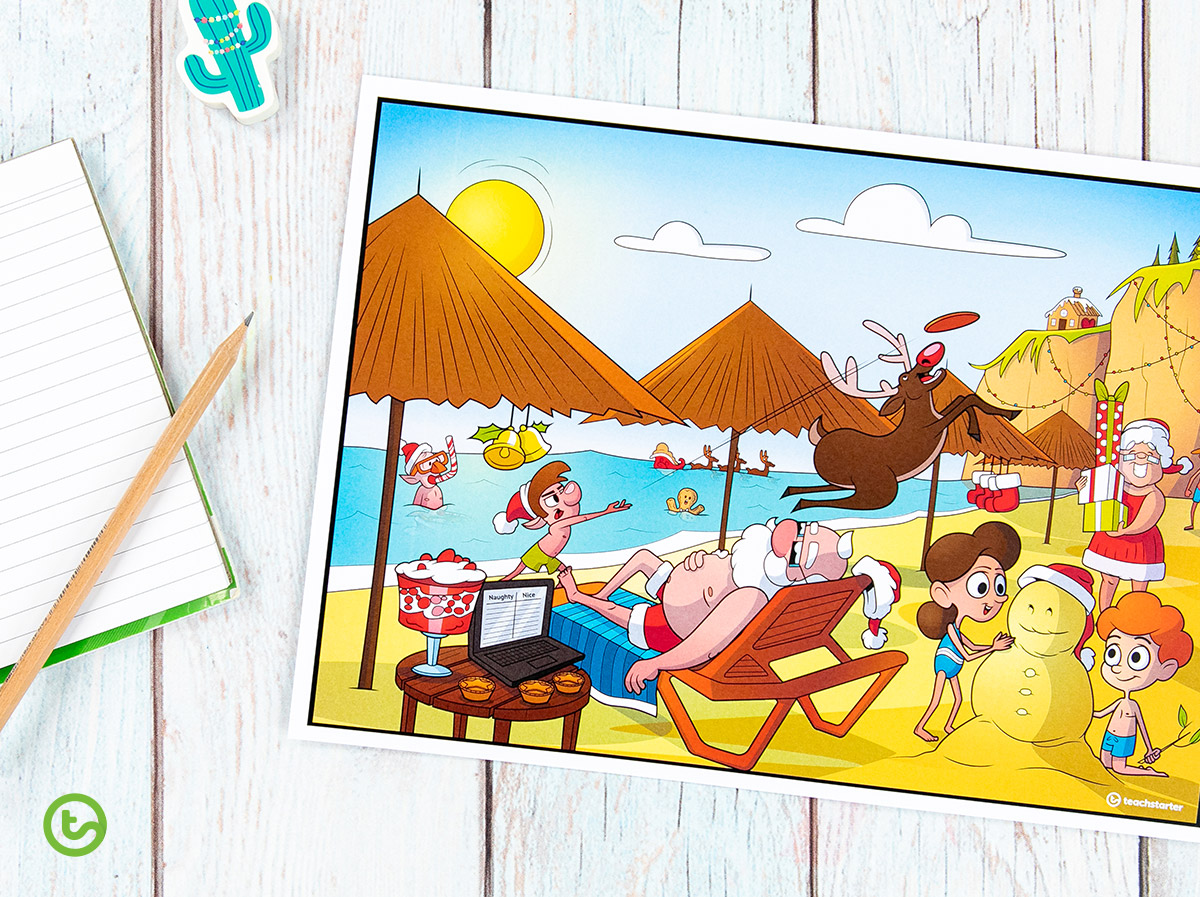 Use a Christmas Scene (Winter Edition)
Not to be forgotten, the traditional winter scene for Christmas time is also available to download!
This adorable image can inspire some great imaginative writing.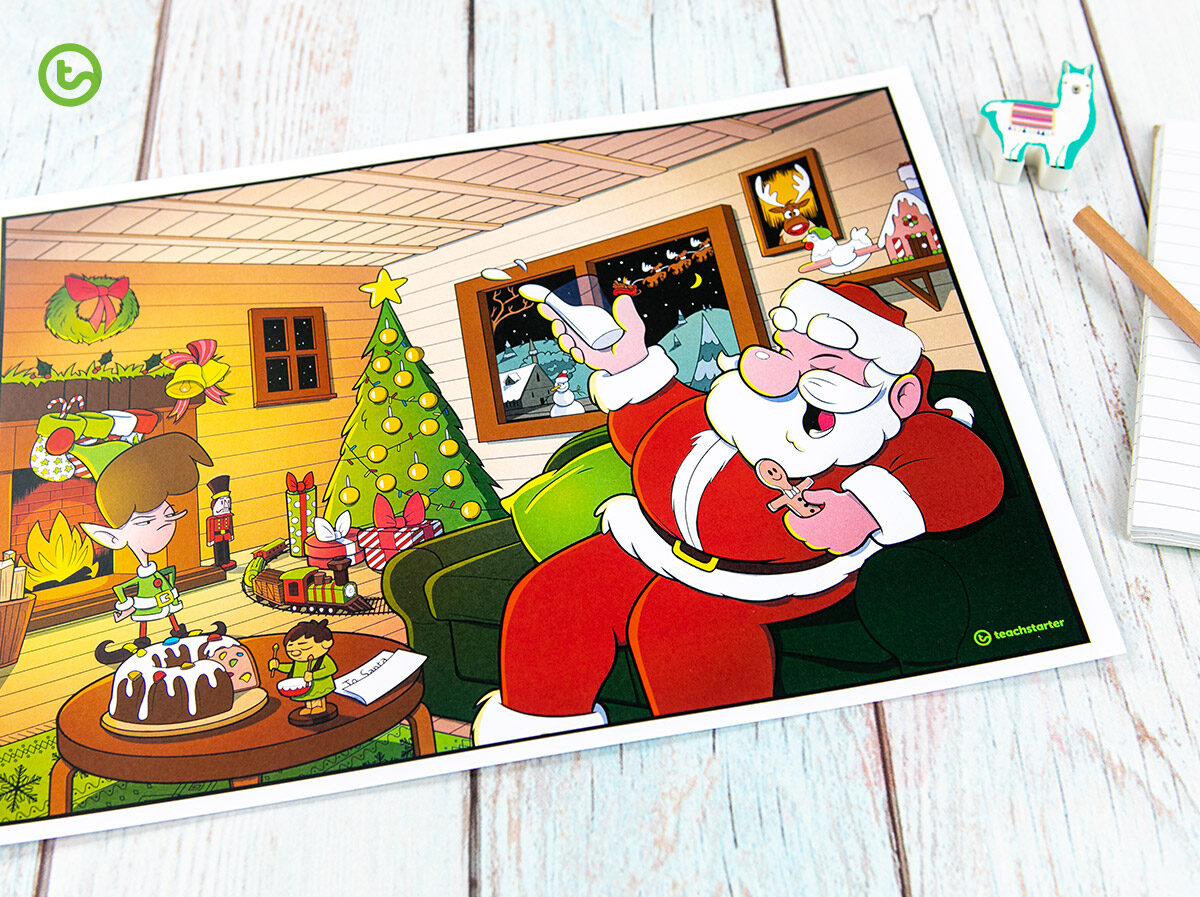 Roll to Create a Christmas Story
A fun, hands-on Roll to Christmas writing activity using dice and a chart to get prompts.
How to use this Christmas themed writing prompt resource:
Students roll a dice and identify the corresponding narrative elements on the chart.
Each narrative element is recorded at the bottom of the sheet.
Once students have "rolled" the characters, setting and complication for their story they can begin to write their narrative.
You may like to print this great Christmas themed writing page for your students to display their work.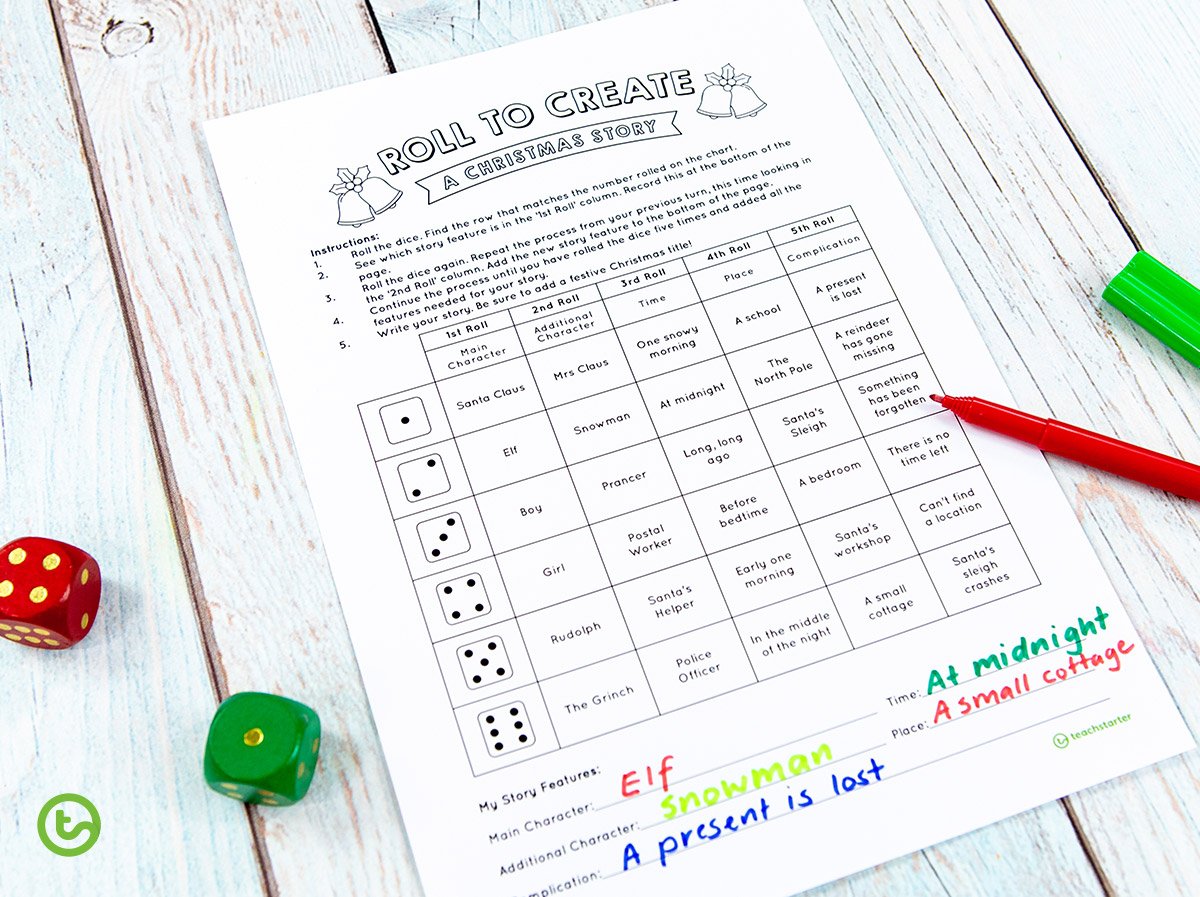 Write a Letter to Santa
The good old 'write a letter to Santa' works a treat. Don't forget to utlise Australia Post and send the letters to the North Pole.
For more information visit the Australia Post website. Australia Post request that when sending your class' letters, group them together and send in one large envelope, include a class list with each student's full name and address — so Santa knows where to send his replies…
Utilise Your Elf on the Shelf
A few years back we wrote about how teachers could use the Elf on Your Shelf fad in the classroom environment. Why not use this to your advantage and get the cheeky elf to write a message on the whiteboard that requires the children to write a letter back.
For more hints and tips, head to our blog – Elf on the Shelf Ideas for the Classroom.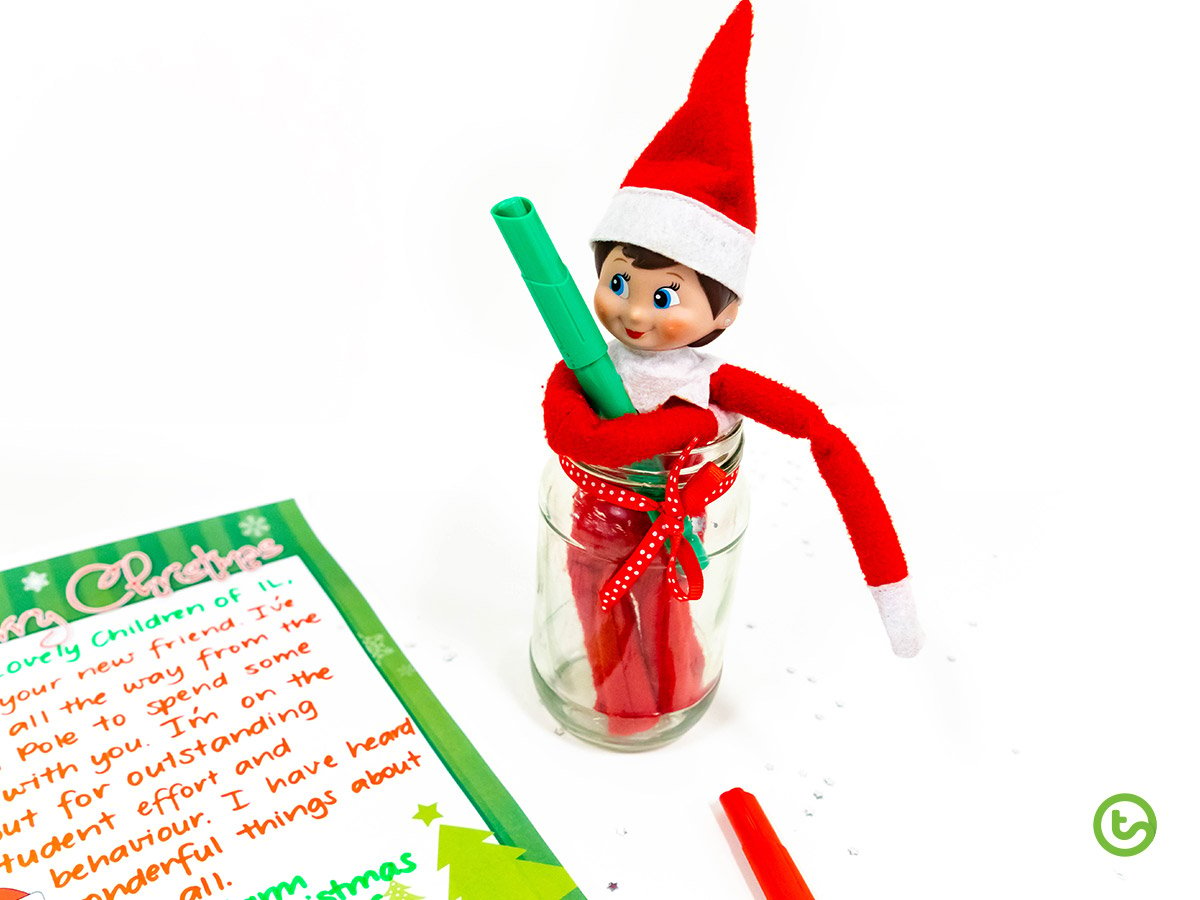 Random Christmas Word Selector
We couldn't help but feature our brand new widget for the classroom. The amazing new Spin Wheel has soooo many possibilities in the classroom. Just like popping in a few Christmas words, spinning the wheel and getting your students to write as much as they can in five minutes about that word.
Christmas PostCards
Why not download and print our Christmas Postcard Templates and get your students to write a postcard from the North Pole? They will need to learn about the northernmost point of the Earth, such as climate, animal life and landscape to make sure their postcard is as realistic as possible.
Alternatively, you can use these postcards as a quick and easy alternative to Christmas cards.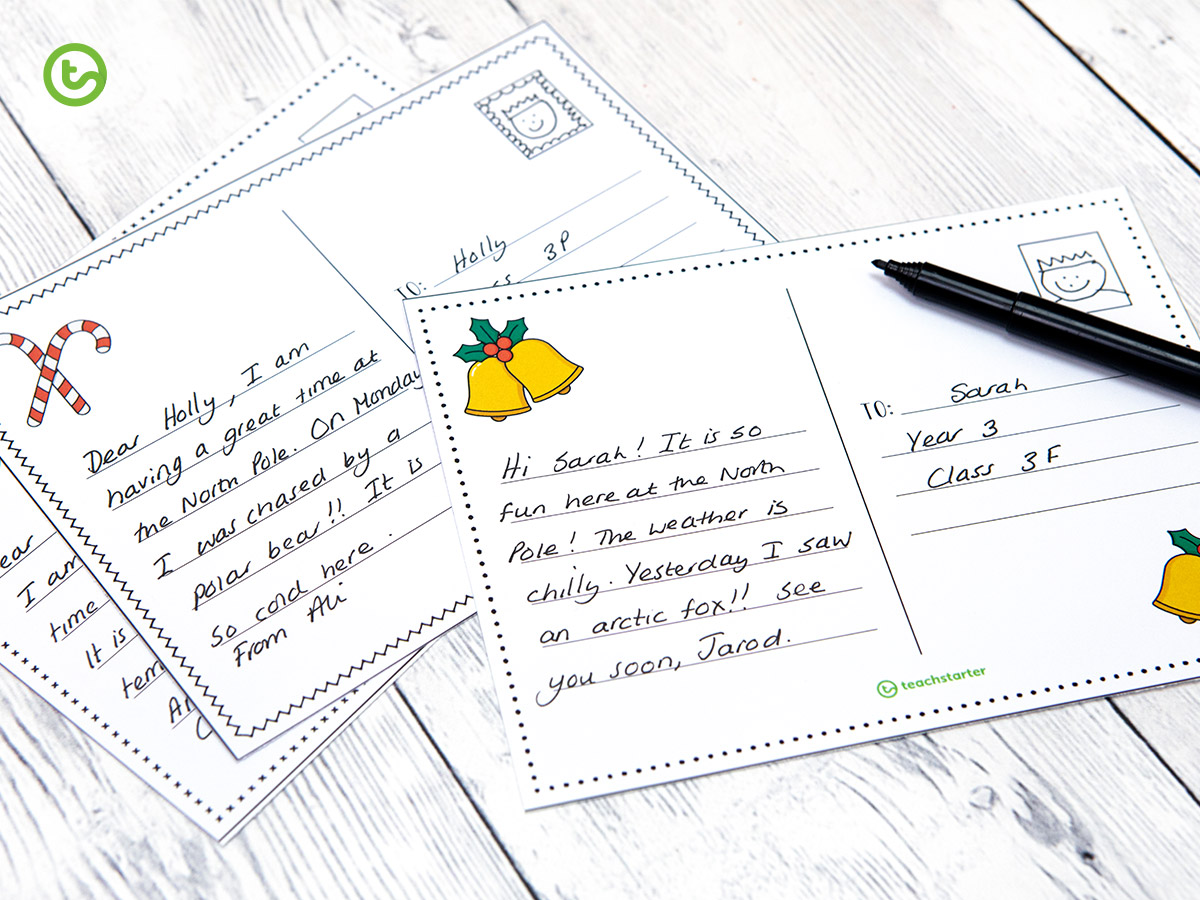 More Christmas Writing Resources
Here are some other printable resources that can get you started with all of the creative writing opportunities! But, you better get cracking – there are lots of amazing ideas in this blog! Yours in tinsel – Holly
[resource:7852][resource:6016][resource:161778][resource:161873]