It's that time of year when we'd love nothing more than to blast holiday songs in the classroom, but there's still the art of writing to learn. That's where Christmas writing activities come in! The perfect way to get your students pumped about honing their writing skills is to throw a little holiday cheer into the mix. We pulled together some of our favorite creative writing ideas for Christmas to use in your writing centers from now until winter break.
---
Christmas Writing Activities
Scrap that writing lesson you had planned and throw in one of these cheerful and fun creative writing activities instead!
How to Decorate a Holiday Tree
This expository writing activity puts a holiday twist on "how to" writing as your students practice writing instructions on decorating the holiday tree. You can stick with a Christmas tree or change to "how to decorate a house for the holidays" to make the writing activity more secular. Use this procedural writing template to help your kindergartners get started!
Write a Letter to Santa
We know, we know, it's not the most creative Christmas writing activity. Then again, this oldie is still a goodie!
Writing a letter to Santa is even more fun when you can get a letter back from the big guy (with a little help from the elves at the United States Post Office, of course).
Here's how it works:
Write a personalized response to your students' letters and sign it from Santa.
Insert both letters into an envelope and address it to your classroom — so Santa knows where to send his replies.
Send off to the USPS.
Wait for your special letter to your class to come back with an official North Pole postmark!
To find out how to get letters back to your students, visit the United States Post Office.
Have younger students? Use our Letter to Santa Template as a scaffold to help the littlest writers.
Roll to Create a Holiday Story
Put a Christmas twist on writing center activities before winter break with this hands-on Roll to Create a Holiday Story writing activity that uses a die and a chart to provide students with story elements they then put into their narrative writing.
How to use this resource:
Students roll a die and identify the corresponding story element on the chart.
Each story element is recorded at the bottom of the sheet.
Once students have "rolled" the characters, setting, and problem for their story they can begin to write their narrative.
Why not print out one of our fun holiday-inspired lined writing pages for your students to write their story on?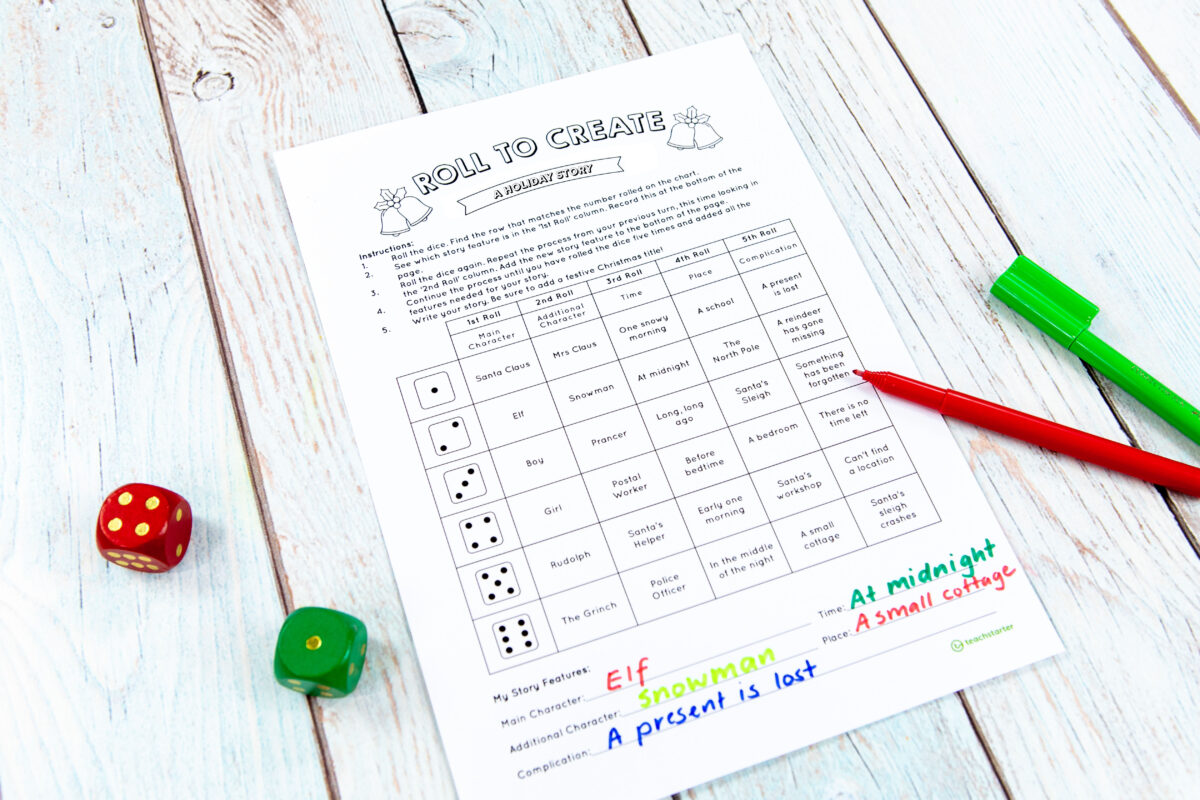 Practice Writing Thank You Cards
'Tis the season to practice gratitude, and with the holidays upon us, many of your students will be giving and receiving gifts. You can't make anyone send thank you notes (sigh), but you can practice letter writing in the classroom by writing thank you notes to members of the school staff to brighten their holidays.
Encourage your students to say thank you to the custodian who keeps the classroom in tip-top shape, the cafeteria staff who keep them in cartons of milk, or perhaps to the teacher's aide who helps out in your classroom.
Not only is this a good way to practice their letter writing skills, but it's a good social-emotional lesson on gratitude too.
Random Holiday Word Selector
We're kind of partial to our free spin wheel widget for the classroom. It has soooo many possibilities in the classroom. One creative writing idea for Christmas? Add a few holiday words, spin the wheel, and get your students to write as much as they can in five minutes about that word.
Use Holiday Sentence Starters
Encourage creative writing with holiday-themed sentence starter cards. These are the perfect addition to your quick write or warm-up time in your classroom.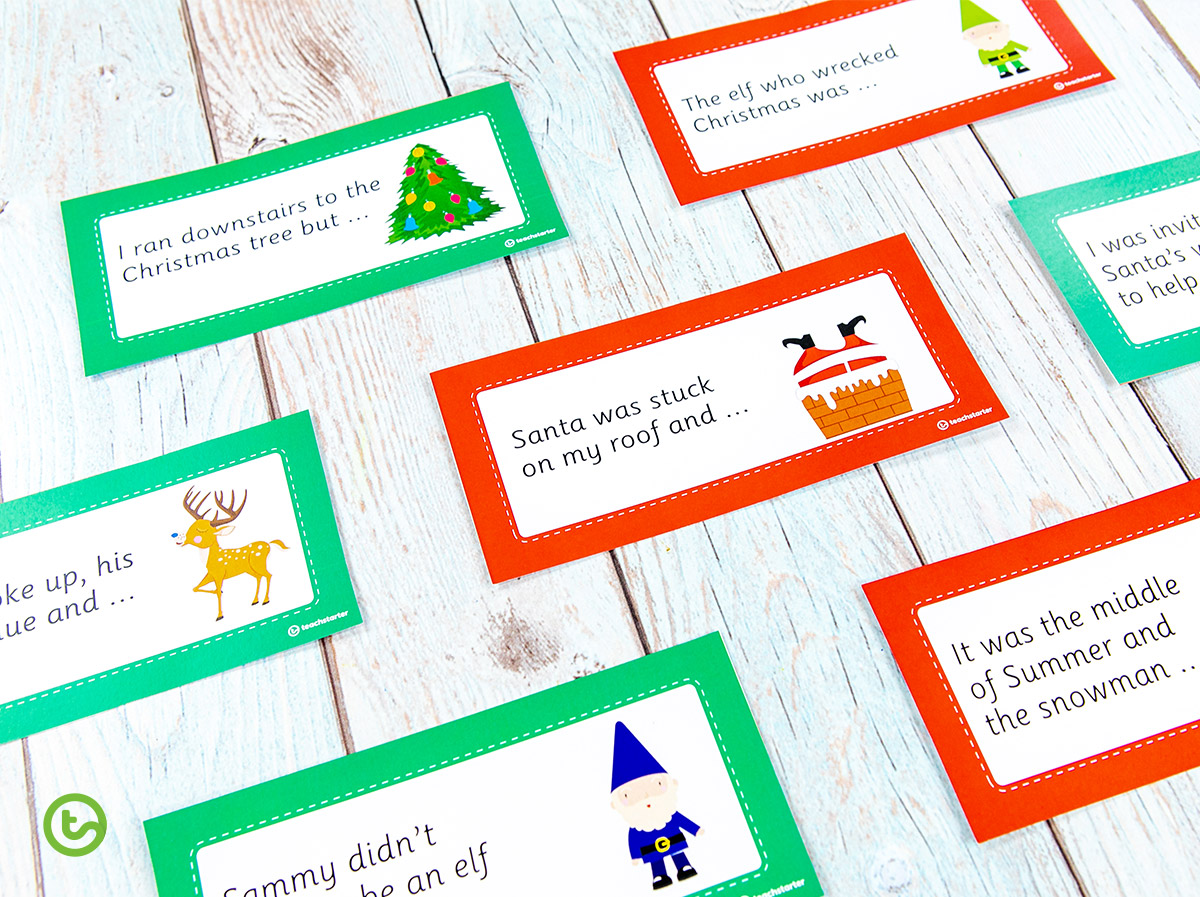 Use Holiday Finger Puppets
How cute are these holiday finger puppets? Using puppets in the classroom is great for language-building and can be used to reinforce the concepts of prepositions in your centers for younger learners. For example, a child can move their puppet "under" the table, and their classmates have to use the right words (the gingerbread is "under").
These puppets include:
Christmas tree finger puppet
Snowman finger puppet
Elf finger puppet
Santa finger puppet
Gingerbread man finger puppet
Reindeer finger puppet
and more…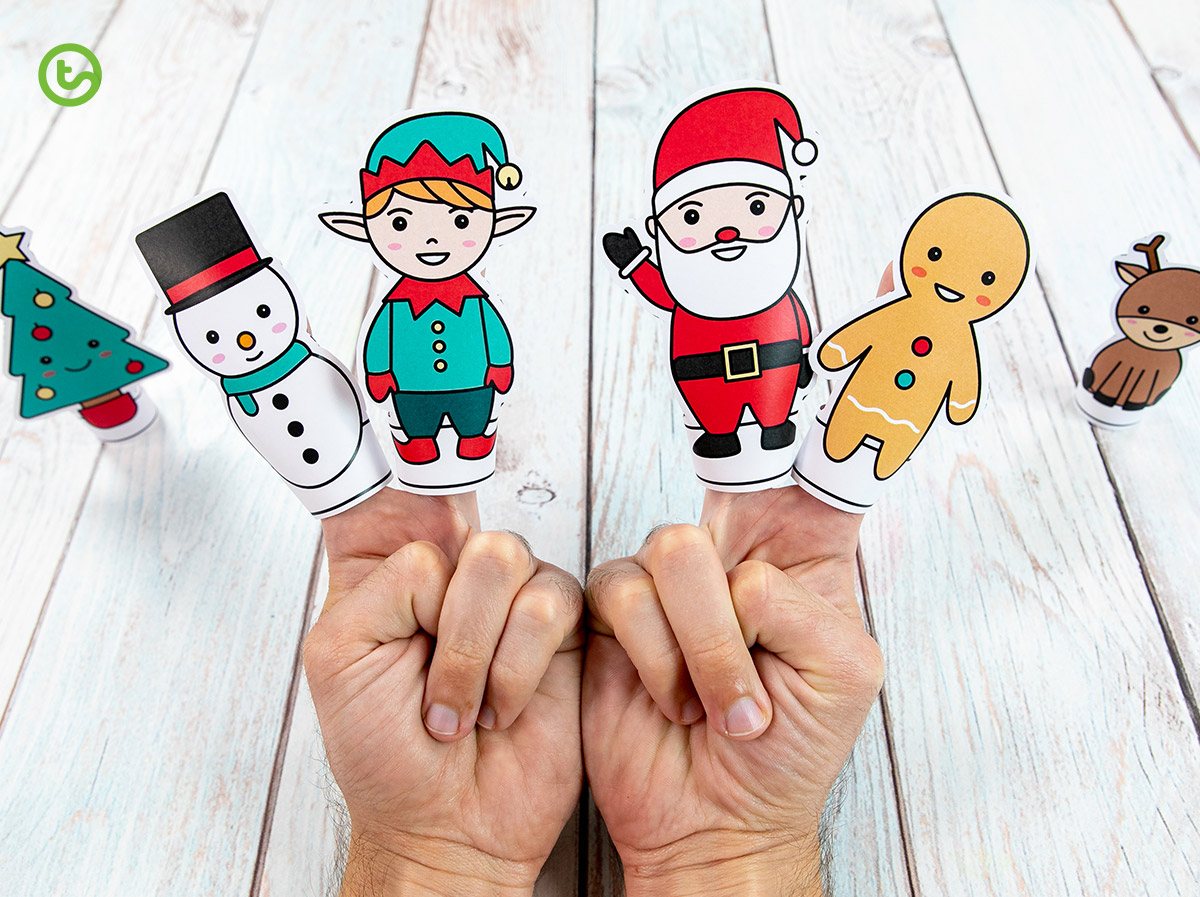 For older kids, try these writing ideas:
Encourage students to choose a few of the finger puppets and write a script for a puppet show they can perform for the class.
Have students choose their favorite 2–3 finger puppets and write a story using them as characters.
Have students complete a character description for their favorite puppet.
Use a Christmas Scene
Why not use this winter Christmas image to spark some great imaginative writing?
Here are some ideas:
Have your students practice writing dialogue by writing a conversation Santa and the elf might be having.
Have your students practice their descriptive language by writing sentences about the scene.
Have your students write a narrative text explaining who is in the sleigh outside the window if Santa is inside.
Have your students write about the events leading up to the scene in the picture.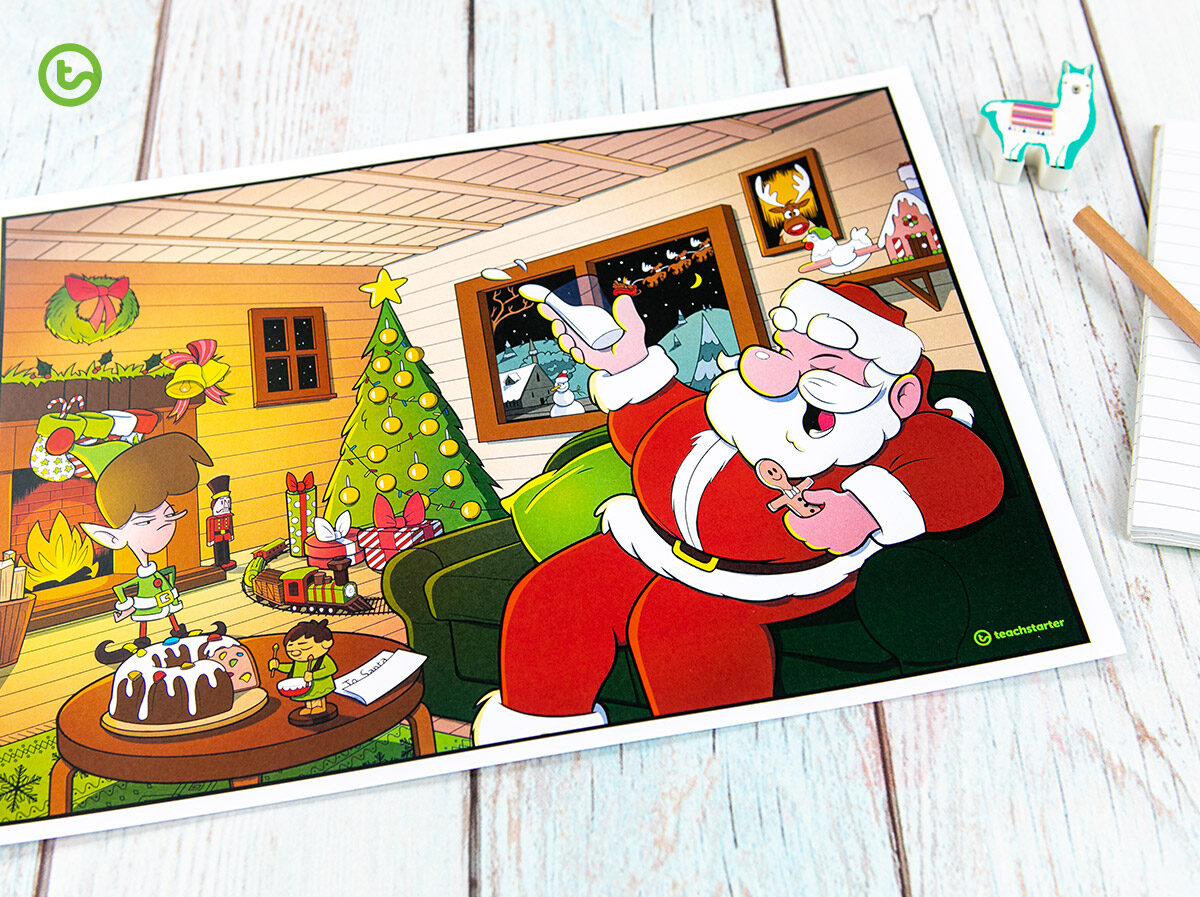 Utilize Your Elf on the Shelf
Many teachers are using the Elf On a Shelf in the classroom these days. Why not use this to your advantage and get the cheeky elf to write a message on the whiteboard that requires the children to write a letter back?
For more hints and tips, check out these cool Elf on the Shelf Ideas for the Classroom.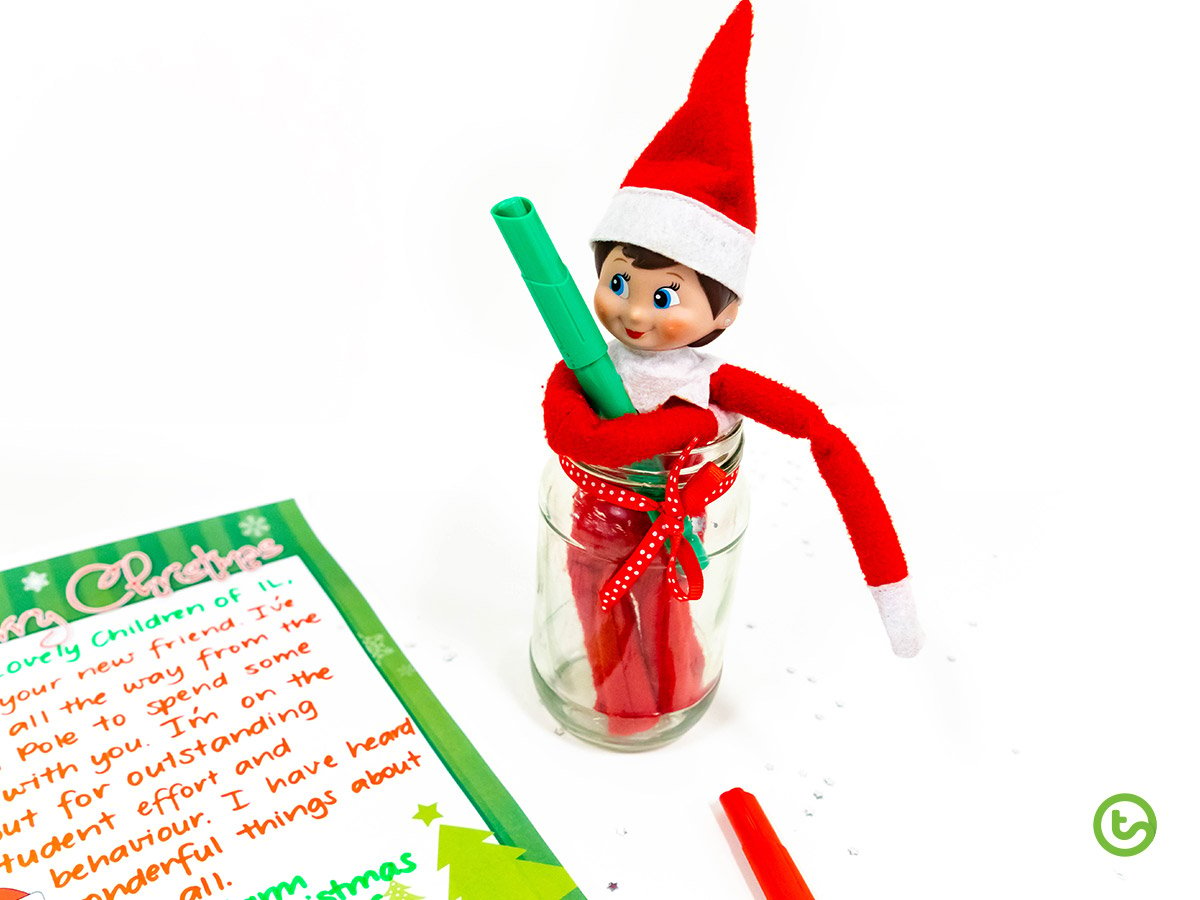 Make Holiday Cards
This is a craft and holiday writing activity in one!
Materials:
green glittery paper
a yellow star to sit on top of the tree
a brown piece of cardstock or construction paper for the trunk
cardstock or construction paper
4 pipe cleaners
thin ribbon
glue or adhesive tape
To make your card:
To make the strips for the tree, cut out strips so that the height of the strip is half of the width, getting larger as you go (our card uses 1-in x 0.5-in,  2-in x 1-in, 3-in x 1.5-in, 3.5-in x 2-in, and 4-in x 2-in)
Fold each strip so that the top outer corners meet in the middle at the bottom.
Starting at the top, glue each tree triangle to your card so that the folds are facing up, slightly overlapping each piece as you go.
Top your tree with the yellow star and paste your brown paper tree trunk at the bottom.
Twist together the pipe cleaners and cut them in half. Attach one strip to the top of the card and one to the bottom.
Voila! You have a beautiful, shiny holiday card ready for students to fill out with a written message!
Holiday Postcards
Why not download and print our Holiday Postcards and get your students to write a postcard from the North Pole? They will need to learn about the Earth's northernmost point, such as climate, animal life, and landscape, to make sure their postcard is as realistic as possible.
These postcards also make a quick and easy alternative to Christmas cards.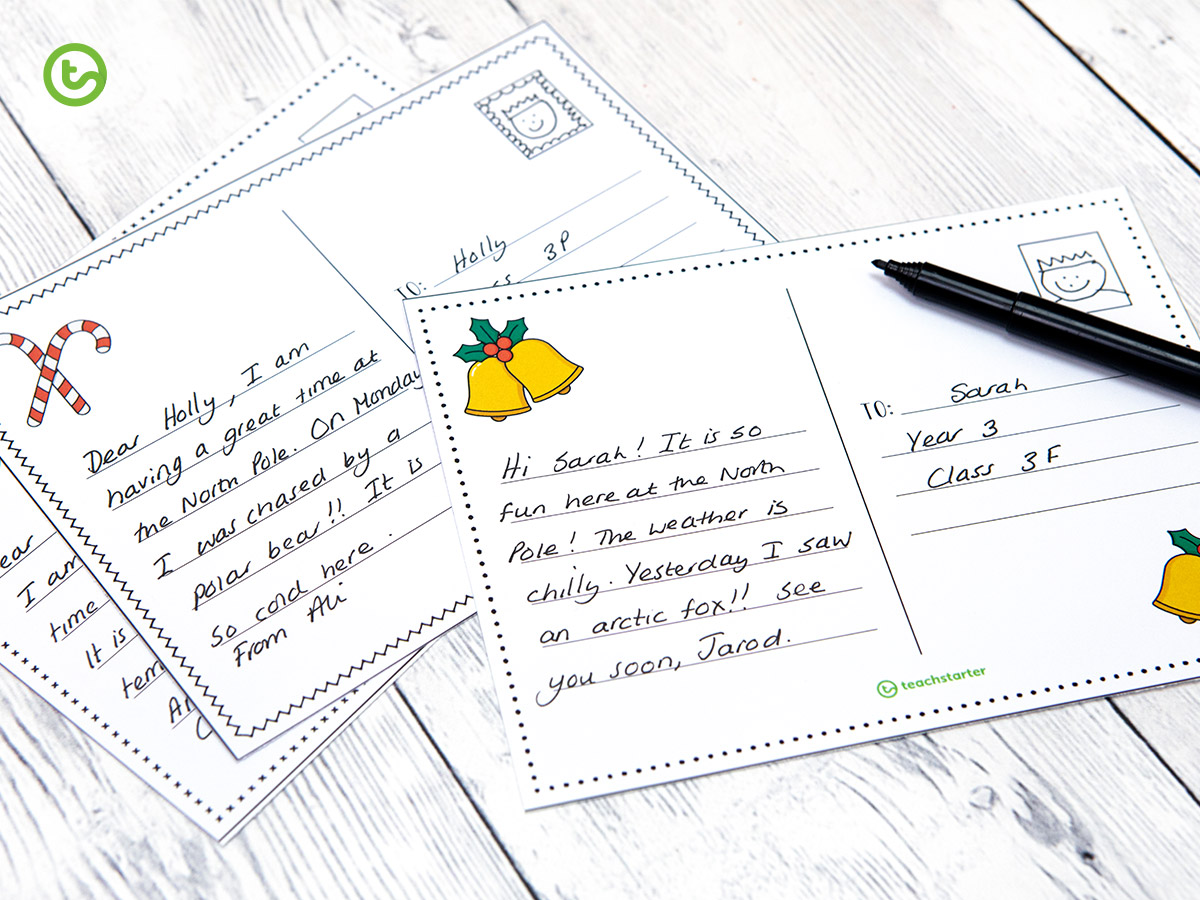 More Holiday Writing Resources
Here are some other printable resources that can get you started with all of the creative Christmas writing opportunities!