Are you a busy teacher looking for ways to connect with your family during the school holidays?
Balancing teaching, work and family life can be a challenge. Finding the energy and enthusiasm to spend quality time with those nearest and dearest to you can be hard. I've been thinking about ways that I can connect with my own children during the school holidays and I've decided to do it with Christmas food ideas.
Take a look at these simple and effective Christmas food ideas that will bring family love and happiness into your home. There is no real cooking required, just think of it as edible craft.
Why is Cooking With Your Children a Great Thing?
Christmas makes me think about sharing and getting into the festive spirit with my family. Cooking together with your children is a great way to bond, to work in partnership and to experience success together.
Kids love to spend time cooking with you because it's uninterrupted time and your hands are too messy to pick up your phone! There are so many reasons why having fun with Christmas food ideas is so valuable. Here are a few:
Cooking with your kids and offering food nurtures a sharing culture.
Cooking together is creative. Creating Christmas food is a bit like painting a picture – you can use your imagination and get as creative as you like.
Creating fun Christmas food ideas is a great way to get your children interested in nutrition. It opens up conversations about choosing what some refer to as 'sometimes foods and anytime foods'.  If you would like to explore healthy eating further with your family, take a look at our Food & Diet Teaching Resources.
Cooking expands your child's palate and provides the opportunity to introduce them to new foods.
Cooking includes mathematical thinking, mathematical vocabulary and science.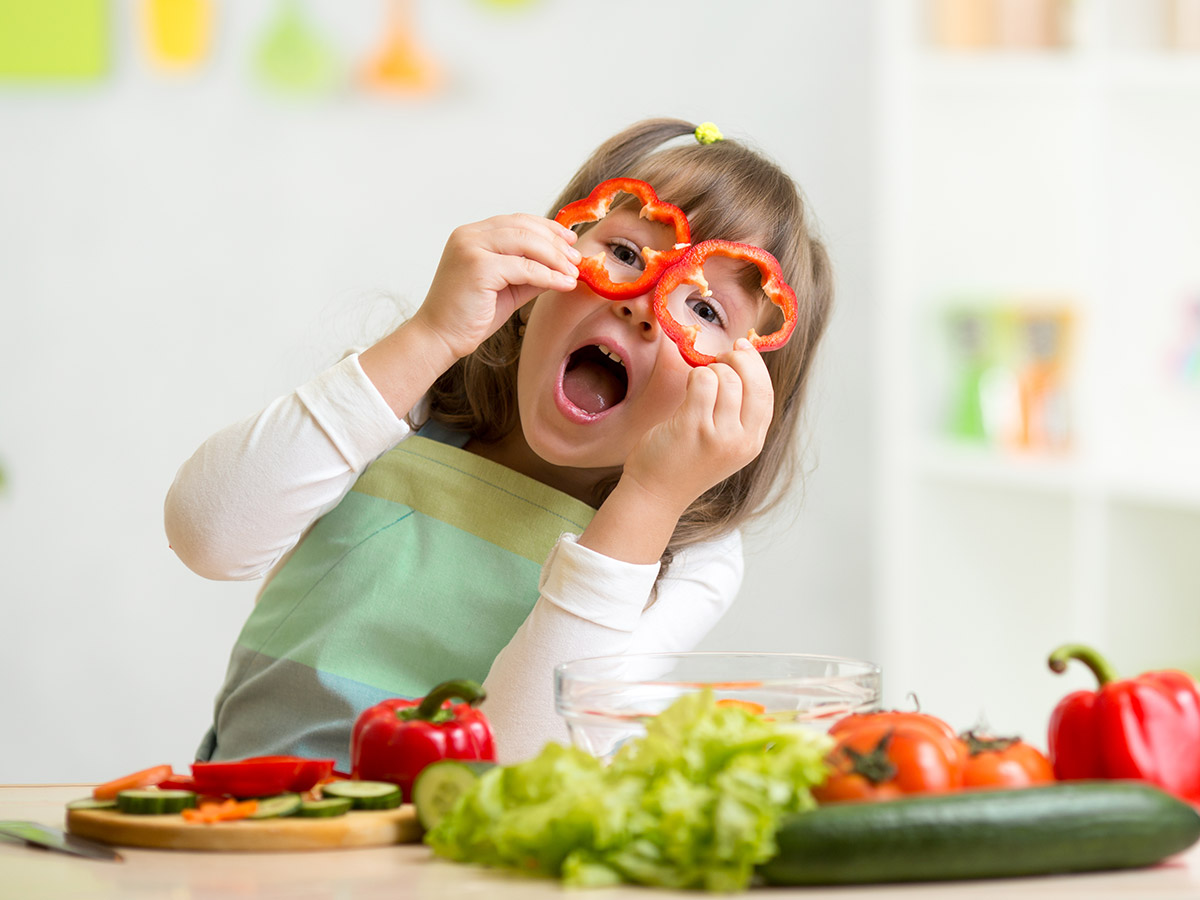 Top Tips for Family Time Cooking
Have you ever tried to cook with your kids, only to end up regretting it? Here are a few tips to turning Christmas food ideas into a positive family experience…
Try not to worry about the mess.
Try not to worry about whether the end product is perfect.
Enjoy the process.
Empower your children by letting them have a go at cutting and peeling.
Trust your children.
If you are concerned about your children using a sharp knife or peeler, check out Kiddies Food Kutter products.
The Kiddies Food Kutter is perfect for getting your kids involved in preparing the fruits and vegetable used in these Christmas food ideas. These safety knives are also ideal for your kids to use when cutting their own dinner on the dinner plate. It teaches fine motor skills, hand-eye coordination, independence, and builds self-confidence. They are suitable for all skill levels for children 2 years onwards, left and right-handed, and for kids with special needs or a disability.
Make Your Own Food Choices
Before we begin, here is my disclaimer…not all of these Christmas food ideas fall into the healthy food category. These Christmas food ideas may contain nuts, dairy and eggs. It's totally down to you to choose what you would like to make with your family.
There are plenty of ways to reduce the amount of sugar that our kids eat. Try sugar-free marshmallows and natural peanut butter.
Remember to wash fruit and vegetables.
Wash your hands before you start prepping food.
Be mindful of food hygiene and food allergies.
Strawberry Santas
You will need:
strawberries
grapes
white marshmallows
short bamboo skewers.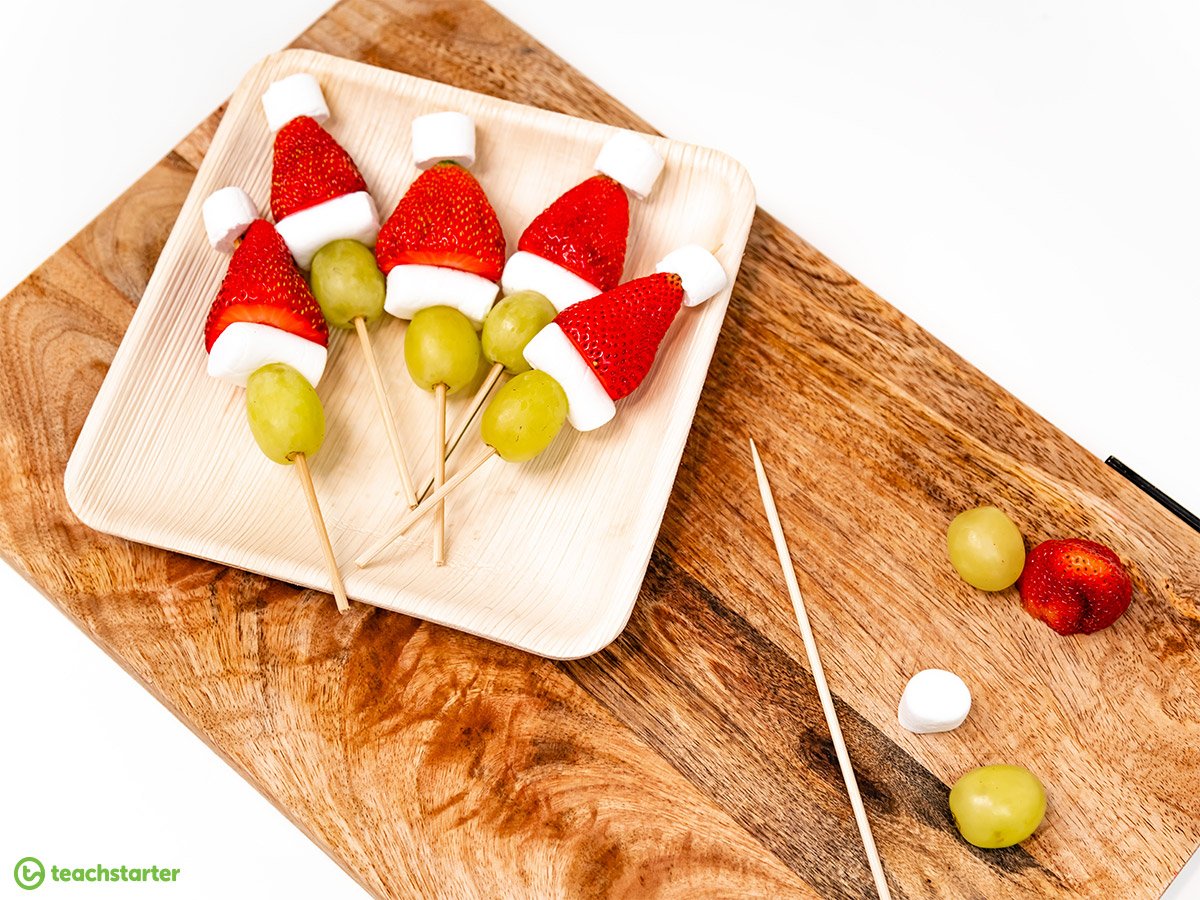 Peanut Butter and Celery Reindeers
You will need:
celery (washed and trimmed)
natural peanut or almond butter (100% nuts and nothing else)
pretzels
chocolate drops ( white and dark chocolate)
raspberries.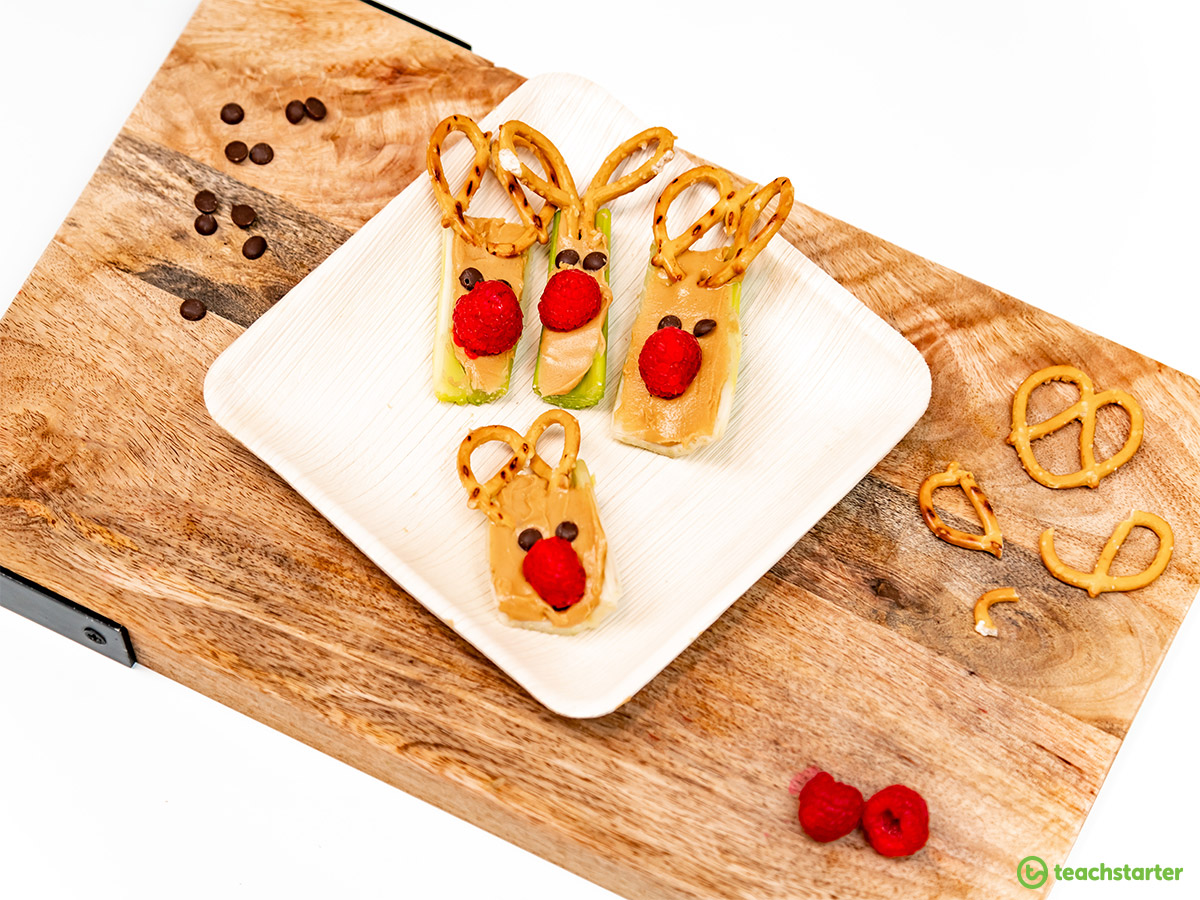 Oreo Santa Hat Cookies
When Christmas food ideas are on the agenda, the addition of an Oreo is sure to please. Your Christmas party will be one to remember if you and your littlies put together these Santa Hat Cookies.
You will need:
Oreo biscuits
whipped cream
strawberries
mini marshmallows
a piping bag.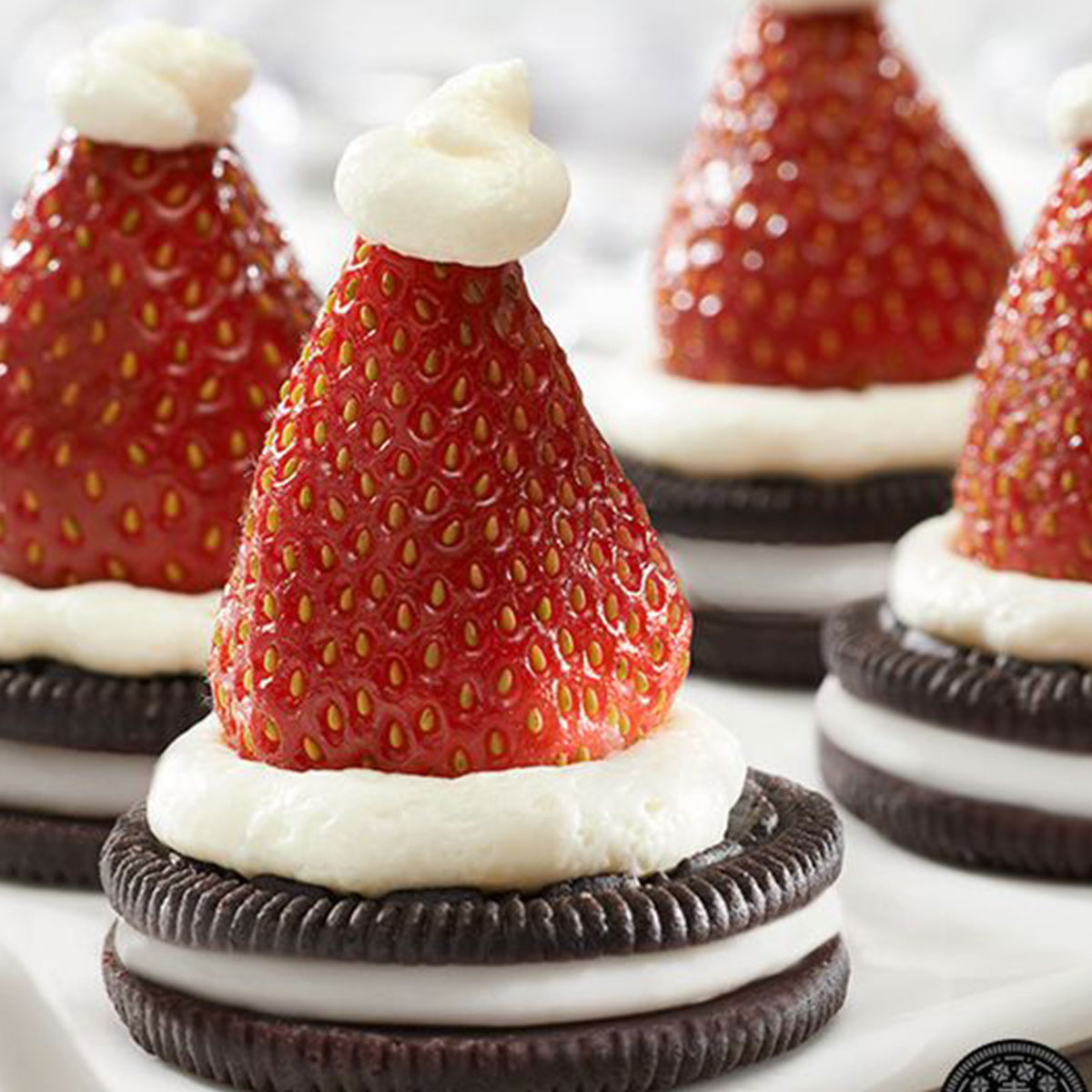 Watermelon Christmas Cut-Outs
For the ultimate in simplicity check out this foolproof Christmas food idea…
You will need:
watermelon
Christmas cookie cutters.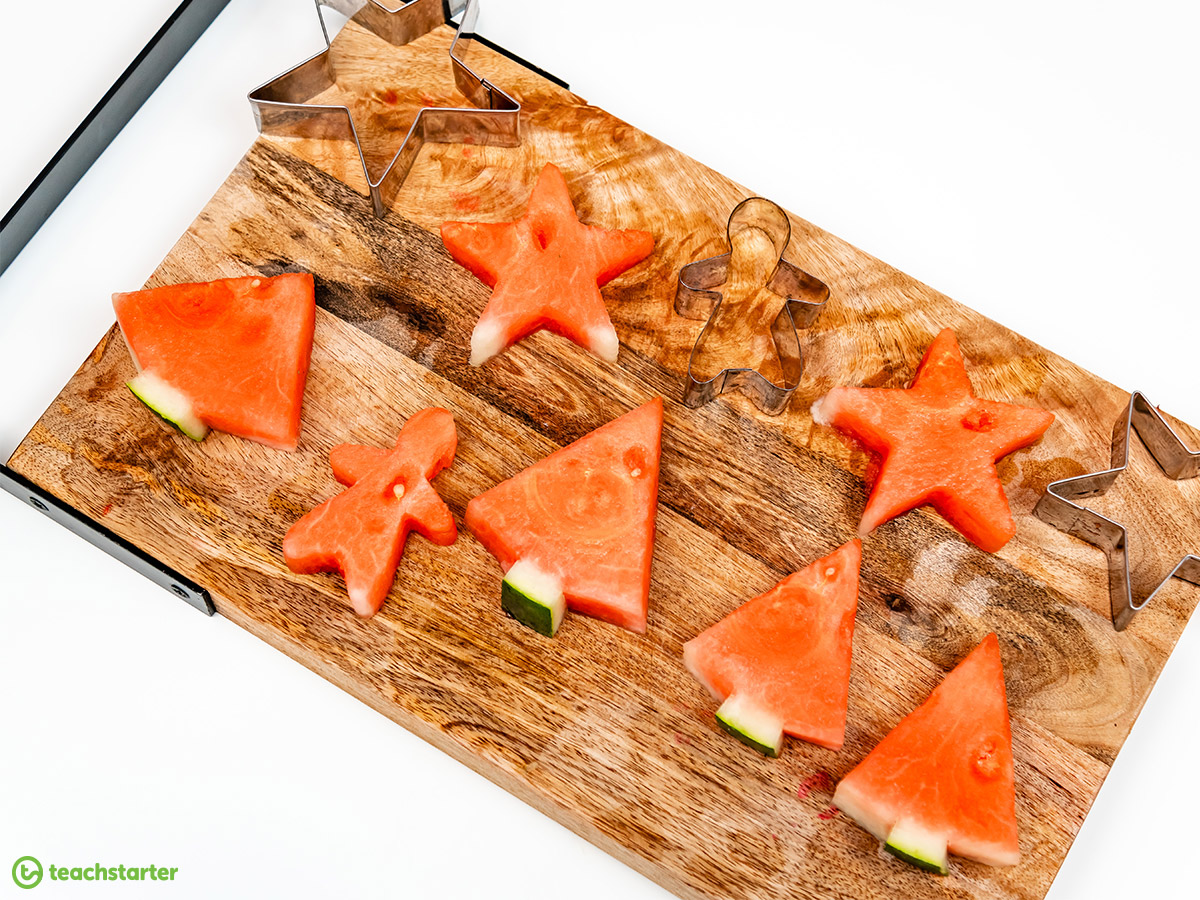 Sleeping Santas (with their eyes open)
These Santas are super simple and easy to construct. Your kids will love them.
You will need:
bananas (cut in half)
strawberries
 marshmallows (white small and large)
chocolate chips (white and dark)
dried cranberries.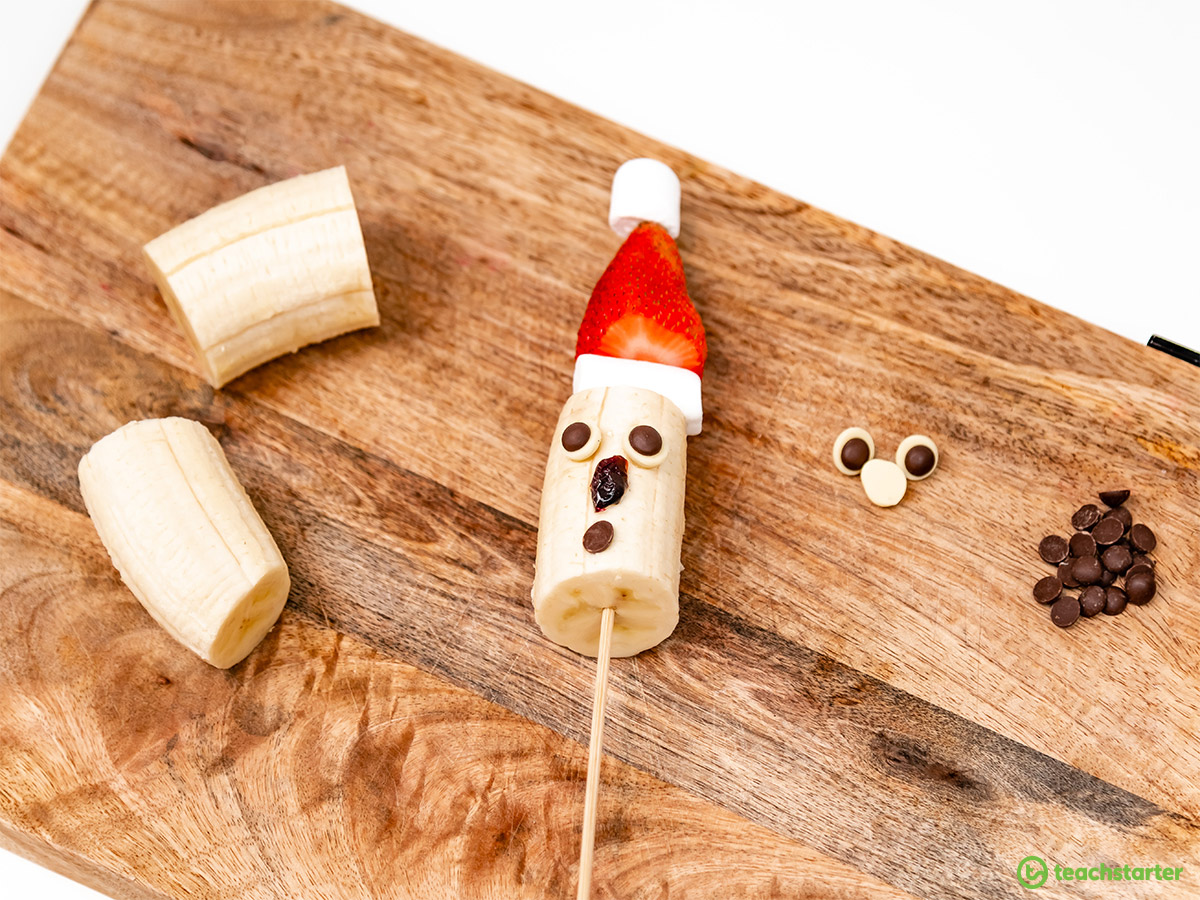 Crunchy Vegetable Christmas Tree
As a Mum of two, I've seen how something as simple as making a shape or pattern with fruit and vegetables can be a game changer. It's all about the crunch, right? The visual appeal of this crunchy vegetable Christmas tree could be a winner in your family with the help of a yummy dip.
You will need:
cucumber (washed and sliced)
cherry tomatoes (washed and cut in half)
carrots (washed, peeled and cut)
hummus or a dip of your choice.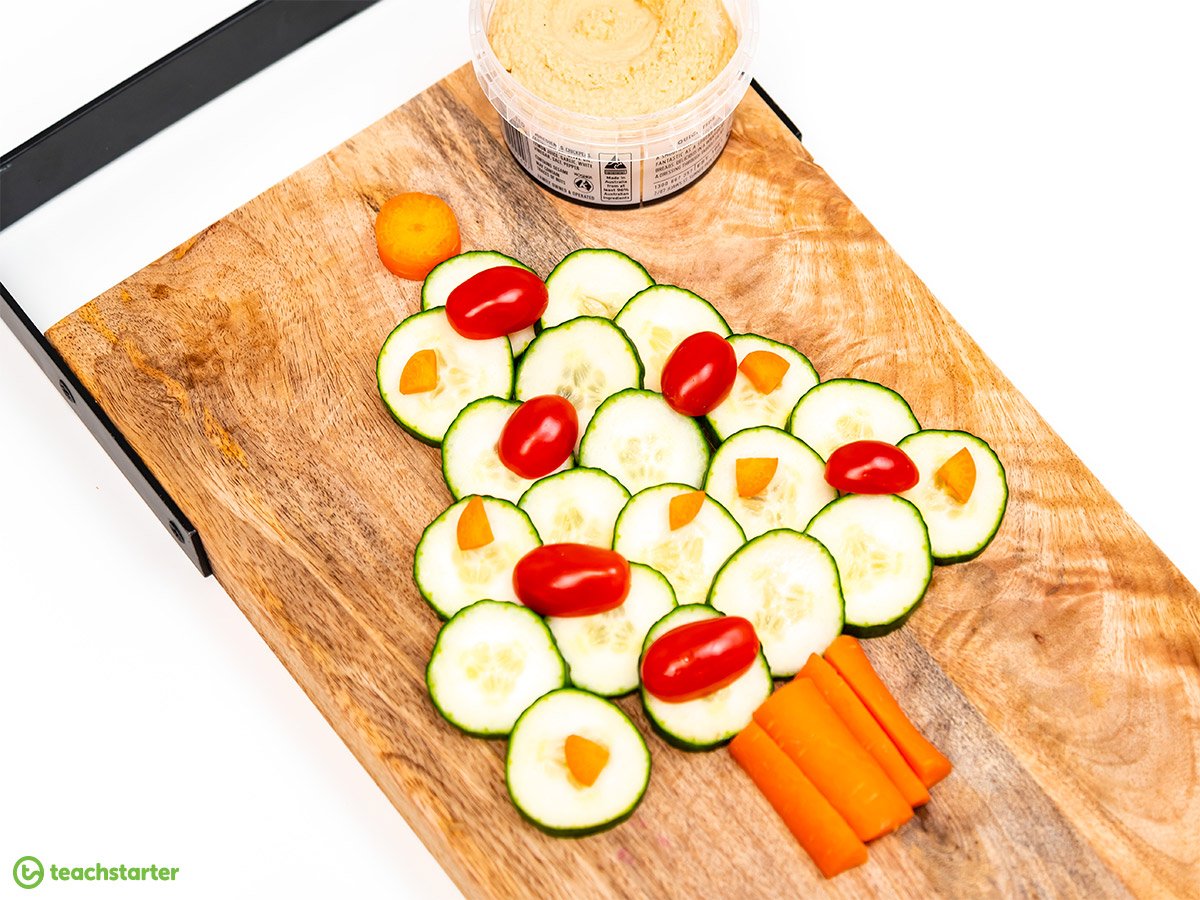 Avo Christmas Tree
This Christmas is a crowd pleaser (with the exception of my daughter), that makes use of a seasonal Aussie staple – avocado.
You will need:
pitta bread or wraps cut into quarters
avocado
cherry tomatoes
cheese.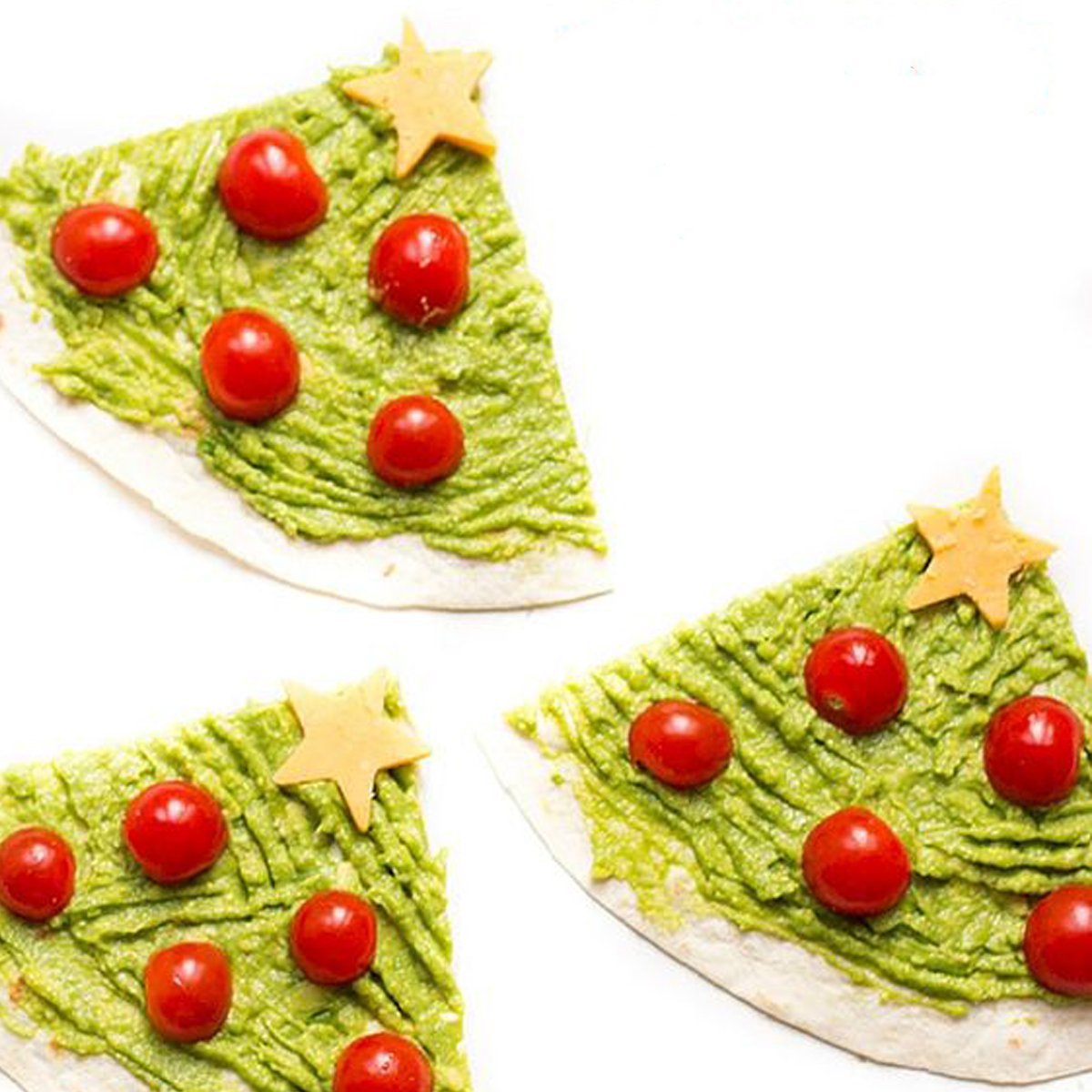 Reindeer Cookies
We've saved the best until last… check out the cutest reindeers in town!
You will need:
arrowroot biscuits
chocolate spread
pretzels
white/dark chocolate chips
raspberries or a red lolly.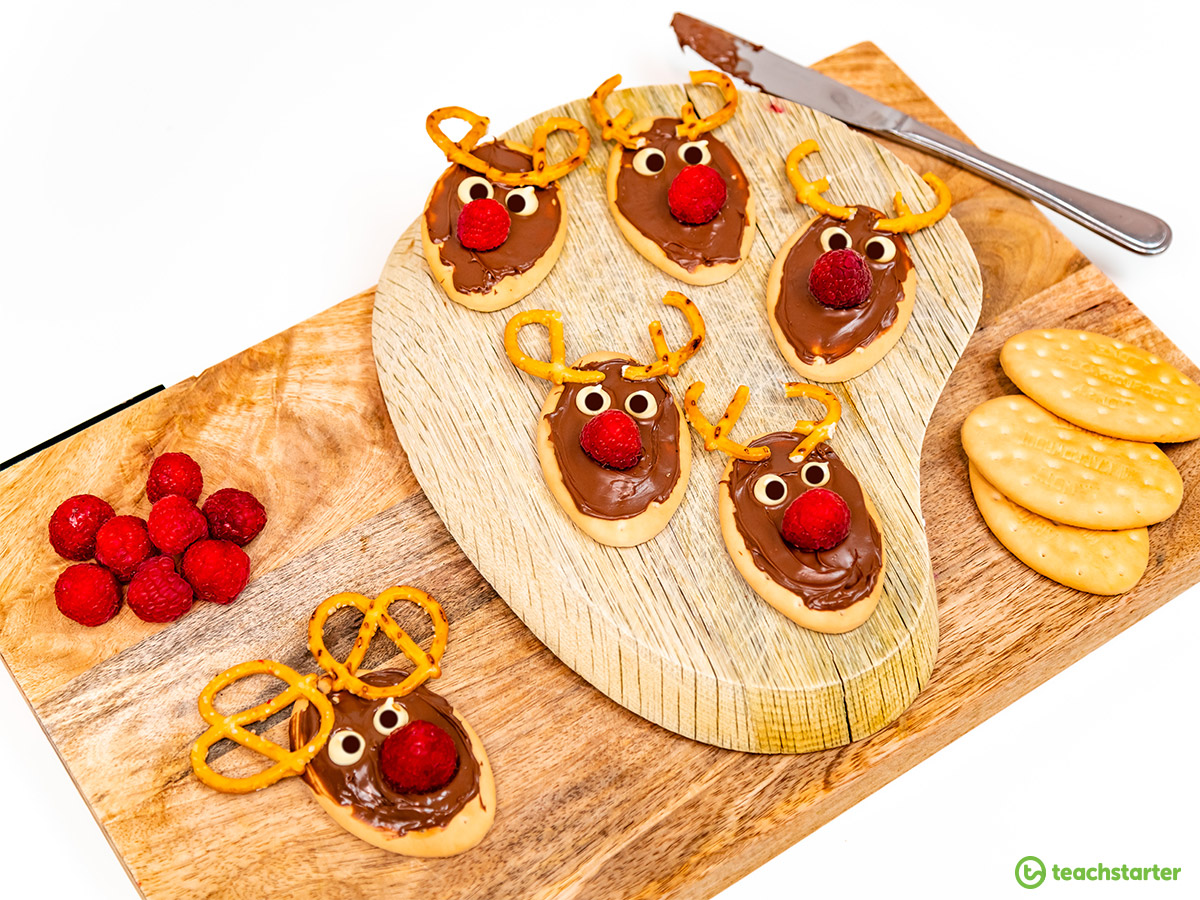 It's time to bring your family together with Christmas food ideas! Get your hands messy, get creative and spend some quality time together.
Share photographs of your culinary delights on Instagram #teachstarter