If you haven't started using mentor texts in your classroom yet, grab a cuppa and pull up a chair. There's a lot to cover! The teacher team at Teach Starter has gathered their best advice, tips and mentor texts you can use with your primary students to enhance their learning.
You do not have to be an English teacher to benefit from the helpfulness of mentor texts. Whether you're teaching a specific writing style, a maths concept or poetry, these texts are great for all subject areas. Be sure to scroll to the bottom for some book titles to add to your teacher wishlist or cheque out from the school library.
What Is a Mentor Text?
First and foremost, what is a mentor text? Simply put, a mentor text is a piece of literature students can read and reread for specific learning purposes. Mentor texts are normally short and engaging and provide context that students can relate to.
Other characteristics and uses of mentor texts include:
Teaching life lessons and skills such as compassion and inclusion
Teaching students to read with a writer's eye (e.g., sentence structure or word choice)
Acting as a foundation to learn or imitate a specific writing form
Demonstrating what good writers do
Helping students take risks in their writing and develop their skills
Mentor texts should be at a level that students can read independently or with some support. They can come in many forms, such as:
So is it proven that mentor texts actually help students? Yes! A study from the Journal of Research in Childhood Education found that students ages 7-11 improved their quality of writing from pre-test to post-test when teachers used mentor texts.
How to Use Mentor Texts
Now that you know what these handy teaching tools are, let's look at how to use them.
Depending on your classroom goals, there are many ways to use mentor texts with your students. They can be the focus of your next writing or reading workshop or even serve as a theme for a week of reading activities and exercises.
Here are some ideas to use in your own teaching:
Understand Different Writing Structures
Mentor texts can help students understand the structure of different writing styles. Have your students read your chosen mentor texts, and then discuss how the author introduced the topic, developed the main idea, concluded the text, etc.
Teach Specific Writing Skills
Pair students together with a mentor text to teach specific writing skills such as descriptive language, sensory details or dialogue. Have your kids use sticky notes to identify examples of these skills, and discuss how the author's choices affected the reader's experience.
Use as a Model for Student Writing
Use a mentor text as a guide for students to write their own text using the author's structure and different craft techniques.
Introduce a New Type of Writing
Want to introduce a new type of writing, such as persuasive essays, personal narratives or informational texts? Grab a mentor text to help! Multiple text examples will help students make connections and identify characteristics of the particular genre you're covering in class.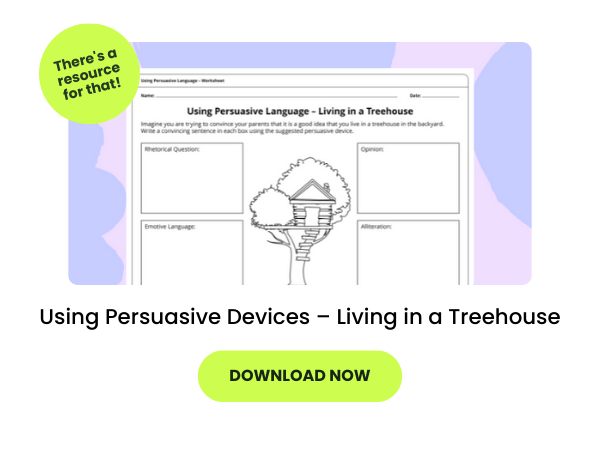 If you work with younger students, picture books can serve as helpful mentor texts in your lessons — from learning how to make predictions and inferences to learning about how characters change over the course of a book.
Tips to Keep in Mind When Using Mentor Texts
When choosing and using mentor texts in your classes, keep these tips in mind:
Use a morning meeting to review any new vocabulary words or definitions that will pop up in your mentor texts. This will give your students a jump start in understanding the text and help them feel more confident.
Present the mentor text by reading aloud and having students read it themselves. Students who struggle with reading may benefit more from hearing it told aloud.
Don't be afraid to use multiple examples! There are heaps of books and mentor texts that can fulfill your goals, whether you want to teach point of view or text structures.
Questions Students Should Ask
Before reading or reading aloud, discuss with your students what they should be listening or looking for as they absorb the story or the text. Here are some examples of questions you can either write on the board or discuss as a group after reading:
What is the genre of the mentor text?
What is the main idea or topic of the mentor text?
What is the author's purpose for writing this piece?
How is the text organised or structured?
What writing techniques or strategies does the author use to engage the reader?
What impact do these techniques have on the reader?
How could the author improve this piece?
How can I use the mentor text as a model for my own writing?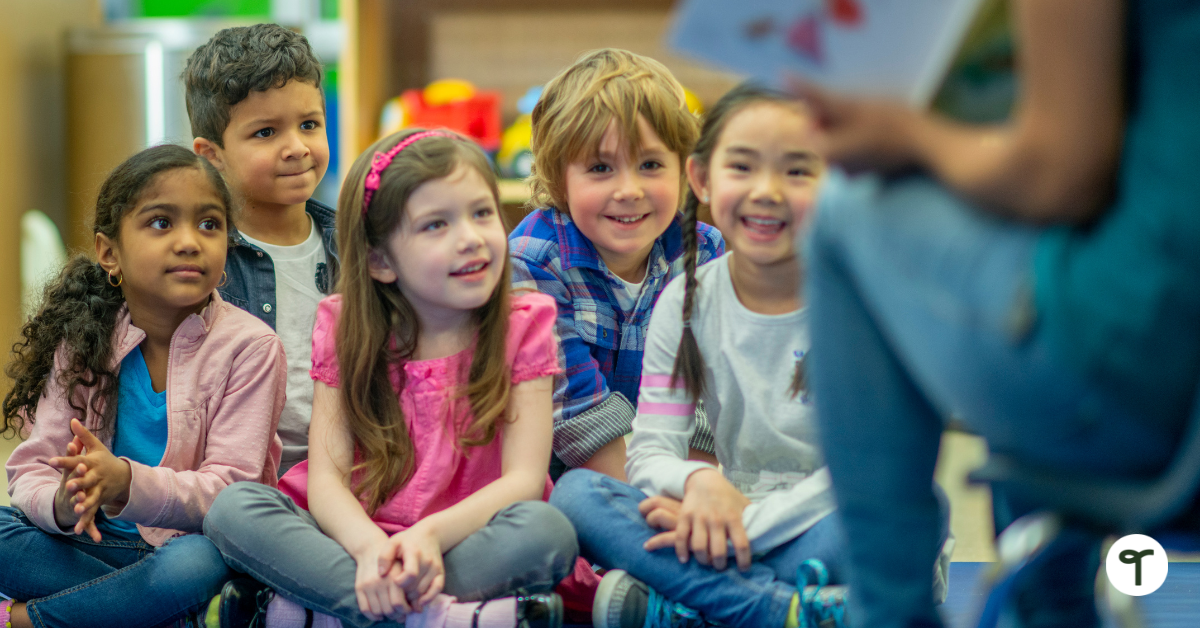 Examples of Mentor Texts
Ready to dive into some teacher-favourite titles you can add to your classroom library or ask the teacher librarian to pull aside for your students? We've made it easy and categorised them for you depending on your lesson's goals! Read on for books you can use in a variety of English lessons and even your maths class.
Mentor Texts for Point of View:
Ruby Bridges: Through My Eyes by Ruby Bridges
The Day the Crayons Quit by Drew Daywalt
Trombone Shorty by Troy Andrews
The Sandwich Swap by Queen Rania of Jordan Al Abdullah
The Tree Lady by H. Joseph Hopkins
Three Hens and a Peacock by Lester L. Laminack
When Marian Sang: The True Recital of Marian Anderson by Pam Muñoz Ryan
Creepy Carrots! by Aaron Reynolds
Believe Me, Goldilocks Rocks! by Nancy Loewen
Ivan: The Remarkable True Story of the Shopping Mall Gorilla by Katherine Applegate
Grace for President by Kelly DiPucchio
Each Kindness by Jacqueline Woodson
Fred Stays With Me! by Nancy Coffelt
Alexander and the Terrible, Horrible, No Good, Very Bad Day by Judith Viorst
The Invisible Boy by Trudy Ludwig
Ira Sleeps Over by Bernard Waber
Enemy Pie by Derek Munson
The Stray Dog by Marc Simont
The Relatives Came by Cynthia Rylant
Evelyn Del Ray is Moving Away by Meg Medina
The Thing Lou Couldn't Do by Ashley Spires
Mentor Texts for Making Inferences:
Stellaluna by Janell Cannon
The Boy Who Grew Flowers by Jen Wojtowicz
The Stranger by Chris Van Allsburg
The Memory Coat by Elvira Woodruff
Tuesday by David Wiesner
The Bracelet by Yoshiko Uchida
Rosie's Glasses by Dave Whamond
City Dog, Country Frog by Mo Willems
The Mysteries of Harris Burdick by Chris Van Allsburg
The Bear Ate Your Sandwich by Julia Sarcone-Roach
Two Bad Ants by Chris Van Allsburg
Where Are You Going Manyoni? by Catherine Stock
Tar Beach by Faith Ringgold
Mentor Texts for Visualising
Twilight Comes Twice by Ralph Fletcher
The Last Stop on Market Street by Matt de la Peña
A Bad Case of Stripes by David Shannon
Fireflies by Julie Brinckloe
Where Butterflies Grow by Joanne Ryder
Bedhead by Margie Palatini
Cloudy With a Chance of Meatballs by Judi Barrett
The Storm Book by Charlotte Zolotow
The Most Magnificent Thing by Ashley Spires
Owl Moon by Jane Yolen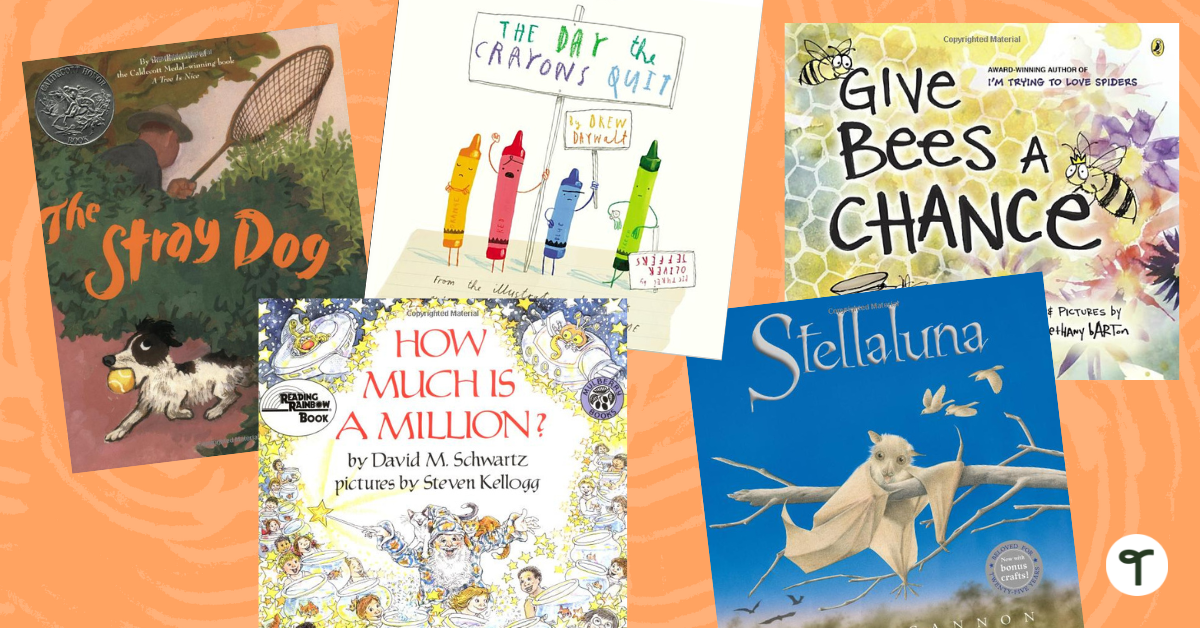 The Smart Cookie by Jory John
Not Norman: A Goldfish Story by Kelly Bennett
The Other Side by Jacqueline Woodson
Sylvester and the Magic Pebble by William Steig
Thunder Cake by Patricia Polacco
Chrysanthemum by Kevin Henkes
Julius, the Baby of the World by Kevin Henkes
The Recess Queen by Alexis O'Neill
Those Shoes by Maribeth Boelts
Beatrice Doesn't Want To by Laura Numeroff
Stand Tall Molly Lou Melon by Patty Lovell and Dr. Wayne W. Dyer
Yeh-Shen: A Cinderella Story from China by Ai-Ling Louie
Amazing Grace by Mary Hoffman
Mentor Text for Text Structures
Hurricanes! by Gail Gibbons
Give Bees a Chance by Bethany Barton
Sincerely, Emerson: A Girl, Her Letter, and the Helpers All Around Us by Emerson Weber
What Do You Do When Something Wants to Eat You? by Steve Jenkins
Buzzing With Questions: The Inquisitive Mind of Charles Henry Turner by Janice N. Harrington
What's the Difference Between a Turtle and a Tortoise? by Trisha Sue Speed Shaskan
A Place for Butterflies by Melissa Stewart
What if You Had an Animal Tail? by Sandra Markle
Milk: From Cow to Carton by Aliki
Picture Book Mentor Texts to Teach Maths
How Much is a Million? by David M Schwartz
100 Bugs! by Kate Narita
1, 2, 3, to the Zoo by Eric Carle
Ten on a Twig by Lo Cole
Spaghetti and Meatballs for All! by Marilyn Burns
Sir Cumference and the First Round Table by Cindy Neuschwander
Billions of Bricks: A Counting Book About Building by Kurt Cyrus
On the Launch Pad: A Counting Book About Rockets by Michael Dahl
Explore our complete teacher-created English collection for worksheets, guides and other activities you can pair with your mentor text lessons.