Do you read shared novels with your class?
Who agrees with me that sharing a nice, juicy novel with your students is one of the best things about teaching? Taking your time to tease out a chapter book's plot over the course of a term, dissecting the story with enriching novel study activities – there's really nothing more thrilling in my opinion!
What a fantastic way to cultivate and maintain a love of reading with your students.
The best part about having your class dive into a novel is that these reading sessions also make great opportunities for learning. Even if it feels like a break, reading with your class is one of the most important things you can do for your students!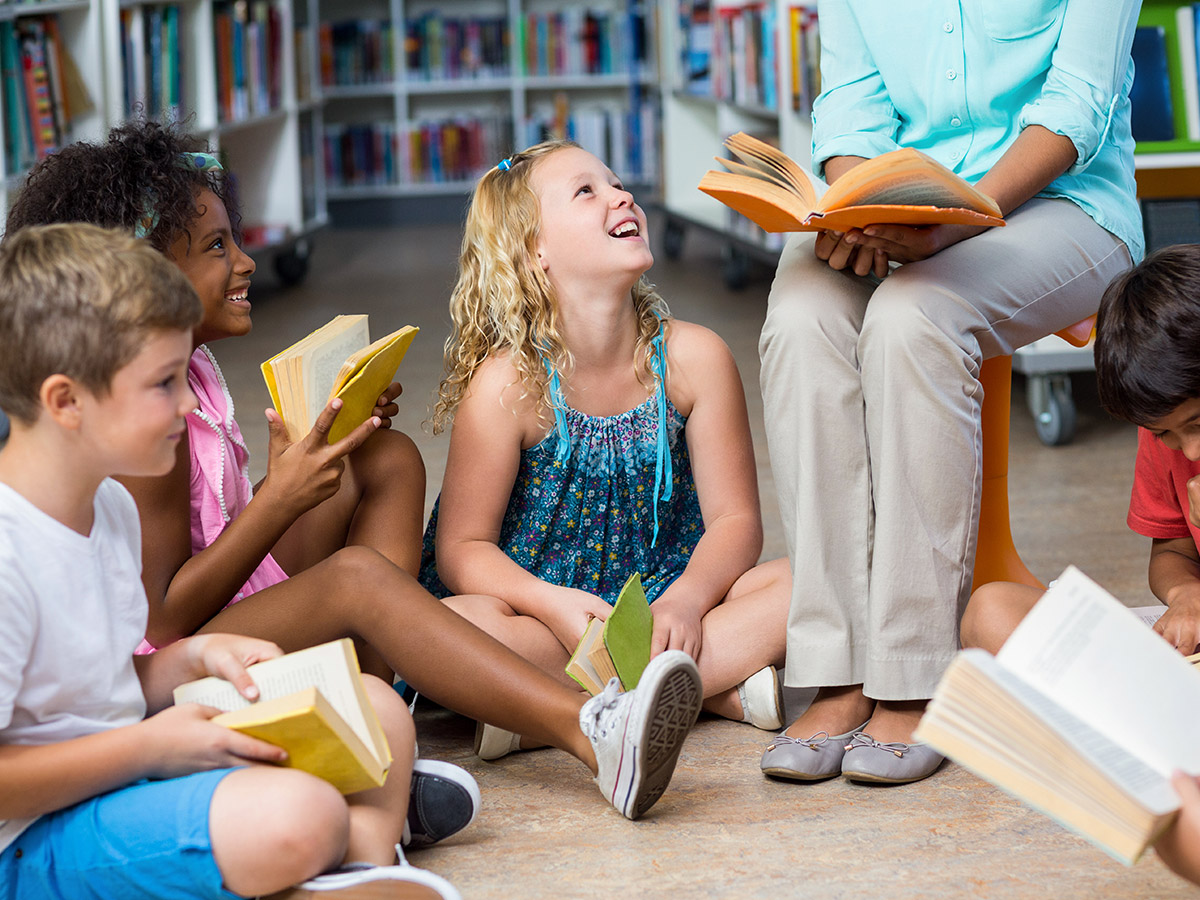 Why Share a Story With Your Students?
Whether you encourage your students to read independently, follow along with their own book, or sit back and close their eyes to listen – there's no wrong way to do it.
Reading a shared novel helps your students in many ways:
Reading a shared novel introduces new vocabulary.
When reading aloud, teachers model fluent word decoding and expression.
Listening to a story helps students comprehend and process information. This means they can focus on plot development and character analysis, rather than word decoding.
Students are more motivated to read as they witness reading for pleasure.
---
We've developed an amazing resource pack full of novel study activities to help your students get even more out of their shared novel experience! Use these resources with your class to analyse any shared story.
From predicting the plot to analysing the characters, help your students pull apart a story with these educational worksheets.
Before Reading
Make sure your class is ready to go by printing out the Novel Study Activities Resource Pack prior to starting your novel. You can turn it into a handy booklet by stapling the worksheets together and using our Novel Study Activity Book Cover Page! Your students will love the opportunity to grab out their Novel Study Activity Booklet when it's time to get into the story.
Making predictions about the text is a fantastic way to develop your students' understanding of imaginative writing and author's purpose. Before you start to read your class novel, encourage your students to analyse the book's cover with our Novel Study – Making Predictions Worksheet.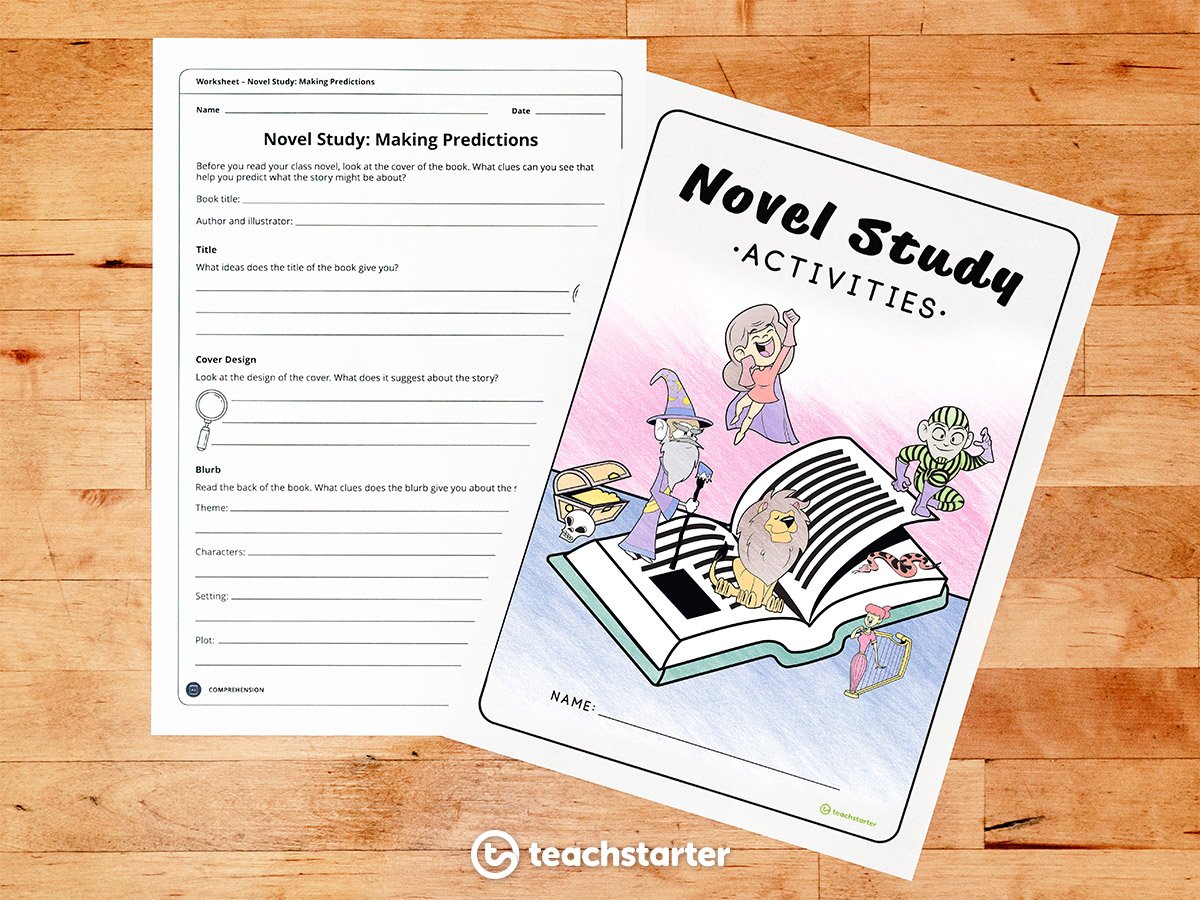 Students will be able to study the title, illustrations and blurb to make predictions about the story.
Why not encourage your class to search for different editions of the book? Often these have different covers and make for exciting comparisons!
If you're encouraging your students to read a shared novel as part of guided reading rotational activities, our Literature Task Cards compliment these worksheets beautifully.
Novel Study Activities for Character Analysis
To understand how an author positions protagonists and antagonists, your students will need to understand their features and behaviour.
Once you've explored the main characters with your class, complete a Novel Study – Character Map Worksheet. Your students will have the opportunity to analyse the character's personality traits and how the characters interact with each other.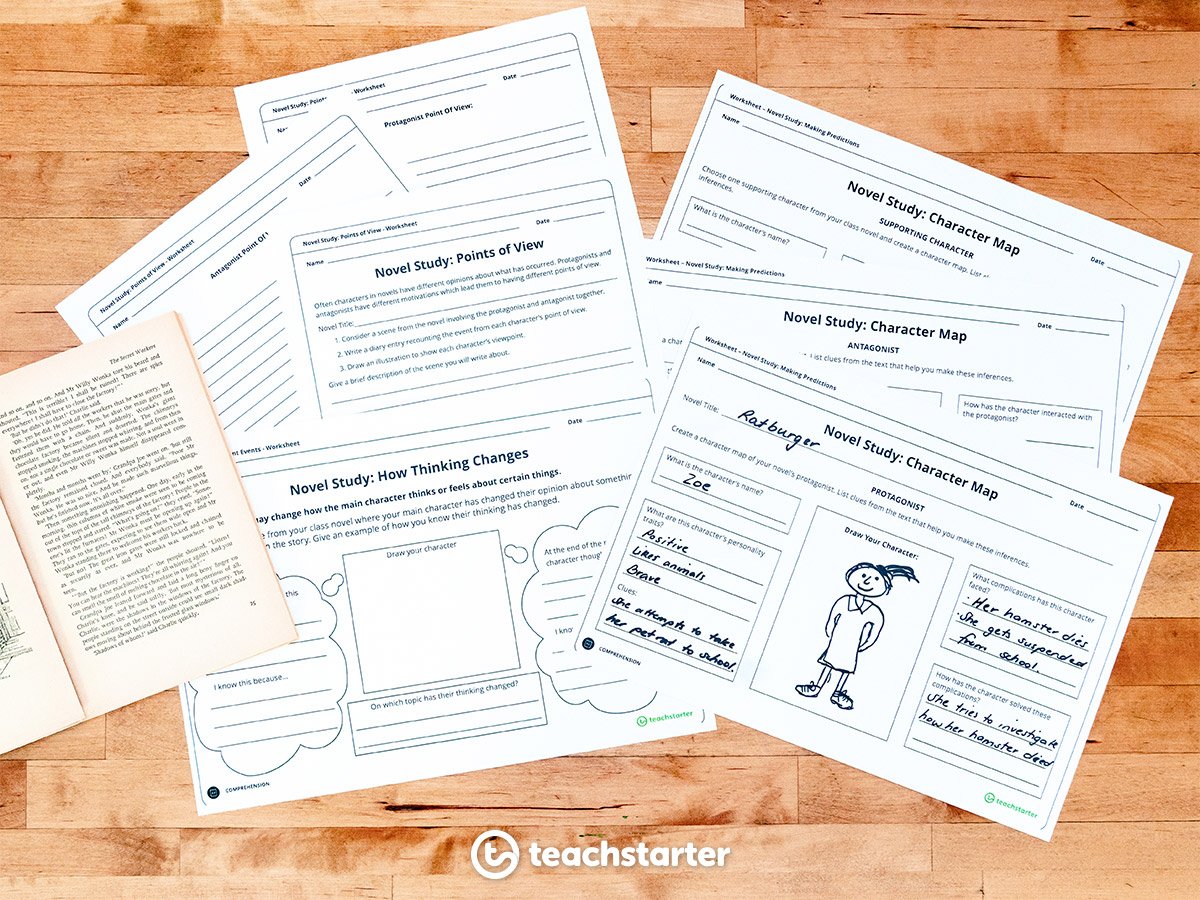 A fantastic way to analyse a character in a novel is by looking at their motives! Our Novel Study – Points of View Worksheet is the perfect resource for students to look more deeply into the protagonist and antagonist mindset during a particular event.
Finally, your students will love learning about how a character grows and changes!
Give your students the opportunity to explore how an event can change a character's point of view with our Novel Study – How Thinking Changes Worksheet.
Exploring Plot Development
By now, your students should be engrossed in the story! Why not create a class display of your students' completed work? Our editable Books – Letters and Numbers Bunting is the perfect resource to complement any novel study feature wall!
Exploring plot development is where the real deep thinking takes place. However, comprehending text structure with novels doesn't have to be an ordeal! Begin by exploring what events are important to the storyline with our Novel Study – Draw a Scene Worksheet.
Ask your class to draw a picture depicting a scene from the story and discuss why it's important.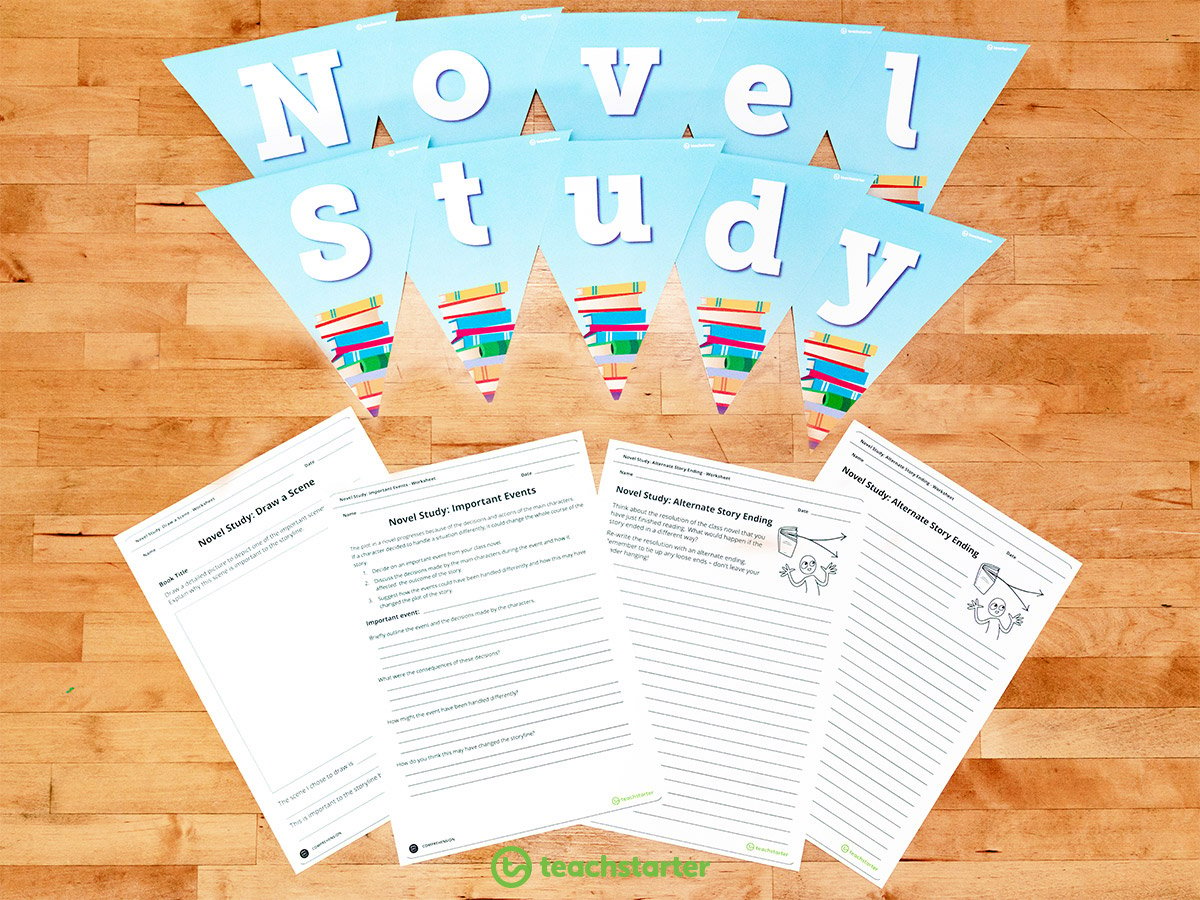 Students can explore how a plot thickens, how the tension builds, and how events resolve a storyline with our simple Free Download: Narrative Plot Structure Template. 
Once students have an understanding of the important events in a text, they can link this to their understanding of characters using our Novel Study – Important Events Worksheet.
Students will have the opportunity to examine an important event and the decisions made by the characters.
They will then be encouraged to think about how the event may have been handled differently. What effect would this have had on the storyline?
Post-Reading Novel Study Activities
As you complete each chapter, your class will have a great time reflecting on how the story has progressed by completing a Novel Study – Chapter Summary Worksheet. This thought-provoking worksheet encourages students to analyse how each chapter has moved the story through its plot progression.
It can be sad to approach the end of the novel. Keep it exciting by asking your students to predict what the characters may do to resolve the story. If they're feeling particularly imaginative, encourage them to complete a Novel Study – Alternate Story Ending Worksheet.
Your class will love being able to make the story their own with their own ending!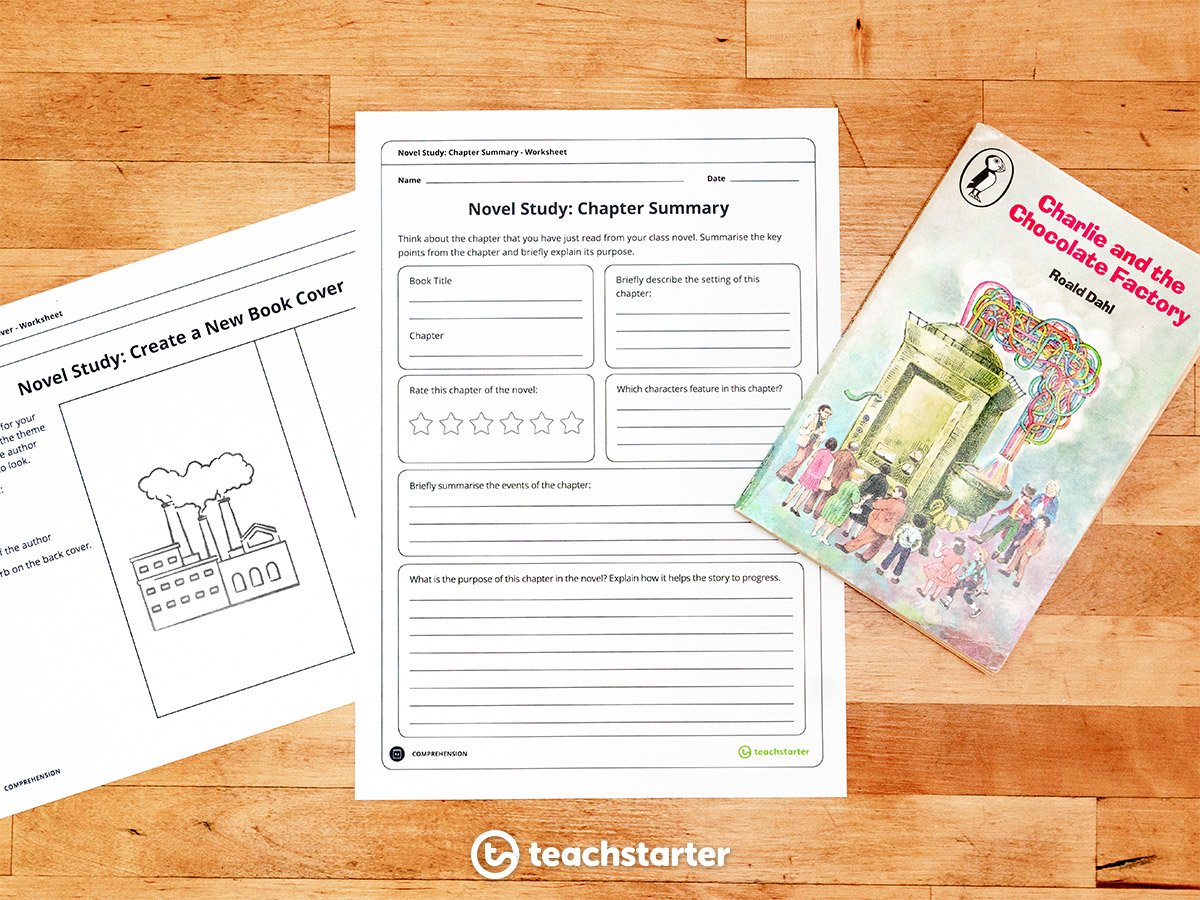 If your class are still hungry for more, encourage them to have a bit of fun with our Novel Study – Create a New Cover Worksheet!
Encourage your students to think about the following:
What is the mood of the novel?
What are the important elements to include on the cover of a novel?
How might the author want the cover to look?
Once your students have finished the story, they can give it a review with our Book Review Worksheet.
---
Our Novel Study Activity Resource Pack has everything you need! Click on the image below to download it for your class and get ready to immerse yourself in a story.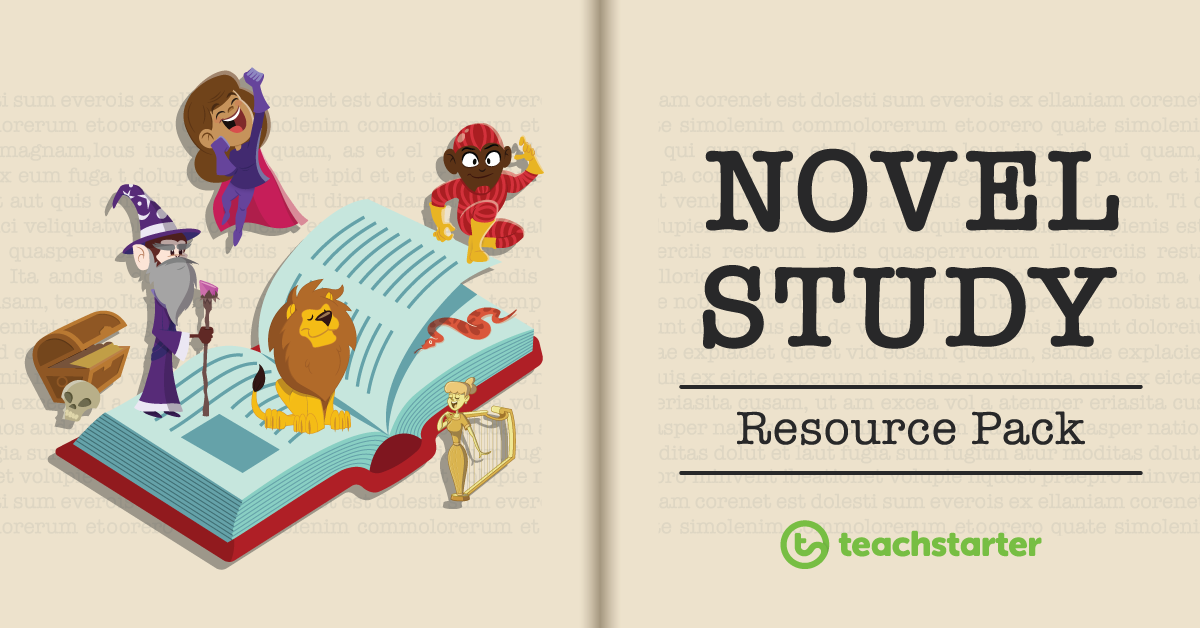 Are you reading a novel with your students this term?
Comment below and let us know the stories you love diving into with your class!