This Thursday, November 7 is Outdoor Classroom Day!
Outdoor Classroom Day is an amazing global initiative to inspire outdoor learning and play.
On the day, thousands of schools around the world take lessons outdoors and prioritise playtime. In 2018, over 3.5 million children worldwide took part, almost 300 000 of those were in Australia.
The benefits of learning in the great outdoors have been documented by numerous studies. Greater appreciation for nature, improved social and spacial skills, increased engagement in lessons and retention of knowledge are just a few of the amazing benefits of an outdoor classroom.
Our blog Opening the Door to an Outdoor Classroom | Creating an Outdoor Lesson Box details just how easy it is to take your students' lessons outside!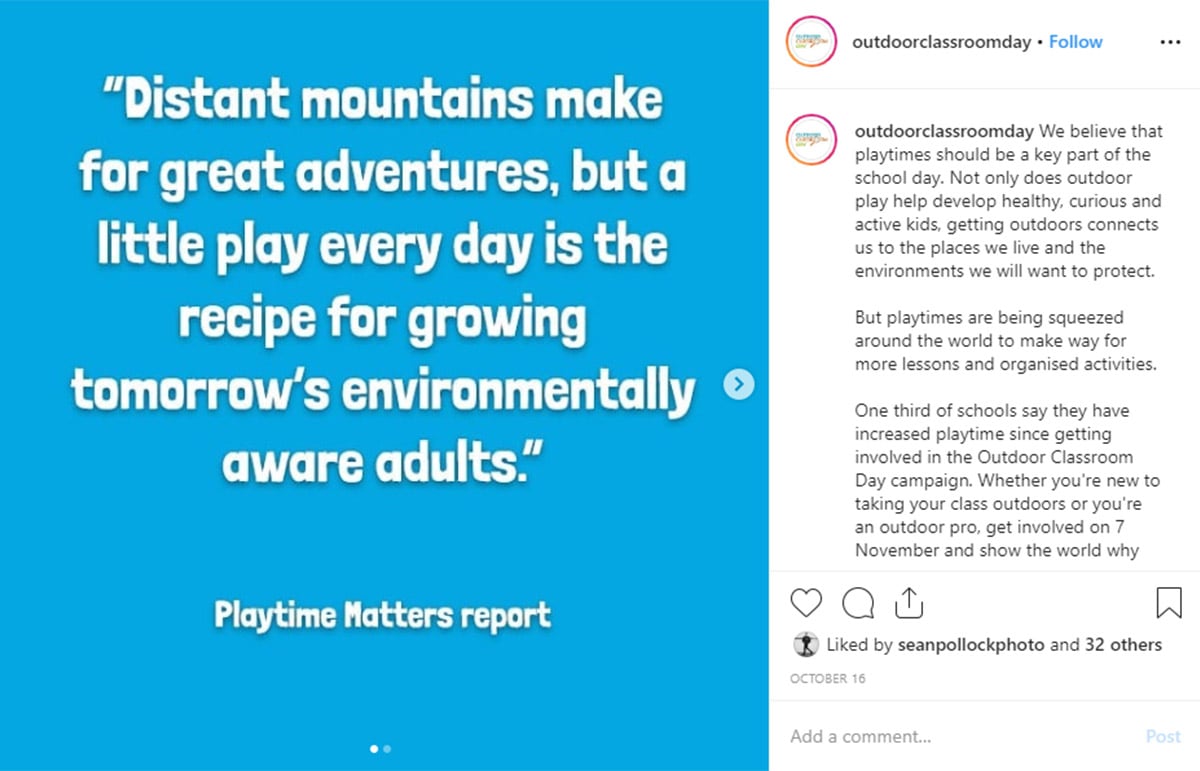 At Teach Starter, we absolutely love the idea of teaching outside amongst the beauty of nature! We thought we'd do our part to encourage you to take your lessons outdoors, and rounded up 10 wonderful activities that can be taught outside the classroom.
10 Lessons for Outdoor Classroom Day
The beautiful thing about these lessons is that most of them can be adapted to suit any grade level. So what are you waiting for? Grab your Outdoor Lesson Box Resource Pack and give one of the following activities a try!
Introduce your class to nature by exploring all the wonderful flora and fauna in your new outdoor classroom area. Have a chat to your class about not disturbing the environment, and simply noticing the things around you. You can ask your students to take a photo as they cross things off their list!
Use these photos to create an Outdoor Classroom Album to inspire your students to care for their new learning environment.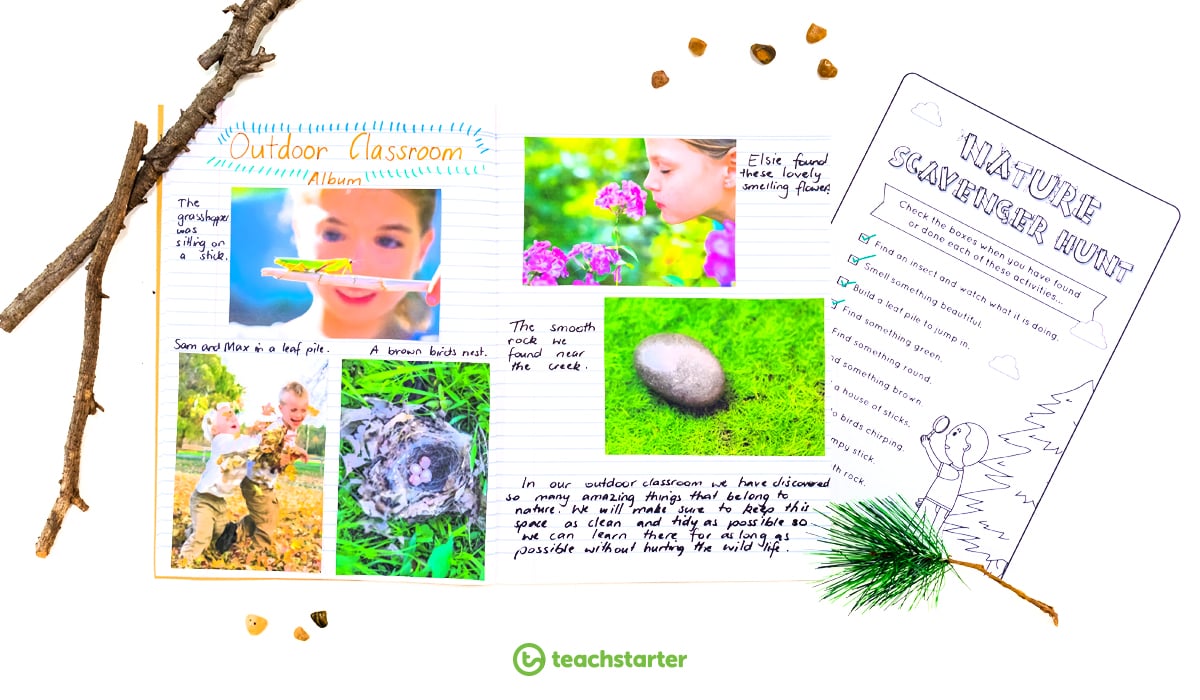 There's nothing like cementing understanding of an abstract idea with real-life evidence! Demonstrate the exciting phenomenon of Earth rotating on its axis with this sundial activity. The maths buffs amongst you can tie this in to a lesson on telling the time – the possibilities with this activity are exciting!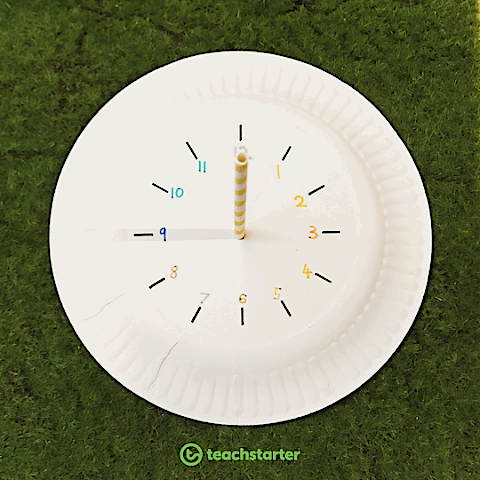 Use Outdoor Classroom Day to inspire your persuasive writing!  Conduct an activity of your choice indoors, and follow up by conducting the same activity outdoors. Ask your students to find a shady place to sit down to compare and reflect on their experiences.
They can use their thoughts alongside this writing task to construct a detailed and reasoned answer to the writing prompt Outdoor Play is Better Than Indoor Play. Use this activity to consolidate a unit on persuasive writing using our extensive Persuasive Writing Teaching Resources.
Of course, you want to be outdoors for this one! Teach the concept of Length and measuring distance, embedded in a fun, real-world context! Construct your paper planes in a shady part of the playground and then let the students test-fly and measure their creations.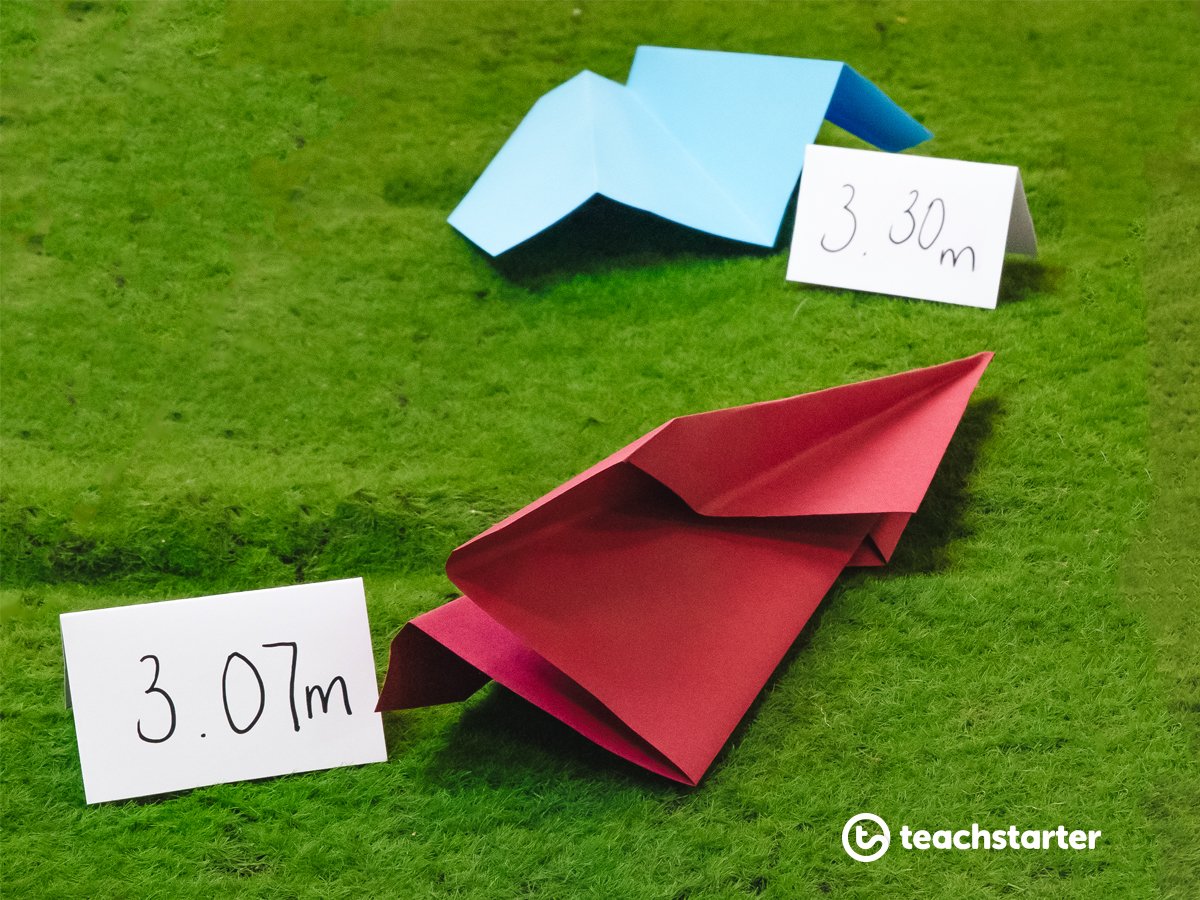 As a fun add-on, ask all the students to choose their best planes for a real-life competition once the experimenting is done!
This integrated Art and Science activity is a great way to ask your students to appreciate the unique beauty of the world around them! All you need is a tree, a magnifying glass, and a bit of peace and quiet.
Use it alongside our Plant Growth Chart Worksheet and Tree Observation Worksheet to give your students a range of fun activities when Exploring Plants.
Here's an Outdoor Classroom Day activity with long-lasting benefits for both you and the school environment! Take on this environmental awareness activity with your class to create a more beautiful outdoor classroom for you and your students.
Students will explore the local area and develop a habitat by researching:
the environmental characteristics of the chosen location for their garden within the school including temperature, rainfall, sunlight, wind strength, and pollution
the vegetation suited to the chosen location for their garden within the school
the strategies to protect their planned garden within the surrounding school environment
the animals that live in the local area and how their garden could be used as a habitat for some of these animals.
If you're short on time and resources, try a more simple approach with our Garden Design Project activity. For younger students, read our blog on A Simple DIY Classroom Garden and get planting!
Encourage scientific observations of things in nature and get your students thinking about the different levels of their environment. Zoom in to natural resources and work your descriptive language skills!
This fun, hands-on activity will have your students developing a greater appreciation for everyday natural objects.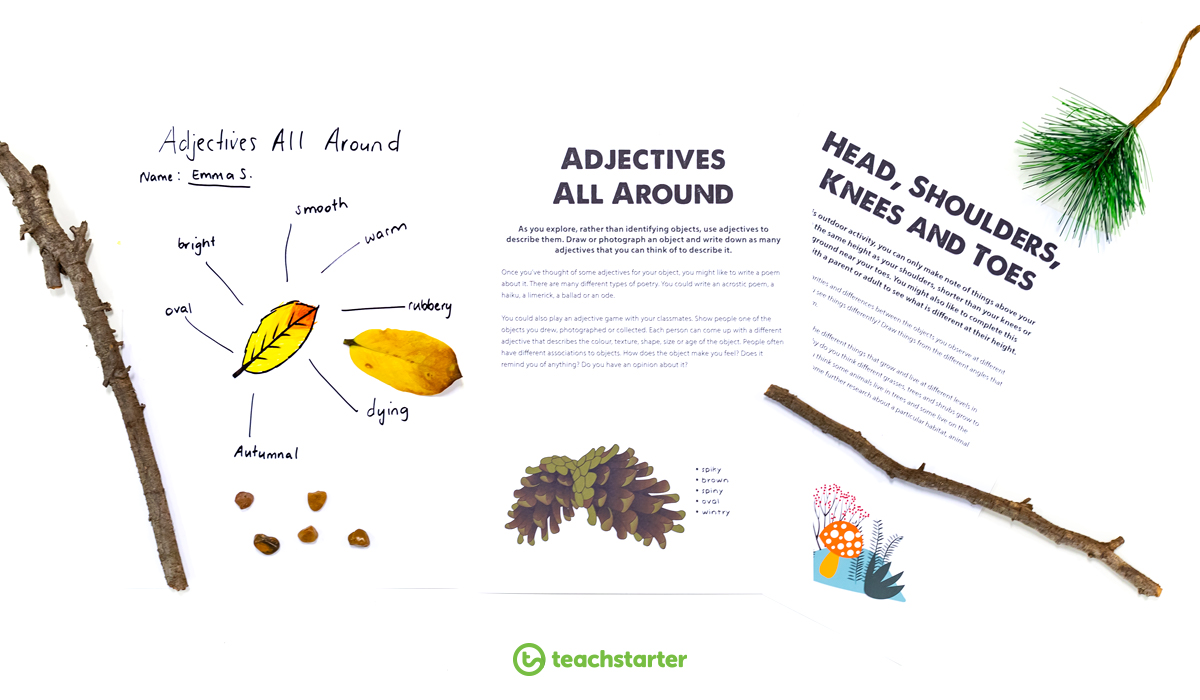 Find a shady spot outside to complete our Packing in Meaning with Noun Groups Worksheet, then play a game of exciting noun hide and seek using our Sight Word Cards – Dolch Nouns (make sure you've set it up beforehand!). Ask your students to use their scavenged nouns to create their own descriptive noun group sentences!
Take your maths off the page and out of the classroom and do an angle hunt in your playground. Teach the principles of angles using a protractor, our Angles Teaching Resources and encourage students to find real-life acute, right, obtuse and reflex angles outside the classroom!
They can sketch or photograph their discoveries, measure them with a protractor, and return to class to present their findings.
Investigate Science and Sustainability by taking your class on a Water Walk throughout your school grounds. See where and how water is used in your school, and extend learning by creating a water-saving campaign with our Saving Water – Fact Sheet and Worksheet!
This lesson can be taught in conjunction with our Classroom Energy Audit Worksheet to give students an even deeper insight into sustainable practices at your school.
The next Outdoor Classroom Day is May 21, 2020!
How are you going to enjoy nature with your class this Outdoor Classroom Day?
#teachstarter to show off your outdoor lessons!