Explore the concept of noun groups with this 2-page worksheet.
Pack Meaning Into Noun Groups 
Students independently work with noun groups in this step-by-step worksheet. Following the gradual release model, students are initially shown how to build information around a noun, then they identify noun groups within sentences and finally, they create their own noun groups within the sentence context.      
Use this worksheet in your Grammar lesson to help develop your students' confidence when learning how to expand noun groups/phrases. Your students will begin to understand the important role that noun phrases play in enriching meaning. 
We've included a handy answer key with this download as well. 
Scaffolding + Extension Tips 
In addition to individual student work time, use this worksheet as a:
homework assignment

whole-class activity (via smartboard.)
The Google Slides version of this worksheet can be used to simplify the resource. Perhaps you might provide less examples for each question or you might find it beneficial to provide more opportunities for students to identify noun groups before creating their own.    
Students who are looking for a challenge could add an adverb (in addition to the noun group) to expand their sentences. Or perhaps they could come up with a selection of new head nouns for their peers to build sentences around.
Easily Download & Print
Use the dropdown icon on the Download button to choose between the PDF or Google Slides version of this resource. 
Because this resource includes an answer sheet, we recommend you print one copy of the entire file. Then make photocopies of the blank worksheet for students to complete. 
To save paper, we suggest printing this 2-page worksheet double-sided.
Turn this teaching resource into a sustainable activity by printing on thick card and slipping it into a write and wipe sleeve. Students can record their answers with a marker pen, then erase and reuse. 
Alternatively, project the worksheet onto a screen and work through it as a class by having students record their answers in their notebooks. 
Get more handy worksheets here!
Are you after more resources to help teach about parts of speech? Try these: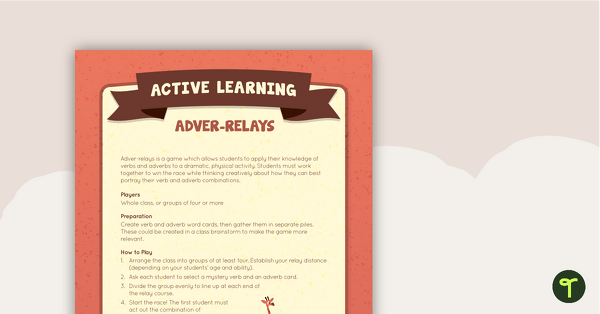 teaching resource
A whole class active game that encourages learning through a physical setting.