Have you got a stash of paper plates in your classroom cupboard? If you have, then there's no better time to get creative with some Christmas craft.
So why do I love paper plates so much?
Well, firstly, it's so satisfying to transform something frugal into something fantastic. Secondly, paper plates are a super versatile teaching resource. And lastly, paper plates do a lot of hard work for teachers like us. For example, they provide instant circles and have a surface perfect for painting and drawing!  What is there not to love?
I've searched for paper plate craft activities ideas that your students will love. Check them out…
---
 Classroom Christmas Tree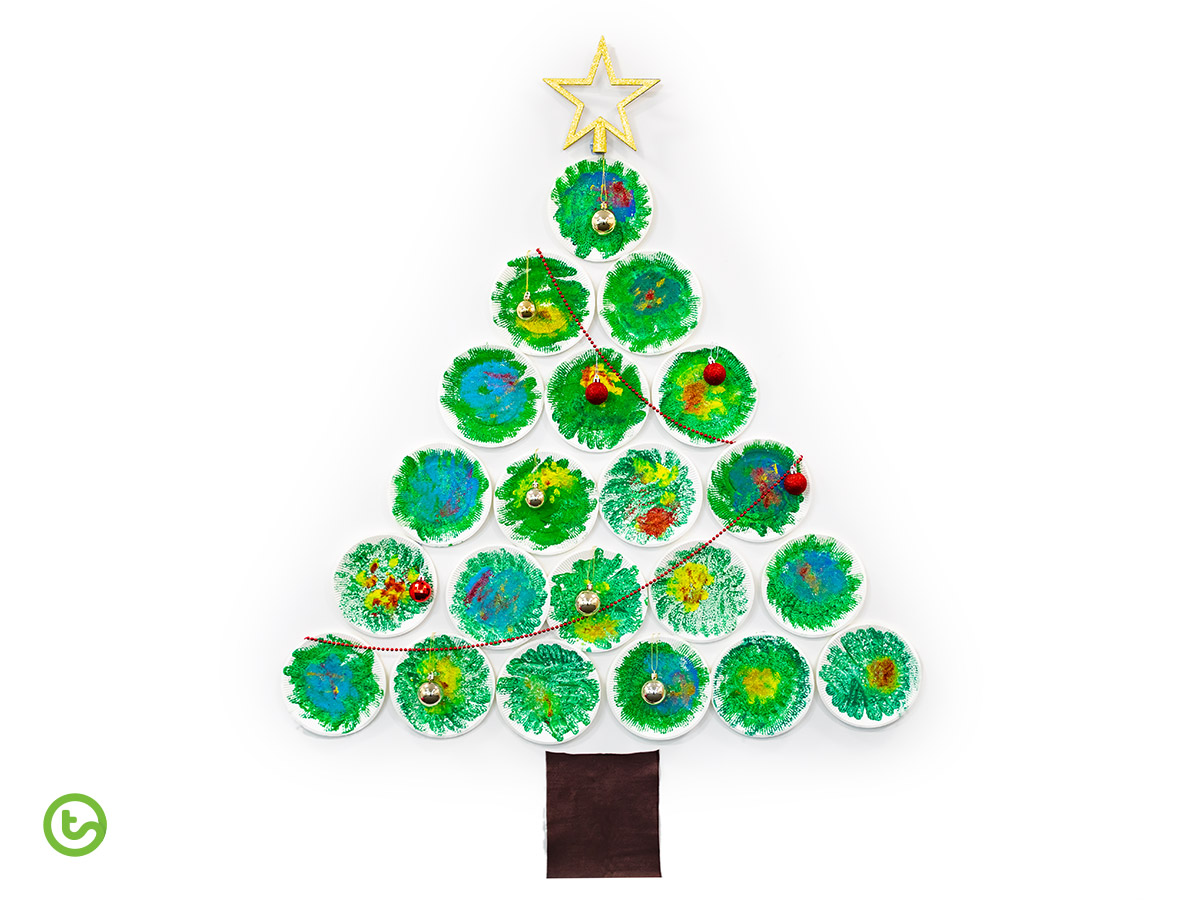 This Christmas craft idea ticks a lot of boxes because it can be as simple or a complicated as you choose it to be. This Christmas craft idea relies on class teamwork. It creates a high impact classroom display and saves trees!
You will need:
paper plates (at least one for each student, 28 plates work well)
green, blue, red and yellow poster paint
eco-friendly glitter or sparkly bits of your choice
Blu-Tac
baubles and other Christmas decorations
a star.
---
Paper Plate Wreath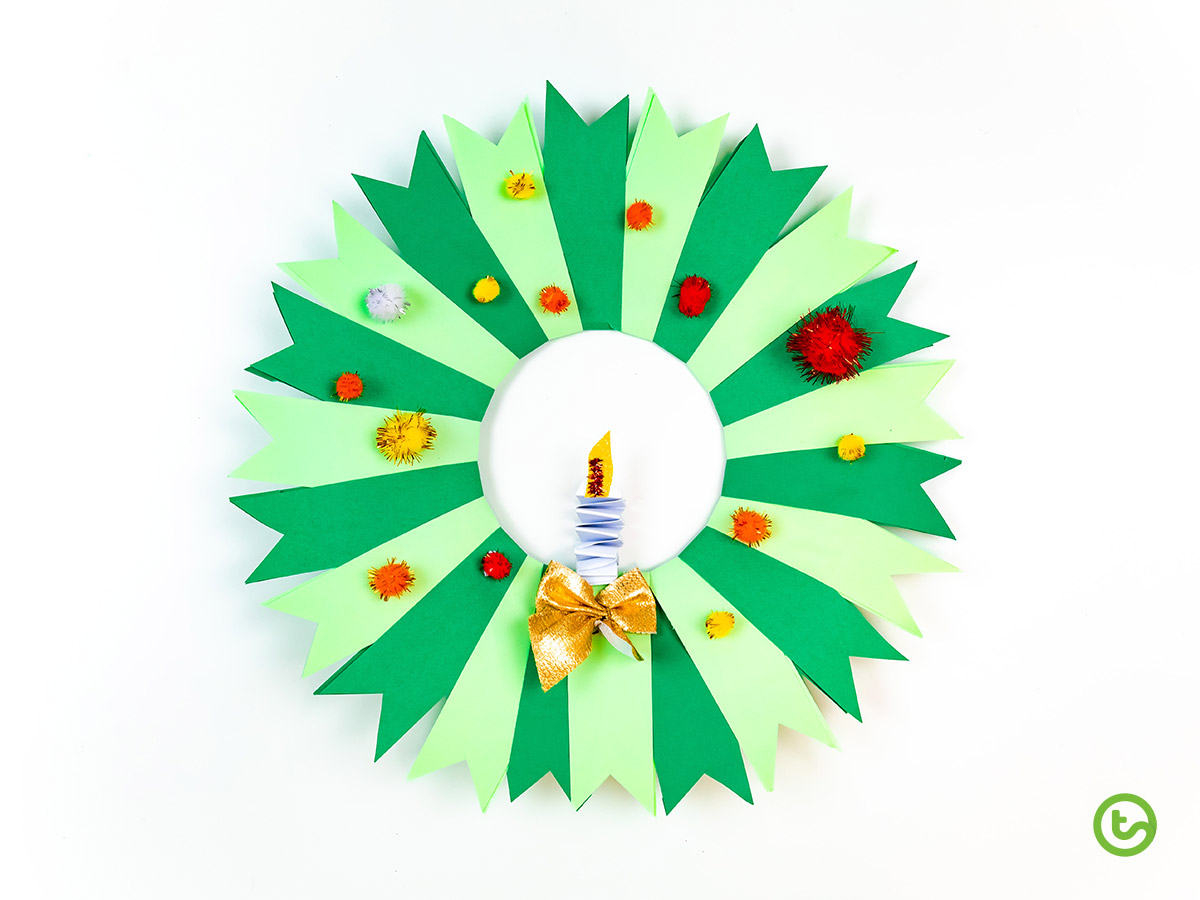 Once your students have got the hang of the folding and sticking process, this Christmas craft activity can be quite relaxing! So, there is a little bit of teacher preparation involved, but it's well worth it.
Top tips:
Pre-cut the inner circle of the paper plate using a craft knife.
Pre-cut the strips for your students using a paper guillotine.
Model to your students how to fold the paper strips back onto themselves and secure the tips with glue.
Model to your students how to cut out the triangle tips. Make sure the glue is dry before you cut.
For more Christmas wreath ideas, read Emma's blog Easy Christmas Wreath Crafts for Kids (Template Download!)
---
Christmas Carry Tote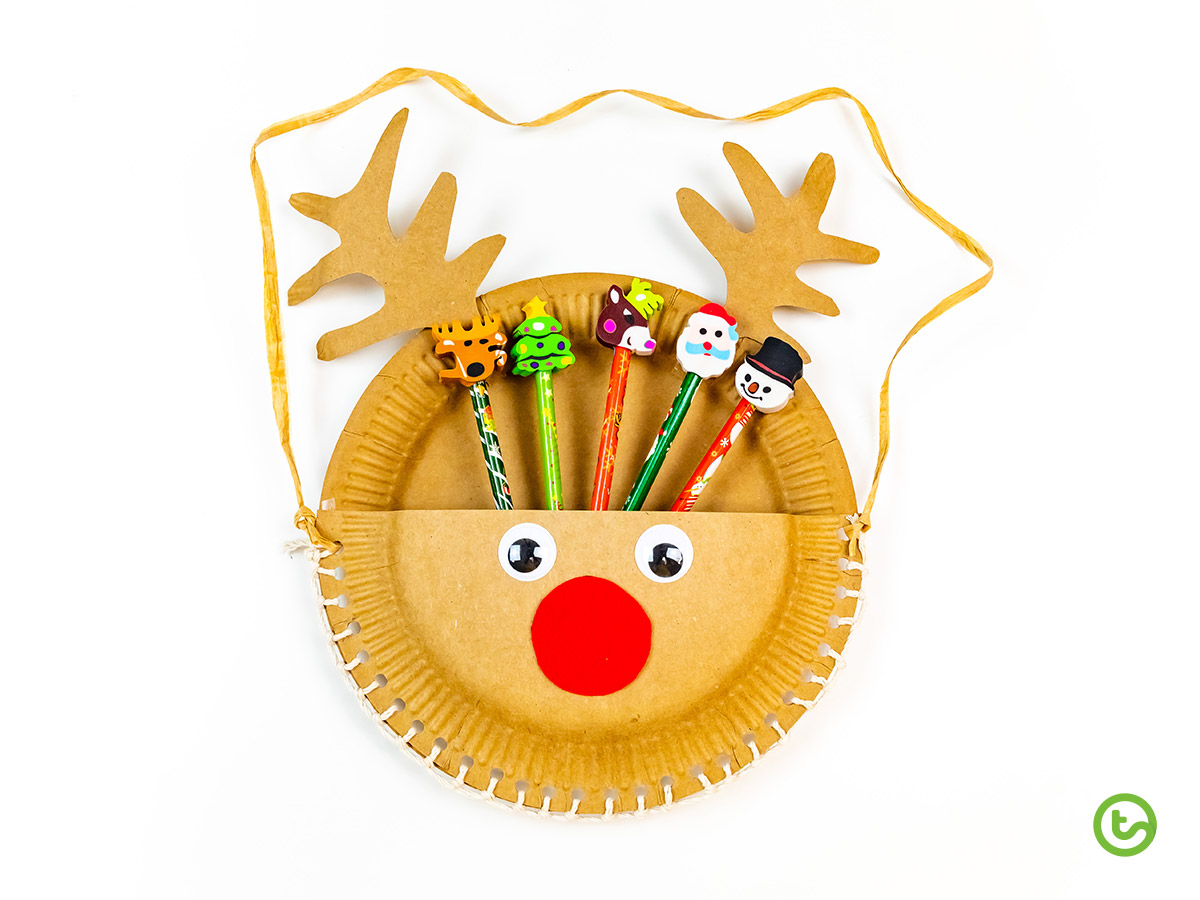 Whether your students are looking for a new accessory or a hanging storage solution, this is the Christmas craft idea with purpose. This Christmas craft activity is a great way for your students to develop fine motor skills and to learn the blanket stitch.
The only tricky bit of this Christmas craft idea is the hole punching. It's a job for an adult helper. We used a single hole plier punch.
Top tip: use double-sided sticky tape to secure the two paper plates together before you begin punching holes.
---
Paper Plate Reindeer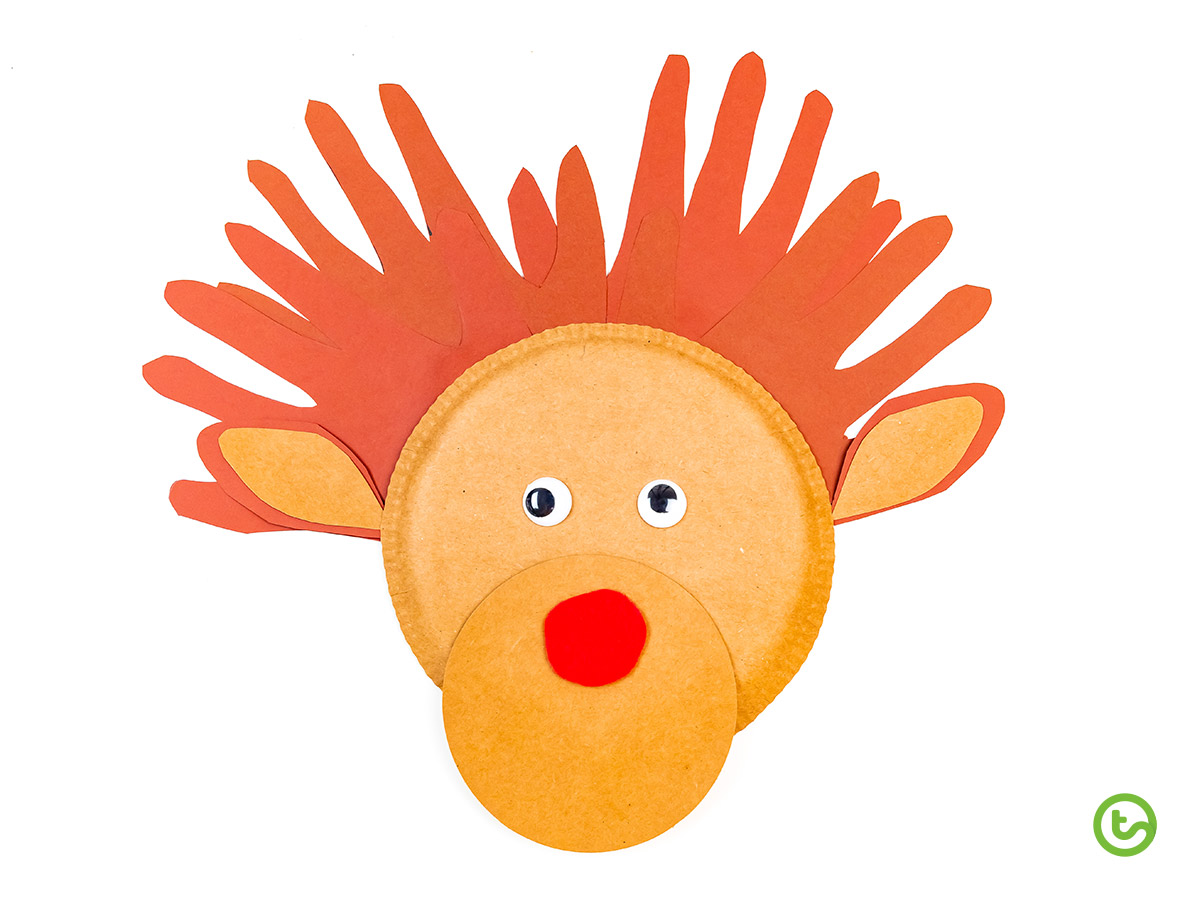 This Christmas craft paper plate idea is super simple and guarantees success for lower years students.
You will need:
2 x brown paper plates
brown paper
googly eyes
red felt
double-sided sticky tape.
---
Lace Plate Christmas Tree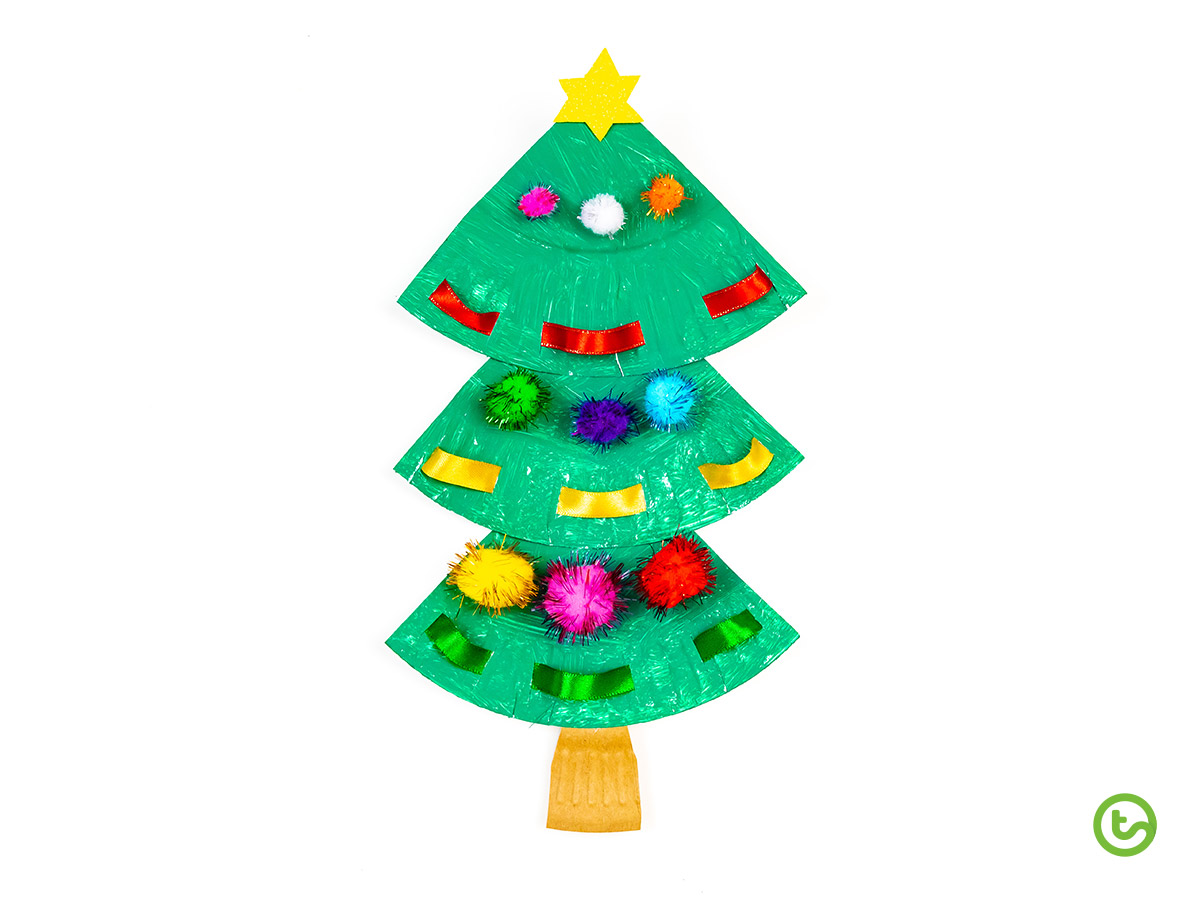 These lace plate Christmas trees help to develop fine motor skills as well throwing in a little of mathematical thinking too! Check out how this circle can be cut into thirds (or near enough) to create something fabulous!
Follow these simple sets over a few craft afternoons:
Paint the plates green, allow them to dry and cut them into thirds.
Make 6 slits along the rim of each third.
Lace ribbon through the slits and secure at each end with a simple knot.
Stack and stick the triangles together with double-sided sticky tape.
Add a brown cardboard trunk and a few other decorations.
---
Christmas Craft Characters
Lower years students will love to get creative with multi-media arts and craft materials to create these adorable characters.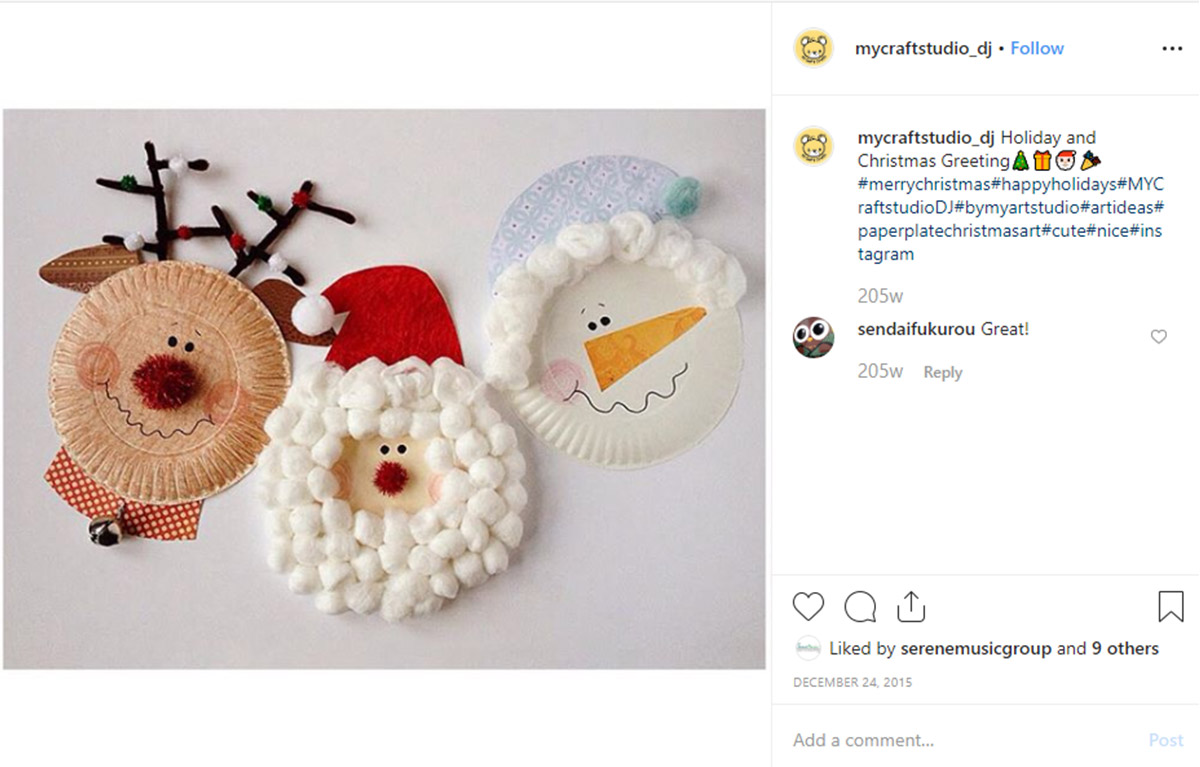 This idea is super adaptable and allows your students to work independently. Why not ask your students to design their Christmas character as a homework task. You could even ask them to bring in craft materials from home (have some backups for parents who are unable to contribute).
For more huggable Christmas characters, check out our brand new Paper Bag Christmas – Puppet Making Activity and read our blog Christmas Craft | Fun with Christmas Puppets.
---
Ho Ho Ho Paper Plate Santa
This fella is kind of important when we are writing about all things Christmassy. If you are looking Christmas craft that is quick, easy and effective, this is for you. I didn't think there is much to explain here but it looks like a lot of fun.
So, dig out some paper plates and get stuck into some Christmas craft!
For more Christmas related teaching resource, head to our Christmas resource collection.
Share your pics on Instagram #teachstarter