So it's the holiday season, and you've got a stash of paper plates in your classroom. Maybe they're leftovers from a holiday party. Maybe you snagged them when other teachers were giving away extras. Either way, you have the makings of some awesome paper plate holiday crafts. There's something so satisfying about using a frugal craft material and making it into something fantastic.
Perhaps one reason why we love using paper plates for holiday crafts is that the plate does a lot of the hard work for you. Their curved edges and circular dimensions make those tricky cutting jobs so much easier. Also, their surface is easy to draw and paint on and stick things to. What is there not to love?
Need last-minute holiday craft activities? Check out these ideas and printables. 
Paper Plate Holiday Crafts for Kids
We've tried. We've tested. Our Teach Starter teacher team put together some paper plate crafts for the holidays that we think you and your students will love. Don't worry. We have been in the classroom just like you, so we've also considered how much time you have and how doable the activity ideas are.
Here are our top holiday craft picks to make with the humble paper plate.
 Classroom Christmas Tree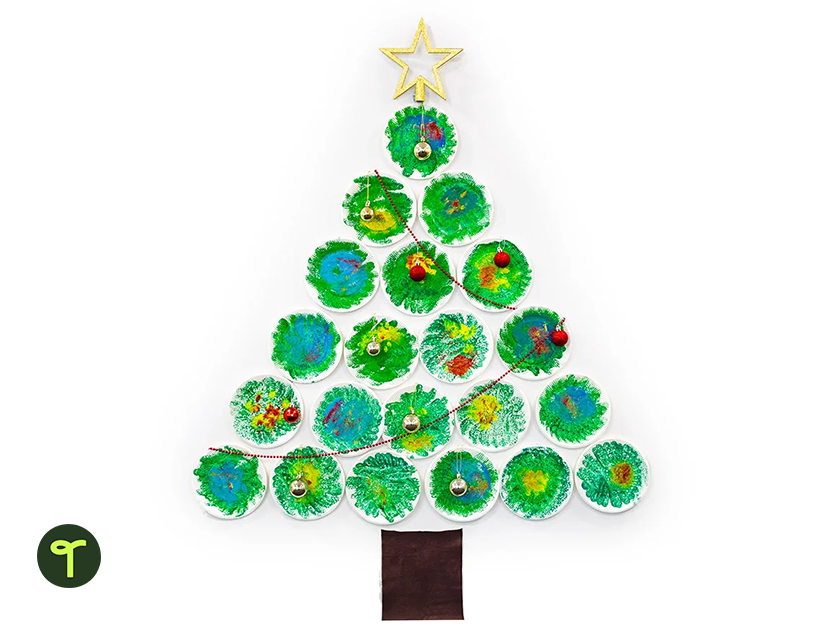 This holiday craft idea for kids checks off many of the boxes because it can be as simple or complicated as you choose. It relies on class teamwork, creates a great classroom display, and saves trees!
You will need:
paper plates (at least one for each student, 28 plates work well)
green, blue, red, and yellow poster paint
eco-friendly glitter or sparkly sequins
mounting putty
ornaments and other holiday decorations
a star
Instructions:
This is pretty simple, really: Hand out paper plates and craft supplies, and let kids go to town! As a teacher, you then arrange them on the wall in a tree shape, and you're done! Voila … holiday tree AND holiday classroom decor in one!
Even easier? Print a Christmas tree template, and let your kiddos practice patterns, engage in mindful coloring, follow directions, and show off their creativity!
Paper Plate Wreath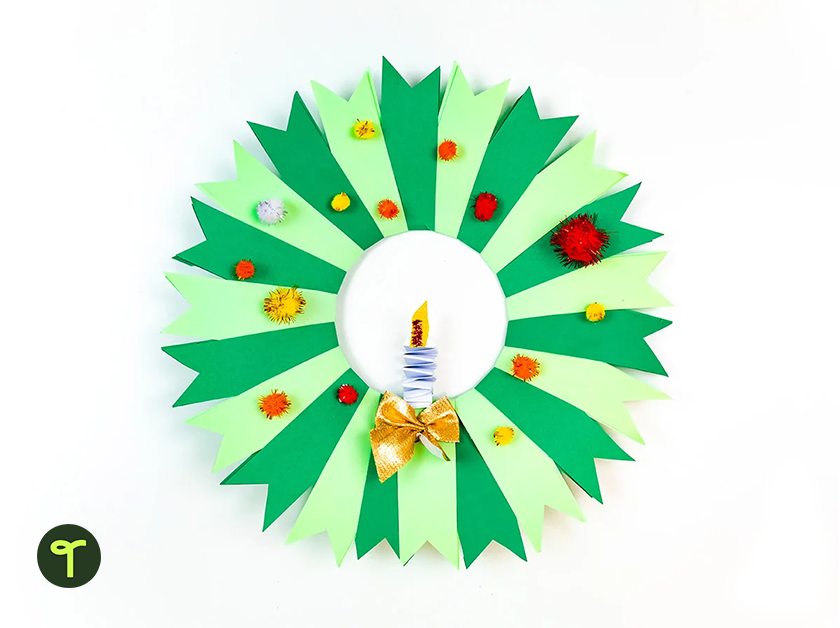 Once your students have got the hang of the folding and sticking process, this holiday craft idea provides a relaxing activity for them. It takes a little bit of prep work from an adult, but it's well worth it.
Top tips:
Pre-cut the inner circle of the paper plate using a craft knife.
Pre-cut the strips for your students using a paper cutter.
Model for your students how to fold the paper strips back onto themselves and secure the tips with glue.
Model for your students how to cut out the triangle tips. Make sure the glue is dry before you cut.
This paper plate wreath is a perfect gift for your students to take home or give to a grandparent!
If you are looking for a Christmas card idea to complement this paper plate wreath, read our blog 5 Crafty Christmas Card Ideas.
Reindeer Paper Plate Pouch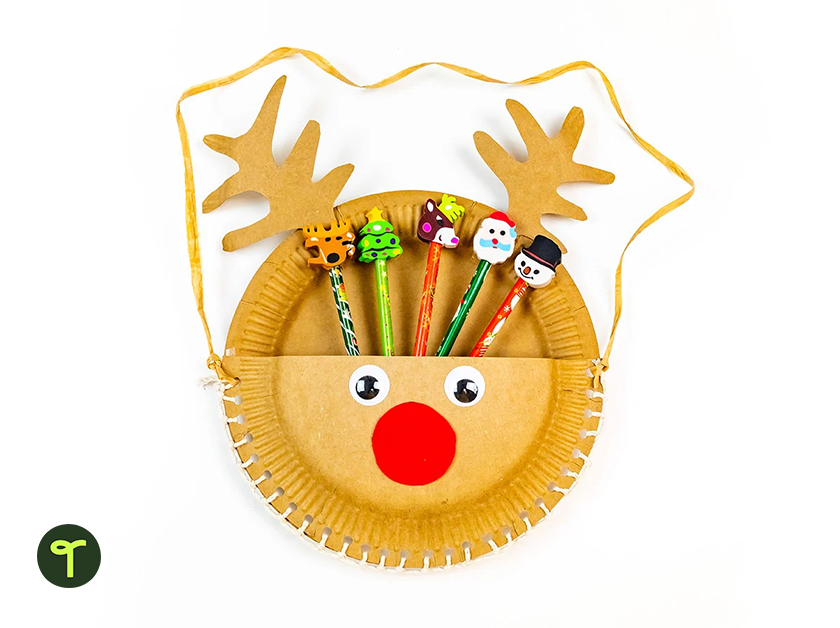 Whether your students are looking for a new accessory or a hanging storage solution, this is the craft idea with purpose. This activity is an excellent way for your students to develop their fine motor skills and learn the blanket stitch.
The only tricky part of this craft idea is the hole punching. It's a job for an adult helper.
Teach Starter Teacher Tip: Use double-sided sticky tape to secure the two paper plates together before you begin punching holes.
Paper Plate Reindeer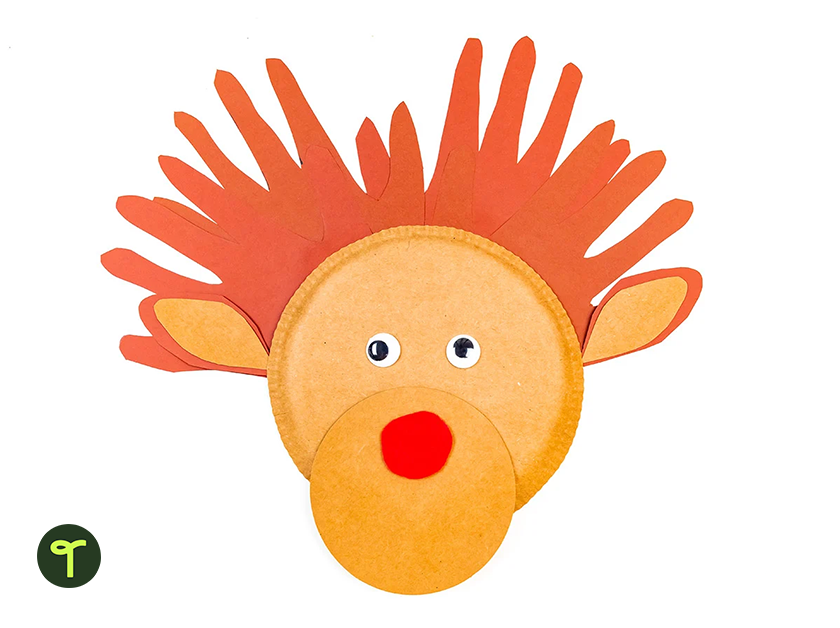 Rudolph the Red-Nosed Reindeer's antlers are made from tracings of your student's hands with this Christmas paper plate craft. One plate makes the main part of his face, and another forms his nose. Of course, you need something red for the main attraction  — we used a pompom!
Have students work in pairs or small groups to help each other trace their hands for antlers.
You will need:
2 x brown paper plates (white ones work too, just have your students color them brown!)
brown paper
googly eyes
red felt or a red pompom
double-sided sticky tape
scissors
Teach Starter Teacher Tip: Use your students' finished reindeer to create a cute holiday bulletin board. This class activity will help you achieve two projects at once!
 Lace Plate Christmas Tree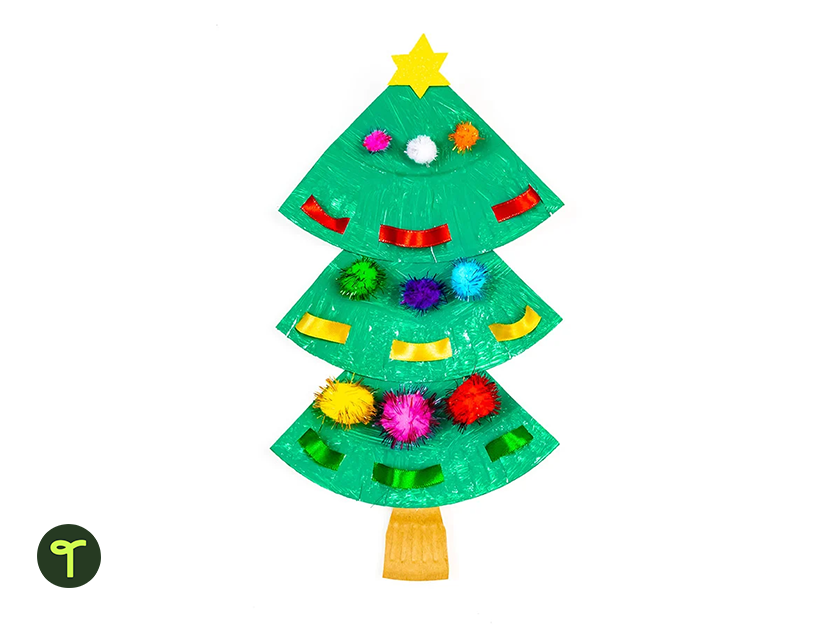 These lace plate Christmas trees help develop fine motor skills and mathematical thinking, too! Check out how this circle can be cut into thirds (or near enough) to create something fabulous!
Follow these simple steps over a few days:
Paint the plates green, allow them to dry, and cut them into thirds.
Make six slits along the rim of each third.
Lace ribbon through the slits and secure at each end with a simple knot.
Stack and stick the triangles together using double-sided sticky tape.
Add a brown trunk made from cardstock or a small piece of a paper plate and a few other decorations
Now, go add paper plates to your grocery list, and turn the ultimate economical craft material into something fabulous!
Please share your pics on Instagram @teachstarter_usa
Feeling extra creative this time of year? Check out our ideas for holiday classroom door decor plus other winter holiday crafts and activities.