Recently on our Teach Starter Aussie Members Facebook Group, one teacher shared her class' experience with Story Dogs, a not-for-profit organisation based on the coast of Northern NSW and working in schools nationwide.
"Story Dogs is based on the successful American literacy program: Reading Education Assistance Dogs (R.E.A.D.), as the first comprehensive literacy program built around the appealing idea of children and young adolescents reading to dogs."
Story Dogs work with Year 2 students across Australia who have been struggling with reading. Teachers involved nominate 4-6 students from their class who need extra support.  A Story Dog Team made up of one carefully screened dog and handler. They spend a few hours each week at the school with nominated students. Each student spends approximately 20 minutes reading one-on-one to the dog with the handler close by.
How Animals Can Enhance Student Learning
Reading to dogs is a concept that is backed by a body of research over in the United States. For students who experience anxiety or increased levels of stress during class activities that they find difficult, Story Dogs say that having an animal present during the learning experience can:
promote relaxation
lower blood pressure
eliminate the fear of being judged, laughed at or criticised
allow children to proceed at their own pace.
Once you understand the brain science behind optimal learning conditions, it's easy to see how this program would easily combat typical stress reactions in students who normally struggle with feeling any kind of progress or success during reading.
A Program Reluctant Readers That Really Works
You don't have to spend long on the Story Dogs website to see the benefits of the program. This story from just one of the volunteer handlers clearly describes the affect the presence of her dog Holly has had on some of the students she has worked with.
In one term, I have seen a delightful little girl go from reading like a quiet mouse to a roaring tiger (as per 'Holly's' request) and a little boy who started on level 12 at the beginning of term and reached level 25 by the end. The little boys teacher is amazed, but watching him with Holly, it is clear that he just needed a reason to sit still while he reads. Patting 'Holly' while reading was the perfect excuse.
While it's great to know that over a single term Story Dogs can encourage more patience, perseverance and enthusiasm in reluctant readers, does the program really have lasting results?
The program has been up and running since 2009, with some volunteers having worked within the same schools for a number of years. This gives some insight into the longevity of the skills and mindset practised during Story Dog sessions.
I ran into a young boy I had 3 years ago in my first group, he's now in year 5, and his first words to me were,
"Do you remember me?" followed by, "I read every night now." He was obviously so pleased to say this.

When we started he had been far behind in his reading and was unsettled in class and starting to get into trouble. Now I saw a well-presented, confident young boy who enjoys reading – it was really wonderful to think that 'Keira' and I might have helped with that transformation in some small way.
You Can Help Too!
Story Dogs is a not-for-profit organisation, run by volunteer handlers who are not paid for their time. They have a strict accreditation and training process (that both human and animal volunteers must undergo) before beginning work with their local school.
It $500 a year to keep one Story Dog team working with the students who need it most. This means there are always Dog Teams in need of sponsorship.

Visit the Story Dogs website to find out more about getting the program into your school, volunteering, donating or sponsoring a Story Dog Team.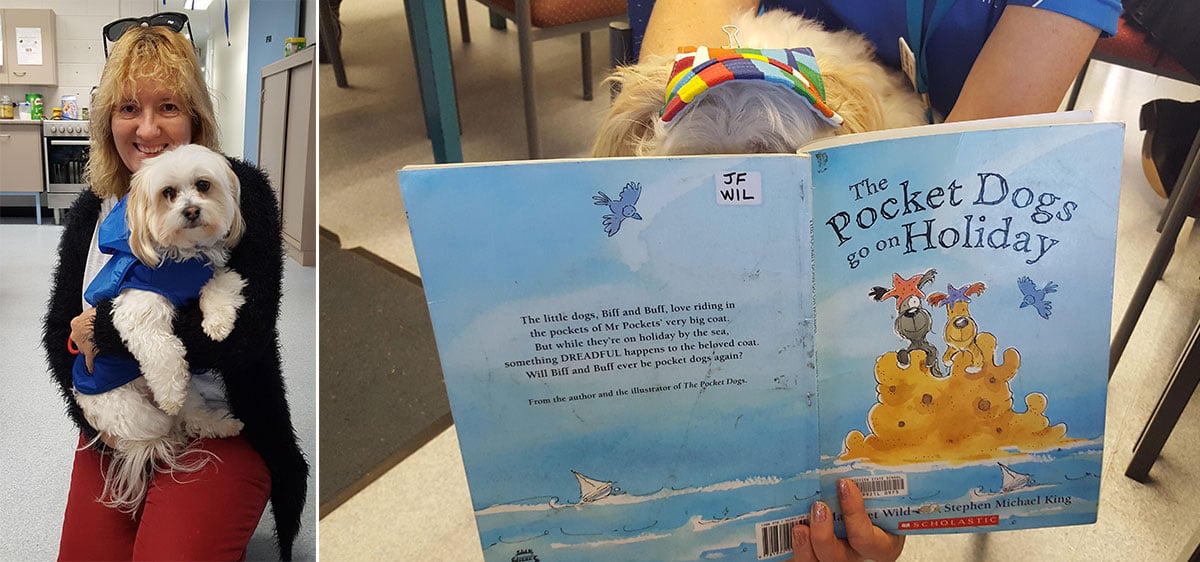 Special thanks to Oscar and Jenni for sharing their experiences and photos with us for this article!