Teach Starter are extremely excited to launch our newest environmental initiative, the One Million Trees Project. We know and understand the complex and important relationship between the environment and business. While we do a lot around the office to reduce our carbon footprint we wanted to take this one step further.
So, we are on a mission to plant 1 million trees by 2033. In order to achieve this, we will be planting one tree for every person who subscribes to Teach Starter from right now!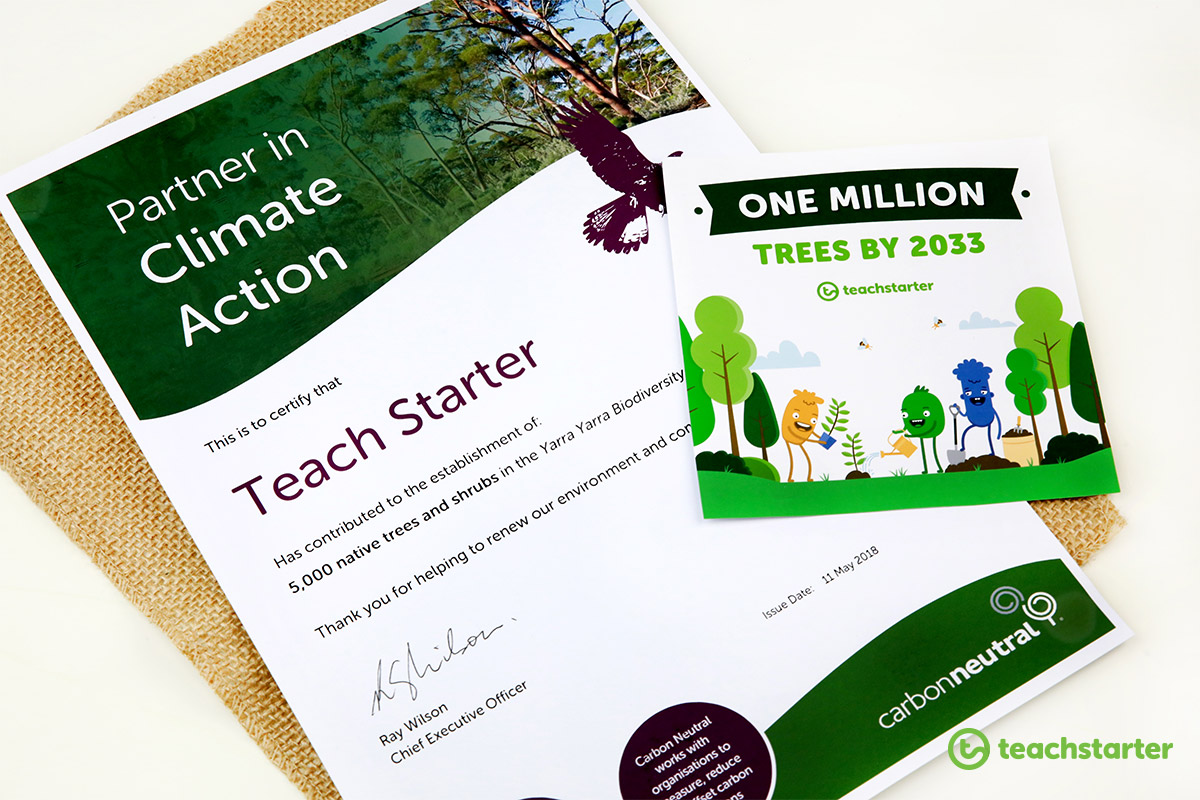 Why Plant Trees?
Well, for a great many reasons!
We know that our teaching resources are printed in high volumes and we want to do our part to help offset the carbon footprint that our business (and the photocopying flow-on effect) has on the environment.
Our founders, Scott and Jill, are dedicated to ensuring that Teach Starter operates as a force for good!
The entire team are passionate about the environment and sustainability. We truly care deeply about the world we live in and our responsibility to help look after it.
The carbon offset project that we've chosen to support is AMAZING!
Teach Starter and Carbon Neutral
In order to achieve our 1 million trees goal, we are teaming up with Carbon Neutral, another amazing Australian company. Carbon Neutral's "Plant-a-Tree" program allows us to purchase trees to be planted in their large scale biodiverse reforestation project.
The Yarra Yarra Biodiversity Corridor
This is so much more than 'just' a tree-planting carbon offset project. Carbon Neutral's Yarra Yarra Biodiversity Corridor Project is taking a systematic, evidence-based approach to reinvigorating a crucial and unique area of habitat in Western Australia's northern agricultural region.
Purchasing land that has been previously cleared for agriculture, Carbon Neutral work with local governments and businesses, farmers, First Nations peoples and community members to re-establish the local habitat. This particular corridor of land is unique in its biodiversity. It's home to plant and animal species which are in dire need of care in order to survive.
Through Carbon Neutral, Teach Starter and our members will plant a diverse species of trees and shrubs in the corridor. Native plants and animals thrive in large, well-connected patches of high-quality habitat that meet their life cycle needs of food, shelter and reproduction. The Yarra Yarra Biodiversity Corridor project is helping to create just that!