Whether in an office, staff room or at the front of your classroom, teacher desk organisation is a very personal thing!
For some of us, our teacher desks are an opportunity to be a good role model in the name of tidiness or organisation.
For others (like me) your desk (and I use that term lightly) will be the burial ground of many a lost pen, sticky note, or – yes, I'll go there – student paper. While this seems unimaginable for some, I found that this organised chaos worked just fine!
You may choose to use your desk as a place of zen, where you can do your planning and marking, or conference with students and parents. Conversely, you may view your desk as a helpful shelf in your classroom. It's the perfect place to store students books and handy stationery for easy reach as you wander your room!
Regardless of which way you tend to go, if you're looking for a boost to be a bit more organised I've got some #teacherdesk inspiration for you. Take a look here to give you some good feels, and maybe even find some ideas give your old desk a revamp in time for next term!
#teacherdesk Inspiration!
If you're a big fan of tying your desk organisation around one central theme, you really should check out our classroom theme packs! There's something for any taste in there.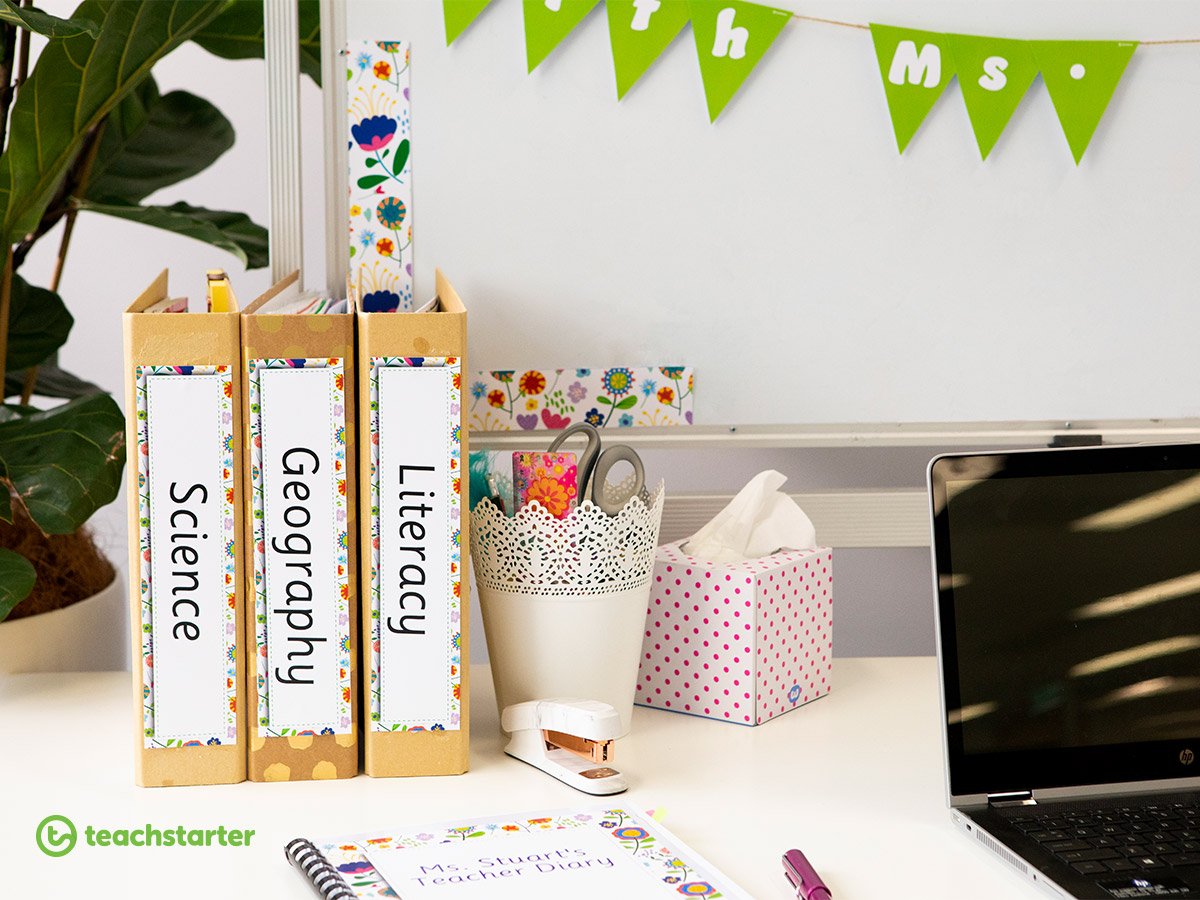 To get the look for my banner I put together a few of the following off the Teach Starter website:
If only my teacher desk was this organised back when I was teaching!
If you're like me and would benefit from some amazing classroom teacher desk organisation inspiration, take a look at the following Instagram examples!
#1 End of Term Organisation
We love this by @theirishenglishteacher_! Who else's desk looks this clean at the end of the term? It's a simple, yet easy way to make sure you are tying up the term with strength!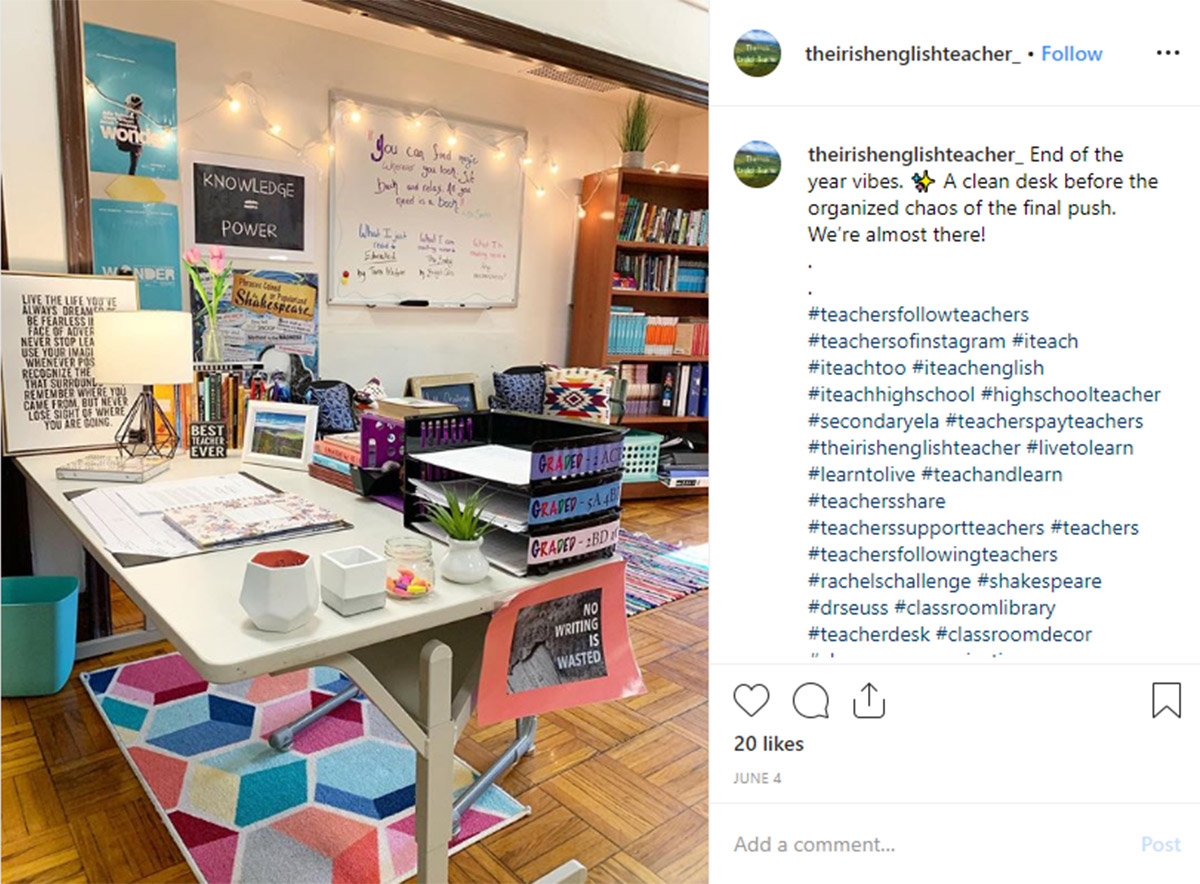 We love this geometric design she's used as well. For a bright, shape-driven design why not download our Retro – Classroom Theme Pack!
#2 Buy Your Own
When @creativityclassroom had to improvise, boy did she improvise! We love this upcycled desk idea – she's made it her own!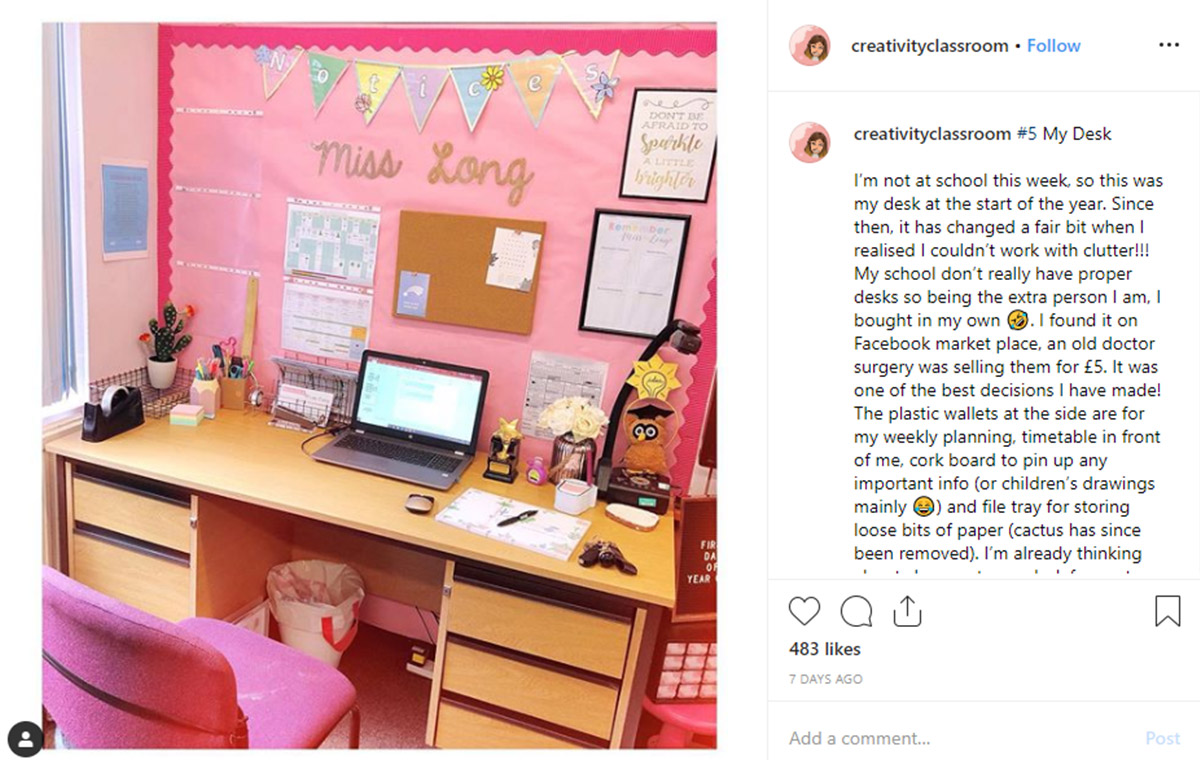 Check out these resources to be pretty in pink at your teacher desk:
#3 Colour Coordinated Desk Goals
Oh my word, talk about #teacherdesk GOALS!!! This amazing set up shared by @highlightersandhandbags has us in awe!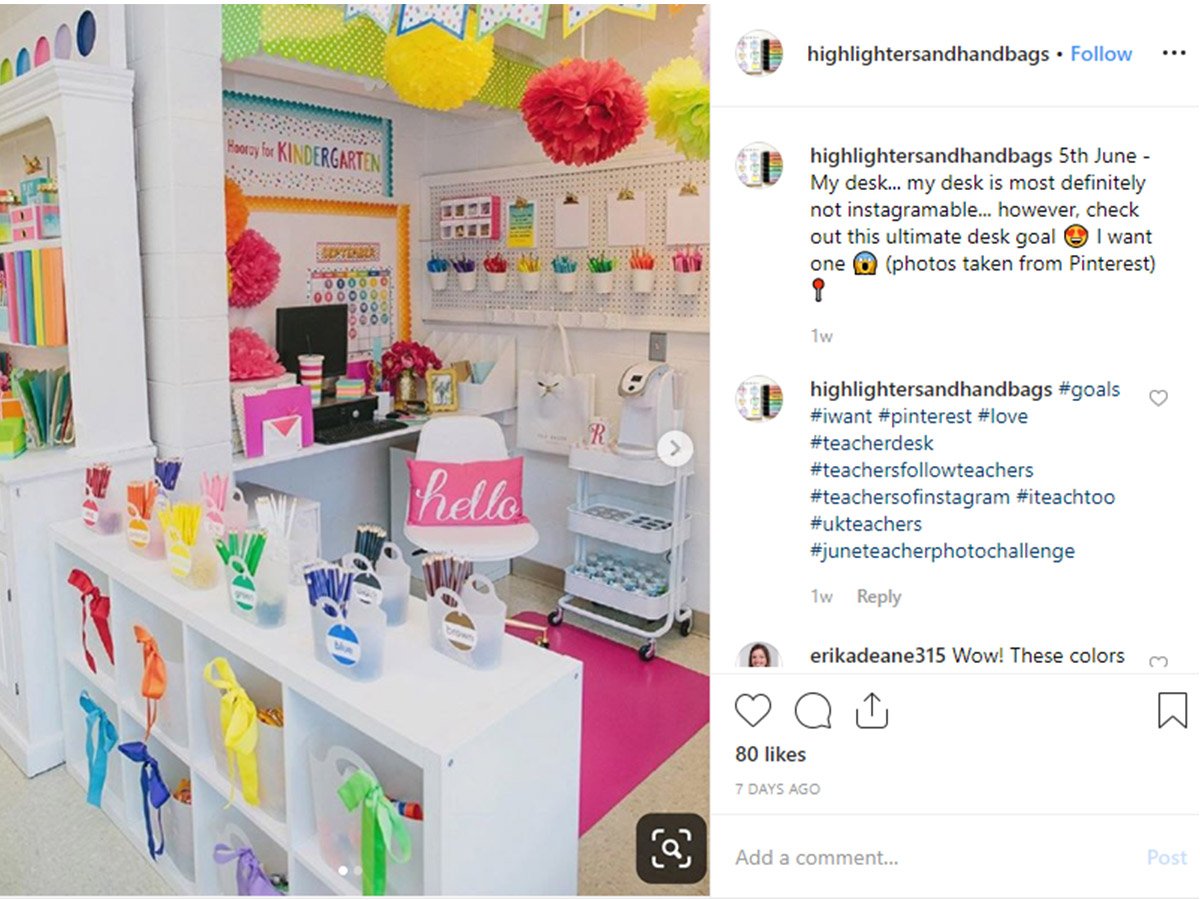 If you're loving the rainbow as much as us, check out our Colours of the Rainbow Classroom Theme Pack.
#4 Storage Galore
@miss_mcardles_classroom has colourful storage coordination down pat!!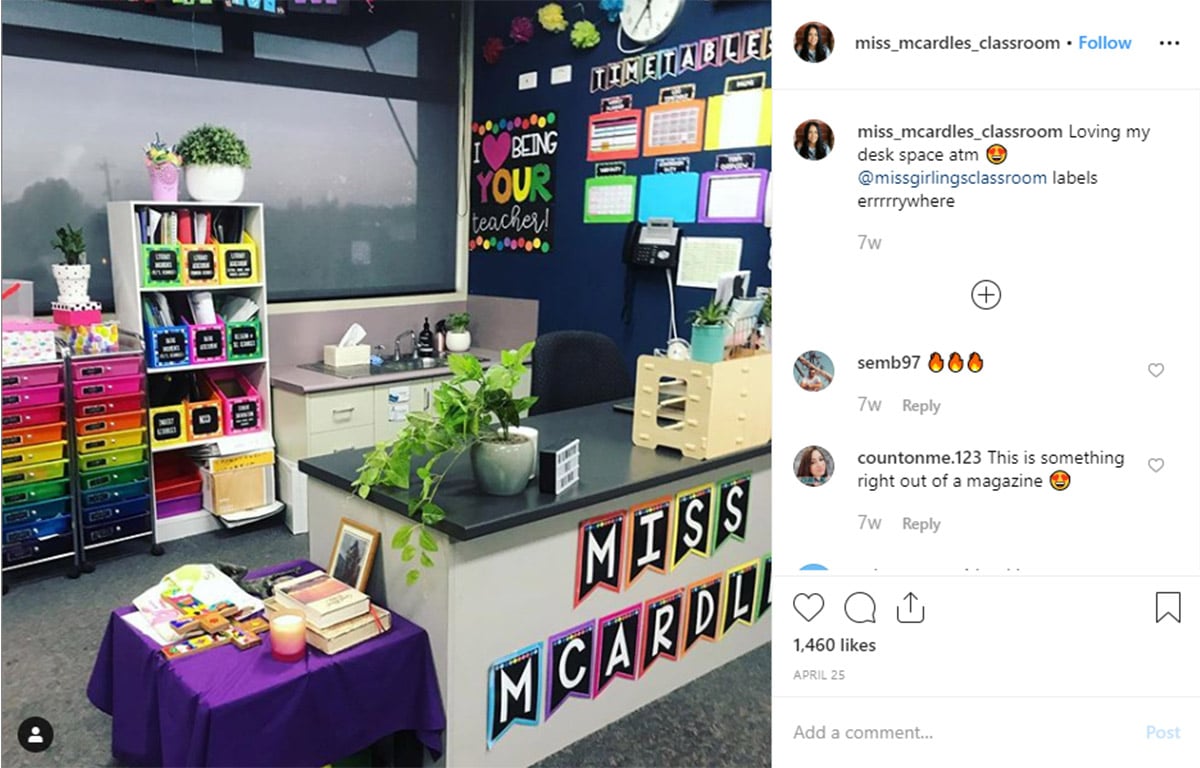 We are loving the colour on black theme, with the little pop of a plant to liven it up even more.
#5 Easy Peasy Colour Popping
You don't have to go to the ends of the Earth to give your teacher desk a colourful, fun feel. Check out this simple, yet effective combination of tassels, border trimmers and paper pompoms by @my_teacher_style!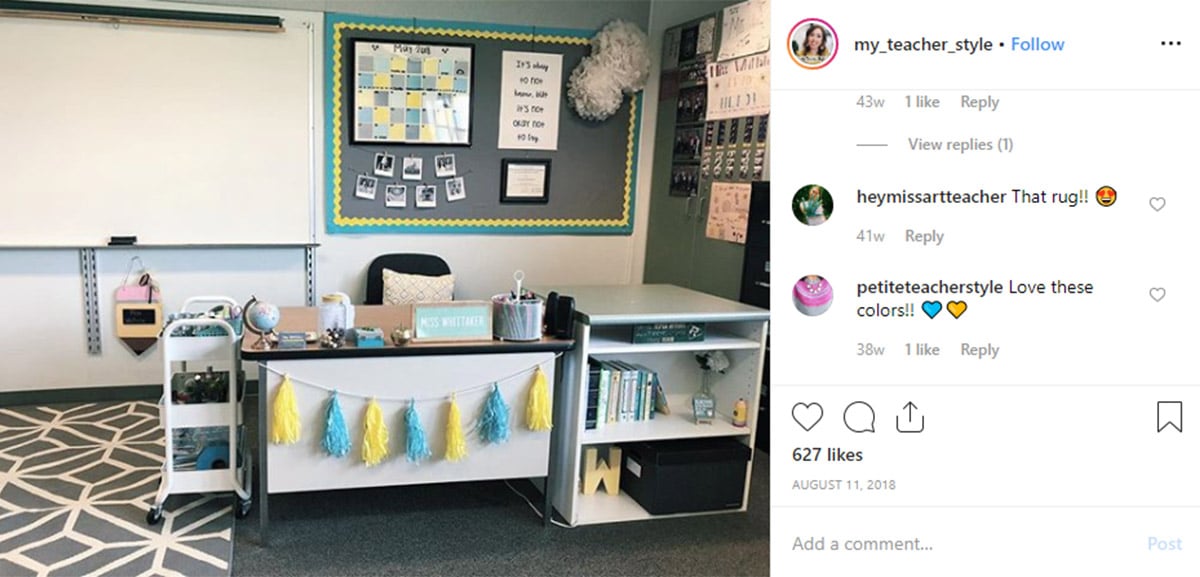 There's definitely a style for anyone amongst our amazing border trimmer resources!
Here are a few of my favourites:
#6 Black and White
It's not all about the colour poppin'! @marteinthemiddle shows us that a clean black and white marble design with a few pops of colour works just as effectively!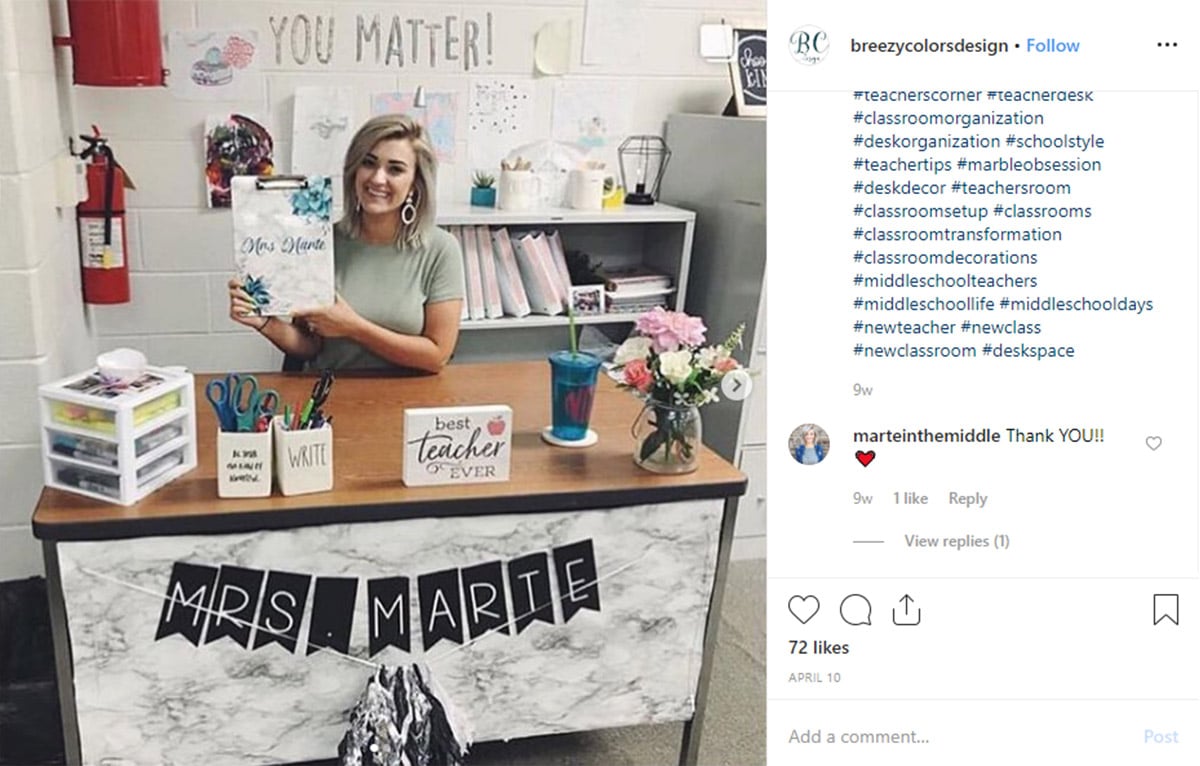 Pair this design with some of your cute teacher-themed gifts (I know you've got some!) – anything will match!
#7 A Bright Space
The amazing windows in this classroom give @ready_set_second a perfect place for her desk.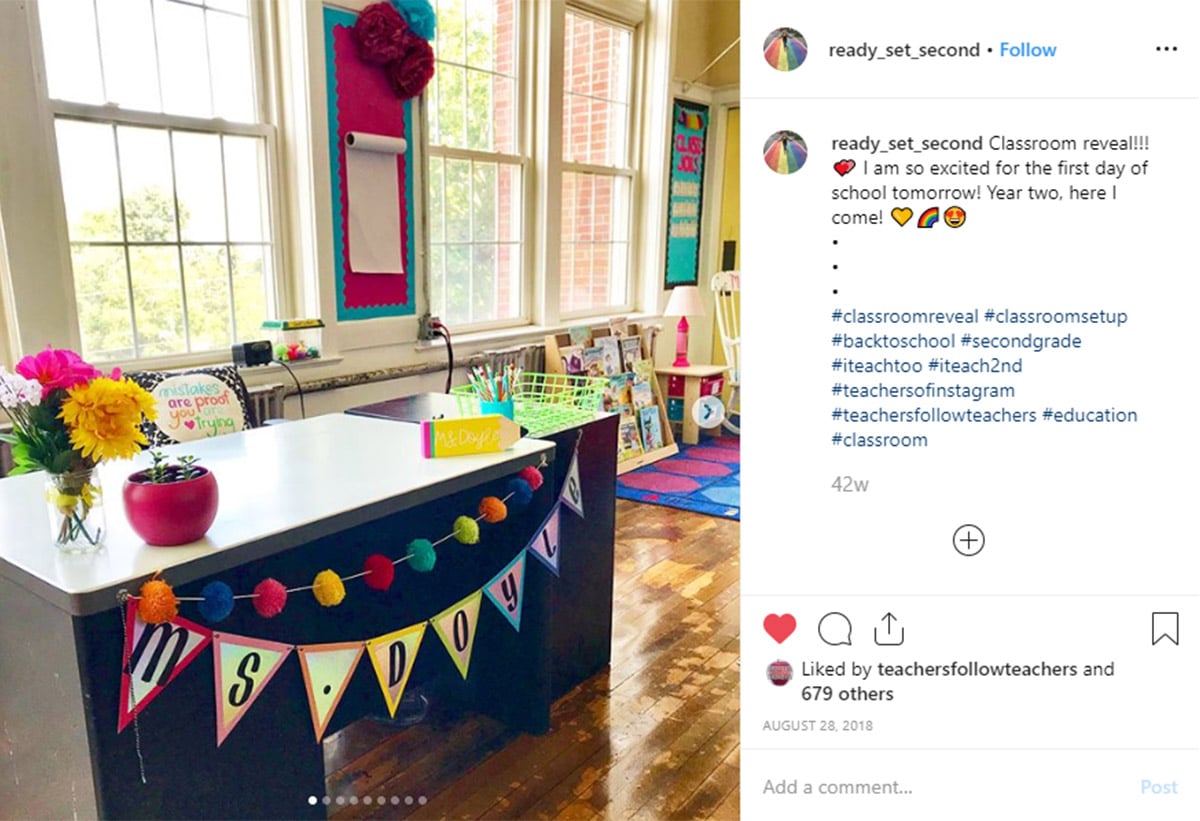 The bunting pairs amazingly with her flowers and pompom garland!
Check out some of our favourite bunting resources below to recreate her look!
#8 Stamp Goals
It's not how this teacher's desk is decorated, but rather what it has ON it that make it teacher desk organisation goals!! This is amazing work from @thegreenclassroom!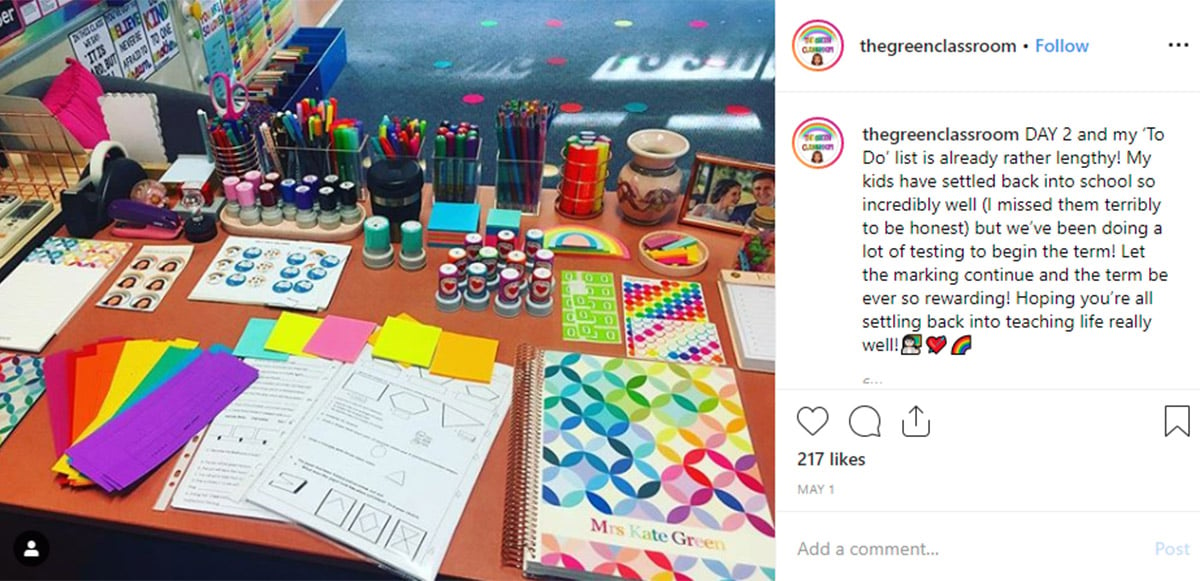 Your students will be bursting to get a stamp or sticker if your collection was this extensive!
#9 Theme Goals
When you just love themes so much that you have to make EVERYTHING that theme!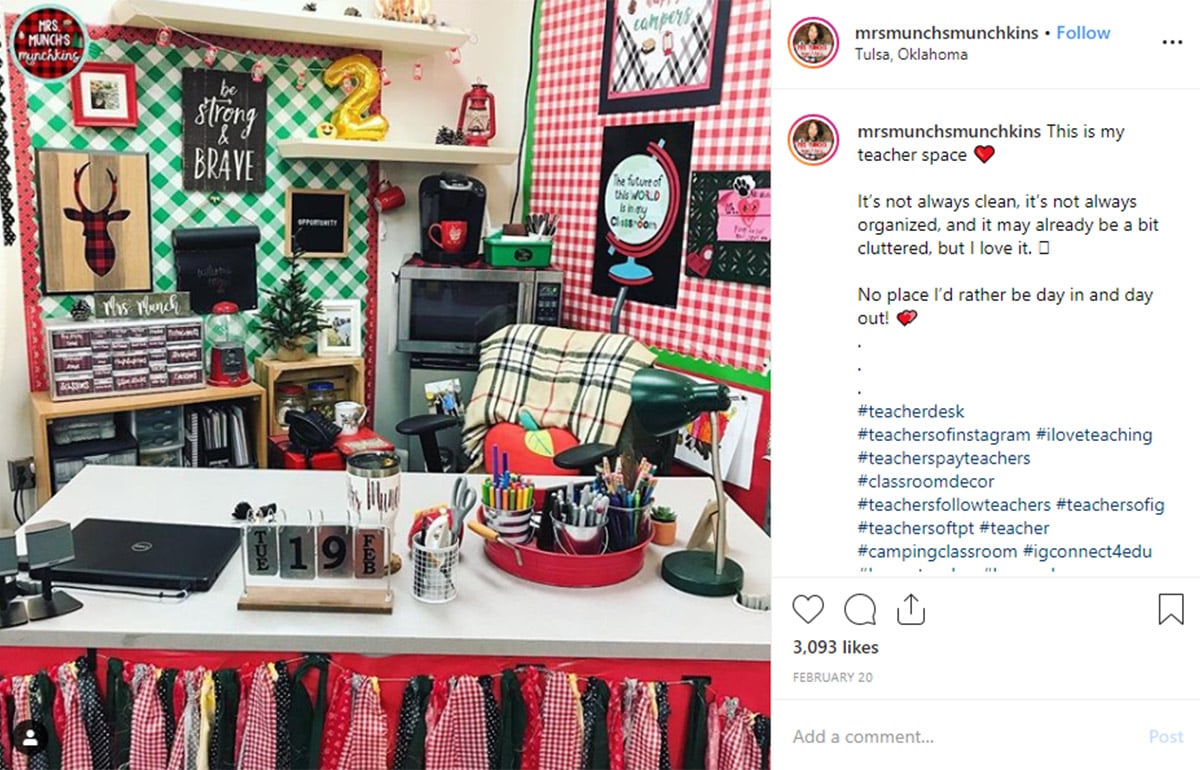 What I particularly like about @mrsmunchsmunchkins's desk area is the coffee station at the back! How many of you would be allowed that in your room?
#10 Delightful Decals
If printing off bunting isn't for you, why not give decals a try like @piggybankdiaries?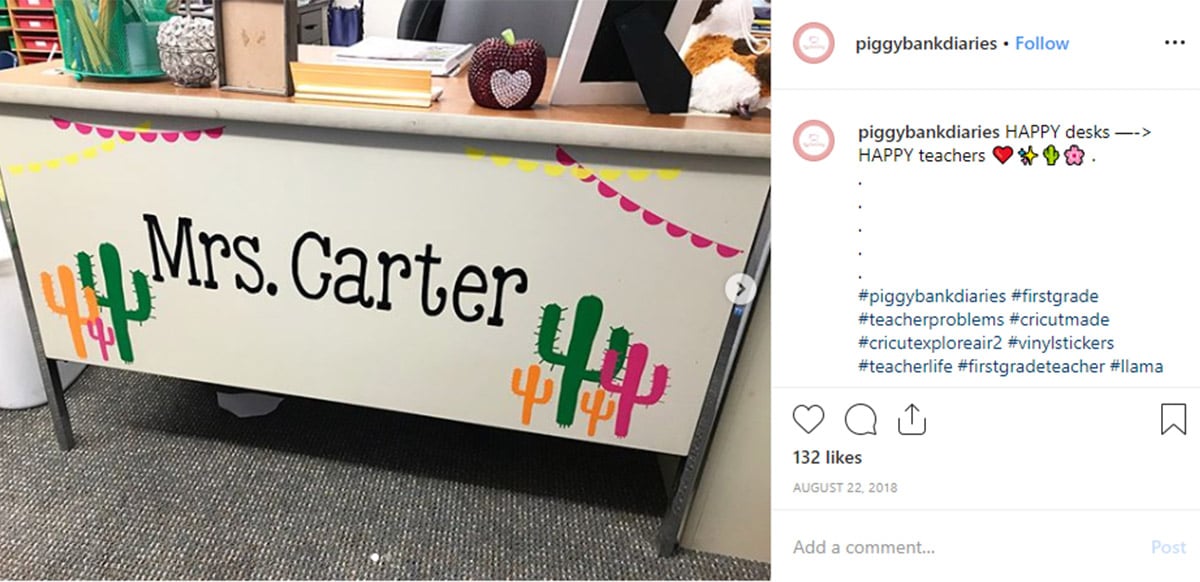 These decals make for an amazing effect on a plain white desk! Try some of these resources for a similar outcome:
#11 Empowering Words
Finally, there's no better desk display than a positive one – even if it is just to remind your students of their power as a force for good!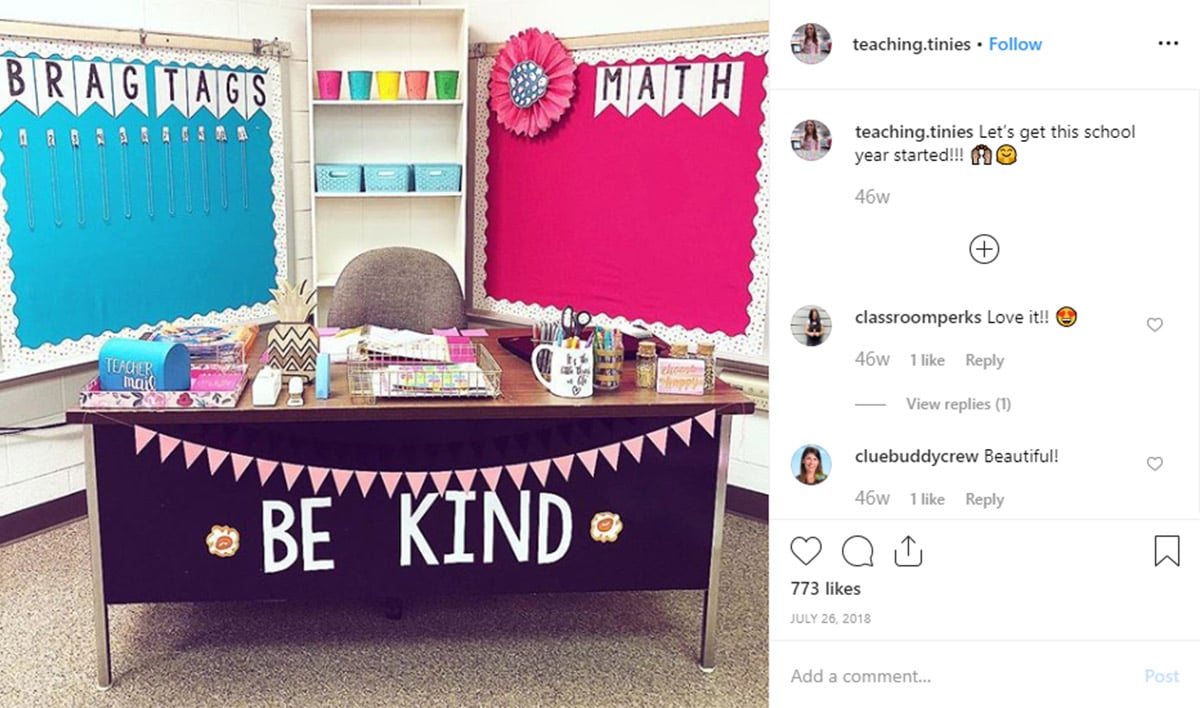 We love @teaching.tinies inspiration teacher desk organisation goal. Be kind in all that you do! Our blog Positivity Posters | Putting Words into Actions outlines exactly why these kinds of words are important, and links to some wonderful positivity posters!
---
Did you find any inspiration amongst these teacher desks?
Tag us in your own #teacherdesk ideas @teachstarter!