What is Mindfulness?
When I think of the word 'mindfulness', I remember sitting, wrapped in a warm, woolly jumper, under a huge maple tree. It's a sunny day, but the air is cold. The old tree's leaves are beginning to change colour, forming a carpet of burnt orange and brown over the grass below. High around me is a semi-circular mountain range and I sit within the green basin at its feet. I'm holding a mug of hot black tea and can feel its warmth seeping into the small muscles in each of my hands.
The quiet is punctuated only by the intermittent chatter of birds, the occasional crunch of footsteps on gravel and the words of a hushed conversation as people move along the paths behind me. While I can savour the natural beauty that surrounds me, I choose instead to close my eyes. I take three slow, deep breaths, paying attention to the feeling of the air as it enters and exits my nostrils. When I open my eyes, the calm is amplified, the bird songs are crisper, the sun warmer on my skin.
This was where I first truly felt the benefits of practising mindfulness.
The art of self-awareness and of being present in the moment.
Mindfulness in Education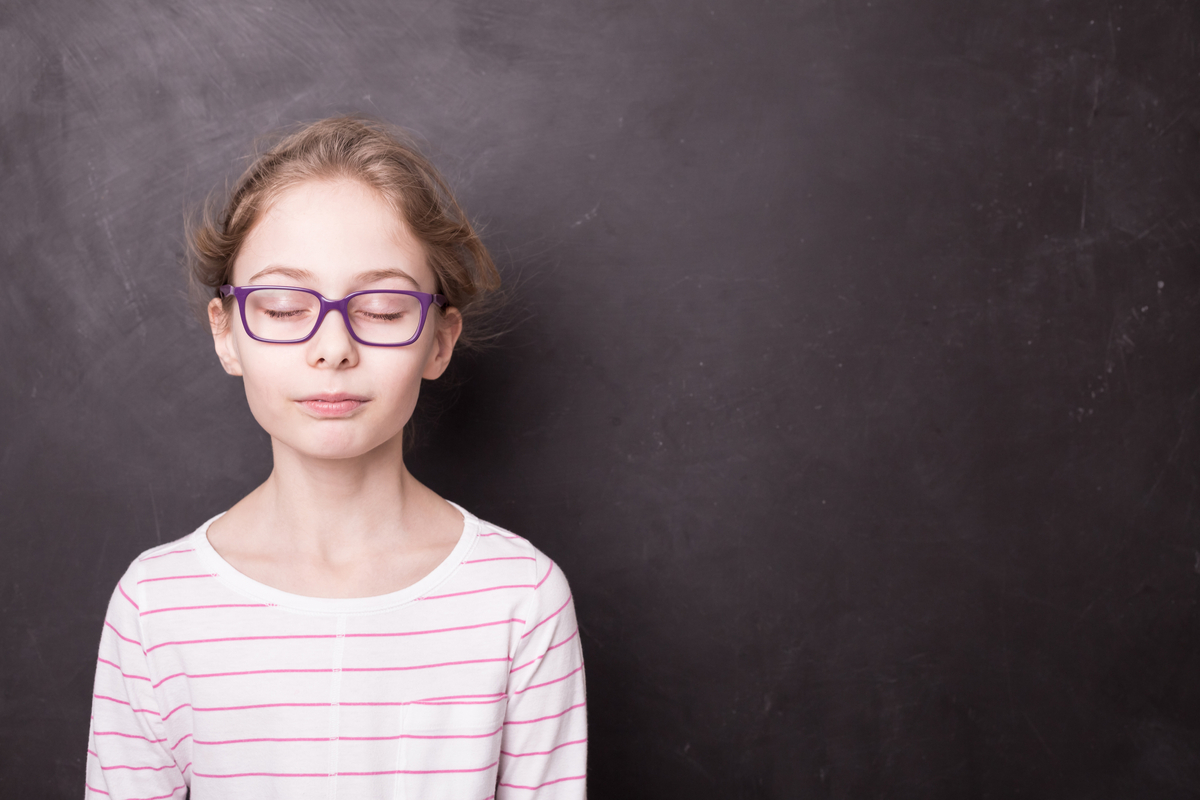 It's hard to imagine transferring this sense of tranquillity to the classroom. The moment that I shared above was quite obviously peaceful. Who wouldn't feel relaxed in an environment like that?
We can't all escape to a mountain retreat to hone our skills (though if circumstance allows you to, I highly recommend it!). We do, however, all share the only tools we need to be mindful.
Our minds and our breath.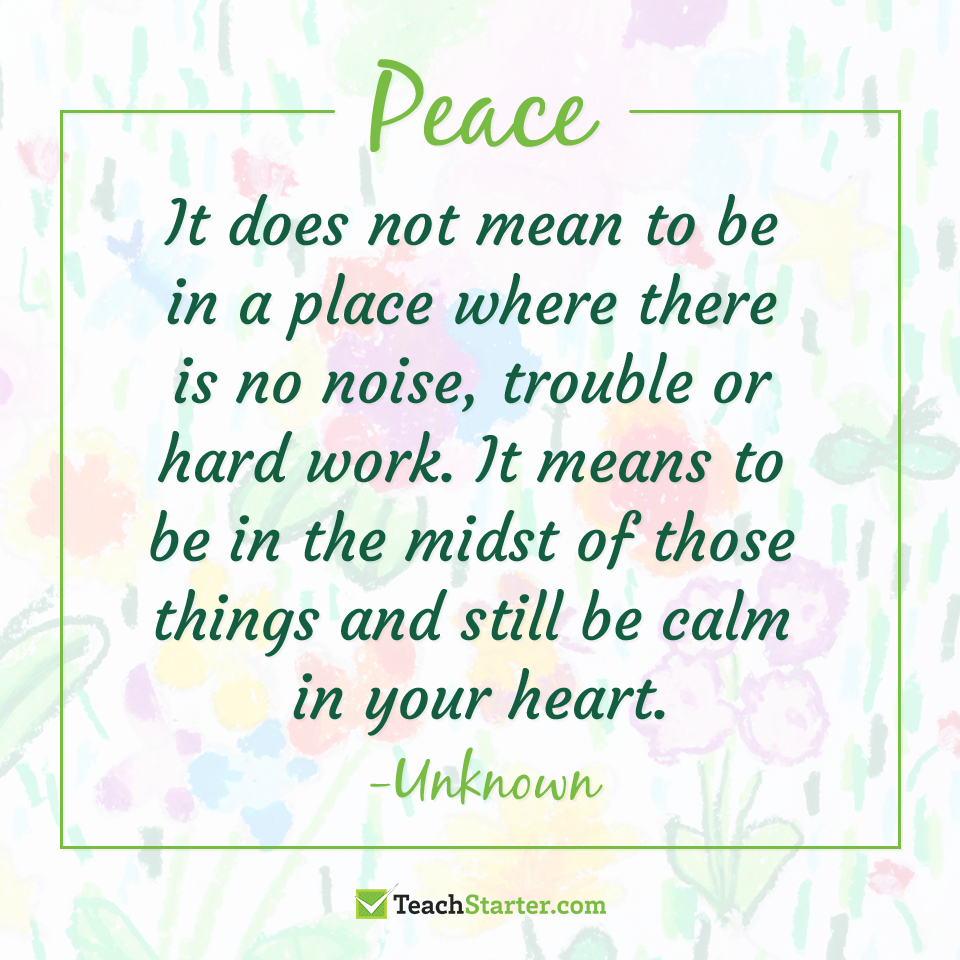 Peace. It does not mean to be in a place where there is no noise, trouble or hard work.
It means to be in the midst of those things and still be calm in your heart. – Unknown
Why Teach Mindfulness to Primary School Students?
Benefits of Mindfulness in the Classroom
Mindfulness is a skill that deserves superhero status. It is proven to help students:
decrease stress and anxiety
increase concentration and engagement
sleep better at night
recognise their emotions
enhance their decision-making and problem-solving skills
communicate feelings verbally instead of physically
and increase their capacity for compassion.
Teaching mindfulness in schools is becoming more and more common. And for good reason. While of a similar vein to meditation (which is often misperceived as being successful at sitting still with an entirely silent mind), mindfulness is an active practice that requires us to focus our mind's eye on things that will help to reduce stress and increase our ability to focus on what really matters, in that moment.
As Mindful Schools co-founder Laurie Grossman says,
"(mindfulness is) to pay attention, on purpose, to the present moment".
Students walk into our classrooms each day carrying with them their entire experience. Their thoughts and actions are more often influenced by their own state of mind than by the lessons and activities that we ask them to engage with.
Whether it simply be a rushed morning after a late night, feeling ill-prepared for an exam or dealing with a more serious trauma, such as losing a parent, or emotional neglect. These heighten a child's stress levels, increasing their anxiety and making it difficult to relax at all.
We all know that concentrating, and therefore learning, while stressed or distracted is near impossible. Including mindfulness in education is a simple practice that provides students with something they can DO in those moments of stress, distraction or anger.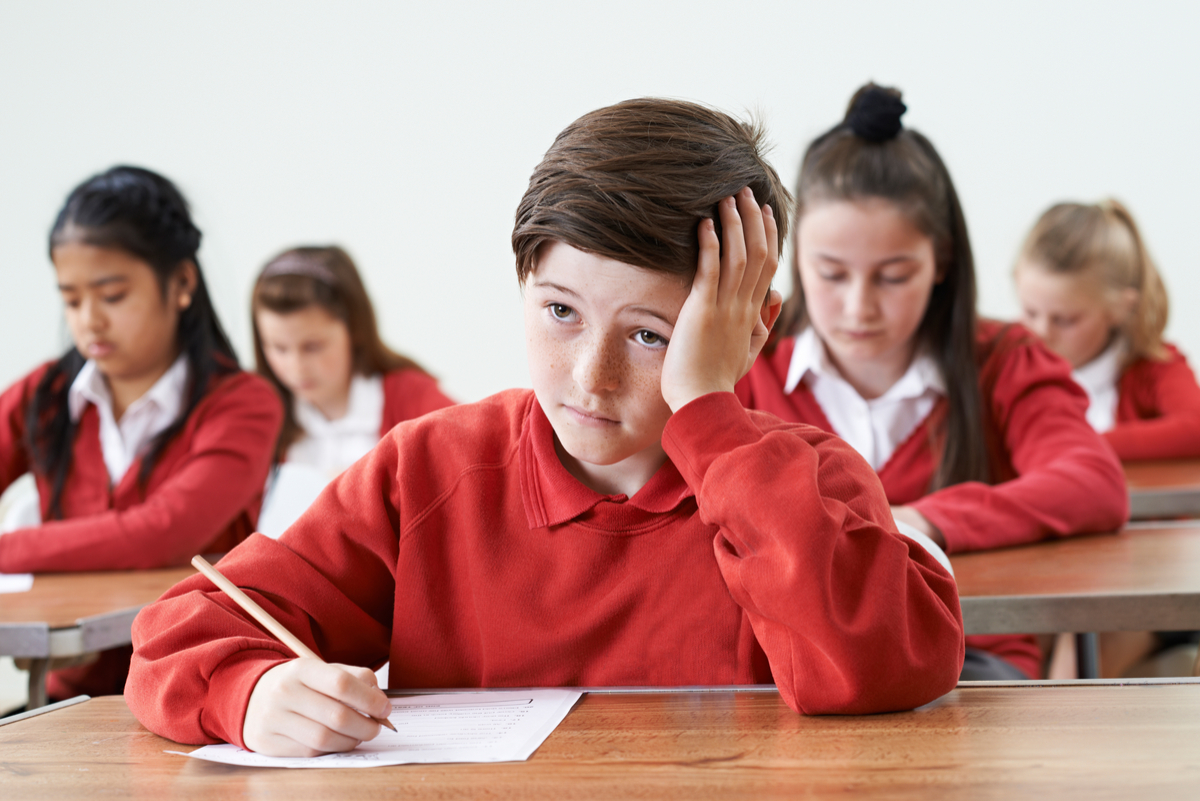 Teaching Mindfulness
Tips for Teachers
First, develop a personal practice.
If you have never practised mindfulness before, spend a little time practising the activities yourself before you take them to your classroom. Don't be intimidated about this step – Smiling Minds is a great free app that has both kids and adult programs with short guided modules. It might just bring awareness to some of the mindful practices you already, naturally, do!
Be honest with your students about your own level of experience.
If mindfulness is new to you too, your students will appreciate knowing that you are learning this together!
Make mindfulness mini-lessons a special time of day.
Make students aware that the 5 or 10 minutes you spend on mindfulness each day is a special time. A visible change in the environment is a good way to do this. You may turn the lights out, or begin each of your mindfulness sessions by ringing a little bell.
Explain what mindfulness is in a simple way.
Younger students may understand words like "awareness" or "noticing" when introducing the concept of mindfulness. It is simply being aware of, or noticing what is happening in a specific moment. Older students will benefit greatly from exploring how and why mindfulness works.
Practice naming emotions.
Exploring emotions vocabulary, practising naming and describing emotions and what they feel like in our body should happen alongside your more explicit mindfulness activities. This will help students with their own mindfulness skills as they get better at recognising and processing their own emotions.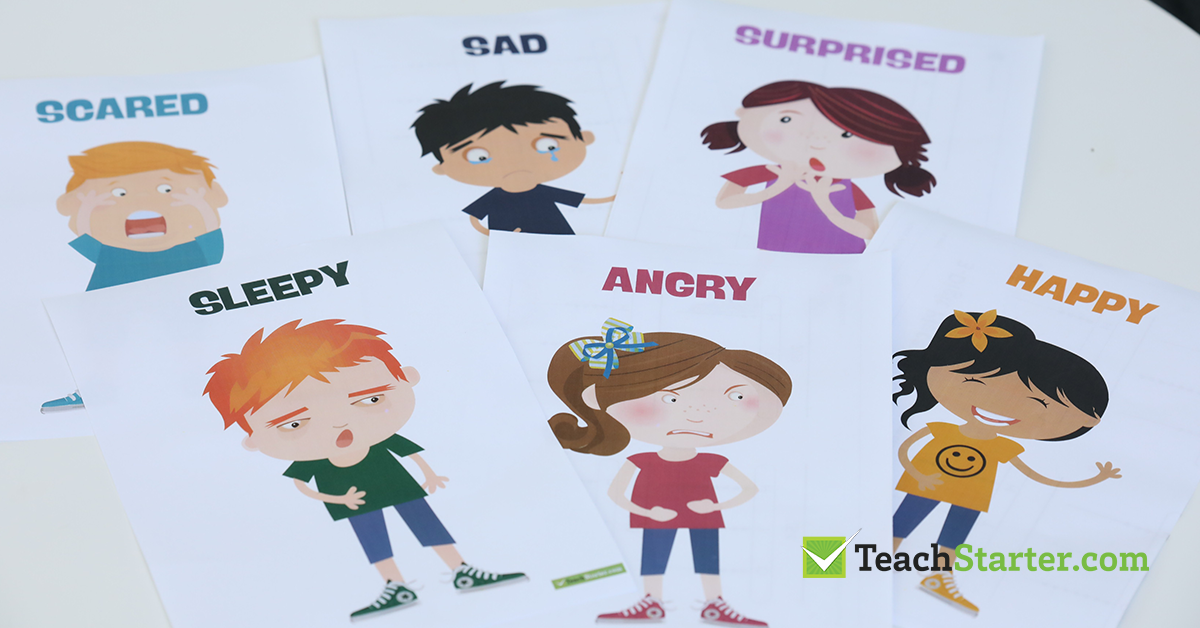 Acknowledge with your class that you cannot fail at mindfulness.
Tell students that their minds will wander during mindfulness activities and that it's okay! There is no way of 'failing' at mindfulness – we simply notice that our thoughts have wandered in that moment and return our attention to our breath, in whatever our mindful activity may be.
Be flexible.
If your class doesn't take to a particular activity, take it out of your rotation! There are so many ways to explore mindfulness. Please don't feel like your mindfulness mini-lessons are a waste of time if things aren't going well – next time try an activity that is more suited to the personalities in your class.
Let go of expectations.
Don't expect a sudden change in your classroom environment after practising mindfulness for a short time. It is a skill that takes time. When it is new to your students they will need consistent practice and support to get to a place where they call upon their own powers of mindfulness outside of your direct instruction.
Never use mindfulness practices as a punishment!
Hopefully gone are the days when sitting in silence is used as a form of punishment for a misbehaving class. Mindfulness practices should always be incorporated into your classroom as positive, skill-building experiences, not reactionary or negative ones.
Mindfulness Activities for the Classroom
Check out our blog post "18 Awesome Mindfulness Activities for the Classroom" for a list of simple and effective mindfulness practices to teach your students.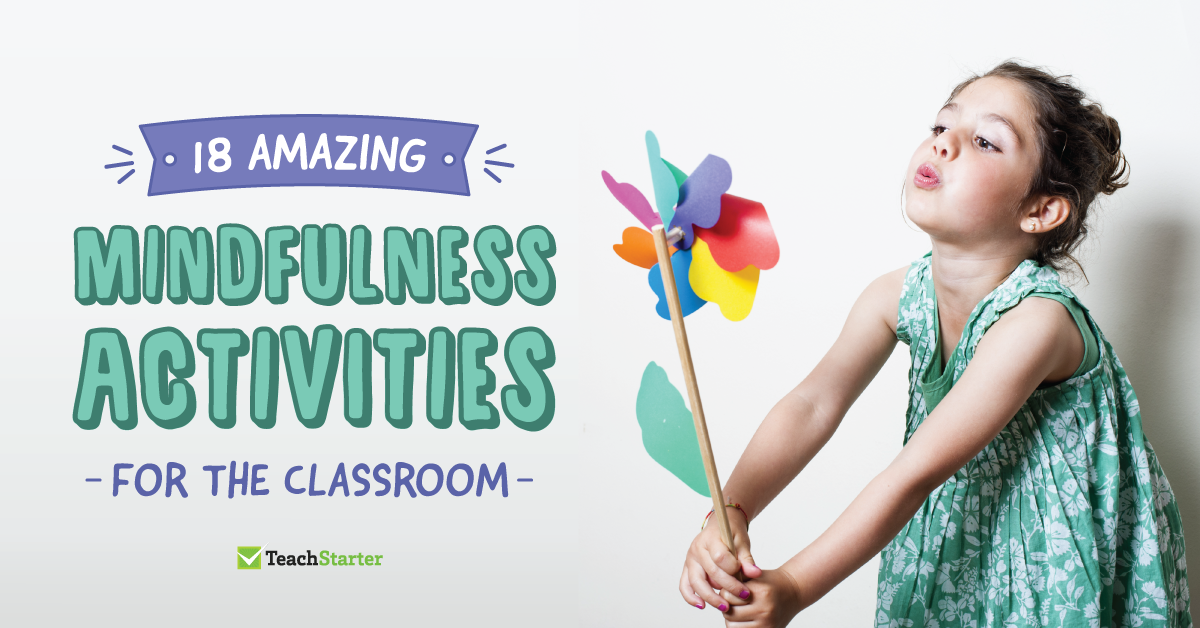 For even more Mindfulness lessons, ideas, tips and tricks have a look at some of these fantastic links:
Our blog post "10 Ways to Calm Your Class After Lunch" provides practical activities that can be used during mindfulness lessons.
Shakti Burke has some fantastic tips for teaching mindfulness to wiggly kids.
Learn how to make a mind jar at Left Brain Buddha and how to introduce it to your students.
Consider creating a Chill Out Corner in your classroom, as a space where students can engage in their own mindfulness practice in times of need.
Find a huge number of mindfulness activities and lesson ideas at Mindful Teachers.
Find age-appropriate guided mindfulness and meditation activities on the Smiling Mind website.