Learn how to make pop-up cards with your students with a printable pop-up Christmas Card Template.
Craft Fun Greeting Cards with a Christmas Card Template
Make your students' Christmas cards for parents and carers stand out this holiday season with a pop-up card template you can print out for your Christmas craft! This printable holiday card template includes Santa Claus stuck in the chimney for a fun Christmas scene!
This DIY card template uses a double right-angled pop-up to give you the bottom of the house on your card with Santa popping out the top.
How to Make Printable Christmas Cards
We know you have a lot of activities to complete at the end of the year, so our teacher team has made this printable teaching resource simple to use for both you and your students! Here's how to make a pop-up card with your students.
Materials:
Pop-up card template
Glue
Crayons or coloured pencils
Scissors
Red or green coloured card
Instructions:
Download and print your card template.
Decorate the background and the different items of the card.
Cut out the template, and fold along the middle line.
Carefully cut along the two dotted lines, and then fold the card the other way, creating two right angles that "pop up" when the card opens.
Cut out the house and chimney and one of the pre-printed greetings (or students can write their own on a piece of paper, then cut that out).
Glue the house on the bottom pop-out section and the chimney on the top pop-out section.
Glue a greeting and some holly wherever you wish.
You may like to glue your card to a colourful piece of card to add a bit of strength and make the 'pop' more fun!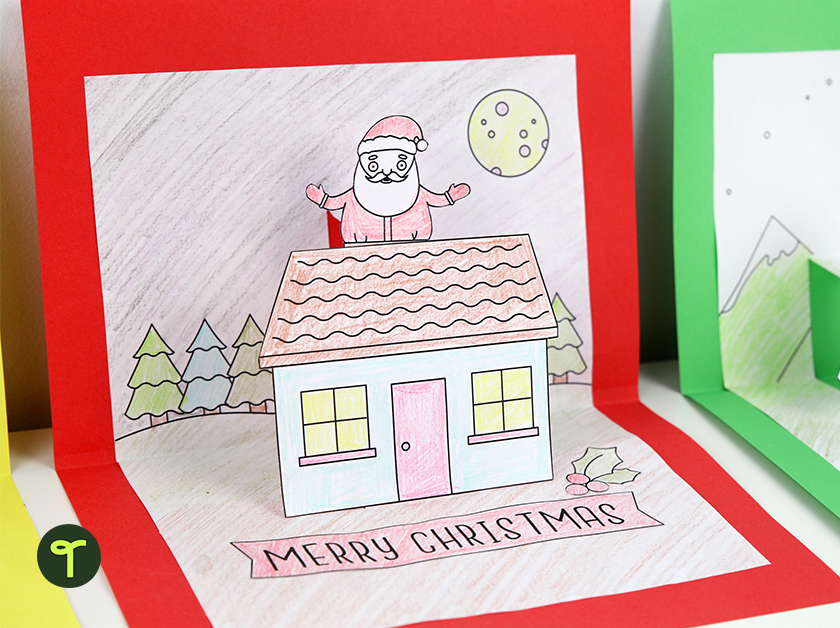 More Pop-Up Card Ideas
Do you have students in the classroom who do not celebrate Christmas, or are you looking for a different design to provide students with more ideas for their card craft? Check out our whole collection of pop-up card templates for the classroom!