Use this printable Easter egg template for a mindful Zentangle pattern activity or to create a colourful classroom display.
Printable Easter Egg Template
Bring Zentangle pattern fun into your Easter craft this school year. This printable egg template doesn't stop at the Easter symbol. It's paired with funny eyes, noses, mouths, hats and more printable accessories to create a funky Easter egg in the classroom!
The accessories allow students to turn their egg into a bunny or chicken, or turn their craft into something seriously silly.
Use it as an alternative to the famous Teach Starter Funky Bunny for your class activities, or make the egg the star of the day for a creative Zentangle art activity that allows your students a chance to practise some mindfulness during the school day.
New South Wales teacher Sarah Carter — whose classroom display of eggs and chickens is seen here — tells us the egg template makes a great alternative for students who don't celebrate Easter as they can simply decorate Ms. (or Mr.) Egg for their craft.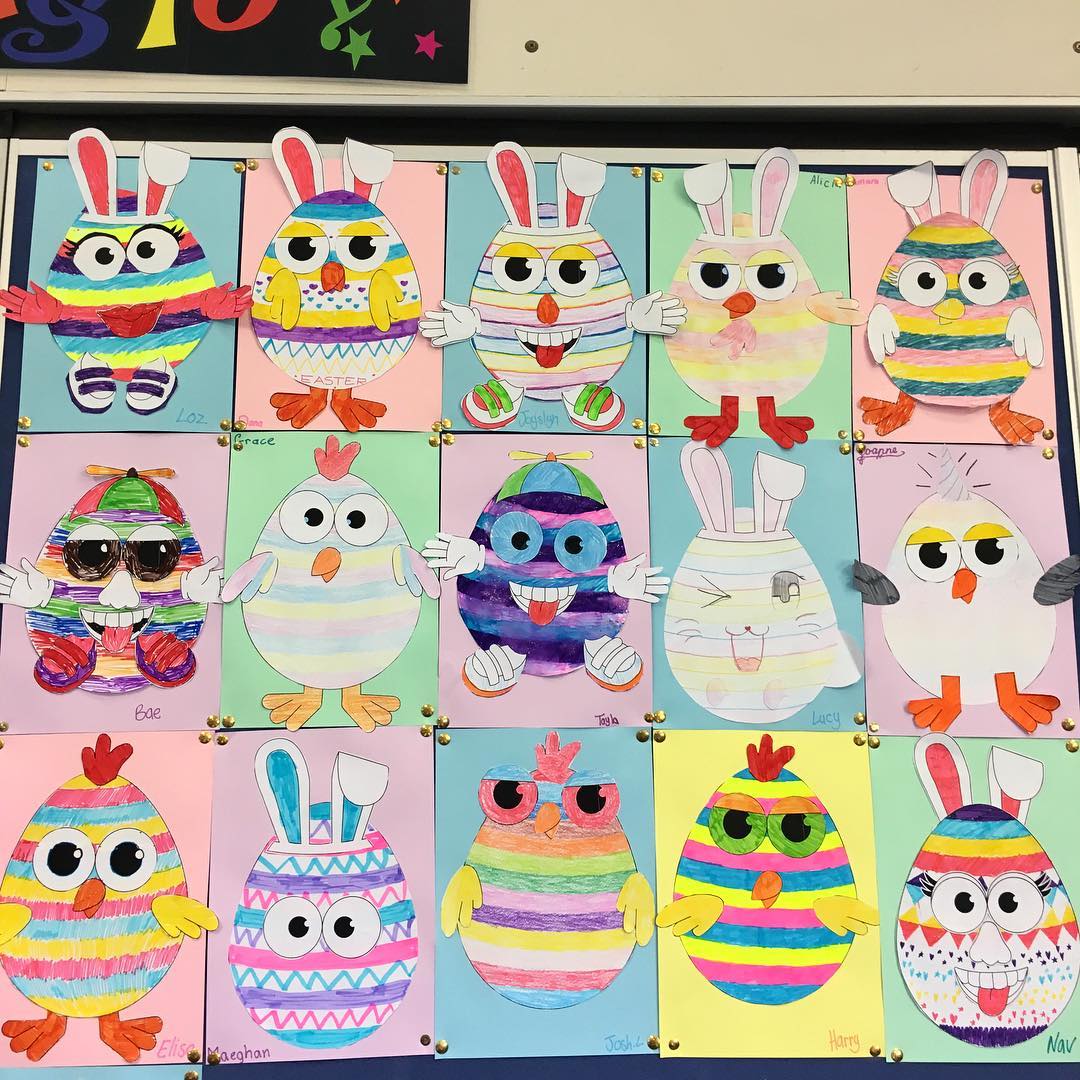 Image via Sarah Carter
What's Included
This download comes with a single page Easter egg template with lines students can use to guide their colouring and decoration. Some kids love to stick to a black and white pattern, while others enjoy bringing all the colour they can to their funky craft activities.
The additional four pages in the download provide students with templates to add faces, accessories and other features to their eggs.
How to Use This Egg Template
Print and photocopy the Funky Easter Egg Craft Template. You will need one egg page per student, but the decoration pages can be shared one between a few students to save paper and reduce waste.
Instructions
Trace the outline of the egg with a black marker.
Draw either straight lines in each section or different patterns (It's best for kids to start with a pencil, then trace over their work with a marker after they're satisfied).
Decorate the egg using any other materials or techniques that appeal to you, then cut it out.
Select and decorate the facial features and the other elements that you wish to add to your egg, then cut them out.
Paste the facial features and other elements onto the egg.
Mount the finished Funky Egg artwork onto a coloured piece of paper to display in the classroom.
Note: As a fun alternative, the gloves and shoes could be attached to arms and legs made from accordion-folded strips of paper. Funky Eggs made this way look great hanging in a line across the room!