A classroom display that allows students to see their progress towards using correct grammar and punctuation in their sentences.
Print the ladder pieces and name tags out on A3. Laminate each of the pieces so you can write the students' names on the name tags and easily stick them to the ladder chart.
The ladder pieces should be lined up so they go up the wall.
Cut out the sticky-note pieces and attach them to the ladder chart at different levels. There are 24 different sticky-note pieces to encourage writers of different skill levels to progress to the next goal. Use as many of the sticky-note pieces as you need, or use the blank sticky-notes to write your own grammar goals.
You may also like to cut-out and laminate copies of the blank page of the sticky-notes. Attach them to student's desks and write their next goal on it. They can hand it in when they have mastered the task and are ready to move up the punctuation ladder.
You may also like these teaching resources:
teaching resource
A poster highlighting the correct use of quotation marks and punctuation for direct speech.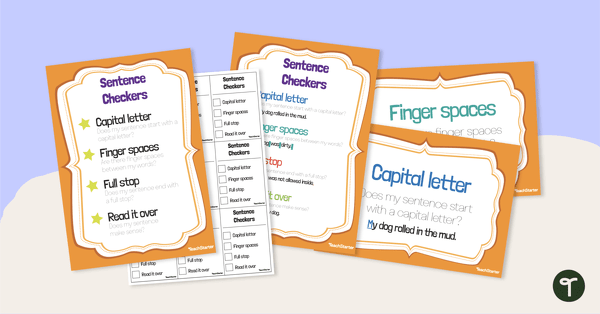 teaching resource
A set of educational posters outlining the key features to take note of when writing sentences.
teaching resource
A clear and concise poster with an accompanying worksheet about the difference between 'its' and 'it's'.