A beautifully designed, 22-page reading magazine specifically designed for Year 1 students.
Liven up your literacy rotations with Teach Starter's beautifully designed and highly informative magazine, What's Buzzing?
The magazine's content has been specifically curated for Year 1 students. It uses age-appropriate vocabulary and a variety of text types to address a wide range of relevant and engaging topics. The articles contained within the magazine directly relate to learning areas such as Science, History, Geography, The Arts, and Health and Physical Education.
Some of the highlights of this issue include:
"Robot Hide and Seek" (narrative)
"How to Brush Your Teeth" (procedure)
"The Changing Seasons" (information report)
"Welcome to Scotland!" (country profile)
"Practise, Practise, Practise" (comic).
Task Cards
Five sets of task cards addressing the areas of writing, language, comprehension, reading strategies, and higher-order thinking skills have been developed to support and complement the magazine's content. Download the What's Buzzing? Task Cards.
teaching resource
A beautifully designed, 24-page reading magazine specifically written for Year 1 students.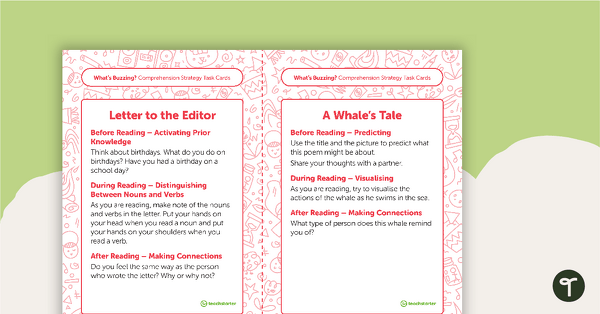 teaching resource
A set of five literacy rotation task cards to be used in conjunction with Issue 2 of Teach Starter's Year 1 magazine.
Digital version
If you are keen to save time, ink and paper, you can display a digital version of the magazine on your interactive whiteboard or one-to-one device using our online flip-book.