Use this video in the classroom to make an origami fidget toy with your students, so they have something new to enhance focus and concentration.
Origami Infinity Cube for Kids
If your students are frequently misplacing their fidget toys, it may be time for you to try this fun origami fidget toy activity in your classroom. This video will walk upper years students through the process of creating an infinity cube by folding pieces of paper together, creating an easy fidget toy that they won't want to lose. After all, they made it themselves!
From the Japanese ori meaning 'folding' and kami meaning 'paper,' origami makes for a fun activity to do with your students; plus they walk away with something they can actually use! This do-it-yourself fidget toy activity features 8 interconnected cubes, inspired by the Yoshimoto Cube invention by Naoki Yoshimoto. Students who find themselves struggling to focus can benefit from the activity as origami has been proven to help improve concentration.
But once they're done, the benefits don't stop. Their new origami fidget toy can end up being great for stress relief, as students flip and fold over and over to enhance focus.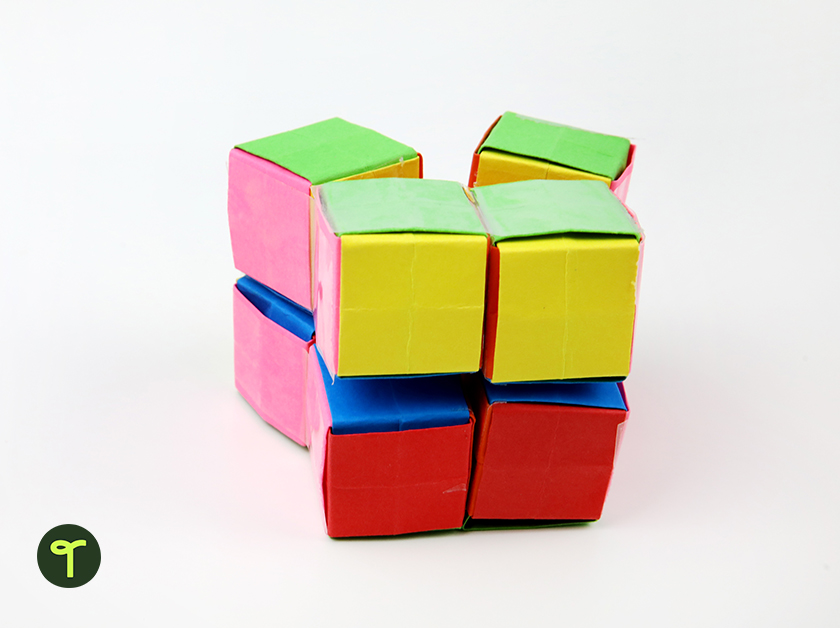 How to Make an Origami Fidget Toy
Before you queue up the video for the step-by-step instructions to share with your class, you will need 8 groups of 6 pieces of square paper (4cm x 4cm). We suggested choosing different colours as this makes for a bright and fun fidget toy and one that's harder to misplace as it's easy to spot on the classroom floor.
You will also need strips of tape to attach the small boxes of their new fidget toy.
If your students had fun with their new project, why not make origami a regular classroom activity? Give these fun origami animals a try:
[resource:648542] [resource:1648574] [resource:1648518]