Teaching phonics is tricky — the so-called reading wars have long divided educational experts on the best way to teach kids to read. Is it all phonics, all the time? How about the whole word approach?
Your school likely has a particular path, and there's only so far you can deviate from it. But if phonics is the focus or even part of the focus of the instructional approach to reading in your district, there are plenty of strategies to implement to make teaching phonics fun for not just the students but you too!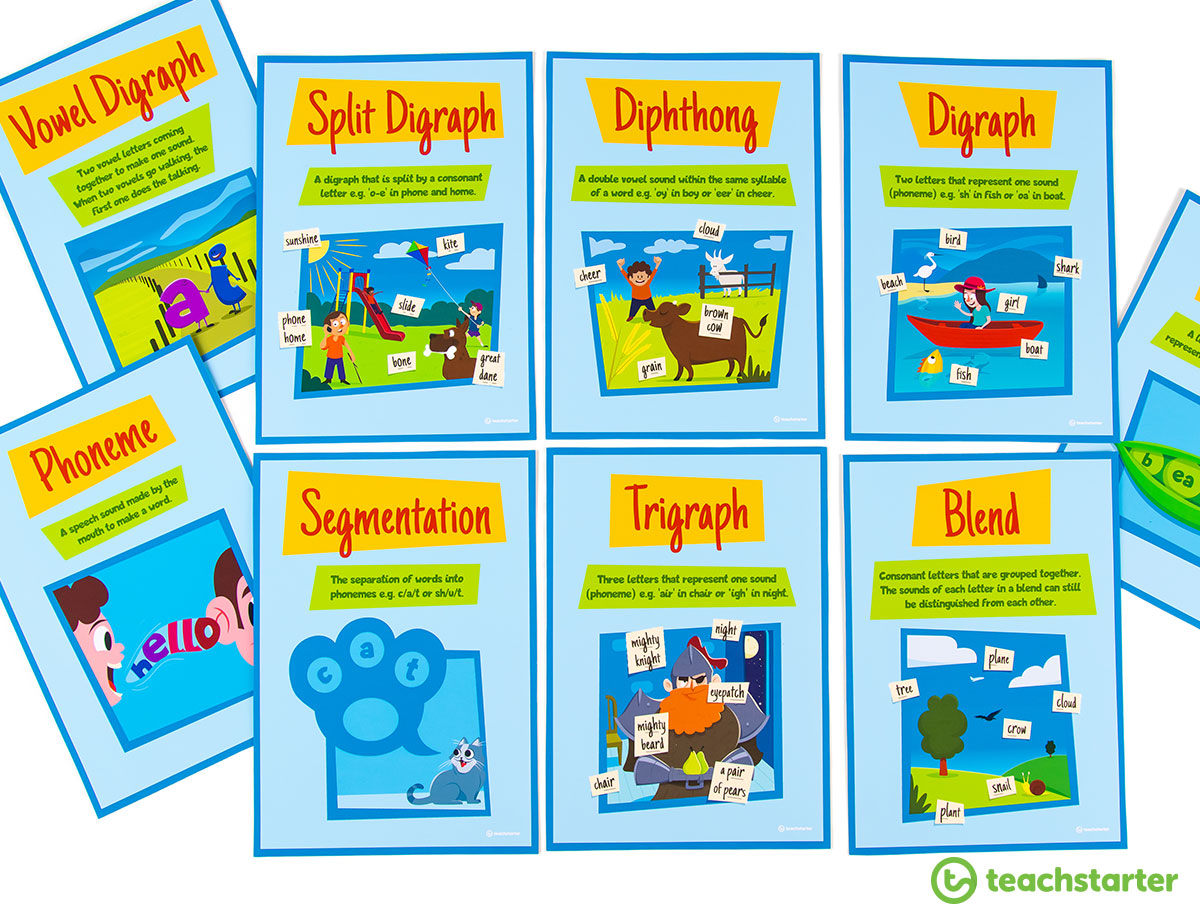 Strategies for Teaching Phonics
How to teach phonics really comes down to finding the right strategies for teaching phonics in your classroom, but here are a few that are favorites among the Teach Starter teacher team.
Blending and Segmenting Words
Having the ability to segment and stretch out words can be super tricky for young minds to work out. Providing your students with some kinesthetic and visual learning opportunities so that they can make that connection between the phonemes is a fantastic way to build up your students' phonemic awareness.
First of all, what is segmenting a word? It is the process of breaking a word apart into its individual sounds (phonemes). Often we use the word 'stretch' to give the visual representation that you are stretching out the sounds in words.
Here are some fun activities to use during small group work to help your students segment phonemes in words.
Phonics Bead Slides
When talking with your students about segmenting a word into its sounds (phonemes), provide them with some extra kinesthetic support by stringing large beads onto a piece of string to segment with.
For example, you may ask the students to segment the word 'pin'. As they break up the sounds they move a bead for each sound, so 'p-i-n', they would move three beads across.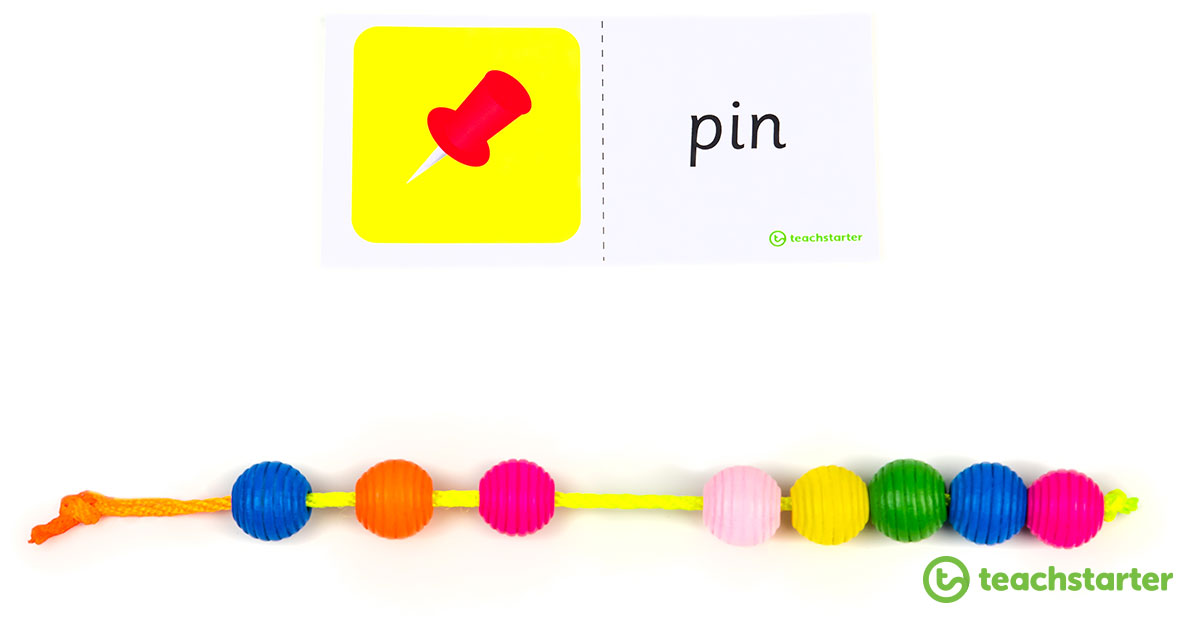 Tap it Out – Phonics Lights
Kids love switching things on and off. So, why not incorporate it into your phonics instruction? Pick up tap lights at the dollar store, and during a small group activity, provide the children with some simple CVC flashcards. Students tap out the different phonemes in each of the words.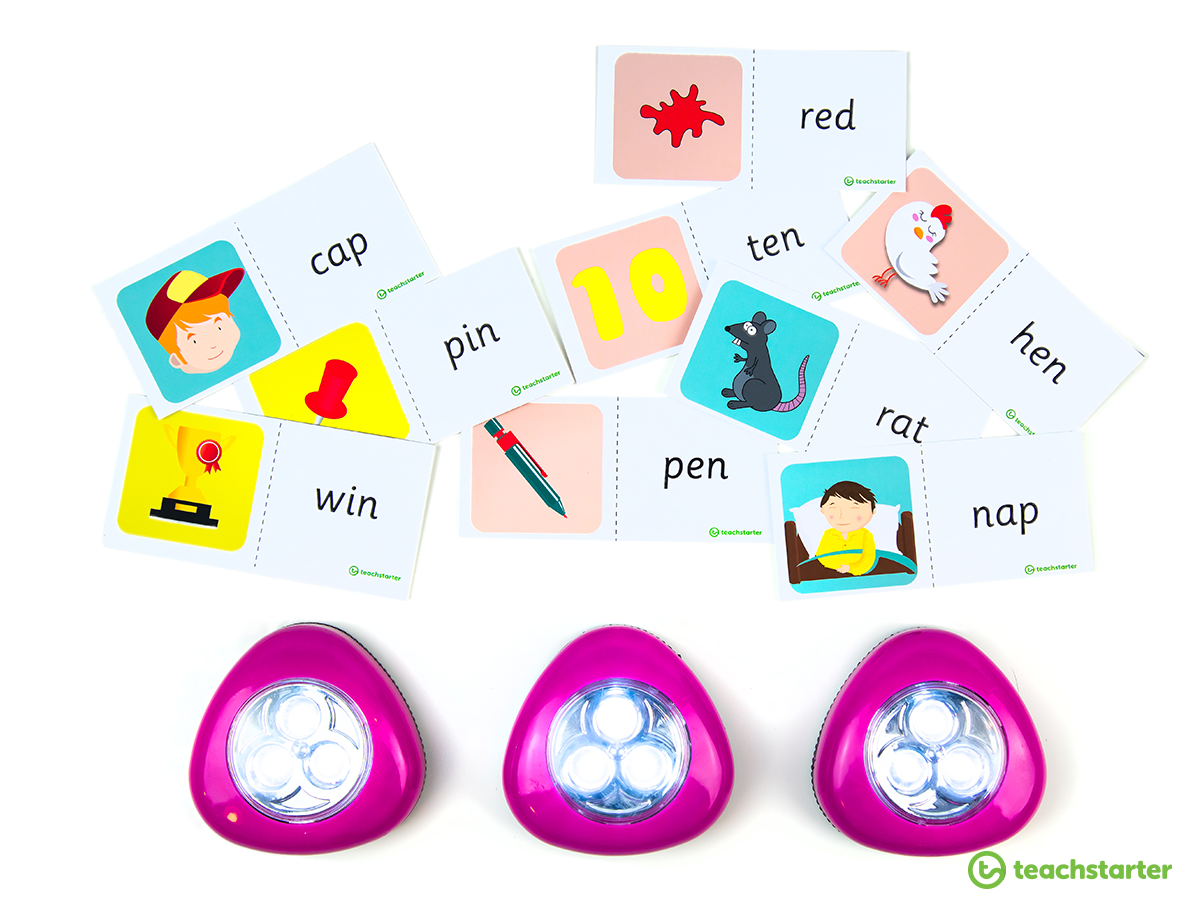 Here are some of our CVC flashcards that will work for this activity:
To extend the activity, get them to write the word after they have segmented it into its phonemes.
Phonics Treasure Box
Given that you can spell the 44 phonemes in 120 different letter combinations, you will often have a student think of a word that has the correct phoneme however incorrect grapheme (letter combination). For example, you may be looking at the 'oa' grapheme as in boat and ask students for other words that have that contain that digraph, a student may suggest 'snow'. Instead of saying "No, that is not correct", tell them that yes, the word snow does have the /oa/ sound (phoneme) but it has a different digraph.
Write the word 'snow' on a piece of cardstock and put it in a 'Phonics Treasure Box' to use later when learning about the /ow/ diagraph!
This empowers your students to feel like they are on the right track with the phoneme and encourages them to keep on trying.
Introduce a Phonics Puppet
I know it sounds silly, but allocating a puppet as the phonics puppet is a surprisingly beneficial tool to include in any phonics program. The puppet becomes something that the students associate with learning about phonics. The puppet says the phonemes and learns along with the kids!
This is Ollie the Owl who loves words that start with 'O'.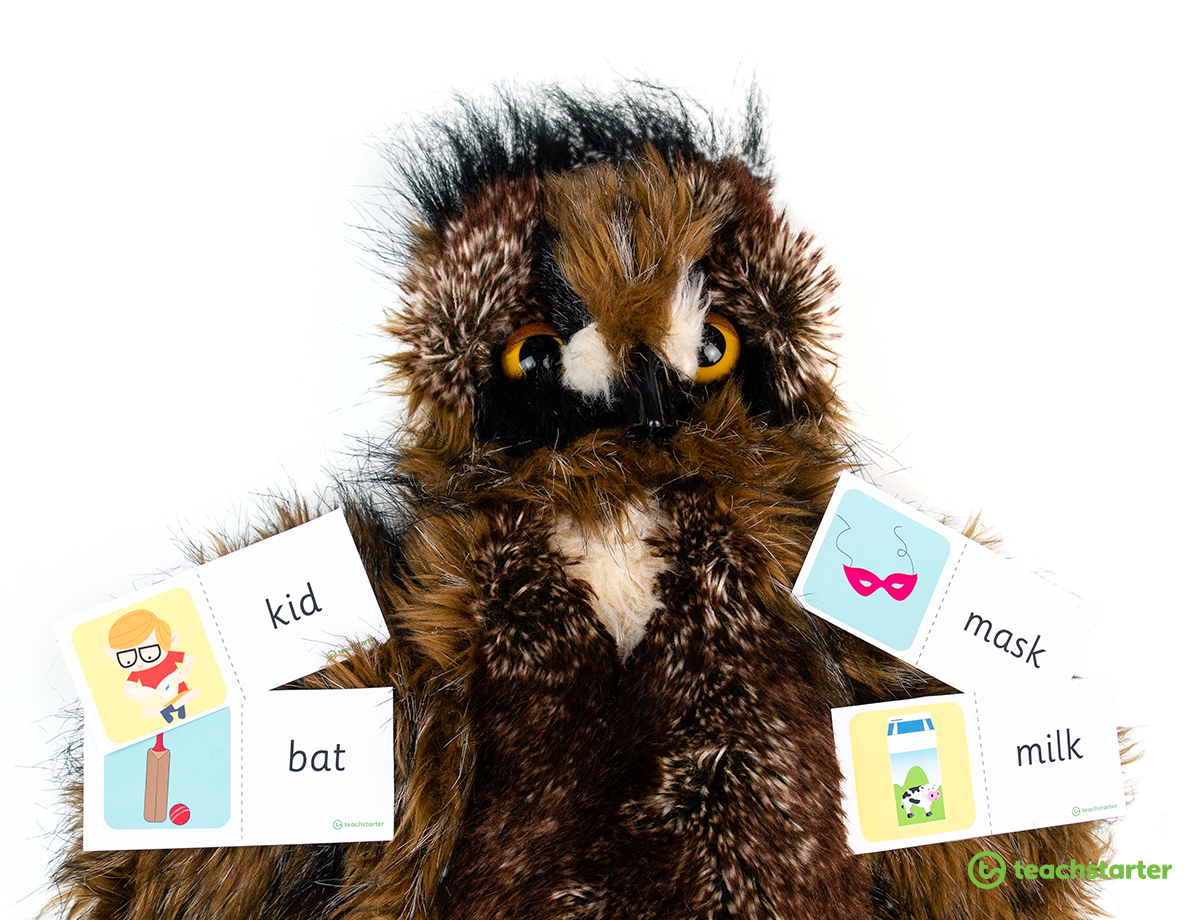 Word Family Paper Cups
These word family paper cups are quick and easy to make and are a super-effective strategy teaching phonics.
They are a perfect hands-on learning tool for teaching phonemic awareness in your guided reading groups. And kids can even make their own (with a little cutting help)!
You will need:
2 paper cups (medium-sized)
Exacto knife
Black marker
How to:
Cut a small window in cup 1.
Write the rime of the word family next to the window, e.g. IP.
Place cup 2 inside cup 1.
Write an onset for the word family in the window, e.g. ch.
Turn cup 1. Write another onset, e.g. sh.
Continue to turn and write onsets until you return to the starting position.
Phonics Games
Holla and Hula Phonics Game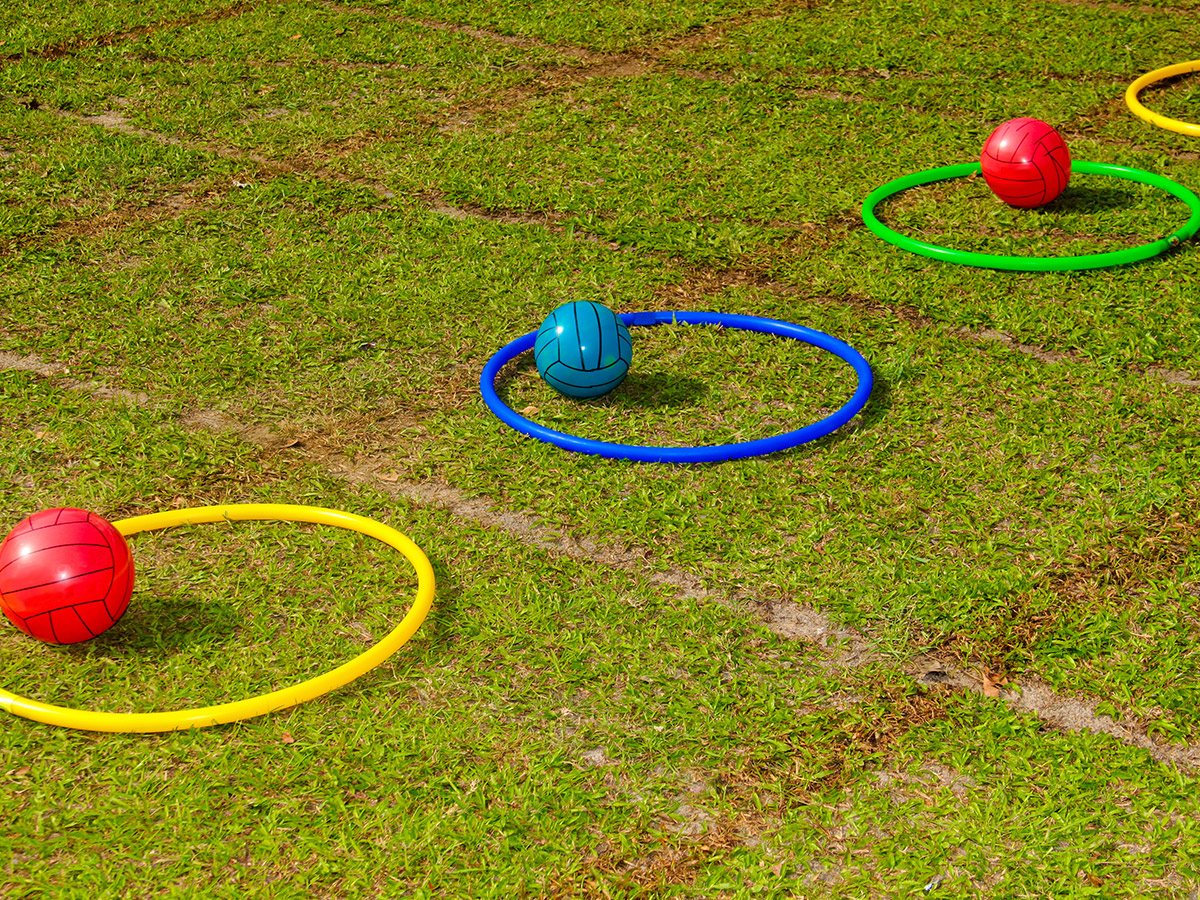 With a little bit of imagination, phonics games can be high-energy and action-packed to maximize learning. You can adapt the phonics focus to suit your teaching and learning needs.
You will need:

5 hula hoops
5 soccer balls
5 mini soccer goals (optional)
How to set up and play:
Set up five hula hoops with a different colored ball inside each hoop.
Place one digraph card (ch, wh, sh, ph, th) in each hoop.
Create a pile of ch, wh, sh, ph, th flashcards or word cards (enough for one per students), face down and at a suitable running distance away from the hula hoops.
Encourage students to line up behind the pile of cards.
Ask the students to pick a card, read it aloud, run to the corresponding hoop and place the card in the correct hoop.
When all of the cards have been placed into the correct hoop, give students a turn to kick the ball in groups of 5 (and return it to the hoops for the next five students).
Honk and Hurdle
Phonics games can't get much funnier than Honk and Hurdle. This active game involves students honking their nose, jumping hurdles and sounding out digraphs and blends. It's perfect for small groups but also can work for the whole class.
You will need:
3 or 4 hurdles (additional if you choose to set up more than one hurdle run)
digraph flashcards.
How to Set Up and Play
Set up your hurdles, evenly spaced, in a safe open area.
Place a pile of digraph flashcards, (enough for one per student), at the end of the hurdle run.
Arrange your students in a single line behind the first hurdle.
Encourage students to take turns to jump over the hurdles, pick up a flashcard and hold it up so that the other students can see.
Encourage the student next in line to read the flashcard shown, sound out the digraph and say the word. For example,"wh is for whale".
If the digraph is correct the student holding the flashcard honks their nose and runs to the back of the line.
Try some of these digraph games too!
teaching resource
Practice decoding words by their initial digraphs with a set of 20 picture sorting cards.
teaching resource
Practice decoding words by their digraphs with this set of 28 dominoes.
teaching resource
Practice decoding words that include 4 examples of consonant digraphs with our digraph flashcards and board game set.
teaching resource
Segment phonemes and identify the digraphs in this set of 18 game boards and letter cards.
Dance, Dance Phonics Bingo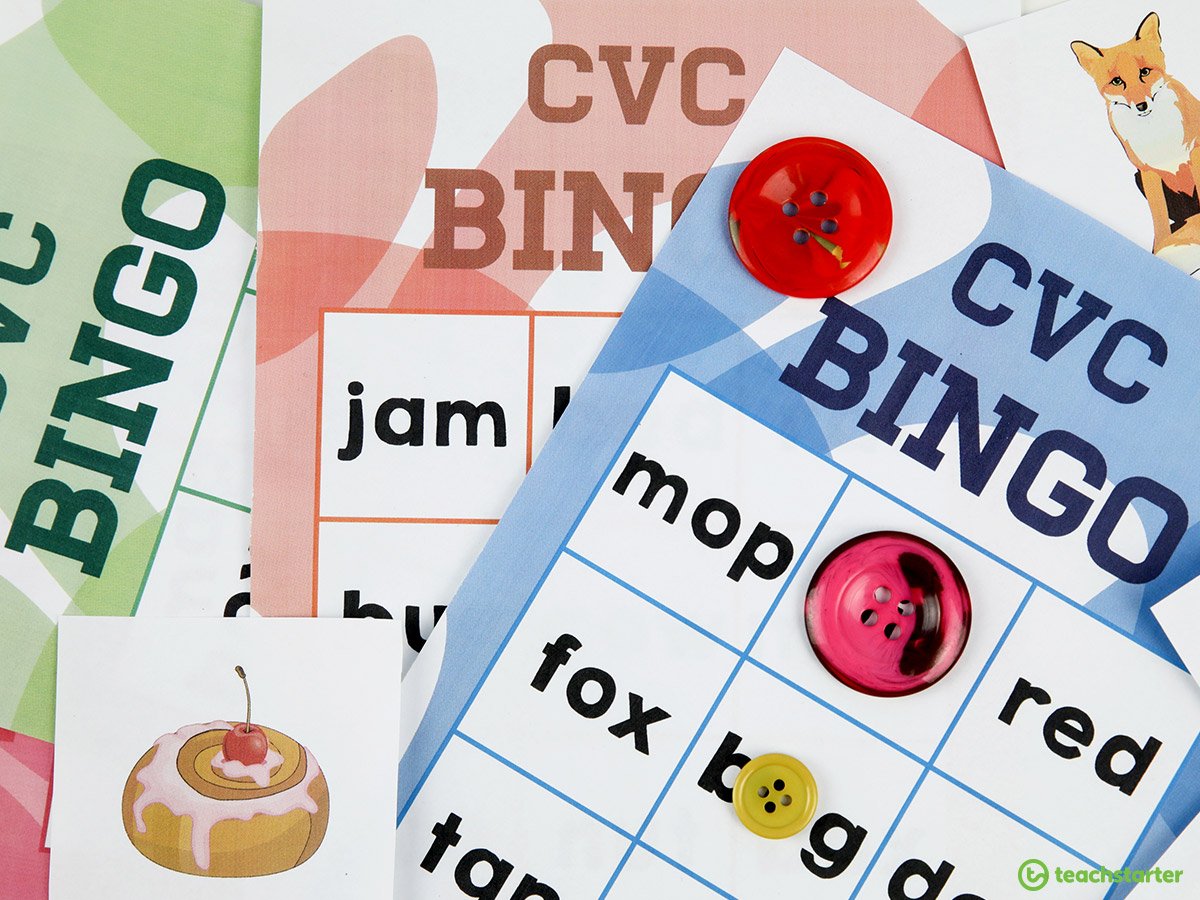 Forget sitting down at classroom desks for a civilized game on Bingo.
Take a look at our collection of phonics games that include bingo games galore! Encourage your students to show off their best dance moves as they mark off letters, sounds, or CVC words on their bingo card. Then, go all out and play some music for the winner to celebrate their victory.
Phonics Hopscotch Games
Some of the best phonics games evolve from the simplest of ideas. Phonics Hopscotch is a phonics teaching strategy that combines physical activity with learning letters, sounds, and letter patterns.
To play:
Draw a hopscotch board with chalk or create one using painter's tape on the classroom floor.
You can add individual letters or graphemes in each box.
Kids throw a rock or counter (if you're outside, stick with playground rocks so you don't lose your counters!), to a box, then "hop" to it, pronouncing each letter or grapheme as they land on it.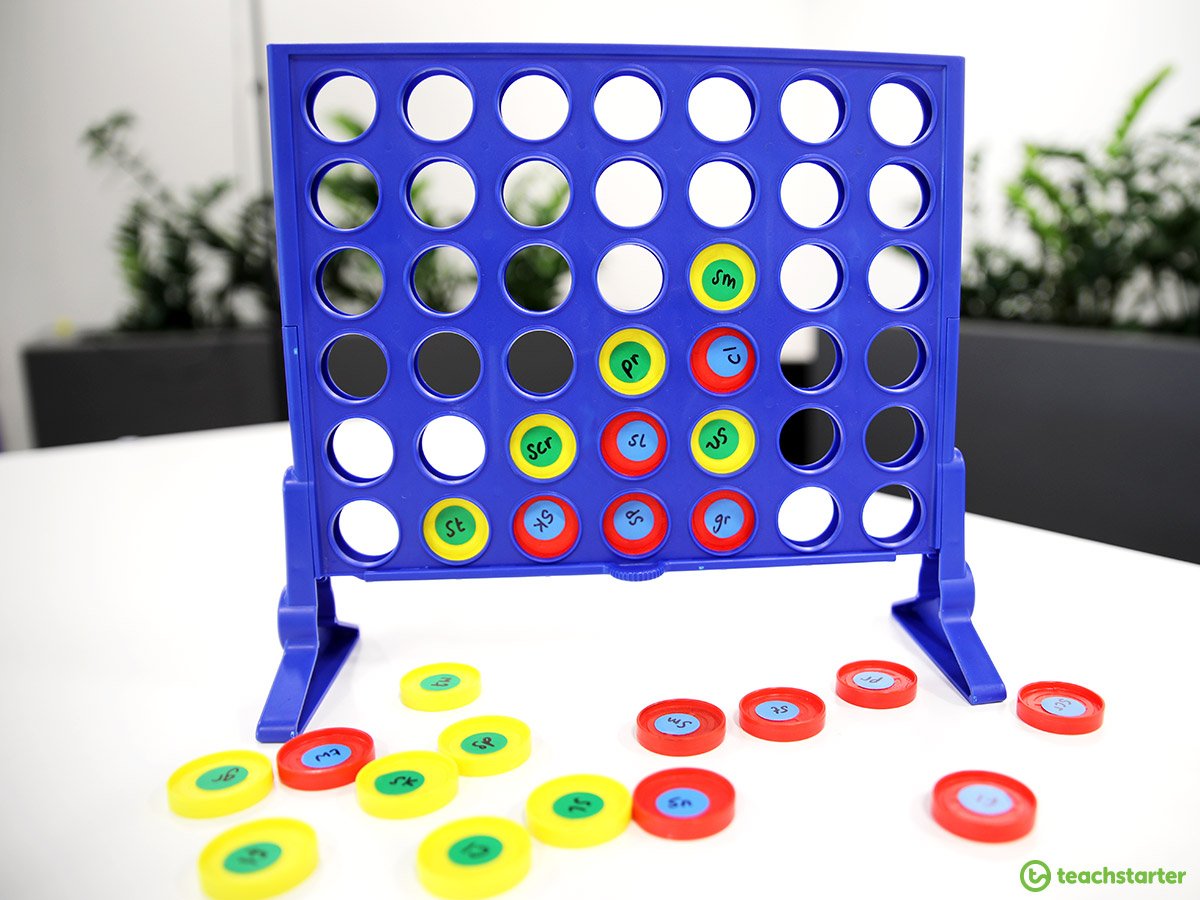 If it's a sit-down phonics game you are looking for, check out this clever Connect 4 hack, perfect for reading centers or as a fast finisher incentive.
Attach dot stickers onto each Connect 4 checker and choose a phonics focus (I decided to focus on consonant blends as there are lots of them). There are 42 counters so you'll need 21 consonant blends (the same 21 for the red and yellow checkers).
Students play with a partner and take turns and try to get four colored checkers in a row horizontally, vertically, or diagonally before their opponent. For the phonics twist, encourage your student to sound out the letters and sounds as they go.
To extend more confident learners, encourage them to give a word for each letter or sound in their winning row as an extra prerequisite to winning!
---