Happy Groundhog Day! The only holiday to celebrate a furry rodent is a fun one to mark in the classroom — and not just because kids love finding out whether there will be six more weeks of winter or an early spring. The February holiday is a great chance to discuss everything from the concept of hibernation to weather in the classroom.
Here's what teachers need to know to shape their Groundhog Day activities this year!
When is Groundhog Day 2022?
Groundhog Day is celebrated in the United States and Canada on February 2 every year — which means it will fall right in the center of the school week on a Wednesday in 2022.
How Does Groundhog Day Work?
The tradition of depending on a marmot to predict the weather dates back to the 1800s. While origin stories vary, the official Punxsutawney Groundhog Club — that's the one you might have seen in the Bill Murray movie centered on the holiday — say it's related to a German tradition, whereby if a hedgehog saw its shadow on the religious holiday of Candlemas (traditionally celebrated on February 2), there would be six more weeks of winter.
The holiday is said to have traveled to the US with German immigrants and translated into a groundhog spotting his shadow as a predictor of whether winter weather would continue into the spring, or warmer temperatures would prevail.
These days the official groundhog lives in Punxsutawney, Pennsylvania. Named Phil, he's brought out every February by the club at a spot in town called Gobbler's Knob to "prognosticate" (aka predict) the weather. If his handlers determine the groundhog has seen his shadow, that means there will be six more weeks of wintry weather. If he didn't see his shadow, spring temperatures are on the horizon.
Simple enough, right? So how do you translate this to the classroom?
Groundhog Day Activities for Kids
Groundhog Day Shadow Drawing
A perfect Groundhog Day activity for the pre-school or kindergarten set is to learn about shadows with some shadow drawing! Print out a few photos of a groundhog (you can grab one off our Groundhog Day word wall!), place on your window with some clear tape, and roll out a long strip of tabletop or butcher paper near the window, where the groundhogs can "cast their shadows."
If it's a sunny day, set your kiddos to work on the ground, tracing the shadows created by their groundhogs. No sun in the sky? It's OK! You can skip the drawing part of the activity and head right into a discussion of how the sun affects shadows — and lack of sun, well … you get the picture!
(We also love shadow drawing with dinosaurs to celebrate Dinovember!)
Groundhog Day Graphing
The folks at the National Centers for Environmental Information know a thing or two about climate — we daresay a bit more than a groundhog. The federal agency has tracked Punxsutawney Phil's predictions and offers up a look at how often he's gotten his weather predictions right or wrong, making for a fun graphing activity for the class!
Present your students with the count of how often Phil's shadow sightings have been right or wrong, and have them create bar graphs on grid paper, shading in bars that represent each option. Ask them to answer the question: Is Phil right or wrong more often?
You can also create a class graph with student predictions, tallying how many students predict an early spring vs. an elongated winter.
Groundhog Day Roll to Create
Practice writing a narrative text for Groundhog Day with a creative roll to create about a groundhog family.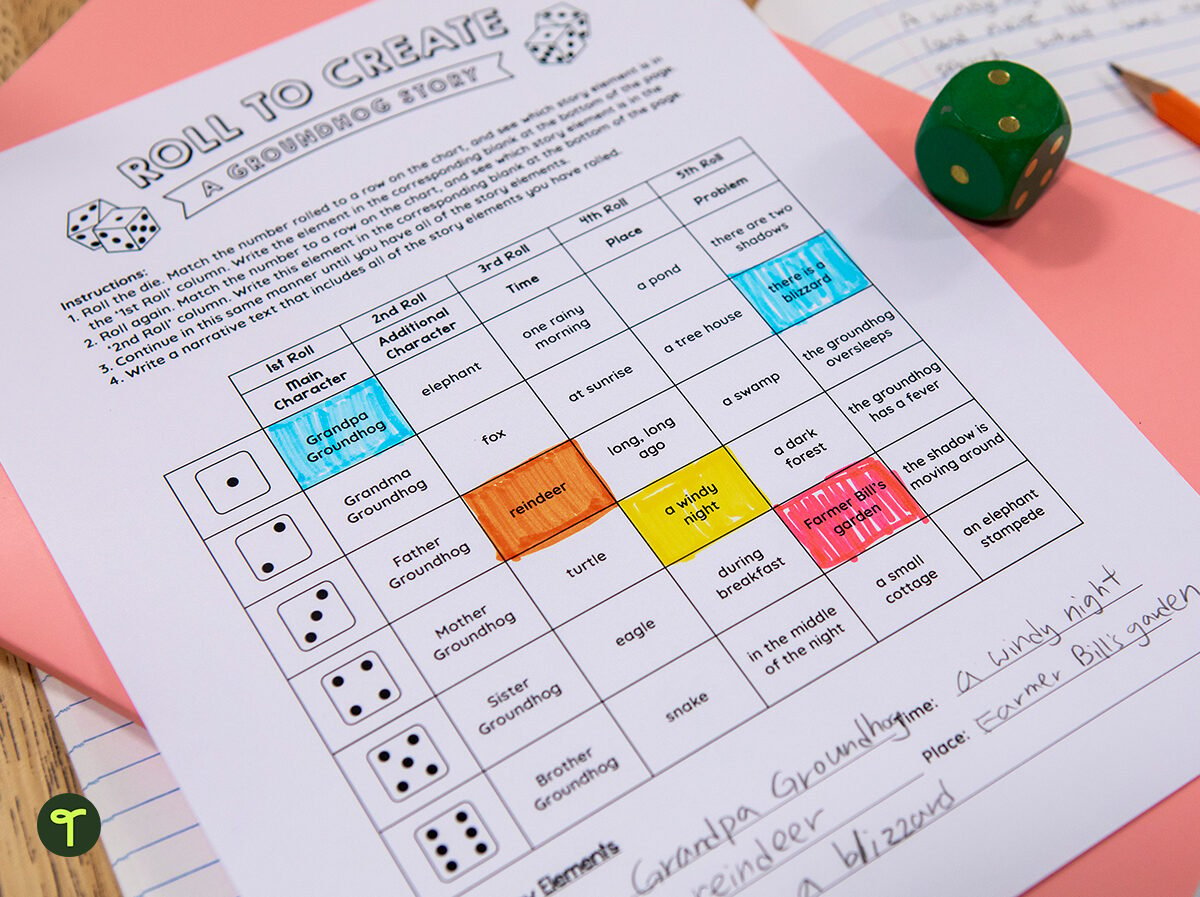 Groundhog Vocabulary
Groundhog? Woodchuck? What's the difference? And what does it mean to predict? It may be a silly holiday (OK, yes, it is!), but Groundhog Day has a surprising number of vocabulary words associated with it. We put together a whole list of suggestions for your classroom.
Groundhog Anchor Chart
Help your students through the process of prediction with a fun anchor chart activity. Kindergarten teacher Lexe Roberts  (@teaching.with.ms.roberts on Instagram) uses this fun Groundhog Day anchor chart with her students.
Looking for more weather-related activities to do for Groundhog Day? Check out our weather resources for teachers!