Write a letter to Mr. Groundhog about the weather using this persuasive writing worksheet.
Can Your Students Persuade Mr. Groundhog? 
Use this activity in the weeks leading up to Groundhog Day (February 2). 
Students will use their opinion writing skills to draft a letter to Phil the Groundhog (Punxsutawney Phil). Depending on their preference for winter or spring, they'll either request that he sees or does not see his shadow. They will explain why Mr. Groundhog should listen to their opinions and persuade him to agree with them.
By completing this activity, students demonstrate the ability to write opinion pieces on topics or texts, supporting a point of view with reasons.
View the 10 Best Children's Books For Teaching Persuasive Writing »
Scaffolding + Extension Tips 
In addition to individual student work time, use this persuasive writing worksheet as a:
In-class writing warm-up

Writing center activity

Homework assignment
Students who want to challenge themselves can write a counter-letter to themselves from Groundhog, in which they refute the arguments in their original letter. This gives them practice finding holes in their logic and seeing things from fresh perspectives. 
Support students who need assistance organizing their argument with our persuasive writing planning template. This tool allows them to draft an opinion statement and 3 supporting reasons with examples or evidence. 
How To Prepare This Resource
Use the dropdown icon on the Download button to choose between the PDF or Google Slides version of this resource. 
Save paper by projecting this writing prompt through your smartboard or another projection device. Work through it as a class by having students record their answers in their writing notebooks.
To create a reusable writing center activity, print a copy on cardstock and slip it into a dry-erase sleeve. Use a binder ring to hang the prompt from a hook in your writing center. 
NEXT: 3 Quick and Effective Opinion Writing Scaffolds »
Don't stop there! Your opinion writing lesson plan wouldn't be complete without these activities and teaching resources too: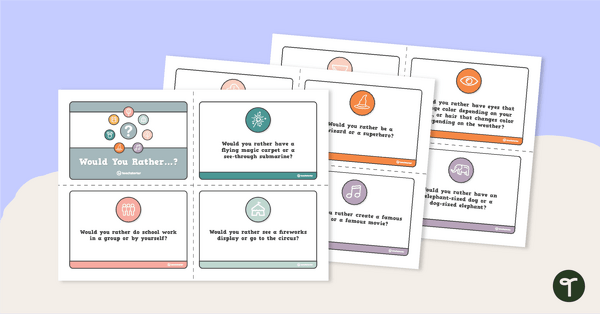 teaching resource
Would You Rather use this set of 31 question cards or eat a can of worms?
teaching resource
A writing grid with 20 writing prompts.
teaching resource
A set of 5 writing prompt stimulus sheets with an opinion text focus.