Want to bring a little more holiday cheer to the classroom? This Christmas mailbox craft has got everything that you need to add a little joy to their days. Find out how to make a mailbox and how to use it to practice letter-writing with your class this holiday season.
Teaching Kids to Write Letters
The art of letter writing is far from dead, and that's thanks to teachers like you who devote a little time in the classroom every year to helping students learn the craft — from the greeting all the way to the closing.
Whether you're working with your first- or second-graders on writing personal letters or your older students are learning how to draft opinion-filled letters, the holiday season is the perfect time the practice these lessons. After all, people have been writing Christmas newsletters since the 1940s here in America, and the Christmas card has been around even longer than that. In, fact, the first Christmas cards were commissioned by Sir Henry Cole and illustrated by John Callcott Horsley in England back in 1843.
It's important to be inclusive and keep in mind that not every student celebrates Christmas, so we've included holiday versions of our various letter-writing activities to use with your own class.
How to Make a Christmas Mailbox
First thing's first. If you're going to be writing letters, you'll need a way to deliver them to the recipients. Introducing the Christmas mailbox craft tailormade for the classroom.
No need to hit the store for an expensive classroom mailbox — so long as you have an empty photocopy paper box, you can make one pretty easily or challenge students to create their own.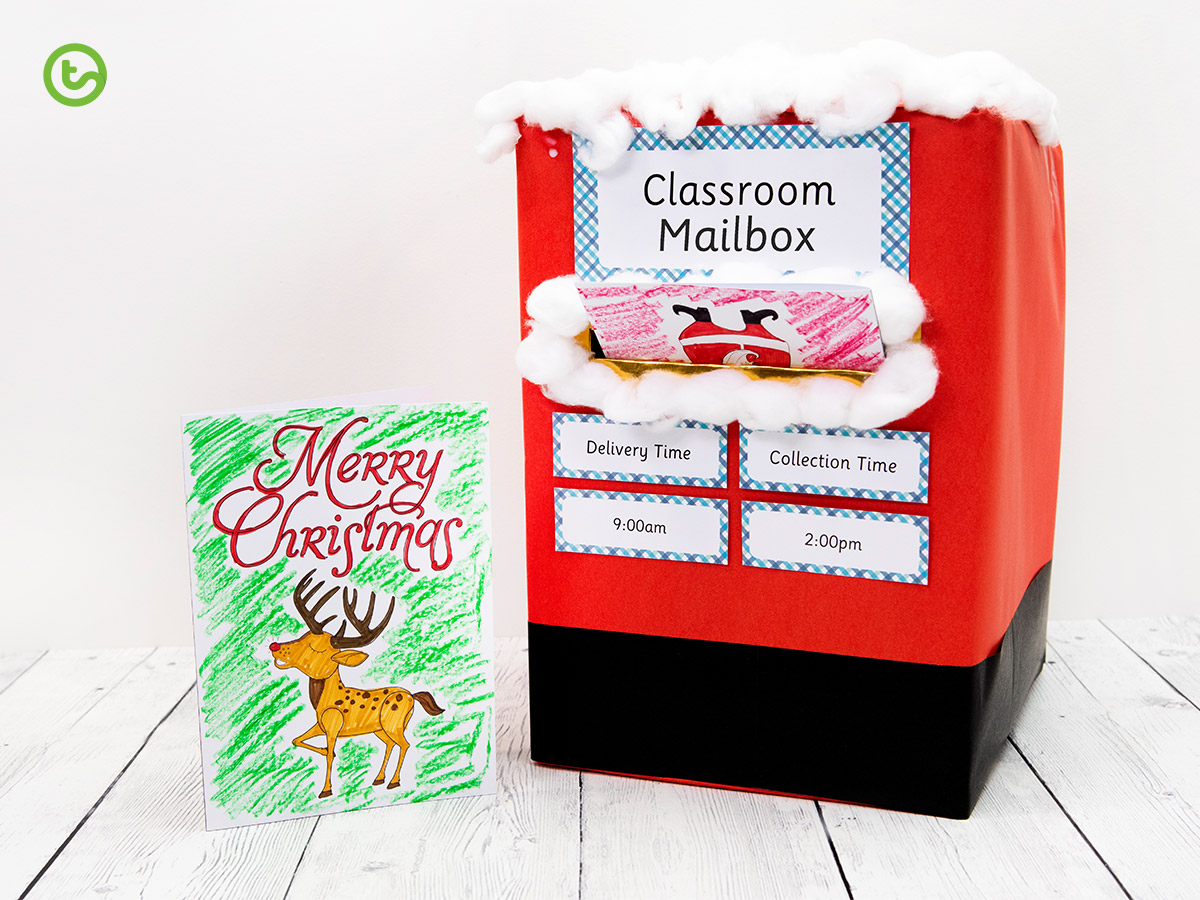 For this Christmas mailbox craft you will need:
a photocopy paper box
red and black paper
cotton balls
adhesive tape and glue
gold tape
Don't forget that you can adapt this design to create a not so holiday-like mailbox for students if you have any students in your classroom that do not celebrate Christmas.
Watch the video for the complete instructions:
---
DIY Mailbox Ideas
Now that you've got your Christmas mailbox craft constructed, what can you do with it?
Set up a "card buddies" program to make sure that every student in the card will receive a holiday card
Set up clear times for posting and delivering cards
Use the DIY mailbox as a platform for holiday literacy activities and letter writing activities
Include children who do not celebrate Christmas by making simple adjustments.
---
Letter Writing Activities for Kids
The Teach Starter teacher team has created a number of letter-writing-specific resources to help kids learn the parts of a letter and more, but here are some of our very favorite for using around the holidays and with your DIY mailbox!
Letters to Santa
This is a classic around the holidays, and we'd be remiss to leave it out. Print these fun Dear Santa templates, and encourage your students to practice their persuasive writing skills as they convince Santa they really need that special gift this holiday. The classroom mailbox can be the spot where students send off their missives.
As an alternative, your students can write creative letters to Santa explaining why they don't belong on the naughty list.
Provide the prompt "Dear Santa, I was framed …" and encourage them to get creative!
Tradition Trees
Have your students write letters to one another sharing their winter traditions (or holiday traditions). Our funky Christmas tree template is lined, which offers a great tree-shaped template for this activity!
Postcards from the North Pole
For a fun holiday literacy activity, encourage your students to write a postcard from the North Pole to a classmate. As a class, learn about the northernmost point of the Earth — explore the climate, animal life, and landscape. Next, encourage your students to write a simple postcard that includes:
an informal greeting
a brief description of an exciting event or the best part of their imaginary trip
a note about the weather
the date (optional)
a closing phrase
 These Holiday Postcard Templates make a great scaffold for this letter-writing activity, and the cards can be addressed to their classmates, then "mailed" in the classroom box.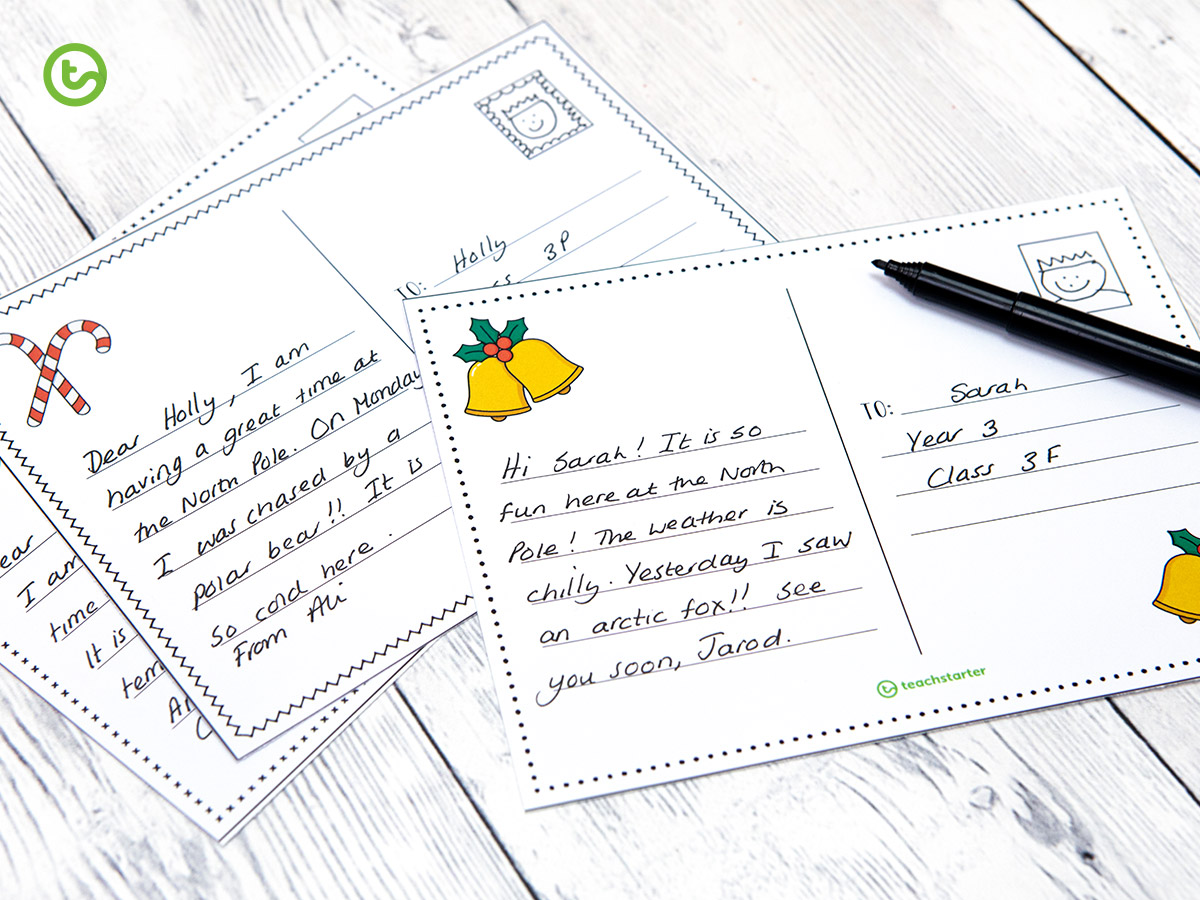 Special Mail for Everyone
Make sure students who don't celebrate Christmas are part of the classroom letter-writing practice and celebrations by pairing students off to write cards to one another using these 8 Generic Special Person Cards. You can also use the snowman card from the holiday collection to make it more wintry!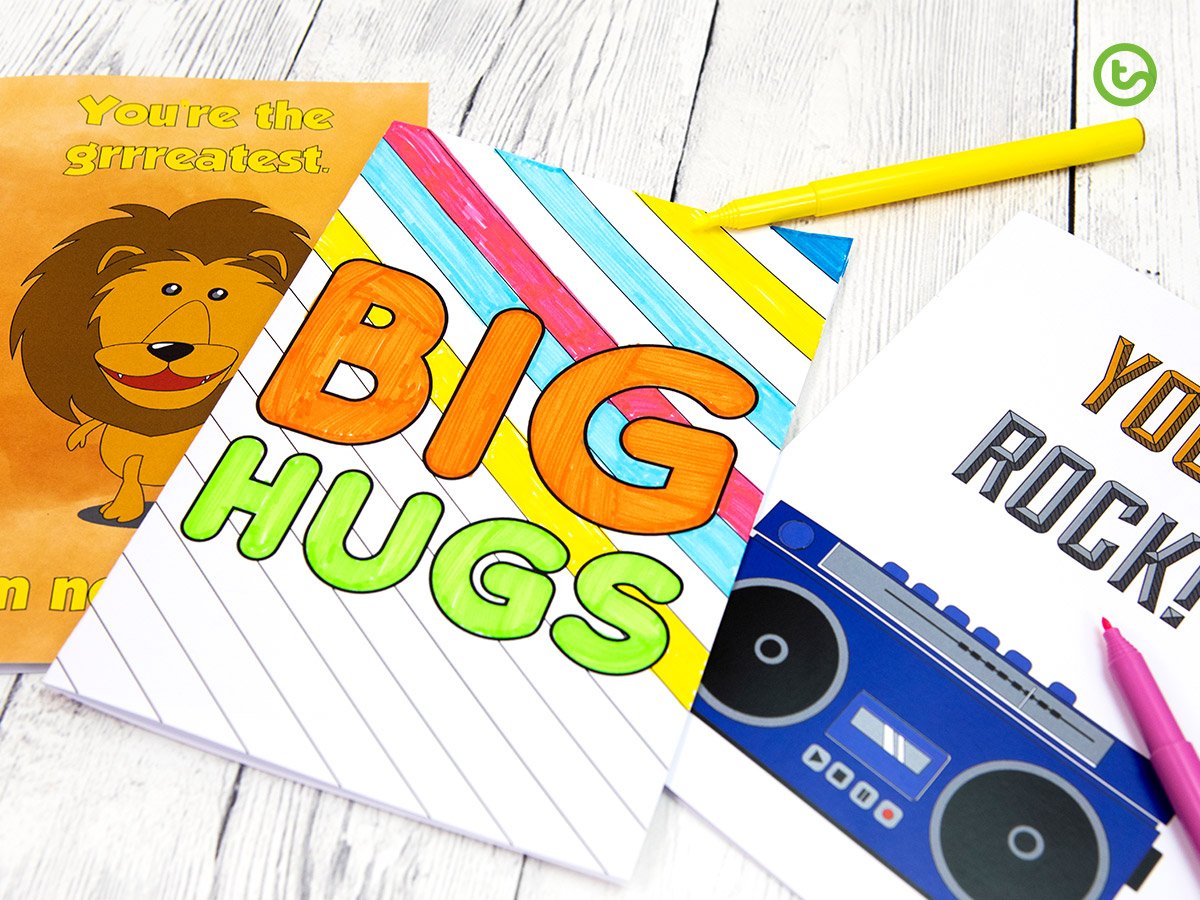 More Holiday Literacy Activity Ideas:
Research the history of exchanging holiday cards and create a timeline.
Explore different images used on holiday cards and how they have changed over time.
Consider how the digital world and technology have affected the tradition of exchanging holiday cards
Explore cards exchanged as part of other traditions, faiths, and beliefs
---
For more holiday card and letter-related activities, check out these fun teaching resources: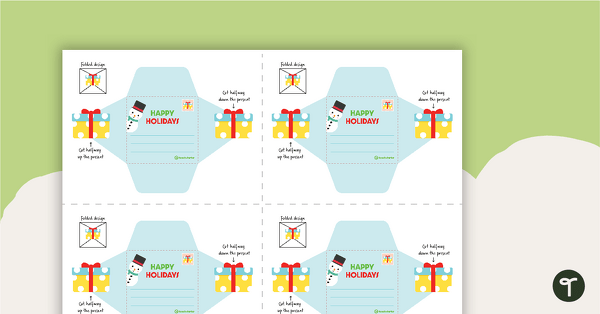 teaching resource
A set of 4 holiday-themed mini envelopes that can be used in a variety of ways.