Looking for ideas for Grandparents Day or maybe a few Grandparents Day crafts to do with your class this year?
The holiday is a favorite for some elementary teachers, especially those teaching pre-school or kindergarten, and members of the Teach Starter teaching staff! At Teach Starter, we're all about stocking teachers' toolkits with everything they need for teaching triumphs.
With that in mind, we've pulled together some of our favorite Grandparents Day ideas for teachers to make the September holiday a sweet success in your classroom!
Teacher Ideas for Grandparents Day
Before you set up any function, be mindful of students who may not have grandparents in their lives. Some may have passed away, some may not live nearby, and some may simply not have contact. Any Grandparents' Day functions or celebrations should be inclusive of all students. With that in mind, we've developed ideas for Grandparents' Day that can be adapted to celebrate a "special person" in a child's life just as easily.
Invite Grandparents to Visit the Classroom
It's simple, we know, but inviting grandparents to drop in during an appointed time (cleared by your administrator, of course), is simple way to provide an enjoyable experience for everyone. Excited students get to show off their classroom, grandparents get a rare chance to peek behind the scenes at the place where their beloved grandchildren spend their day, and you have some very happy students on your hands!
A few ideas we love to make a visit like this work:
Invite the Guests — Have your students create Grandparents' Day invitations — these simple invitations can be printed and filled out by students.
Show and Tell — Challenge students to conduct an interview with their grandparent or special someone prior to the event. On the big day, allow students to show off their grandparent, show and tell style, sharing one interesting fact they just learned! Use this interview template as a scaffold!
Photo Gallery Wall — Make grandparents and special guests feel special by creating a photo gallery to honor them. Ask your students to bring in a photograph for your wall. On the big day, students can show their person the photo on the wall and ask questions about when and where it was taken.
Classroom Tour — Take things one step further by inviting students to take their grandparent or special guest on a classroom tour to show off their desk, cubby, or other special spots in the classroom.
Group Work With the Grands — Our Grandparents Day Top 10 Reasons Worksheet is a great way to get your students thinking about why they love their grandparent(s) or special guest. Have students fill it out before the event to present to their special person. You can extend this Grandparents' Day idea by asking special guests to reciprocate and give ten reasons why they love their grandchild?
Sing a Song for the Guests — Teach your young learners a new song to sign to welcome their guests on Grandparents Day! One of our favorites is The More We Get Together.
Grandparents Day Crafts
Whether you're inviting grandparents into the classroom for Grandparents Day or just looking for something special to mark the day, Grandparents Day crafts can be a lot of fun for students and work those fine motor skills while they're at it.!
Tell Lola and Lolo They Rock
Give those grands something rocking with a fun "Grandparents Rock" craftivity, complete with paper guitars and a space for students to practice their penmanship while writing notes of appreciation.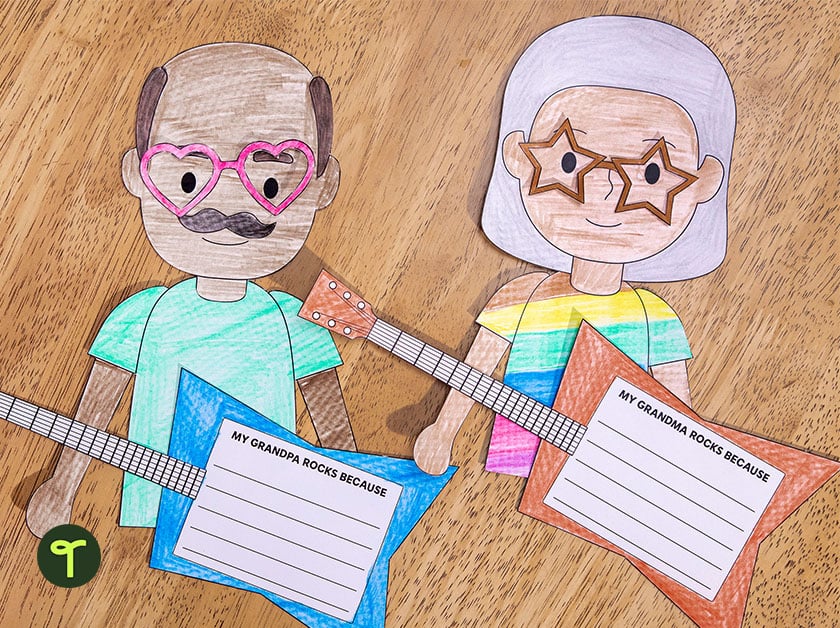 Combine Writing With Crafts
Combine Grandparents Day craft time with a chance for students to practice their handwriting with a Grandparents Day writing craftivity!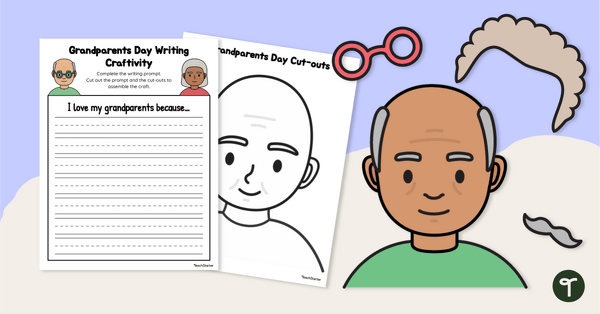 teaching resource
Celebrate Grandparents Day in the classroom with a craft activity and writing prompt.
Make Tea Cup Cards
Teach the importance of recycling, and create a Grandparents' Day craft at the same time with this fun tea cup card idea!
Supplies:
Cardstock
Empty egg cartons
Scissors
Glue
Felt
Tea bags
Pipe cleaners
Additional decorating items such as buttons or stickers
Younger students may need a little help with the cutting of this Grandparents' Day craft, but many of the elements will help them work their fine motor skills, as well as offering an opportunity to practice handwriting.
Instructions:
Fold a piece of 8 1/2 x 11 cardstock in half to form a card.
Trace the folded card on your felt, and cut out the rectangular shape.
Glue your felt to the front of your card.
Cut the egg cups out of your egg carton.
Turn your cardstock horizontal, with the opening pointing toward, and glue your egg cup to the front section, right in the center of the felt. This will be your teacup.
Form a semicircle with a pipe cleaner, and glue to the side of your egg cup, forming a "handle" for your cup.
Decorate the remainder of the card with additional felt, buttons, stickers, etc.
Write a note on the inside of the card to a grandparent or special someone.
Slip a tea bag into the egg cup. Teachers, you may want to grab your stapler and staple this in place so it doesn't slip out when this Grandparents' Day craft is carted home!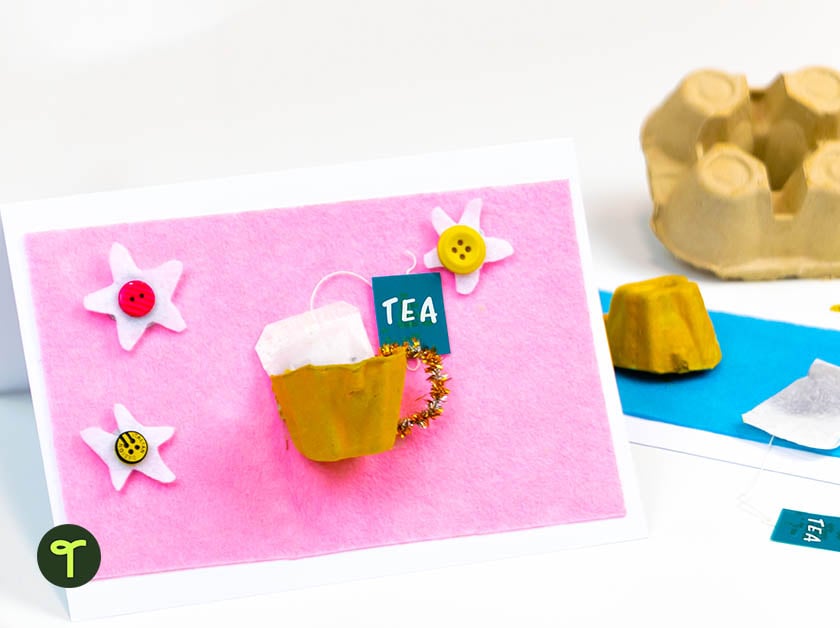 Create Grandparents Day Crowns
Use these fun printable Grandparents Day crowns to help students craft some headgear to show off how much they love their grands!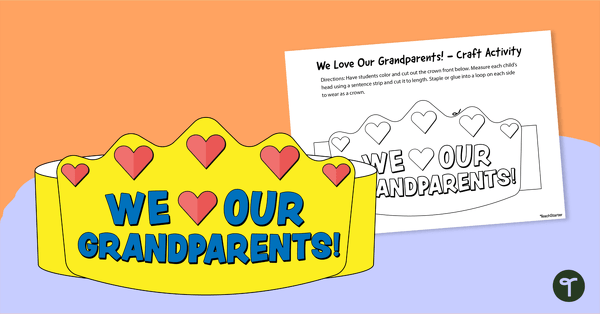 teaching resource
Get crafty and treat Grandparents like royalty with a printable Grandparents Day crown template.
Banner image via Shutterstock/Pressmaster