Are you looking for a cheerful activity to welcome your students back to school? Try this sunflower paper craft activity! These folded paper sunflowers are so easy to make and ideal for all students, no matter their age. And what a wonderful way to symbolize positive new beginnings!
Read on for step-by-step instructions and handy teacher tips!
---
How to Make Folded Paper Sunflowers
Great news! These paper craft sunflowers require only a few items that are easy to find!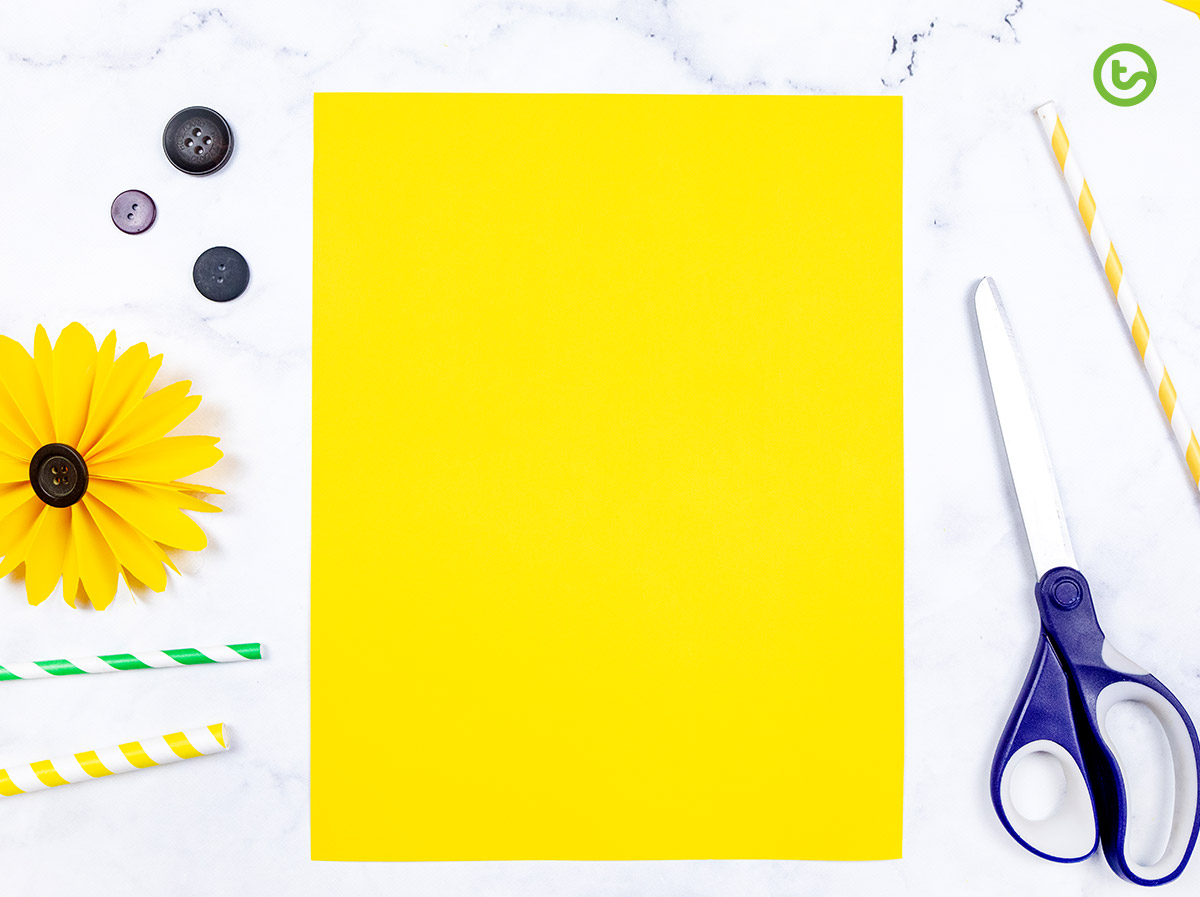 You Will Need:
yellow paper
dark brown or black buttons
paper drinking straws
glue gun
scissors.
Don't forget to reach out to parents and guardians for help in finding buttons.
---
How to Make Paper Craft Sunflowers
It's super easy to make paper craft sunflowers. However, because there are a couple of tricky areas, I would recommend completing this activity in a small group with an adult helper.
Step One
Fold a piece of yellow paper along the horizontal midline (to make a long rectangle).
Cut along the horizontal fold line.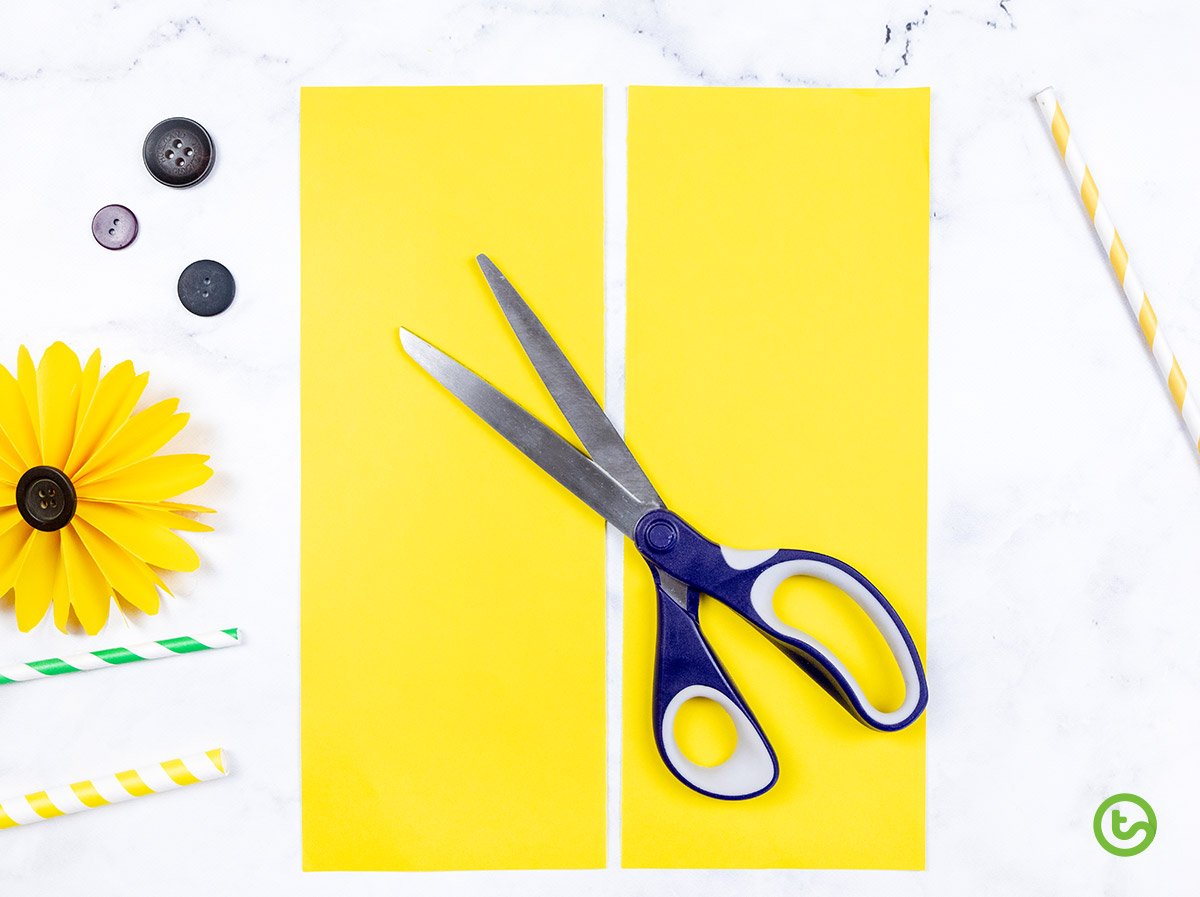 Step Two
Using one long rectangle of paper, create an accordion fold approximately 1cm in width.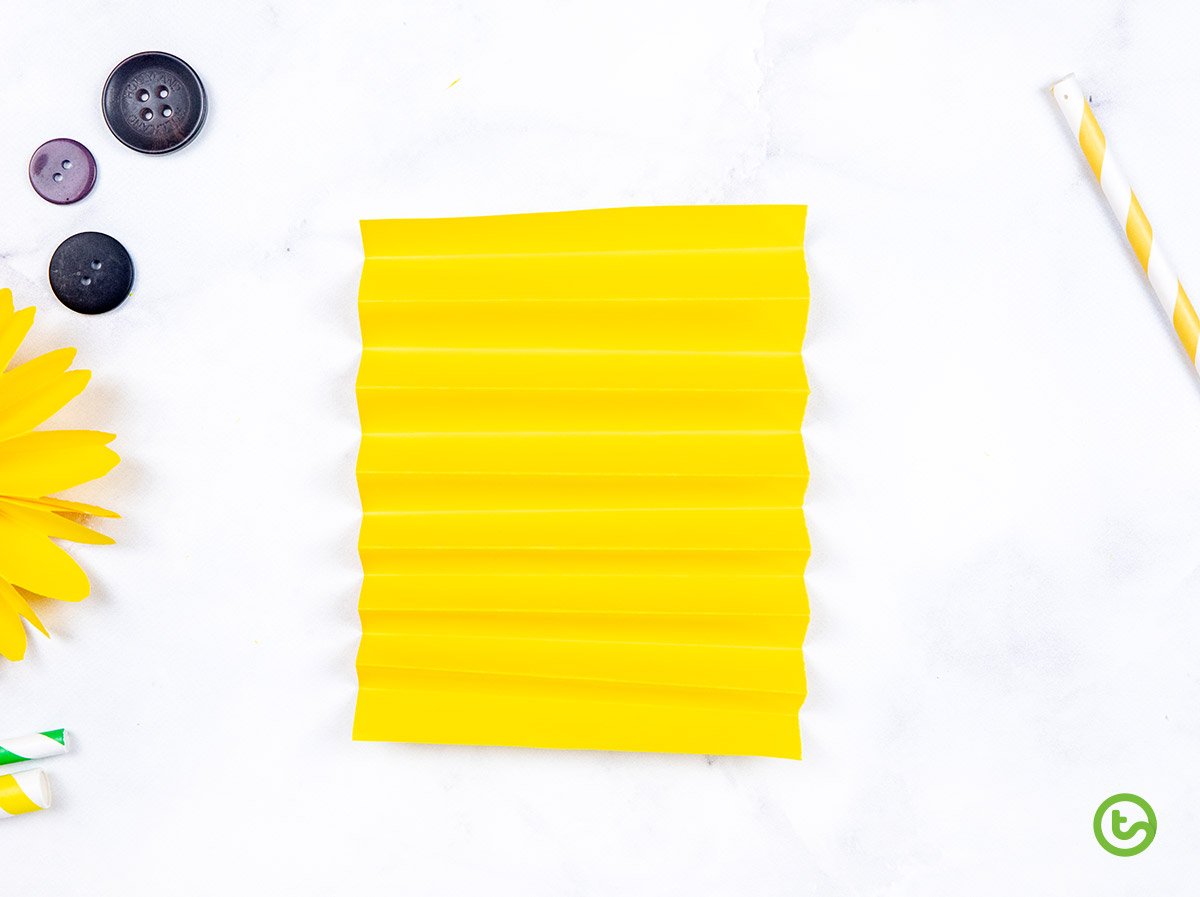 Teacher tip: Remember to demonstrate how to fold the paper in this way and let your students practice using a piece of scrap paper.
Step 3
With the paper in a folded position, cut both ends in a rounded, petal shape.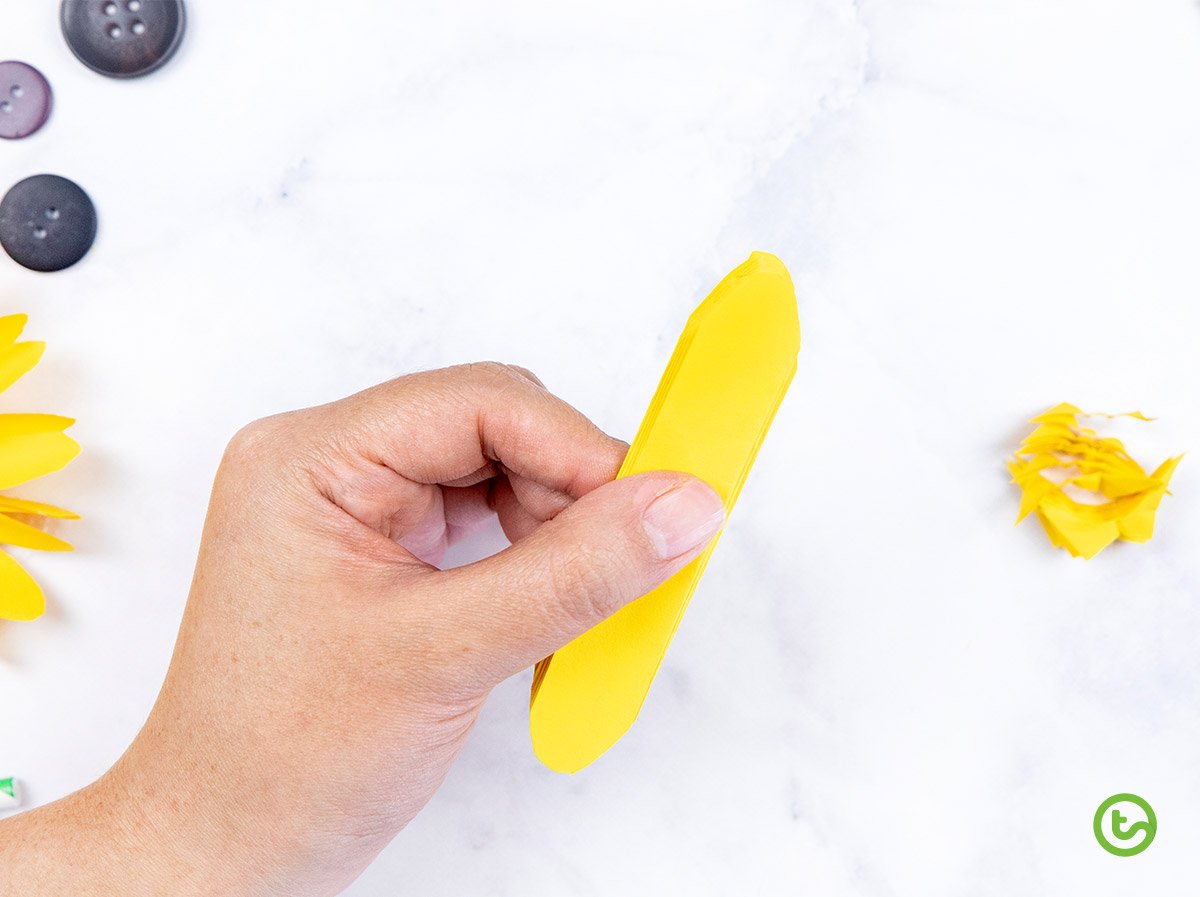 Teacher tip: Draw a curved cutting guide for your students to follow, or assign this tricky part to an adult helper.
Step Four
In the folded position, fold the paper again, along the horizontal midline (as shown in the photo).
Squeeze some hot glue along the inside edge where the paper was folded.

Teacher tip: Double-sided sticky tape is an easier and safer option. However, it may not provide a lasting adhesive effect.
Step Five
Open up the flower as shown in the photo.
Glue and stick the remaining inside edge.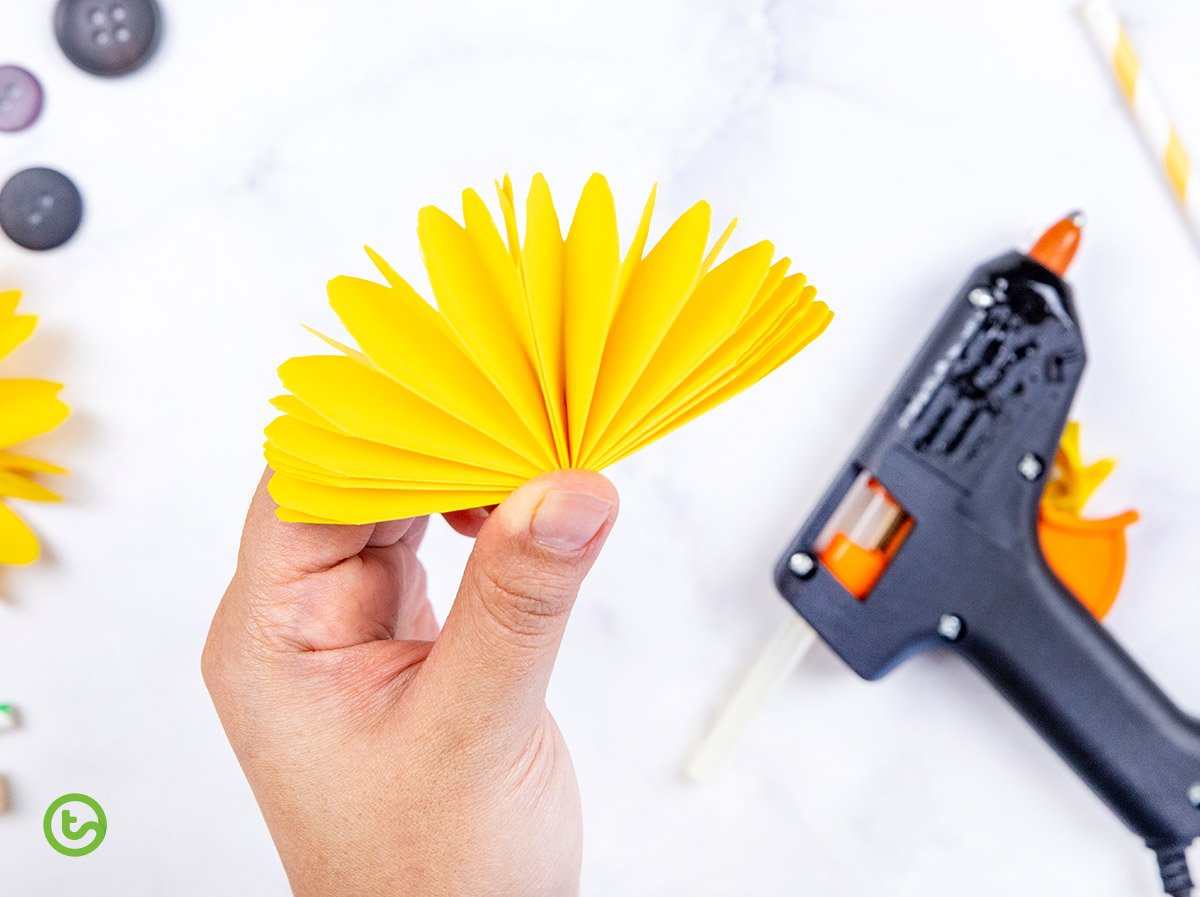 Teacher tip: Assign this sticky job to an adult helper.
Step Six
Attach the button to the middle of the folded paper circle using a glue gun.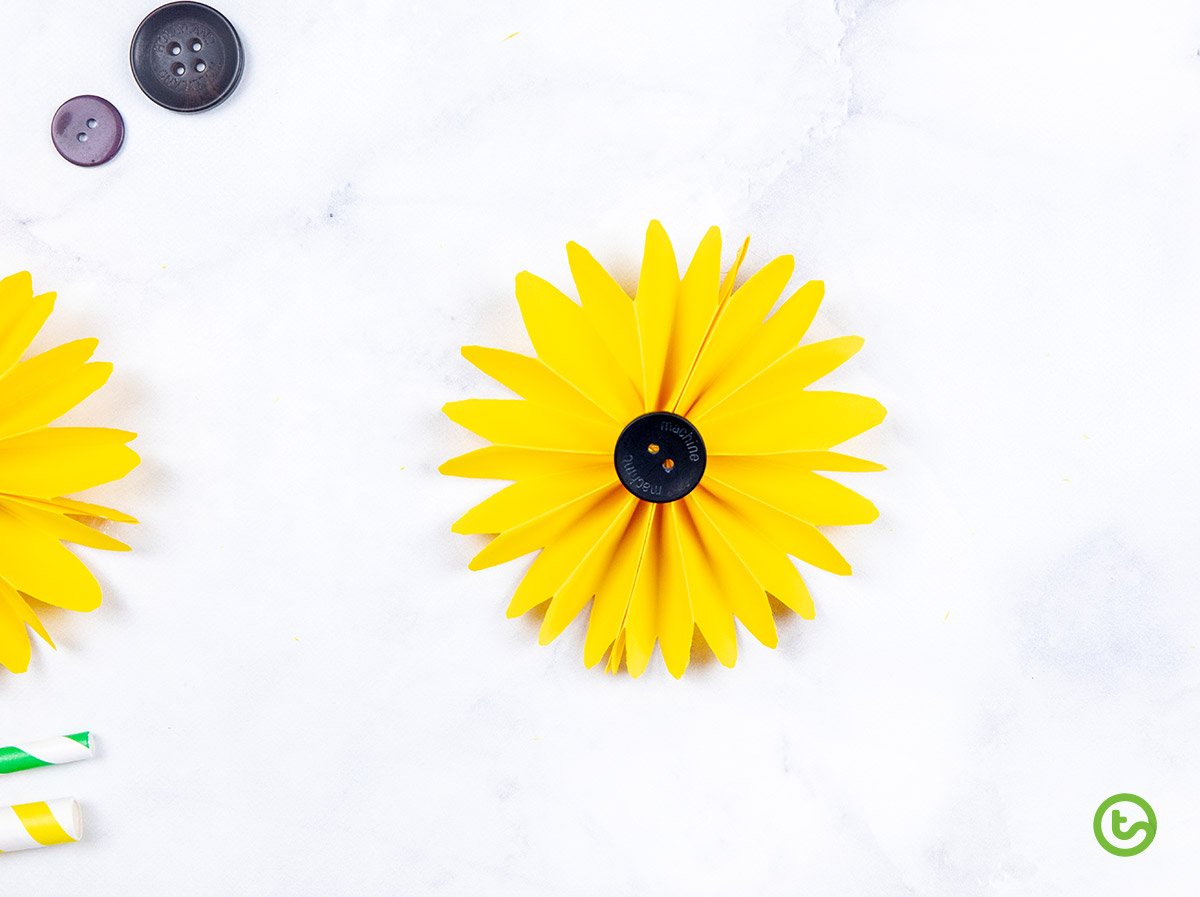 Teacher tip: If you can't get your hands on buttons, use black pom-poms instead.
Step Seven
Attach the paper straw to the back of the flower using the glue gun or double-sided sticky tape.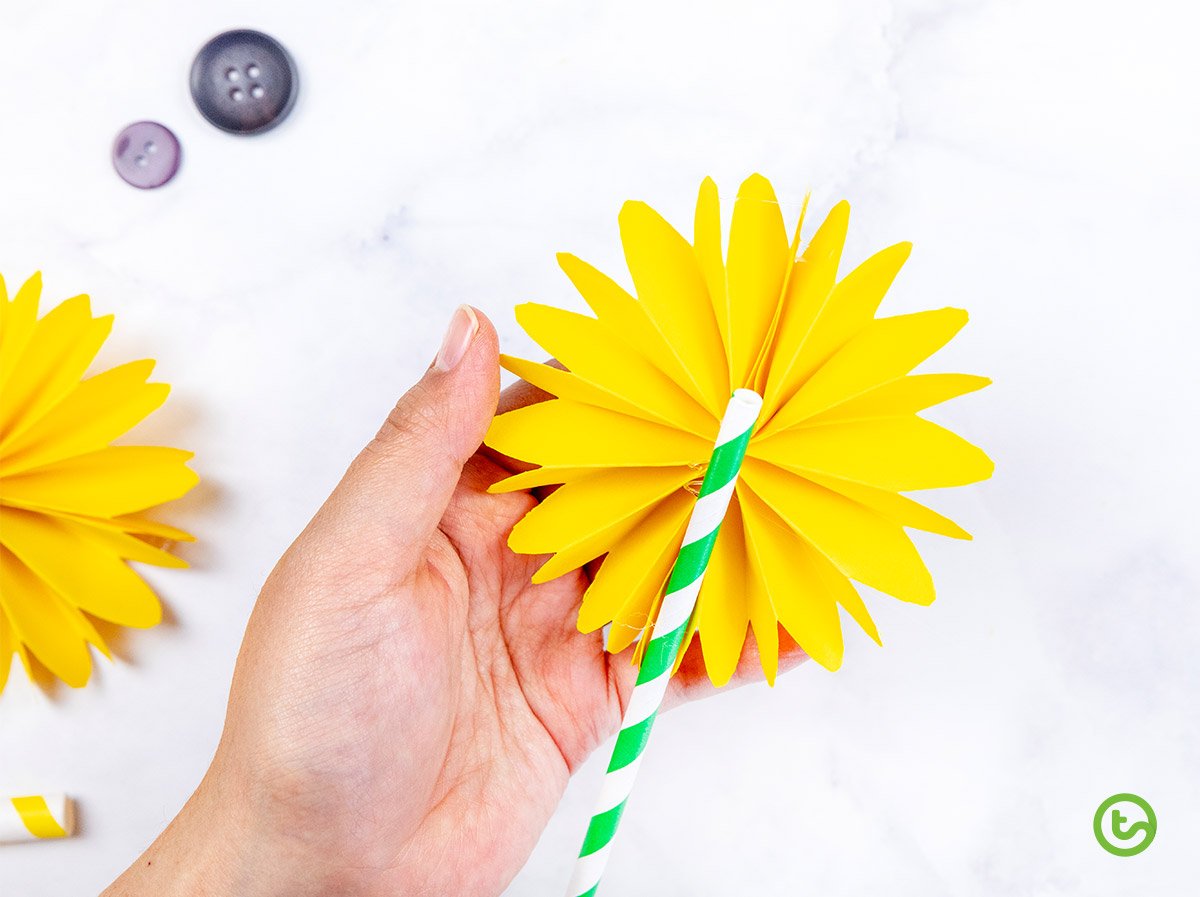 Teacher tip: in the interest of sustainability, avoid plastic straws if you can.
Step Eight
Enjoy and feel good.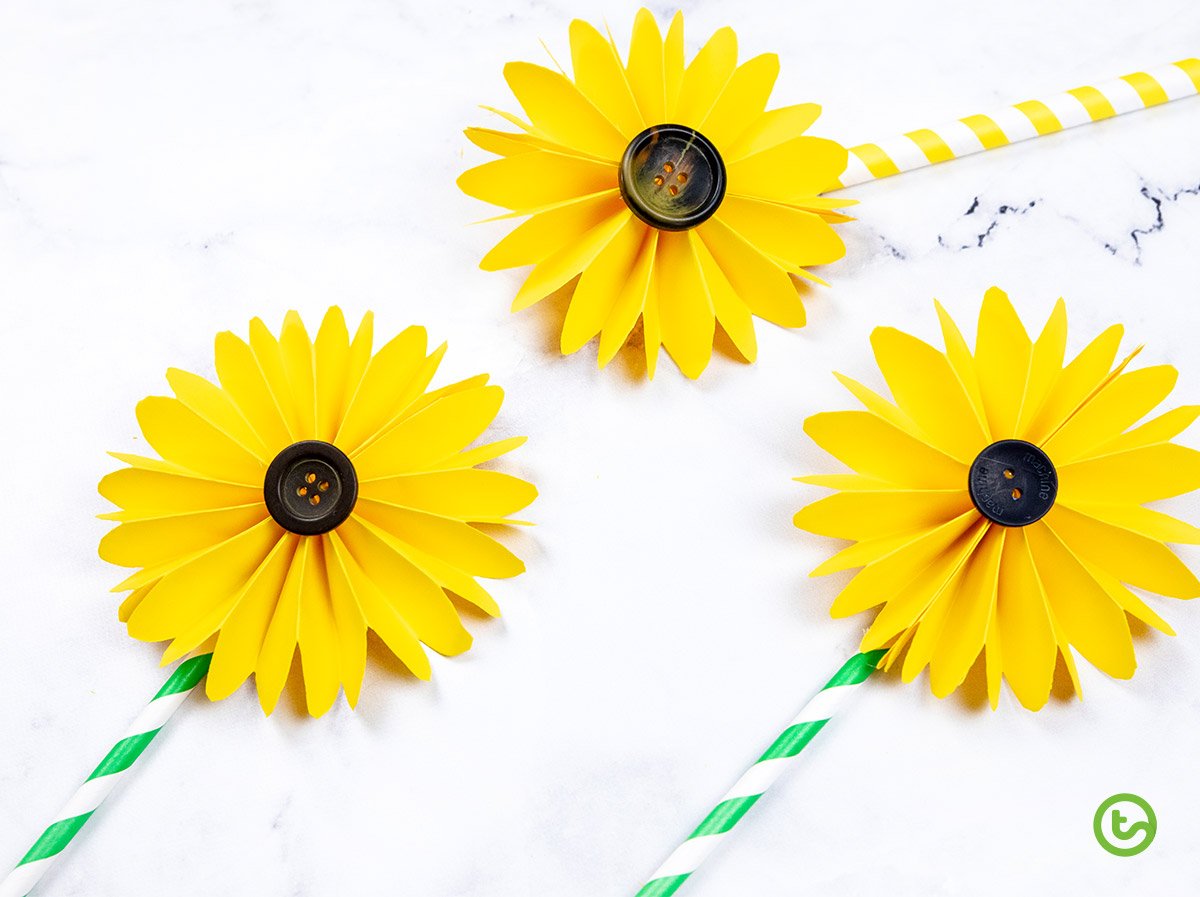 Teacher tip: If your student's desks are arranged in groups, place a vase in the middle of each table to display these cheerful paper craft sunflowers.
---
Go Sunflower Crazy!
There's no denying that sunflowers are feel good friends! So, why not use this craft activity in conjunction with our Sunflowers Classroom Theme Pack? 
With this classroom theme pack you'll get student rewards, student labels, classroom group charts, a teaching PowerPoint templates, and more – saving you time and keeping your classroom looking amazing!
For more info read my blog Sunflowers Classroom Theme Pack | a Fresh Start.
Inspire your tribe and share photos of your sunflowers classroom! #teachstarterus