Fire Safety Month is on the horizon, and teachers from all 50 states are getting their lessons on fire safety for kids ready for their classrooms. Are you still trying to figure out what to add? We have you covered!
All students should know the basics of fire safety to keep themselves, their peers and their families safe. So, how can you teach such important life lessons to children? Fortunately, the team of teachers at Teach Starter pulled together this guide to help you help your students keep a cool head if they face any potential fire-based emergencies.
Read on to find out what Fire Safety Month is, when it is and get some ideas for activities you can add to your lesson plans.
What Is Fire Safety Month?
We can't jump right into Fire Safety Month planning without first addressing Fire Prevention Week, which is always observed the week of October 9. The National Fire Protection Association (NFPA) founded Fire Safety Week in 1922 to commemorate the Great Chicago Fire of 1871.
The National Fire Protection Association expanded its efforts after the observance of Fire Prevention Week to include all of October as a time to focus on fire safety and prevention. Schools and fire departments across the country use this time to educate young people about:
Home Fire Escape Plans
School Fire Drills
Sounds of Fire Safety
Preventing Forest Fires
Stop, Drop and Roll
Fire Safety in the Kitchen
Fire Safety Equipment
and much more!
The NFPA declares a new theme each year, and the theme for 2023 is "Cooking Safety Starts With YOU. Pay Attention to Fire Prevention." Did you know the leading cause of home fires and injuries is unattended cooking and preventable cooking fires? We know most students aren't in a kitchen setting within the classroom, but it's never too early for them to gain valuable knowledge to bring home.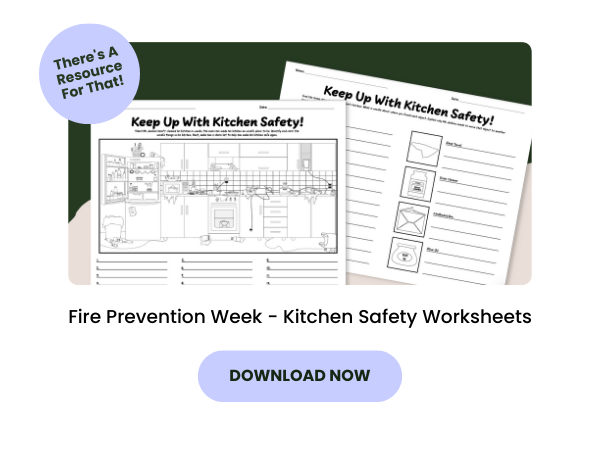 When Is Fire Safety Month?
You may associate October with pumpkin spice dashed with goblins and ghouls, but it's also when fall temperatures grow colder outside and accidental fires increase inside.
The National Fire Protection Association helped officially make October Fire Safety Month or Fire Prevention Month, and it's still celebrated that way each year.
Why Is Fire Safety Important?
It may seem obvious — of course, fire safety is important. But why are we talking about taking time out of your busy school day to break down fire safety to kids?
Unfortunately, our students are at heightened risk in home fires, with 488 kids ages 14 and under killed each year in a fire at home and another 116,600 children injured from a fire/burn-related incident. When fire safety activities are introduced to kids at a young age, it sets them up to be confident and clear thinking in case of an emergency.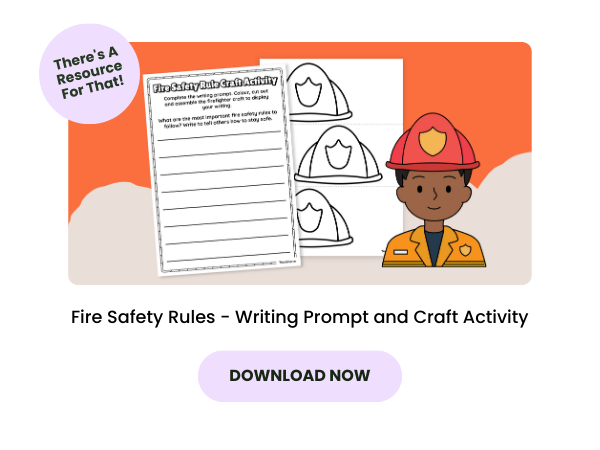 Fun Ideas to Teach Fire Safety For Kids
Whether you're prepping for Fire Prevention Week, discussing national disasters in the classroom or going over who the community helpers in the community are in social studies, there are plenty of opportunities to talk about fire safety for kids in your classroom.
Explore this list of ideas for activities that can be done with kids from pre-K all the way up through 6th grade. Pick the ones that are appropriate for the grade level (or levels!) you're teaching this year.
Explore Descriptive Adjectives With Firefighters
Are your early elementary students learning about descriptive words? You can bring Fire Safety Month into the lessons with this themed activity idea: Expand their writing skills and build vocabulary with a class brainstorm about adjectives that apply to firefighters! Are these important community members brave? Strong? Tough?
Build an anchor chart with your class that covers words that do and do not describe firefighters in your community.
Incorporate Fire Safety into Your Math Activities
Give your math lessons a fire theme this October with some of these fun activities and challenges:
Have students calculate how many fire detectors are needed in their home (based on guidelines that you have at least one per level, including the basement).
Print out these Fire Safety Counting Clip Cards for students to identify fire safety equipment and practice their counting skills.
With different lengths of string or pipe cleaners as your "hoses," challenge students to measure the distance between a fireman and a fire and what hose length they need.
Have each student create a dalmation (or Sparky) and total the number of dots they include on their dog string puppet.
Use number lines to represent fire ladders in your lessons: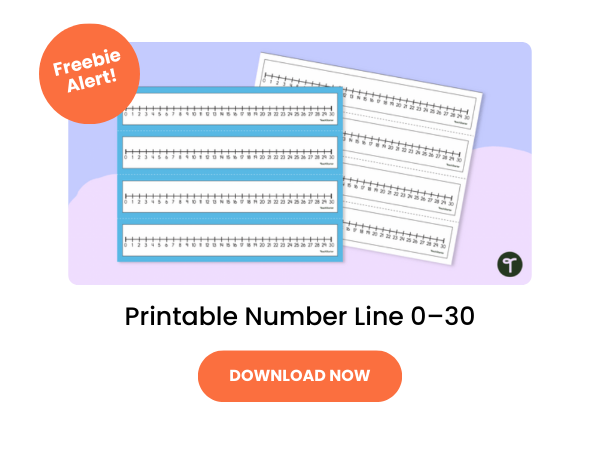 Conduct Simple Fire Safety Science Experiments
Wondering what can you do with your upper elementary science students to create a real-world fire safety experience that is educational yet safe? Try this simple and effective experiment with your class using only a tea light and a glass jar.
Experiment Instructions:
Place a tealight on a flat surface (with the kids standing back, of course) and light it.
Place your glass jar over the candle, and see how long it takes for the flame to go out.
This demonstration shows that fire needs oxygen to survive and spread. When it runs out of oxygen, it cannot continue burning, which is why it's extinguished.
Your students will learn about the behavior of fire in a controlled setting and gain an understanding of the concepts related to heat, combustion and the properties of matter, which you can tie directly to NGSS standards around structure and properties of matter.
Introduce Your Class to Smokey Bear
You can't teach fire safety to kids and NOT include Smokey Bear somehow! Smokey has been around since 1944, informing the public about fire safety and prevention while camping and exploring the outdoors. Since 1947, his famous slogan, "Only you can prevent forest fires" has been an easy-to-remember reminder that everyone has the responsibility to protect the forest.
Speaking of campfires, get out those wooden building blocks for a campfire building simulation. Each building block will represent your logs and paired with crumpled newspaper, you can demonstrate a teepee structural method of fire building while discussing how to make the ground safe for a campfire and what methods you should use to put it out safely.
Write Letters of Thanks to Local Firefighters
Practice letter-writing with your class by making thank you cards that you can package up and send to the firehouse in your community. This offers a great opportunity to talk to kids about how to address a letter when you don't know the person you're writing to. Are your students learning cursive? They can practice signing their "grown up" signatures!
If your students are new to letter writing, you can provide a scaffold for the body of the letter with suggestions like:
Write at least three reasons you are thankful for the work that firefighters do in our community.
Write at least two reasons you think that firefighters make our community a safer place to live.
You can even use this ready-made You Are a Hero greeting card and letter template. Collect all the templates once your students have written their letters and colored them in, and send them to your local fire department!
Get Parents and Guardians Involved
Fire safety is something you The American Red Cross has some excellent tips to ensure fire safety at home, including an interactive game on their page called Pedro's Fire Safety Challenge which can be enabled on Alexa and Google Assistant and is perfect for families with younger kids (ages 4 to 8).
Pedro the penguin guides children through topics such as:
Home fire safety
Coping skills
Other stressful situations
At the end of the challenge, students can earn a fire safety badge! Encourage the expansion of fire safety for kids at home by including the challenge in your next newsletter home to parents and guardians.
Create Family Escape Plans
While we're on the topic of getting parents involved in fire safety education, creating escape plans in case of a fire is a must — and it's something your students can inspire their parents to do with them.
Students may learn how to safely exit their school during fire drills and Fire Safety Prevention Week, but do they know what to do if there's a fire at home? Some students may have discussed this important exit plan at home, but chances are, many have not. The Red Cross estimates that only 26 percent of families have these important plans set up.
Before going home to discuss with their families, break your students into small groups to map out their own homes and design their own fire escape plans. They can do this by drawing a floor plan on a blank sheet of paper and explaining their plan to other members of their group.
This fire escape planning template is the perfect resource to encourage your students to start a conversation with their parents and families at home. The template requires students to draw a map of their exit route and family meeting point.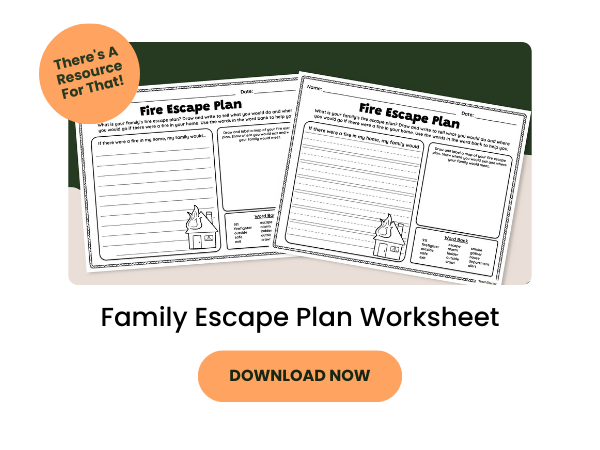 Want to encourage your students to complete this activity with family?
Try this fun idea from Randi Smith, a member of our teacher team: "We did a big competition and prize raffle (it was a free fire extinguisher from the local fire department) for any student who brought in a completed fire safety escape plan that they completed with their parents."
You can also dive into persuasive letter writing with your students and have them write a persuasive letter to parents asking them to implement a family safety plan. This exercise will allow your kids to recall fire safety practices they've learned and how to put in a greeting and sign off.
Create Fire Prevention Week Posters
Need a quick fire safety month bulletin board idea? Have your students help you and teach them about fire safety simultaneously!
Simply print out our Poster Template in black and white or color, hand it out to your students and discuss it as a class or encourage independent writing. Your students will be able to write and tell about: how to prevent fires, what to do if their clothing catches fire, what to do if there is a house fire and who to call in case of an emergency.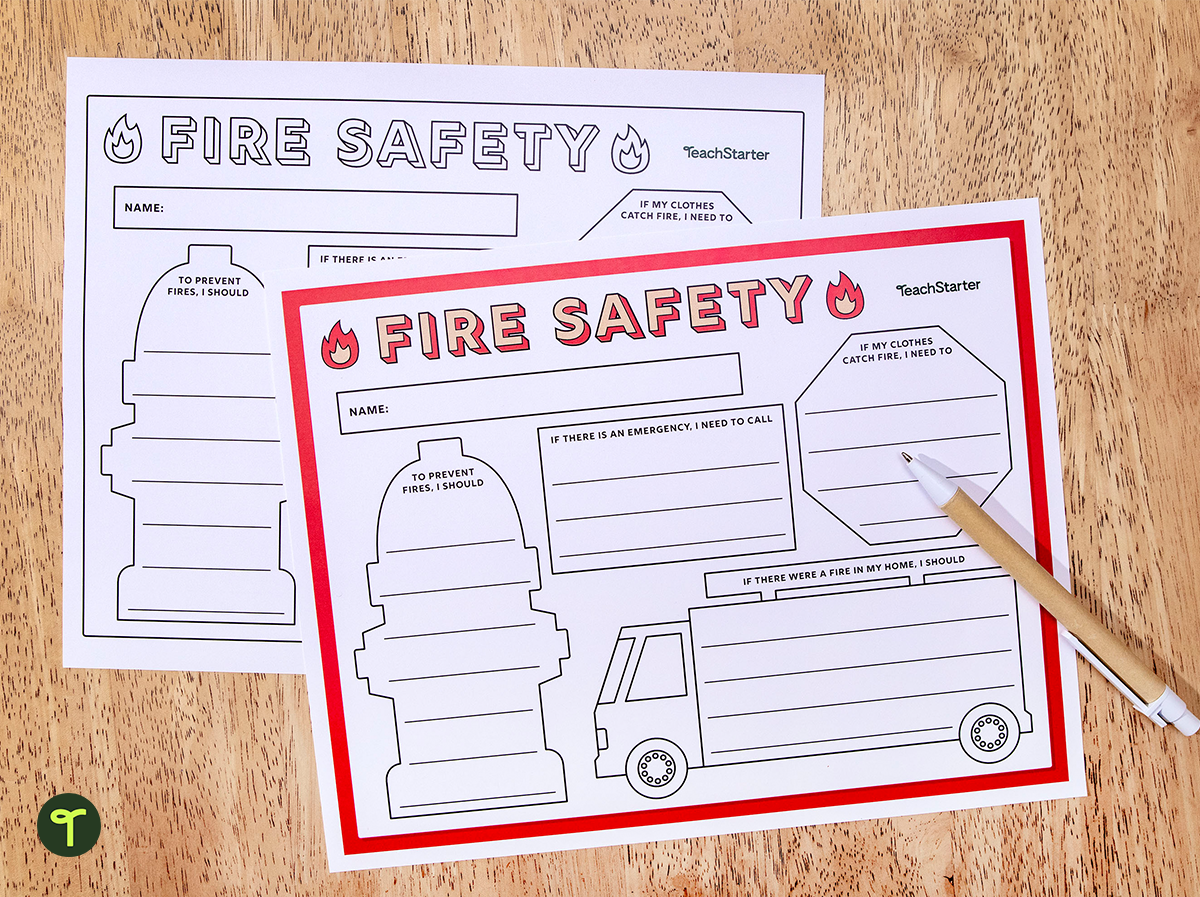 Discuss When to Call 911 (And When Not To!)
Learning to call emergency services is a vital part of fire safety for kids, but non-emergency calls to 911 can be dangerous. If you're learning about community helpers this year, discuss which type of community helpers can be reached by calling 911 and when it's not OK to call 911 for help.
Practice Stop, Drop and Roll
Stop, drop and roll is a golden rule of fire safety, and it's one that's well demonstrated in the cartoon below.
After viewing, ask for a volunteer and have them demonstrate the stop, drop and roll method to emphasize what they just learned.
Build Fire Safety Mini Books
Create mini lessons on fire safety in mini Fire Safety Books! Chances are, many students haven't seriously thought about how they should react in an emergency situation involving fire. These books will help them to consider the do's and don'ts such as calling 911, exiting the building quickly, and reuniting with their family or class at a designated meeting spot. To use, simply print our downloadable pages and have your students cut, assemble and complete with a stapler.
Students can keep their mini books close at hand in their backpacks, desks, or at home.
Complete a Fire Safety Search and Find
Combine coloring with fire safety, and you have a creative and educational activity!
Print out our Fire Safety Search and Find in black and white and have your students color in the elements. At the bottom of their sheet, they'll tally how many fire safety icons they can find on the page. (This resource is also available in color.) Slip these into a dry erase sleeve or laminate to reuse each year!
You can also pull up this search and find on your Smart Board and have the class work together to find all the items, or split your class into groups and make it into a competition.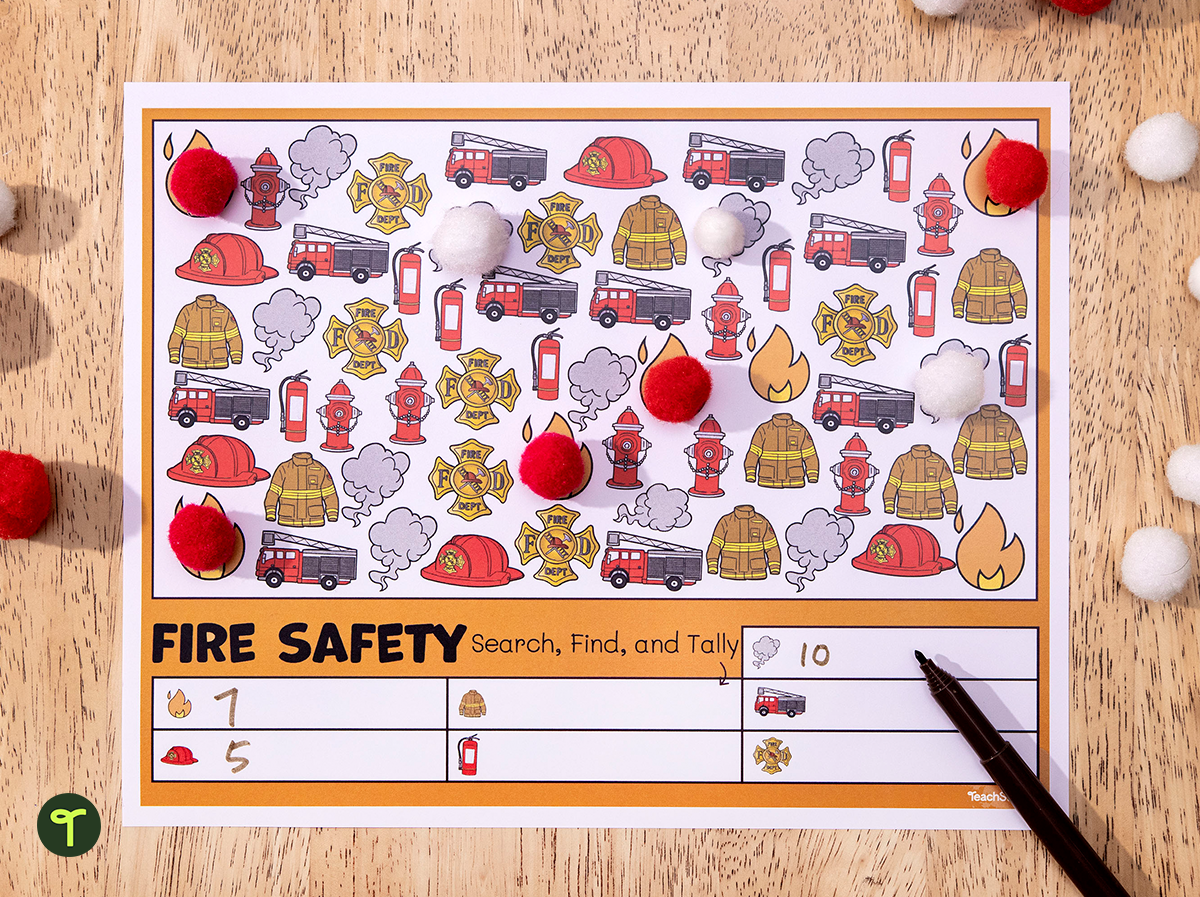 Pull Out the Fire Safety Sorting Activity
To summarize Fire Safety Week, provide your students with this sorting activity. Young learners will cut out and sort each picture/word card into two columns: Things to Do in Case of Fire and Things Not to Do In Case of Fire. Some safety rules included are: Call 911, Crawl Out of the House, and Wait for Help to Arrive.
Use this activity as an individual project to discuss once everyone is finished or complete as a class.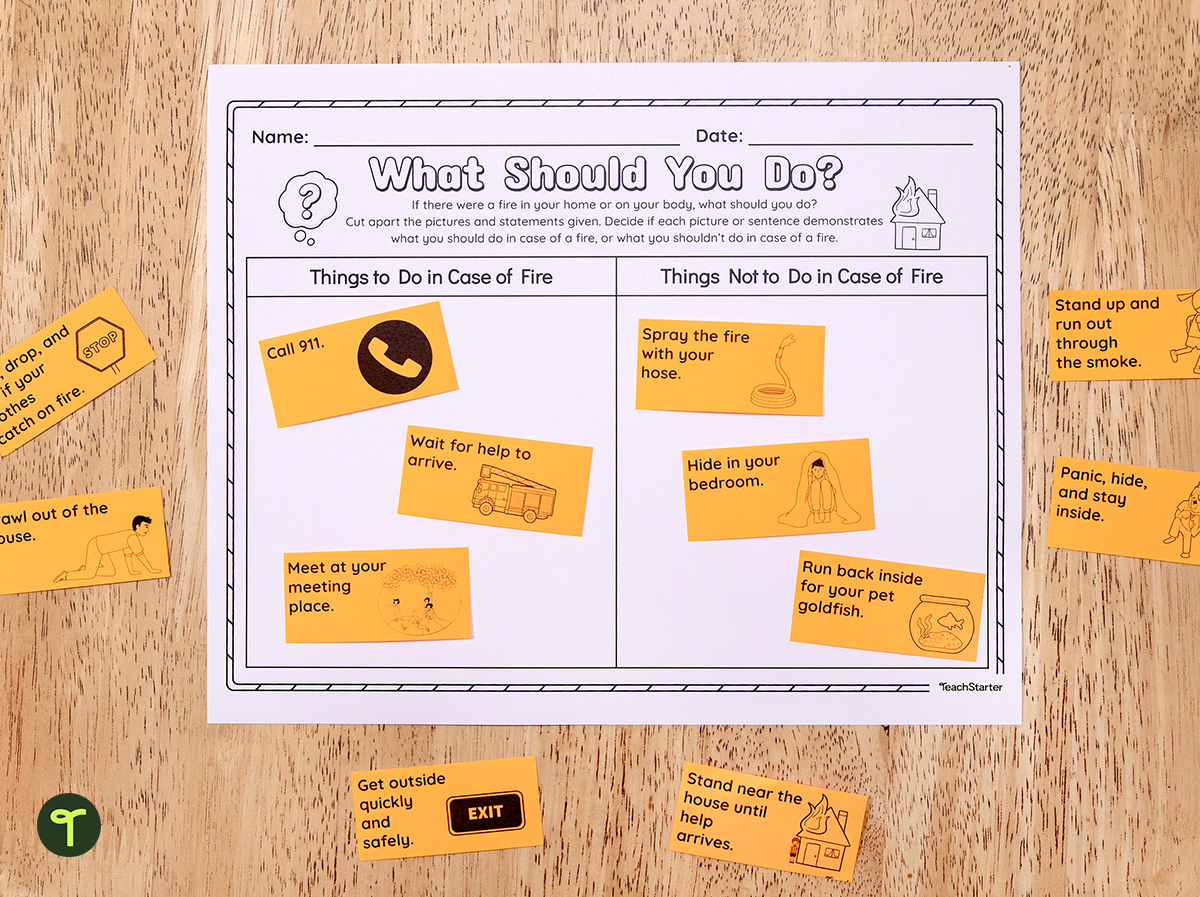 Want more activity ideas for Fire Prevention Week?
Get more ideas and printable resources in our Fire Prevention Week Collection!
Banner image via Shutterstock/Littlekidmoment