Fire Safety Month is on the horizon and teachers from all 50 states will be implementing lessons on fire safety for kids in the classroom. All students should know the basics of fire safety to keep themselves, their peers, and their families safe.
So how can you teach such important life lessons to children? Fortunately, you have the team of teachers at Teach Starter behind you with many engaging activities and lessons to spark not only knowledge but confidence as well.
Why Is Fire Safety Important?
It may seem obvious — of course fire safety is important. But why are we talking about taking time out of your busy school day to break down fire safety to kids? Unfortunately, our students are at heightened risk in home fires with 488 kids ages 14 and under killed each year in a fire at the home and another 116,600 children injured from a fire/burn-related incident. When fire safety activities are introduced to kids at a young age, it sets them up for confidence and clear thinking in case of an emergency.
Ideas For Fire Safety For Kids
Whether you're prepping for Fire Prevention Week, talking about national disasters in the classroom, or going over community helpers in social studies, there are plenty of opportunities to talk about fire safety for kids in your classroom.
Explore Descriptive Adjectives With Firefighters
Are your students learning about descriptive words? Expand their writing skills and build vocabulary with a class brainstorm about adjectives that apply to firefighters!
Are these important community members brave? Strong? Tough? Build an anchor chart with your class that covers words that do and do not describe firefighters.
Introduce Your Class to Smokey Bear
You can't teach fire safety for kids and NOT include Smokey Bear somehow! Smokey has been around since 1944 informing the public about fire safety and prevention while camping and exploring the outdoors. Since 1947, his famous slogan, "Only you can prevent forest fires" has been an easy-to-remember reminder that everyone has the responsibility to protect the forest.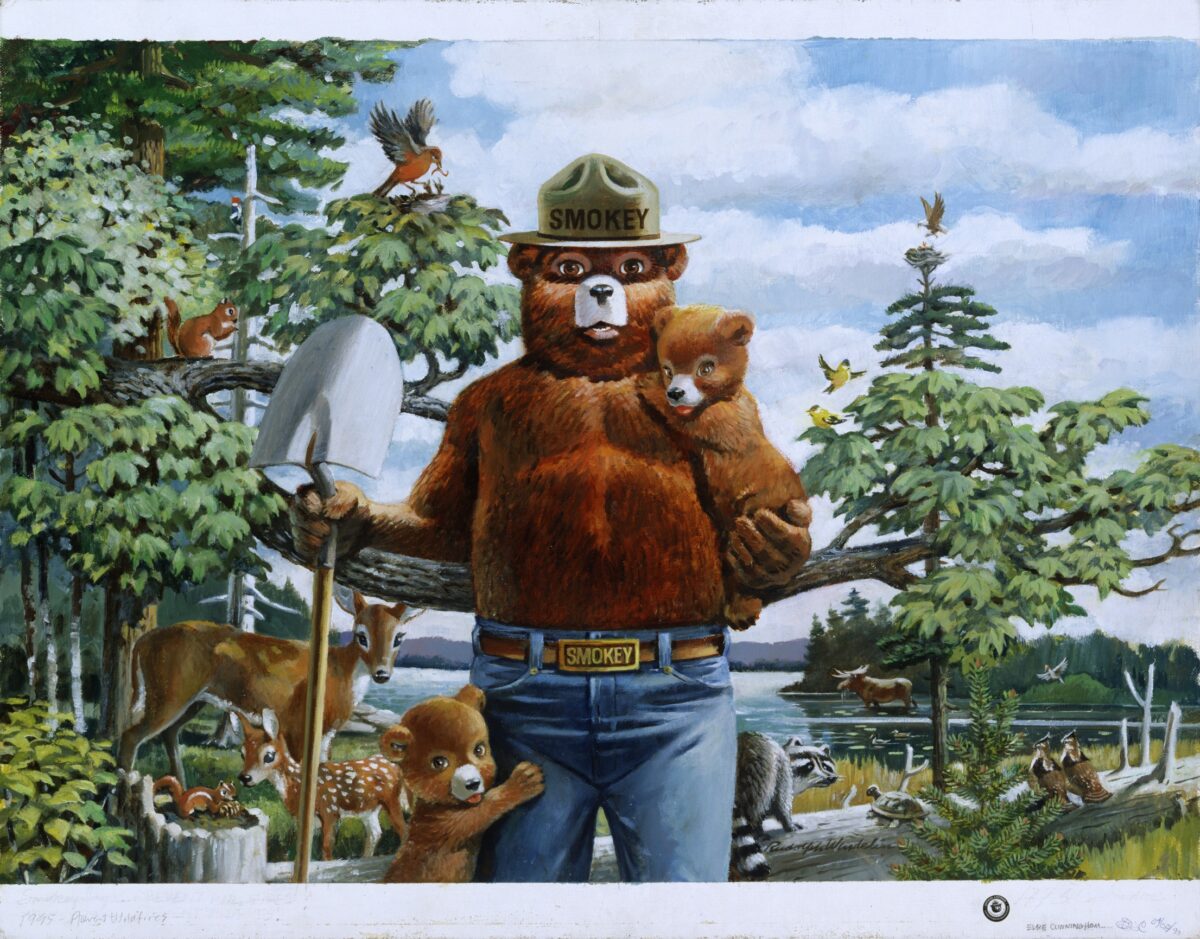 Photo courtesy of the National Agricultural Library
Fire Prevention Week Poster Template
Need a quick fire safety month bulletin board idea? Have your students help you and teach them about fire safety simultaneously!
Simply print out our Poster Template in black and white or color, hand out to your students, and discuss as a class or encourage independent writing. Your students will be able to write and tell about: how to prevent fires, what to do if their clothing catches fire, what to do if there is a house fire and who to call in case of an emergency.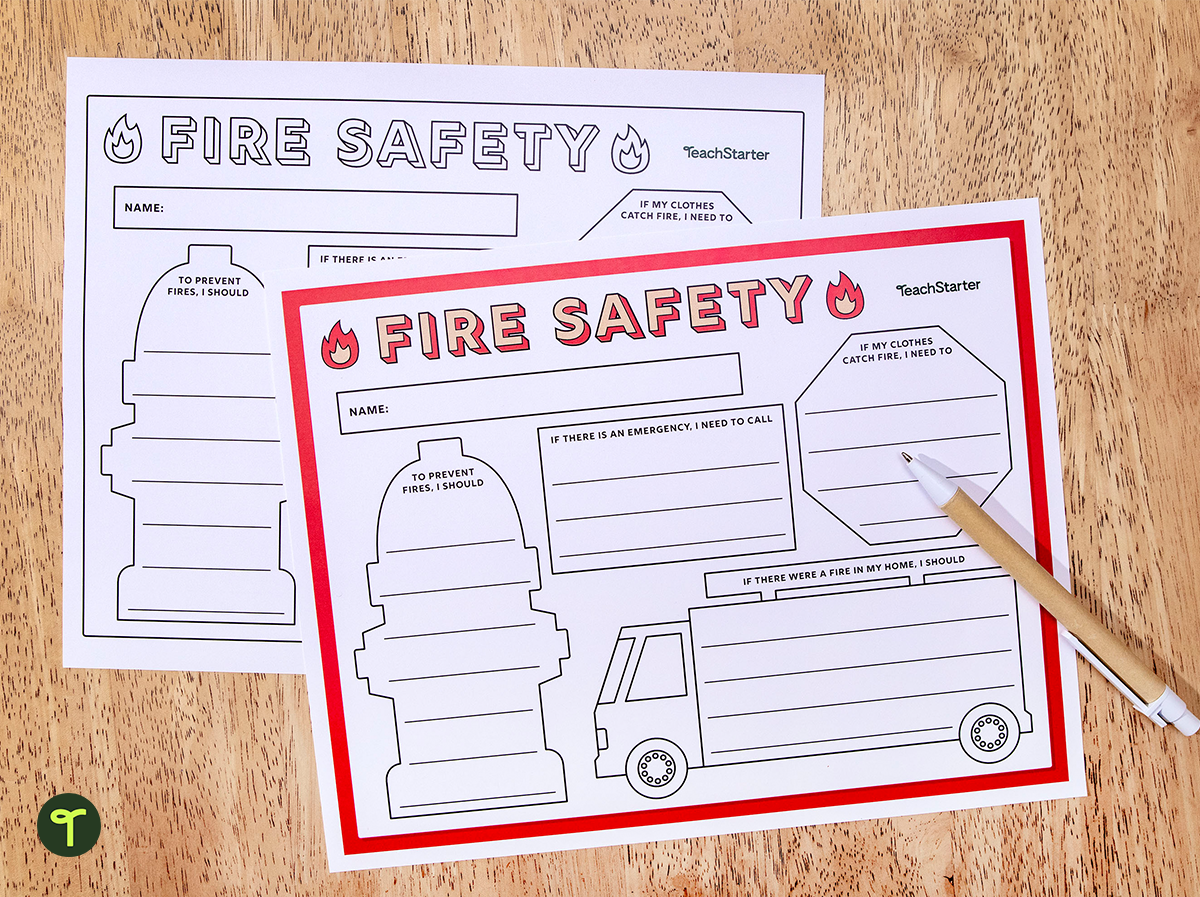 Pedro's Fire Safety Challenge
The American Red Cross has some excellent tips to ensure fire safety at home and include an interactive game on their page called Pedro's Fire Safety Challenge. Encourage the expansion of fire safety for kids at home by informing your students' parents of this challenge which can be enabled on Alexa and Google Assistant.
Pedro the penguin guides children through topics such as:
home fire safety
coping skills
other stressful situations
At the end of the challenge, students can earn a fire safety badge!
Create Family Escape Plans
Students may learn how to safely exit their school during fire drills and Fire Safety Prevention Week, but do they know what to do if there's a fire at home? Some students may have discussed this important exit plan at home, but chances are, many have not. In fact, only 26 percent of families have these important plans set up.
Our fire escape planning template is the perfect resource to encourage your students to start a conversation with their parents and families at home. This template requires students to draw a map of their exit route and family meeting point. Want to make sure your students complete this activity with family? Assign it as homework and/or have a family member sign the sheet that it's been discussed at home.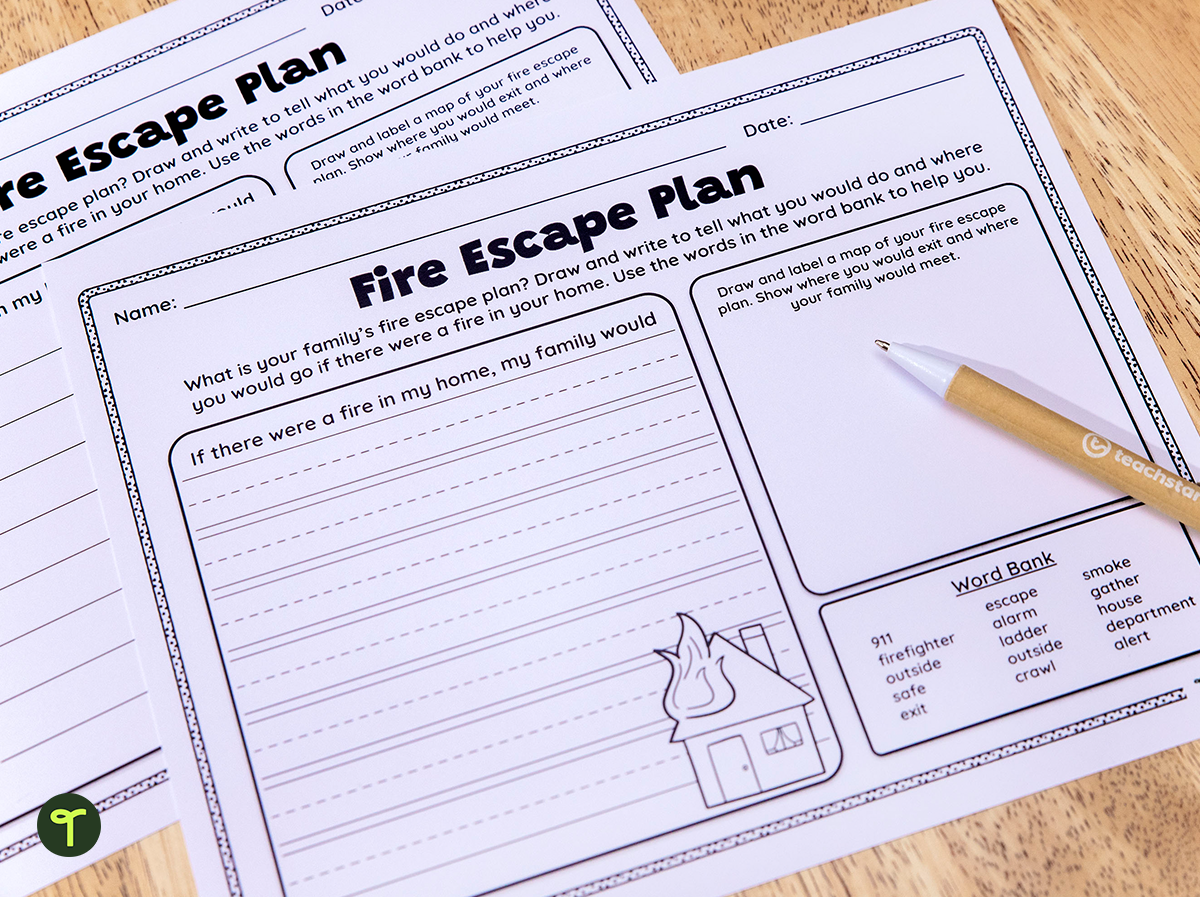 Fire Safety Vocabulary Cards
Encourage your students to write with our Fire Safety vocabulary cards. Display them on a bulletin board as a word wall, select a few words as story starters, or you can challenge your students to a group discussion using as many fire safety vocabulary words as possible. Each rectangular card is easy to cut out and includes a decorative border. You can even laminate each one and use these on an annual basis.
Discuss When to Call 911 (And When Not To!)
Learning to call emergency services is a vital part of fire safety for kids, but non-emergency calls to 911 can be dangerous. If you're learning about community helpers this year, discuss which type of community helpers can be reached by calling 911 and when it's not OK to call 911 for help.
Fire Safety Mini Book
Create mini lessons on fire safety in mini Fire Safety Books! Chances are, many students haven't seriously thought about how they should react in an emergency situation involving fire. These books will help them to consider the do's and don'ts such as calling 911, exiting the building quickly, and reuniting with their family or class at a designated meeting spot. To use, simply print our downloadable pages and have your students cut, assemble and complete with a stapler.
Students can keep their mini books close at hand in their backpacks, desks, or at home.
Fire Safety Cartoon
Let's be real, we all loved watching a video from time to time in the classroom. Some students learn better by observation and fire safety for kids can be a tricky subject to demonstrate!
Share the golden fire safety rule: stop, drop, and roll. After viewing, ask for a volunteer and have them demonstrate the stop, drop, and roll method to emphasize what they just learned.
Fire Safety Search and Find
Combine coloring with fire safety, and you have both a creative and educational activity!
Print out our Fire Safety Search and Find in black and white and have your students color in the elements. At the bottom of their sheet, they'll tally how many fire safety icons they can find on the page. (This resource is also available in color.) Slip these into a dry-erase sleeve or laminate to reuse each year!
You can also pull up this search and find on your Smart Board and have the class work together to find all the items, or split your class into groups and make it into a competition.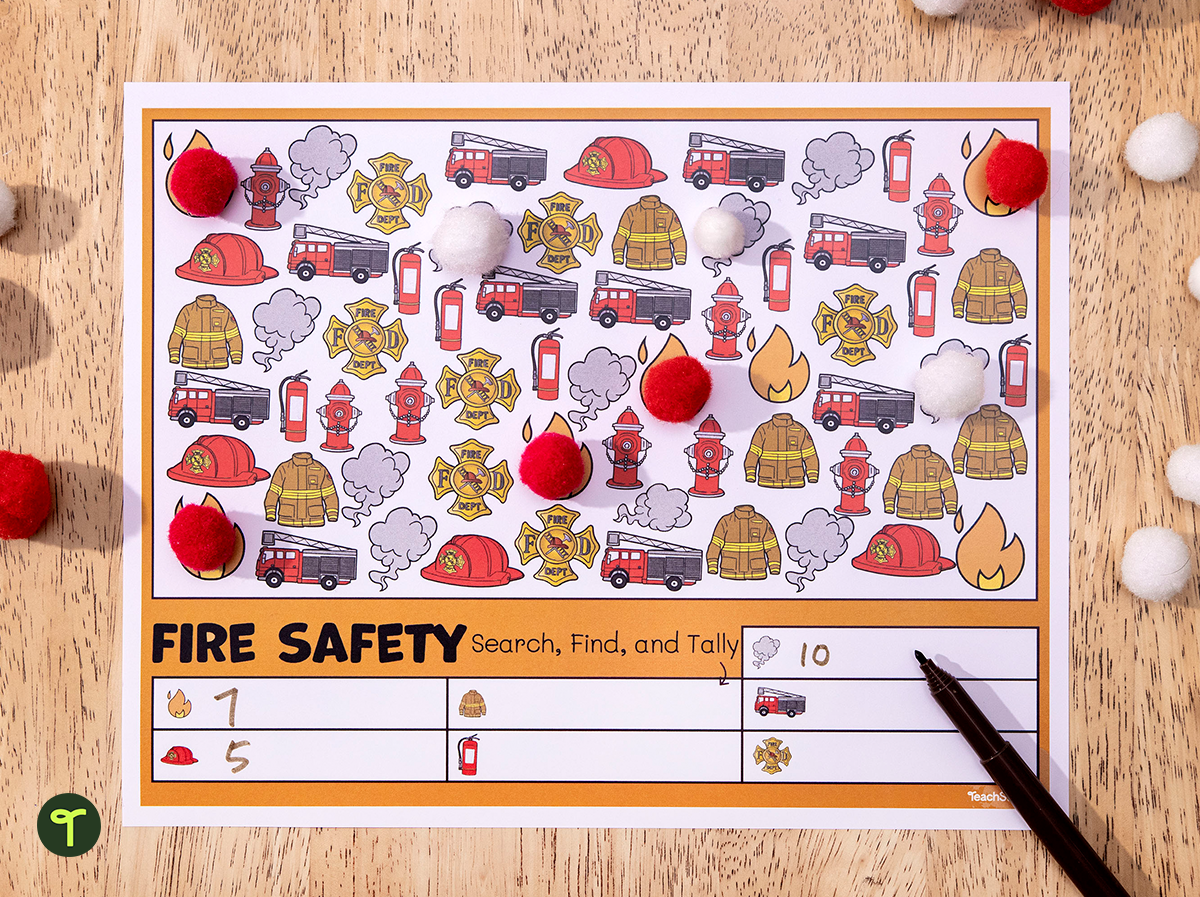 Fire Safety Bingo
Bingo needs no introduction, but our Fire Safety Bingo is a one-of-a-kind fire safety activity. Instead of reading the fire safety vocabulary words aloud, you'll describe the object such as, "makes loud noises to give warning of fire" and the students will come up with the answer and mark their card. The first student(s) to get four in a row wins!
This bingo activity works well as a brain break or a filler activity during Fire Safety Prevention Week!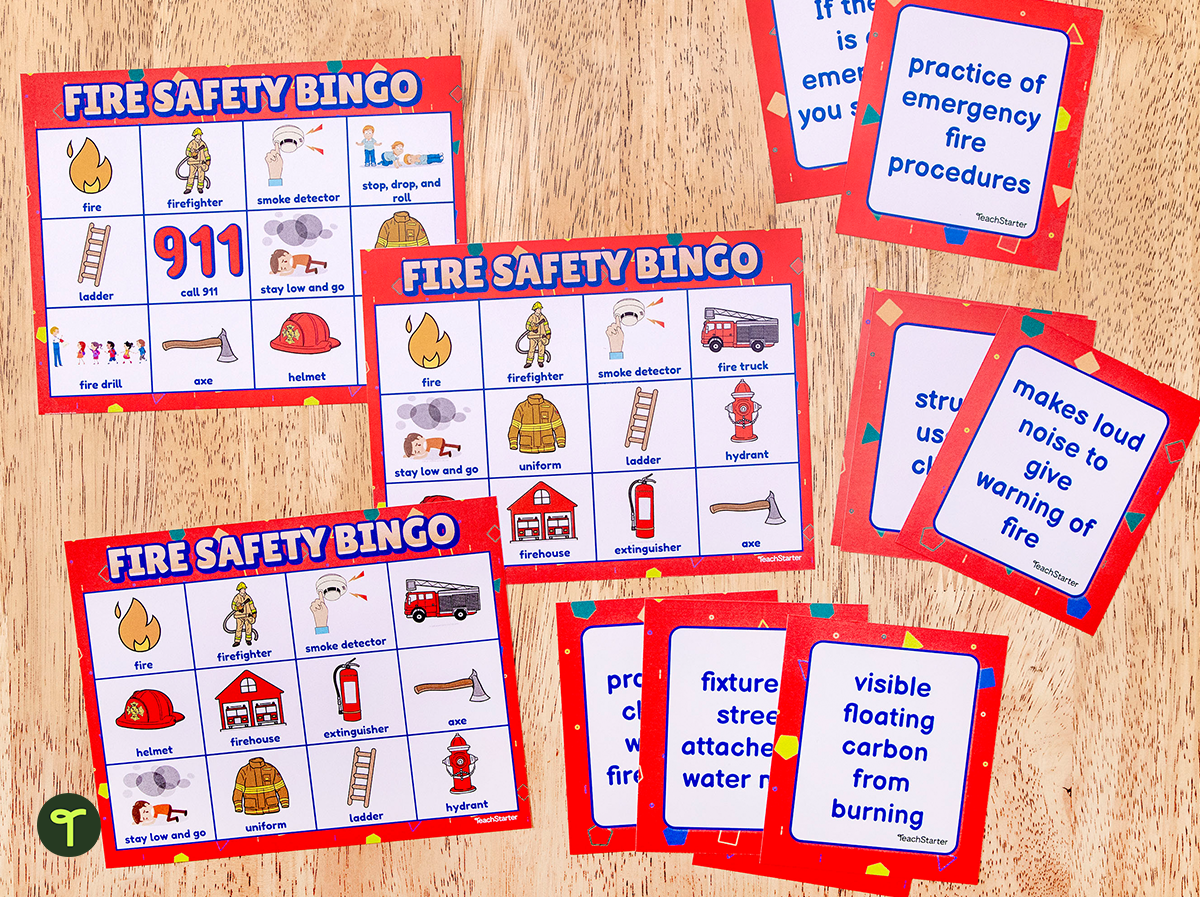 Fire Safety Sorting Activity
To summarize Fire Safety Week, provide your students with this sorting activity. Your young learners will cut out and sort each picture/word card into two columns: Things to Do in Case of Fire and Things Not to Do In Case of Fire. Some safety rules included are: Call 911, Crawl Out of the House, and Wait for Help to Arrive.
Use this activity as an individual project to discuss once everyone is finished or complete as a class.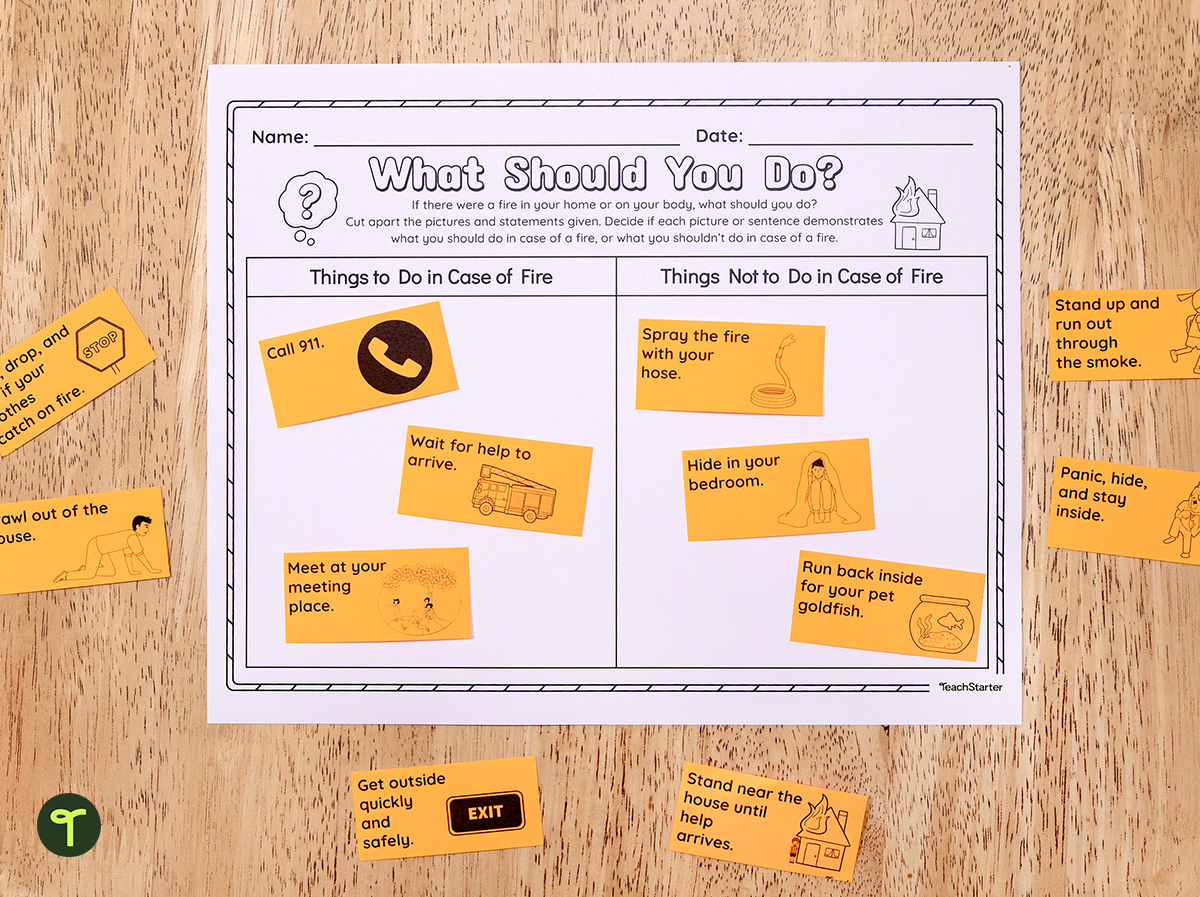 Want more activity ideas for Fire Prevention Week?
We've developed an entire Fire Prevention Week Collection for you to browse, download, and use in your classroom. Explore writing prompts, Thank You For Being Brave Letters, and much more! 
Banner image via Shutterstock/Littlekidmoment