Although Veterans Day, November 11, is a federal holiday that many teachers and students will spend out of school, there are plenty of Veterans Day activities you can do with kids beforehand! If you're not sure how to introduce Veterans Day to your young learners, we're here to give you a hand.
It's important for students to learn that Veterans Day is the one day we set aside here in the US to honor all the members of the armed services. Understanding the value of these community members is an important takeaway lesson as it helps students understand this isn't just a fun day off from school.
Veterans Day Activities for Kids
The teacher team at Teach Starter has worked hard to create meaningful resources you can use immediately for Veterans Day. Here are some of our favorite Veterans Day activities for kids:
Build a Veterans Day Bulletin Board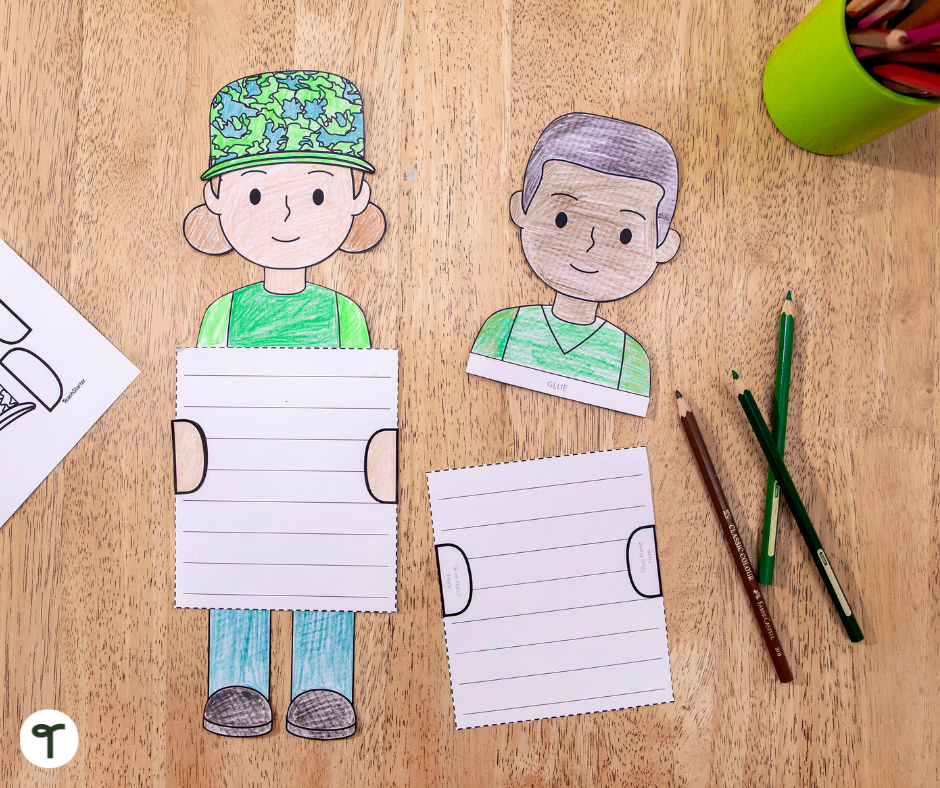 If your class bulletin board is in need of a refresh after Halloween, our Veterans Day Bulletin Board Display combines letter writing with a coloring activity. Have your students write a thank you note to a veteran and color the template. Once your bulletin board is complete, consider inviting community veterans to your classroom to share their experiences and explore the messages from the students.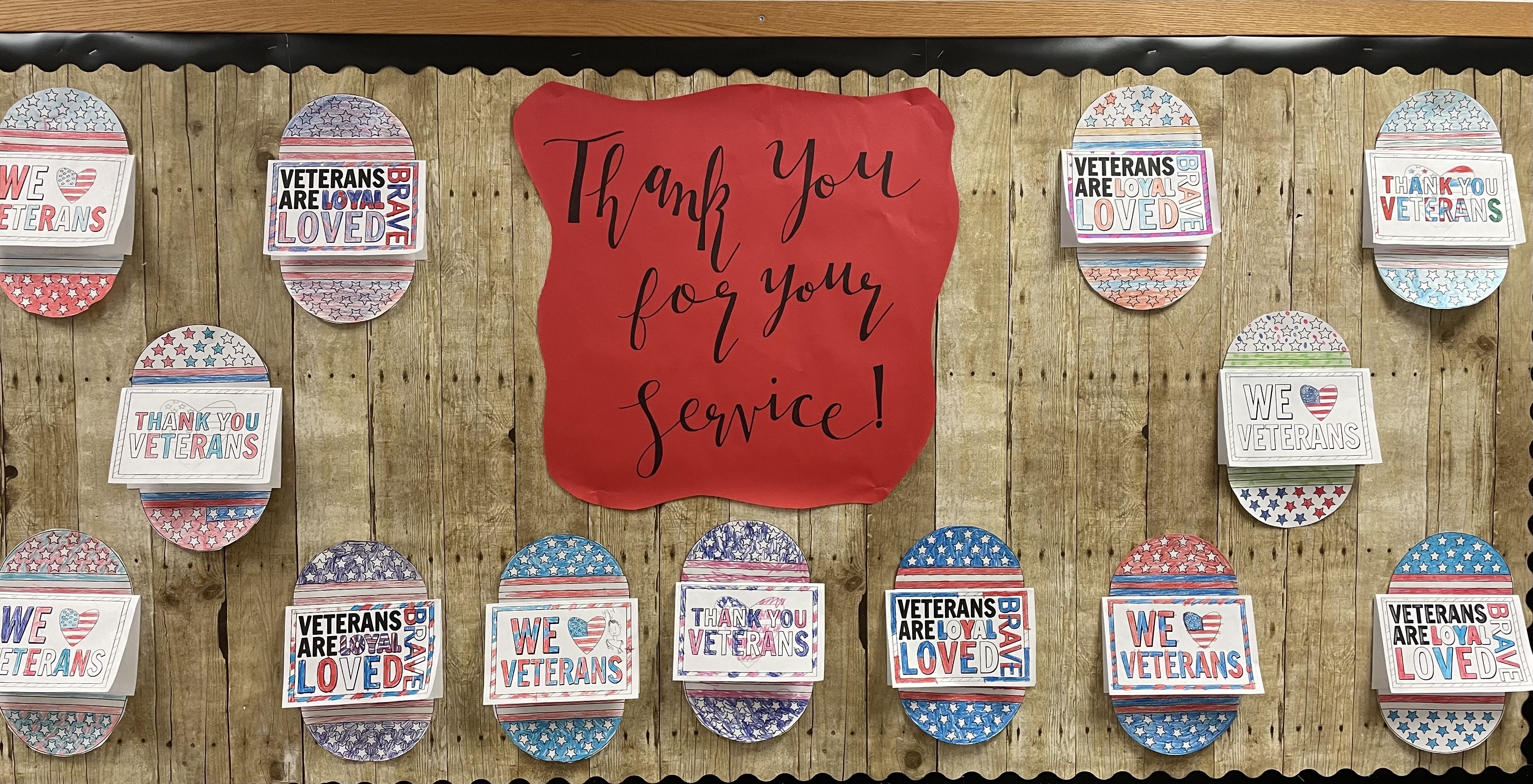 This teacher used our Veterans Day Thank You Cards to create a colorful classroom display!
Interview a Veteran
Students can practice their interview and research skills and also learn more about the nation's history by interviewing a veteran! Direct students to pick an interview subject (they can interview a veteran in their own family or perhaps you know a few who would be willing to work with your students?) and to do research on their subject, put together questions, and conduct an interview, taking notes with the answers they get.
To make it easier, we've put together a series of veteran interview prompts for kids to use, including "why did you join the military" and "which branch did you serve in."
Make Cards for Veterans
You don't have to limit the writing practice and thank yous to bulletin boards! This Veterans Day activity is a great way to practice letter writing while also teaching kids about the importance of sharing kind, uplifting messages with others. Students can choose to give their letters to a friend or family member who has served in the Armed Forces or to perhaps an unrecognized veteran in the community.
Some tips to keep in mind when students are making cards for veterans:
Tell your students not to include their last name or any private information such as their home or email address.
A group photo of your class is a great idea!
Keep it simple — no glitter or confetti.
Explain to your students that the veteran or soldier will likely not be able to write back.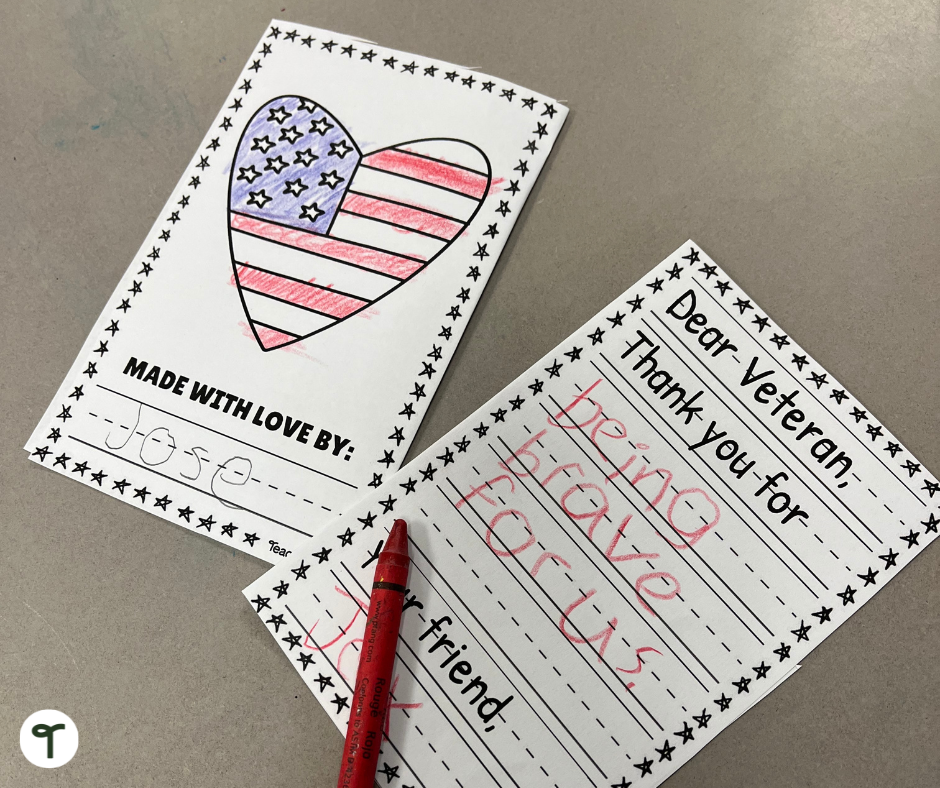 See our complete guide to creating and sending Veterans Day cards.
Become a Volunteer
Want to encourage your students to be active outside of the classroom? Organizations such as Operation Gratitude have veterans-minded options to encourage your students to be more community-minded this Veterans Day. Students can be active supporters through letter writing and organizing collection drives.
Operation Gratitude has an ongoing need to fill care packages and have a list of their most requested items:
Protein snacks
Hygiene wipes
Puzzle books
Interactive toys (such as yo-yos)
Take note that they accept items year-round! If you miss out on participating in a drive for Veterans Day, you can always encourage your students to give back during the holiday season.
If you'd like to go further and start a fundraiser at your school, consider the Wounded Warrior Project. They outline how to plan your fundraiser step-by-step and have great ideas for varying age levels including penny drives, pajama day donations, and dunk tanks. Check out their Student Ambassadors booklet for more ideas and information.
Veterans Day Headband
Is your school hosting a Veterans Day assembly or event? Show veterans how much they're appreciated with our We Love Our Veterans crown templates and have your class display their red white and blue creations. This symbolic gesture will not only be enjoyable for your students to complete but it will surely bring a smile to a veteran's face.
Veterans Day Video
PBS Learning Media has an engaging introductory video to Veterans Day for K-5 students. You can use this video to spark discussion during your Morning Meeting or before a Veterans Day lesson. You can also check out this longer explanation from Kid Explorer!
Learn About Character Traits
A Veterans Day activity centered around characteristics can be a perfect chance for your students to practice using descriptive adjectives to describe a member of the armed forces using words like "brave," "heroic," and "inspiring."
Veterans Day Google Interactive
For all your first-grade and kindergarten teachers out there, our teacher team has created this interactive Veterans Day Google Interactive activity so your students can learn about Veterans Day along with the branches of the U.S. military.
This is a perfect ready-to-use social studies lesson, appropriate for both independent or whole-group activity work.
Decorate Doves
After teaching your class that Veterans Day originated as a way to celebrate the official end of World War I on November 11, 1918, a peace dove craft may be appropriate.
Older kids can create origami doves using the instructions in our video below, while younger students may simply want to fill in a dove coloring sheet.
Write a Letter From The Trenches
After learning about World War I and II, students can practice creative writing with their own "letter from the trenches," imagining what they would have experienced as a soldier and using descriptive language to share that experience in a letter home to a parent or sibling.
You can use this letter template to inspire their work.
Veterans Day 5Ws
After a lesson about Veterans Day, encourage your students to summarize what they've learned by sharing at least one fact under the 5 Ws — who are our veterans, what did they do, why do we honor them, when do we honor them, and where do people celebrate Veterans Day?
What do you do in the classroom for Veterans Day?
Explore worksheets, printable cards, and more teaching resources in our Veterans Day collection.